At the end of every month I like wrap up my favorite moments, posts, Instagrams, and meals while giving a behind the scenes look at some of the moments that otherwise wouldn't make the blog.
Wow. Could this month have gone any more differently than planned? In last month's recap I said I was looking forward to spending 3 weeks settled in Rome, which is where I should be right now. Instead I'm currently in Granada, Spain with my sister. Who, as of three weeks ago, didn't even have plans to come to Europe.
Right as I was getting on a train to Rome from Naples to begin my journey to France I got a message from my Airbnb host in Rome saying there was a scheduling problem and that I couldn't stay in the room I'd reserved. Of course, in the high season with only a week's notice there wasn't really anything left in my price range. At the same time my sister decided she needed to get away and wanted to come see me. So I said screw plans, booked a night train from Paris to San Sebastian, and started planning a trip for the two of us in Spain.
We met in Barcelona, grabbed a train down to Alicante where we spent the weekend partying and lying on the beach, and then made our way to Granada where we've been enjoying our fair share of free tapas. In 2 days we will head back up to Barcelona for a few more days of sightseeing, beaching, and drinking before she goes back to the US and I finally make my way to Rome.
Not the month I planned whatsoever, but seeing my sister and getting to explore more of Spain made this month one of the best yet.
Destinations Visited
Italy: Naples
France: Nice, Lyon, Paris
Spain: San Sebastian, Bilbao, Barcelona, Alicante, Granada
Miles Traveled
2,654 miles. Basically about 1,500 more than I'd planned. Whoops.
Highlights
Dancing under a castle in Naples
Naples was a fairly last minute addition to my itinerary after a bunch of people told me about this amazing hostel and I realized I couldn't live without internet for five days on a farm in Abruzzo as originally planned. When I got to the hostel the owner had cooked a group of us lunch and then launched into his famous 45 minute introduction of Naples. It was all great until he got to the part about how we weren't allowed to come back to the hostel drunk. Not one to be told I can't do something, I apparently saw this rule as more of a challenge to get as drunk as possible.
A few of us from the hostel went out for pizza (and wine) and then went to a bar in the nearby student district for a few drinks. It was here we met some young Italian guys who invited us to an Erasmus student party. We said sure, followed them, and when we arrived it turned out the party was NEXT TO A CASTLE. #Europe. Everyone else was dressed up and I was in cutoffs and Birkenstocks, but I didn't care and spent the rest of the night (and early morning) drinking whiskey and dancing next to a castle.
The next day the hostel owner wanted to know what time I got home and what I was doing, but it didn't matter because a. I didn't get kicked out and b. it was one of the most fun nights I've had so far in Europe.
Eating at a bouchon in Lyon
I came to Lyon for one reason: to eat at a bouchon. These traditional Lyonnaise eateries serve hearty classics in an unpretentious setting. I first heard of them on an Anthony Bourdain episode a few years ago and knew I had to go visit one of these establishments. My dream came true in Lyon where I indulged in a four course meal of salad lyonnaise (warm bacon and egg salad), quenelle de brochet (a pike dumpling in a cream sauce, a famous Lyonnaise dish), cheese, and chocolate mousse. While I'm happy to have eaten at a bouchon, I feel like my hostel recommended a not great one as the atmosphere wasn't what I expected and the food wasn't THAT good. I need to go back for some boudin noir and andouillette.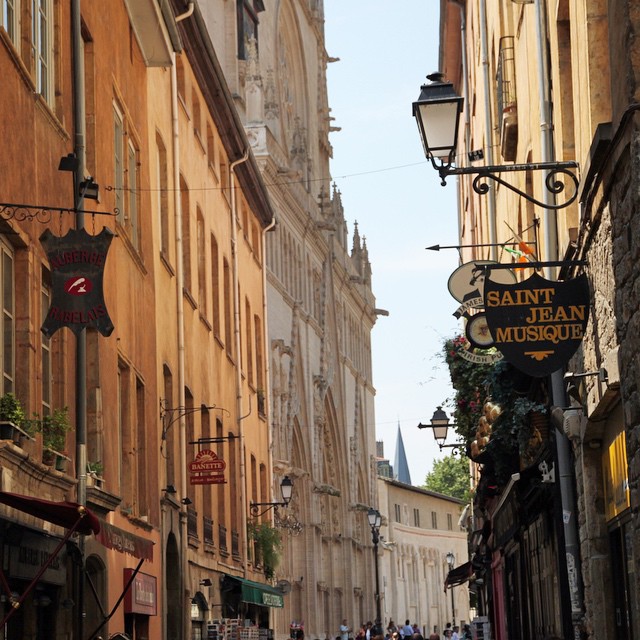 Attending my friend Ellie's hen party in Paris
One of the worst parts about traveling so much is missing out on important life events of friends and family, so when I was invited to my friend Ellie's hen party (bachelorette party for us Americans) in Paris I immediately booked some tickets from Rome so I could join in on the fun. We started with a long, leisurely lunch at brasserie in Montmartre and then made our way to a wine tasting which led to us drinking several more bottles of wine and the night regressing into more typical bachelorette party behavior. Much fun was had and the next day we nursed our hangovers with unlimited steak frites, more wine, and a little painting party under the Eiffel Tower. More than anything it was nice to catch up with some good friends I hadn't seen in nearly a year!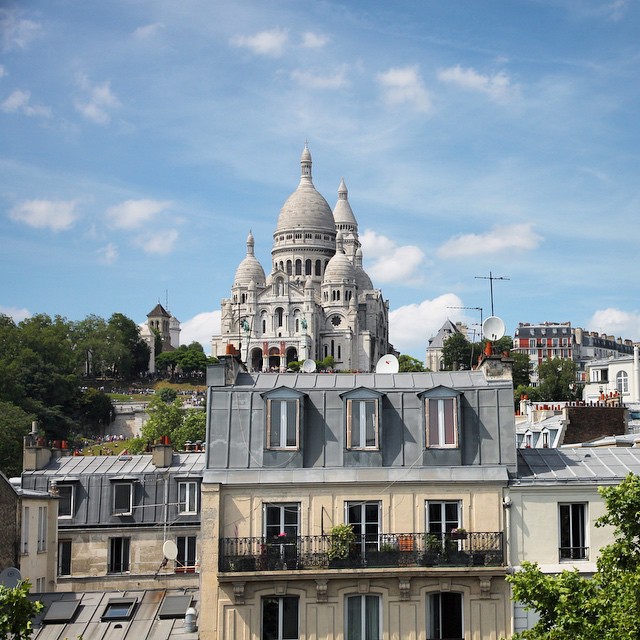 Walking part of the Camino de Santiago in Basque Country
I went to Basque Country, in northern Spain, mostly because I could catch the night train there easily from Paris and it was kind of on the way to Barcelona where I needed to meet my sister. So when I found out that coastline was insanely beautiful (and the food spectacular) I was more than happy with my decision. On one of the few sunny days I had in San Sebastian the girl working at my hostel suggested I walk an 8km portion of the Camino de Santiago from San Seb to a nearby fishing village called Pasaia.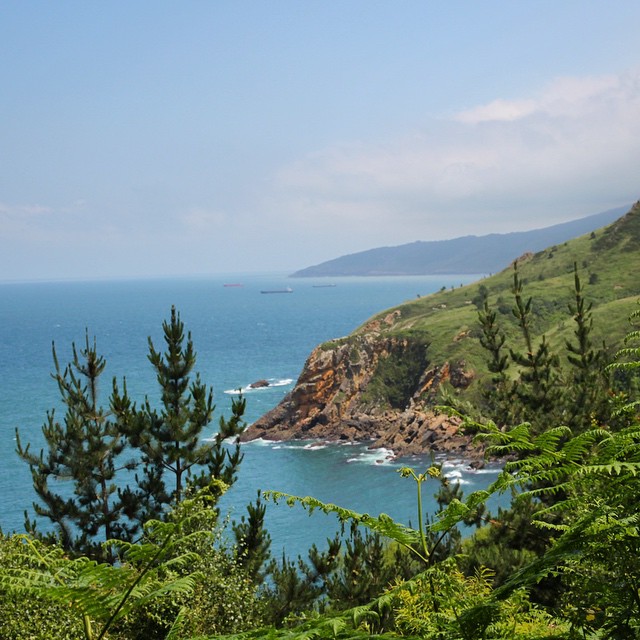 I didn't really consider the condition of the trail and just slid on my Birkenstocks and grabbed a water bottle before running out the door. Since it had been raining for about the past week there were parts of the trail that would have been better suited for shoes that were not sandals and had better traction, but I survived.
And the views were phenomenal and the pilgrims walking were so friendly and the village at the end had a 3 course set menu for 10 euro including wine. So basically it was the perfect day. (And now I want to walk the Camino.)
Introducing my sister to the travel lifestyle
My sister and I, while close, are very different people and until this trip she had never stayed in a hostel! I was very excited to introduce her to not only Spain, but also to give her a taste of what it's like to be a backpacker: the awesome people you meet from all over the world, cooking in hostel kitchens, taking night trains, nursing a hangover in a dorm with 7 other people, and smelling everything to determine if it can be worn again. The trip didn't start off too smoothly as her flight was diverted to do weather and she had to spend the night in Atlanta and arrived a day late but since then we've enjoyed a typical late Spanish night out, some days on the beach, and a visit to the beautiful Alhambra.
Lowlights
Feeling uninspired and burnt out by Italy
It's hard for me to write anything negative about Italy because I really, really love(d) that country (and I have some awesome Italian friends) but…I wasn't sad to leave. By the end of the five weeks I spent there I was so sick of the constant street harassment, getting yelled at for not using exact change for every single transaction, dirty trains, and lack of reliable internet, among other things. Traveling in Italy wore me down and it kind of made me reconsider how much I love the country, especially now having traveled in France and Spain.
Getting sick…again
My body can't seem to handle constant moving and late nights like it used to and I seem to develop some sort of chest ailment every couple of weeks. I spent most of my time in both Lyon and San Sebastian hacking up a lung and lying in bed wishing someone would bring me soup and orange juice. I recovered fairly quickly both times but being sick on the road, especially in hostel dorm rooms, is never fun.
Missing the Tiziano Ferro concert I've been waiting 6 years to see
While I'm mostly fine with the fact I won't be spending much time in Rome this summer, I am sad that I missed seeing Tiziano Ferro in concert. I've been wanting to see him live for six years and bought tickets back in January when I first heard about the show. Fingers crossed this isn't his last tour and I can make my teenybopper dream come true in the future.
Favorite Farsickness Posts
 The 4 Sunsets That Made Me Fall in Love With Jordan
Palermo: An Intriguing Introduction to Sicily
StrEAT Palermo: Discovering Italy's Street Food Capital
6 Reasons Why Jordan Is the Perfect Place for a Girls Getaway
My Writing Around the Internet
Go Overseas Packing List Essentials for Teaching Abroad in Asia
Meal of the Month
Even though eating at a bouchon in Lyon was a highlight this month, it wasn't my best meal. A dinner of pintxos at La Cuchara de San Telmo walks away with that honor this month. Pintxos are a small snack, similar to tapas, served at bars in Basque Country. While they were traditionally served on a piece of bread, lately pintxos are evolved into small plates of really delicious, creative cuisine.
La Cuchara de San Telmo came very highly recommended and I went there for dinner on my last night. I had the foie gras with honey, veal cheek over hummus with a red wine sauce, and suckling pig and each dish was perfection. The veal cheek was tender and succulent, while the suckling pig had the crispiest skin I've ever tasted. Even better, the three dishes with a glass of wine came to about 14 euro.
Books I Read
Labor Day by Joyce Maynard I downloaded this last summer when I heard it was going to be made into a movie with Kate Winslet, but then never got around to reading it. I had no idea about the premise of the story before I started reading and I think it was better that way, so without giving anything away I will say that while the plot was pretty implausible it was engaging and I flew through it in one day at the beach.
The Age of Miracles by Karen Walker Thompson A story about a community in California after the Earth begins slowing, this novel is half coming of age story, half science fiction novel. Like many reviewers on GoodReads, I wish the scientific facts had been flushed out a little more as it's the most interesting part of the story and by the end was kind of just a backdrop for a teenage love story.
Everything I Never Told You by Celeste Ng This is one of the best books I've read in a while. On the surface it's the story of a missing teenage girl, but it's also a study of race relations in the 1970s, what it means to be a minority in the US, and family dynamics. I was crying by the end.
The Book of Unknown Americans by Cristina Henriquez This initially seems like the story of the Riveras, a family who moved to the United States from Mexico in search of better education for their daughter after she is injured, but turns out to be more than that. Told from multiple narrators, this is the story of a group of Latin American immigrants living in Delaware and the struggles they face.
The Girl on the Train by Paula Hawkins It seemed like everyone on the internet was talking about this thriller earlier this year and I can see why. It's captivating in a Gone Girl way and very well written. Plus, the ending is about 100 times more satisfying than that of Gone Girl.
All the Light We Cannot See by Anthony Doerr I'm a sucker for a good World War II book so I knew I'd enjoy this, but I didn't know quite how much. The story of a blind French girl and a young German orphan with a knack for repairing radios before and during the war, this book won the Pulitzer Prize last year and you should go read it now because it's beautifully written and sad and sweet and everything a good book should be.
The Sweet Life in Paris by David Lebovitz I read this in Paris which made some of his observations even more astute (and I learned why everyone in the elevator of the apartment I was staying at said "bonjour" every single time I got on). I haven't read a book that made me laugh out loud like the one in quite a while. My only critique is that there were a few times I felt like he was repeating himself.
Born Round by Frank Bruni Bruni is the former New York Times restaurant critic and this memoir details his struggle with his relationship with food and his weight. I enjoyed the parts about his family (we grew up in similarly food obsessed Italian-American families) and his days at the Times, but I felt that 75% of the book was him trying to make us feel bad that was 5-15 pounds overweight from high school to his early 40s. It's still an enjoyable read for those who like food, but really, couldn't most Americans ay they are about 10 pounds overweight?
Guernica by Dave Boling I became fascinated by Basque culture and history while I was in San Sebastian and Bilbao so I decided to read a book set there. Unfortunately the only one I could find in English and on the Amazon store was written by an American dude and not an actual Basque person, but this story about the people of Guernica around the time the Germans bombed the city during the Spanish Civil War was interesting enough.
(Yes. I read 9 books this month. Apparently I was trying to make up for the first 4 months of the year when I read a total of 1 book. Or I didn't have reliable internet in a bunch of places and was on a lot of trains and busses and was sick. It was pretty great actually.)
July Travel Plans
I'M GOING BACK TO LONDON! This is basically what I've been looking forward to since I arrived in Europe in April. After flying to Rome to catch my original flight to the UK (and spending 48 hours there eating as much as humanly possible to make up for missing 3 weeks there), I'll spend a month in London hanging out with old friends, watching one of them get married, and, once again, eating a whole hell of a lot. I hope British summer weather holds out because I have plans for some lovely walks and I'd like to spend a lot of time picnicking in parks and drinking in beer gardens.
I'll also be flying to Germany toward the end of the month to spend 5 days hanging out with Julika, who has planned the most epic German holiday ever.
What were your highlights this month? Any good plans for July? I'd love to hear about them in the comments!