For as long as I can remember I've wanted to visit Sicily. It wasn't just the beautiful coast or Mt. Etna's towering presence over the eastern half of the island or the cuisine or the local wine that enticed me, but it was also because it was the home of my great-grandparents that I felt a pull toward this island.
While I would eventually visit the town where my great-grandfather lived, Palermo was my first stop in Sicily. This chaotic city, probably best known for its prior connections to organized crime, wasn't my favorite place, but the time I spent in Palermo and its surrounding area provided an interesting introduction to this complicated part of Italy.
Palermo
To understand Palermo, one must understand Sicily. While it is part of Italy and shares many of the cultural traditions, it also Arab and Spanish and Greek. Sicily is also one of the poorest regions, and because of its autonomous status the public services- transportation, education, health care, etc.- often reflect this.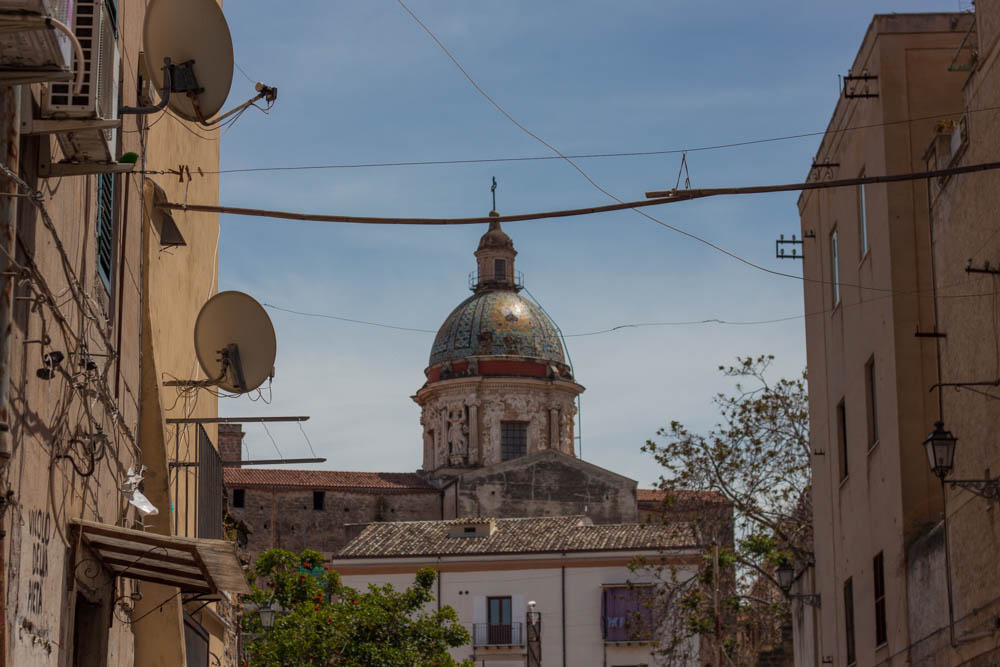 As the capital of Sicily, Palermo is not only the gastronomic, historical, and cultural center of the island, it's also the home to the majority of its people and because of that, the majority of its problems. While the Palermo has become much safer over the course of the past decade, it still bears some of the scars of its past.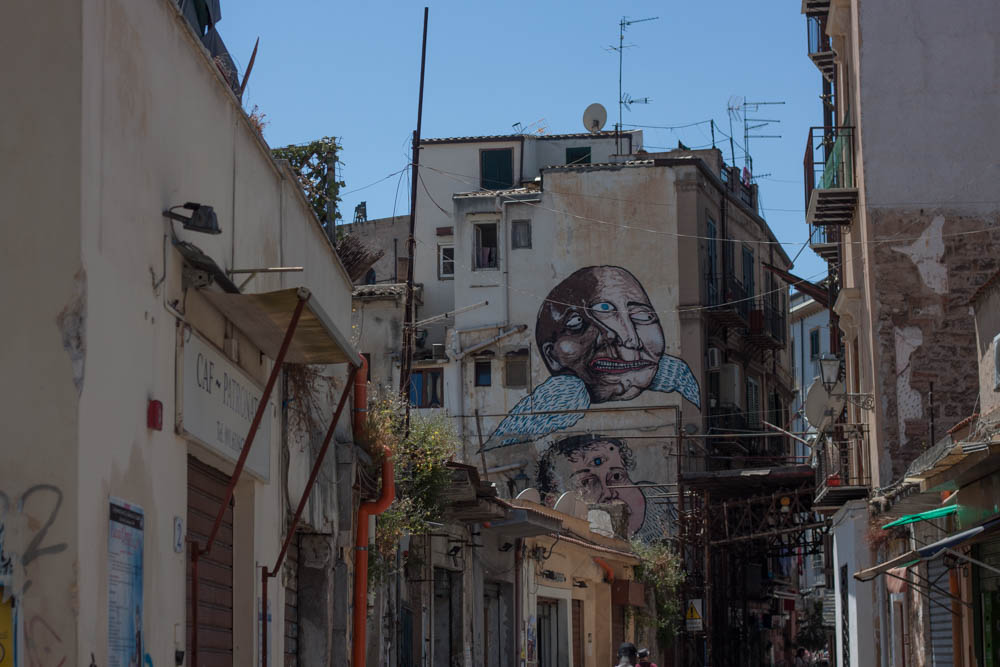 There were parts of Palermo I loved.
The Teatro Massimo, opened in 1897, is the largest opera house in Italy. Based on ancient and classical Sicilian architecture, the theater is a grand reminder of the glory days of Palermo.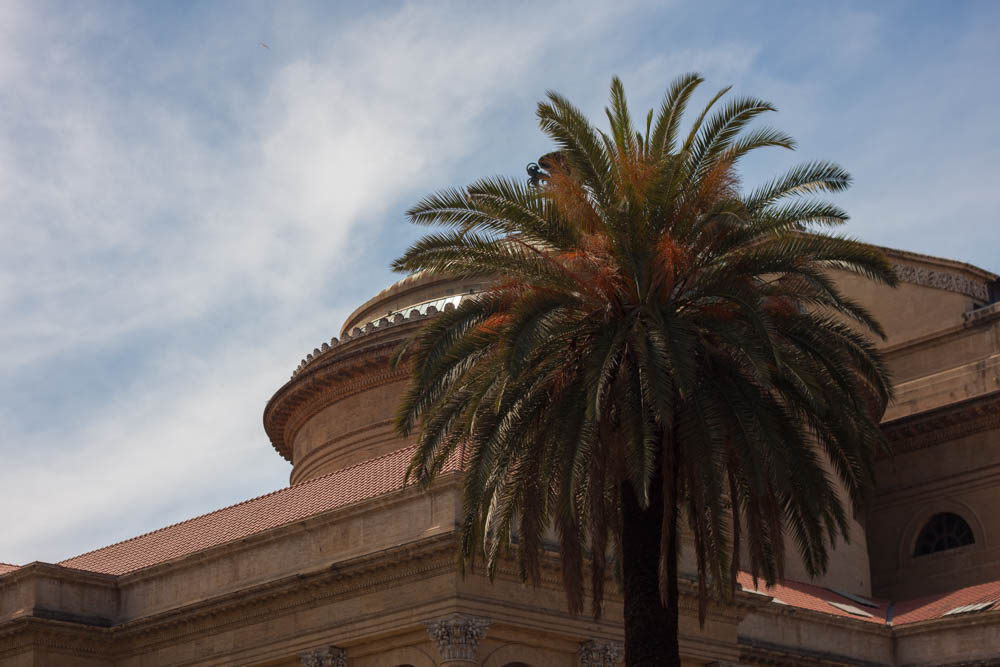 I loved the food, which I'll write more about in a later post, and the flavors the reminded me so much of the dishes I'd grown up eating.
The Palermo Cathedral, with its Norman, Moorish, Gothic, Baroque, AND Neoclassical parts, perfectly represented the island's history of being conquered.
I loved the balconies and the narrow alleys and pedestrian only boulevards.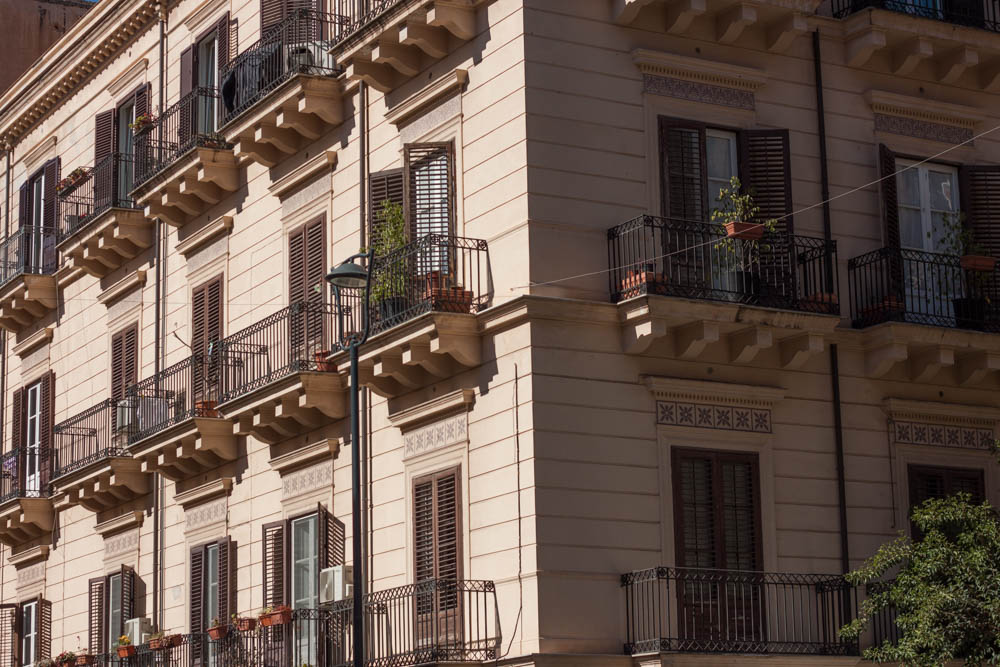 But Palermo was also chaotic in a way that wore me down in a way other cities haven't. The constant honking and motorbikes reminded me of Vietnam. The stares and street harassment made me feel slightly uncomfortable if I left the hostel alone after dark (which I rarely did).
So, for my last two days in Palermo I chose to get out of the city center and visited nearby Mondello and Monte Pellegrino.
Mondello
After a couple of days exploring Palermo in stifling heat I knew I needed to escape. Mondello, located only about 10km from Palermo's city center,  is the weekend destination for many Palermitans throughout the summer months.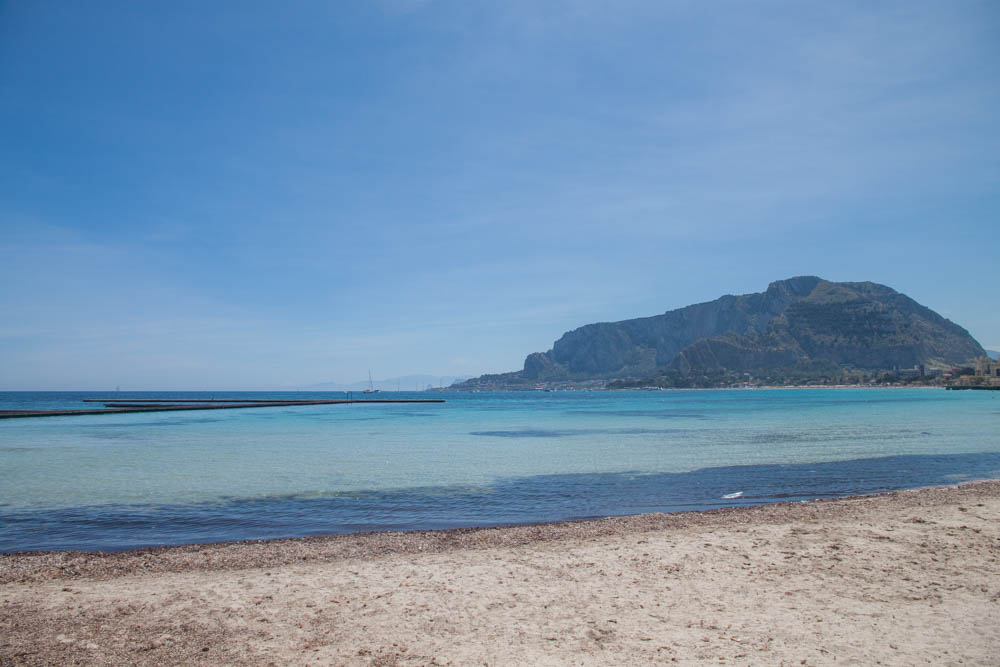 Turquoise sea and white sand lie nestled between Monte Pellegrino and Monte Gallo making it easy to see why locals flock here. Like most popular beaches in Italy, much of the sand is covered by "lidos", or private beach clubs where you can pay for daily access to use an umbrella, lounge chair, and changing room.
I chose to pay for a chair, though, as most of the public beach was crowded with obnoxious teens and I felt more comfortable leaving my camera when I went for a swim.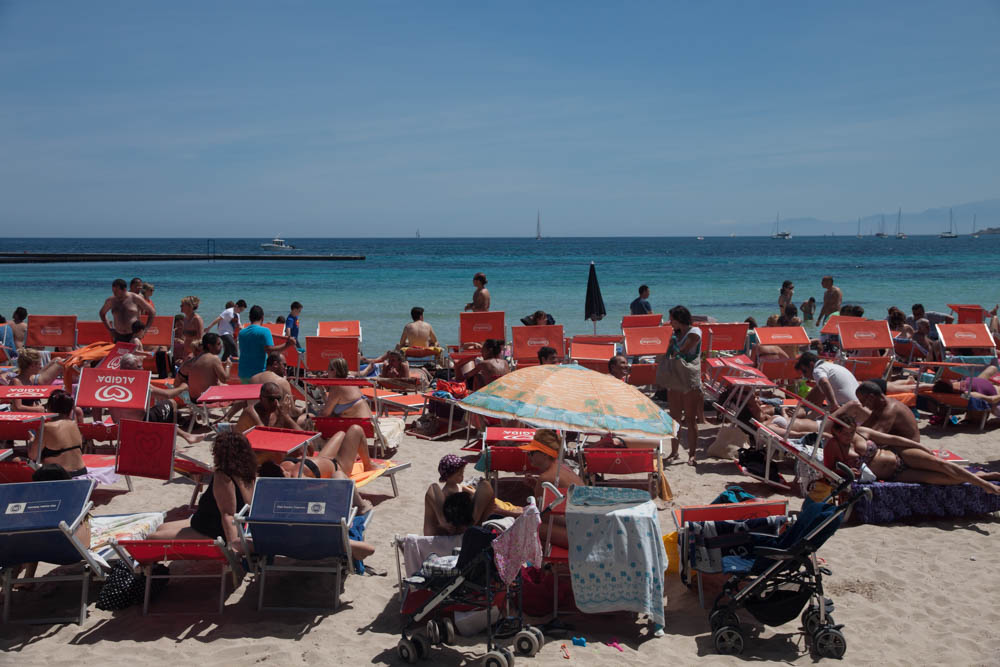 When I'd had enough of sunbathing I decided to explore the village a bit. The city is mostly tourist shops and restaurants, but the many Art Nouveau villas and the old bathhouse give it some architectural importance.
On the way back to Palermo I got to be part of a true local experience as I shoved myself onto a very crowded bus during which a fight broke out. Much shoving ensued and eventually a boy was slapped across the face and shoved off the bus at the next stop. Lovely.
Monte Pellegrino
Goethe described Monte Pellegrino as the most beautiful promontory. While I wasn't even sure what a promontory was before reading about Monte Pellegrino, the more I read about this mountain overlooking Palermo, the more I knew it would be the perfect place for a few hours outside of the city.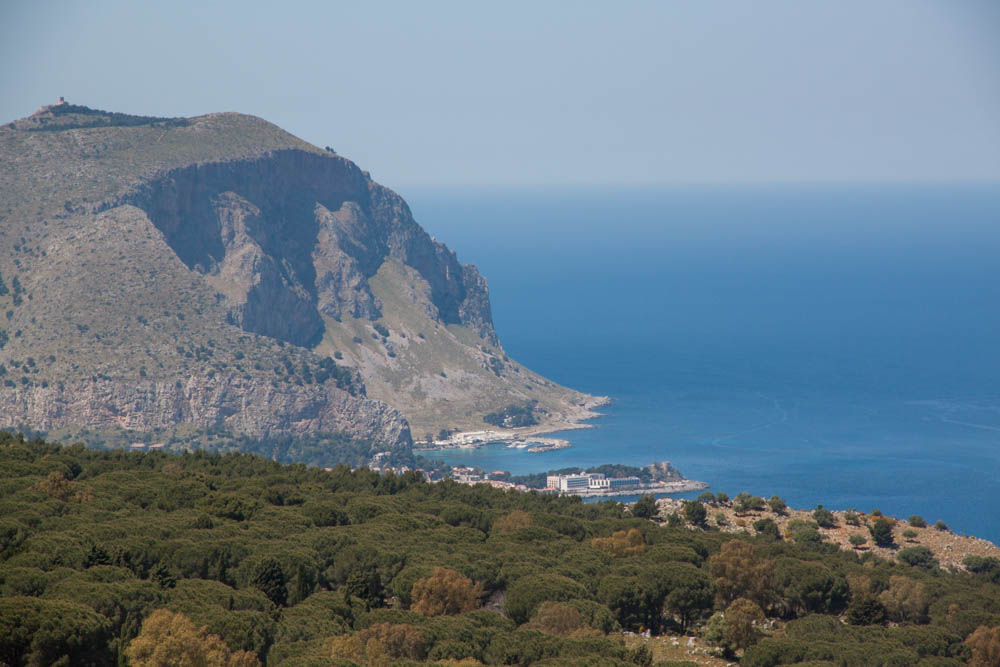 Monte Pellegrino isn't just a place for sweeping vistas across Mondello and Palermo, it's also a very special place to Palermitans as it is home to the sanctuary of Santa Rosalia, the patron saint of the city.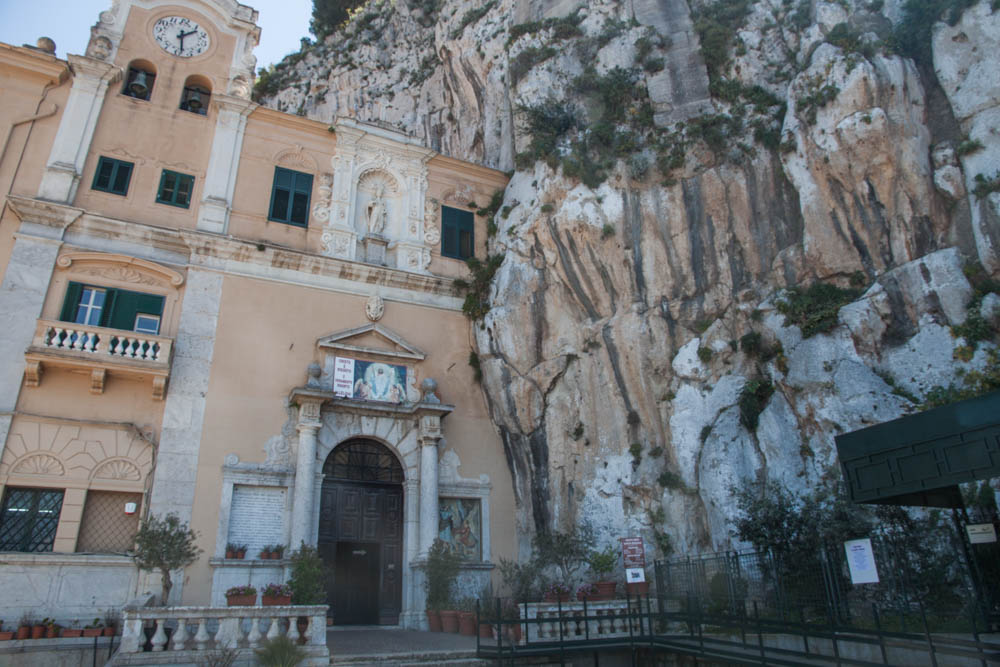 The entrance to sanctuary looks like a church, but it's actually a cave inside the mountain. There are a few pews, a statue of Santa Rosalia, and the place where her bones are kept and offers are made. As someone who is decidedly not religious, I find acts of devotion extremely interesting and was surprised to see many locals inside the sanctuary offering their prayers to this patron saint. I almost felt as if I was intruding as there were so few tourists inside.
My morning visit ended with a trip to the panoramic viewpoint over the city, which is not, as one might expect, at the top of the mountain, but in a car park at the end of the road. Keep that in mind and you can avoid stumbling upon what I'm pretty sure was some sort of satanic ritual taking place in the forest.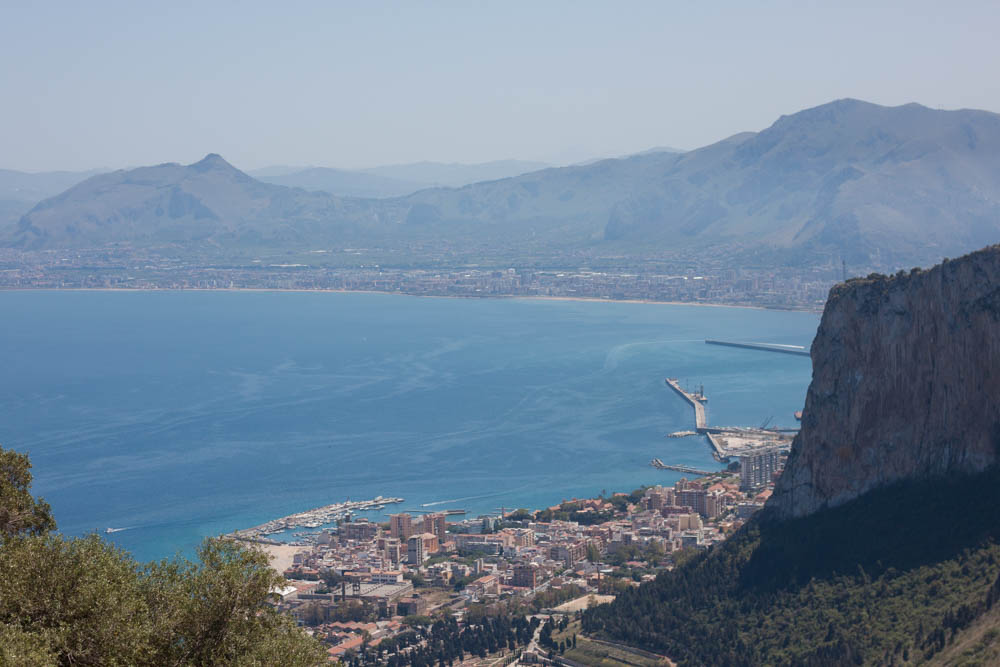 My Takeaway on Palermo
There's no doubt that Palermo suffers from a PR problem. No, you're not going to become a victim of the mafia while you're there, and you probably won't be mugged either, but the city still has an attitude to it that was different from other Italian cities.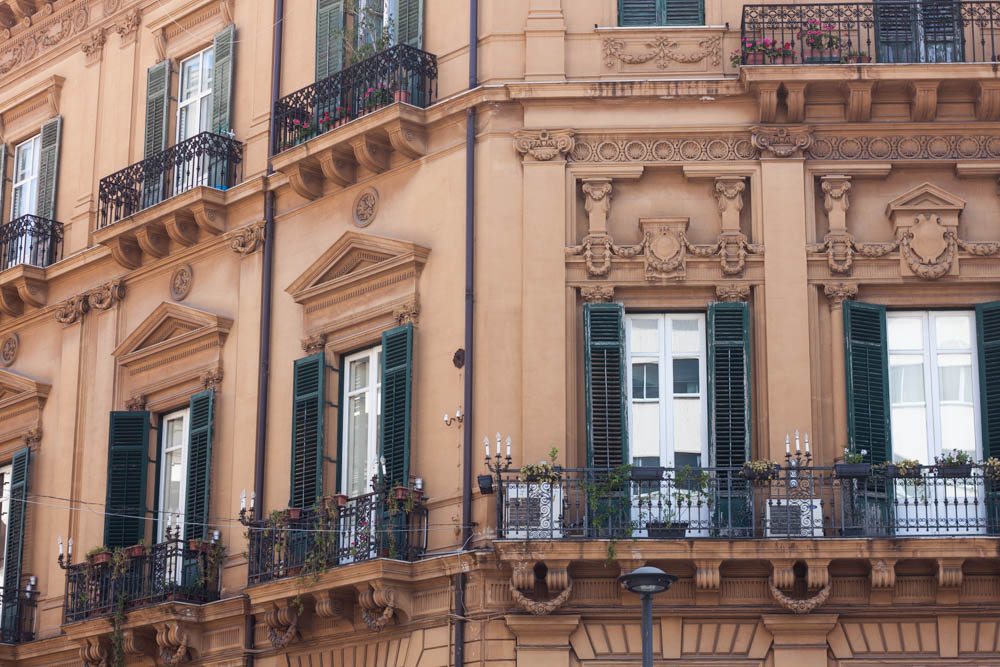 I didn't click with Palermo, but it might not be entirely the city's fault. I was seriously jet lagged the entire time I was there. I was struggling getting in the groove of being back on the road and being by myself. After 8 months in the US, I felt a strange amount of culture shock in Europe.
I think I also expected Palermo to feel more Italian. More familiar. My expectations set me up to be disappointed, but they also taught me an important lesson, one that would be knocked into me repeatedly over the next couple of weeks: Sicily isn't Italy. Even though it is.
Where to Stay
I stayed at Casa d'Amici, a small hostel in the heart of the city. The space itself was nice, clean, and well thought out. I was in a top bunk and there was an outlet, light, and little shelf, which I always appreciate. There's nothing worse than going to sleep with a bottle of water and your cell phone only to wake up and find them in your bunkmate's bed or on the floor. Every morning breakfast is served in the common room, usually cake, toast, coffee, and juice, and once a week the hostel hosts a drum circle. I accidentally slept through this due to the aforementioned jet lag, but I've heard it's great fun. I didn't find the vibe to be super social, but since early May is still the shoulder season I'm sure that's different in the summer.
What have you heard about Palermo? Would you visit?