When I'm traveling solo I'm not really a tour person. I like to wander slowly and stop often to take photos. Or for a coffee (or beer) break. This isn't really conducive to the fast pace of most city walking tours.
The one exception, though, is food tours. I freaking love food tours. For one, they take all the guess work out of finding good food. You just follow someone around for a few hours and are able to eat some of the best dishes a place has to offer. Secondly, they usually also offer some interesting historical perspectives you wouldn't find elsewhere.
So I was really excited when I discovered a food tour in Palermo. And not just any food tour. A street food tour.
That's right. Palermo is not only the street food capital of Italy, but also one of the best cities for street food in the world. Surprised? So was I as when I think of Italian food most of what comes to mind is much more easily eaten with a table in front of you.
After spending the day eating around Palermo with StrEAT Palermo Tour, though, I can definitely say that I was wrong. We spent four hours wandering through the city's old squares and markets, learning not only about the food but also the long history of Palermo, and eating some of the most famous dishes.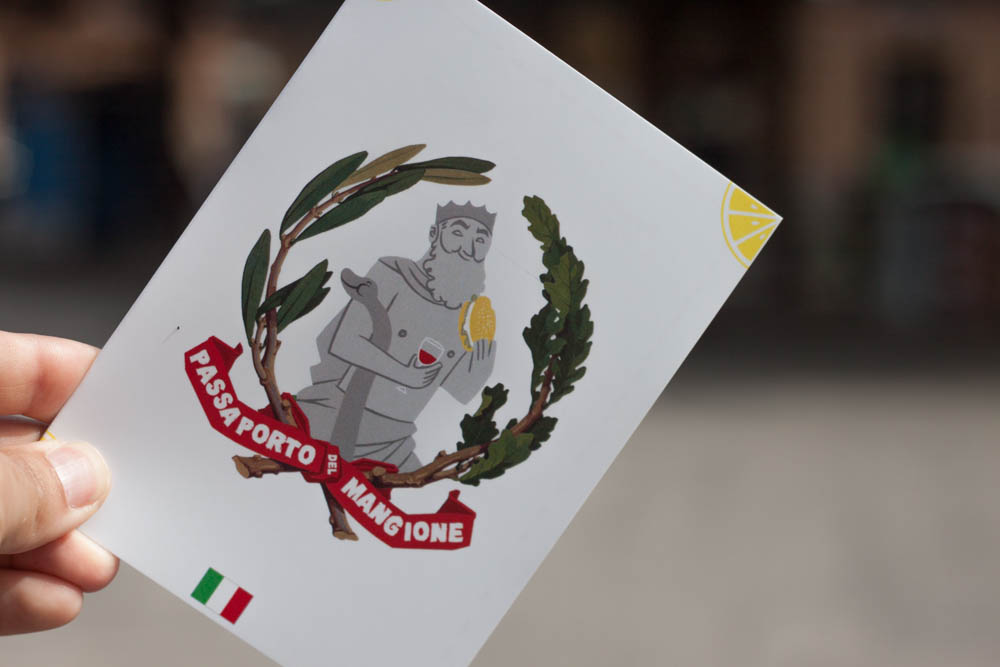 We met first at Teatro Massimo for a brief introduction to Palermo and to receive our Passaporto del Mangione, or personal foodie passport. From there the guide, Naida, led our small group to the nearby Capo Market. Dating all the way back to the Arab days, Capo Market is crowded with locals buying their fresh fruit, veg, meat, and fish for the day. The hawkers yell over each other in Sicilian dialect trying to attract shoppers to their stalls because they have the freshest product for the cheapest price. Obviously.
Our first stop was for something not even on the day's eating agenda. It was a special stop for the brave. Sitting right at the entrance to the market is a man selling frittula from a small cart. Frittula is chopped of bits of calf fried in lard and seasoned. Don't ask what bits of calf are used. (Any and all.) I, obviously, had to try some and while I loved the flavor, I still have a hard time with the texture of cartilage.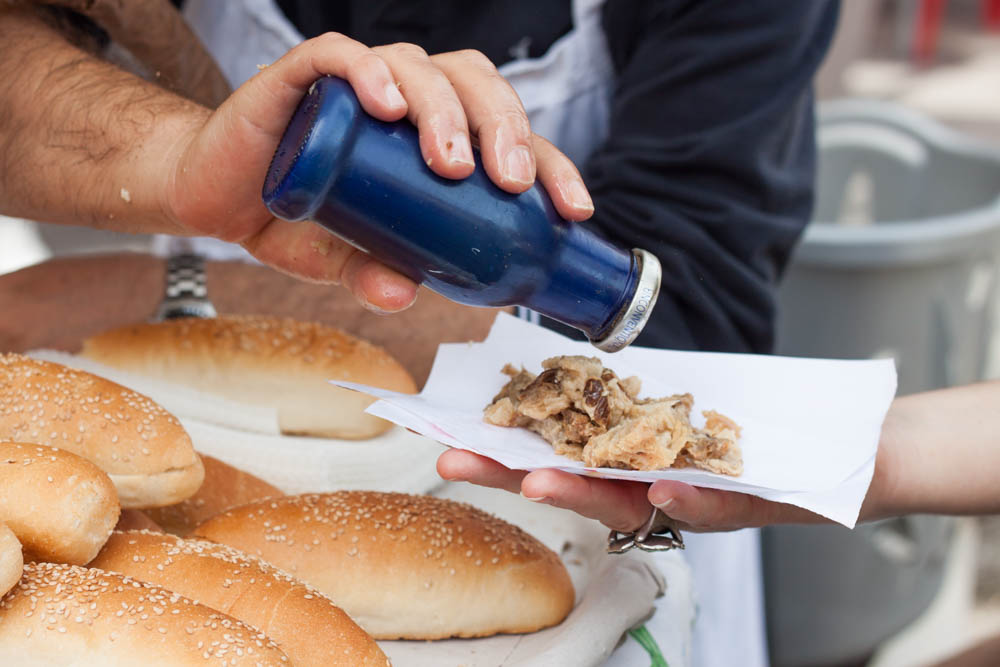 Moving further into Capo Market, our first official stop was to try a selection of fried things, also known as my favorite food group. First up were panelle (fritters made from chickpea flour) and cazzilli (potato and parsley croquettes). Both can be served between bread as a sandwich or, like we had them, just laid out on a plate in the freshly fried glory. I had high hopes for the panelle as chickpeas are one of my favorite foods, but I found them rather tasteless. The cazzilli, though, more than made up for that. It's a good thing there was a limited portion or I would've spent the entire afternoon downing balls of fried mashed potatoes.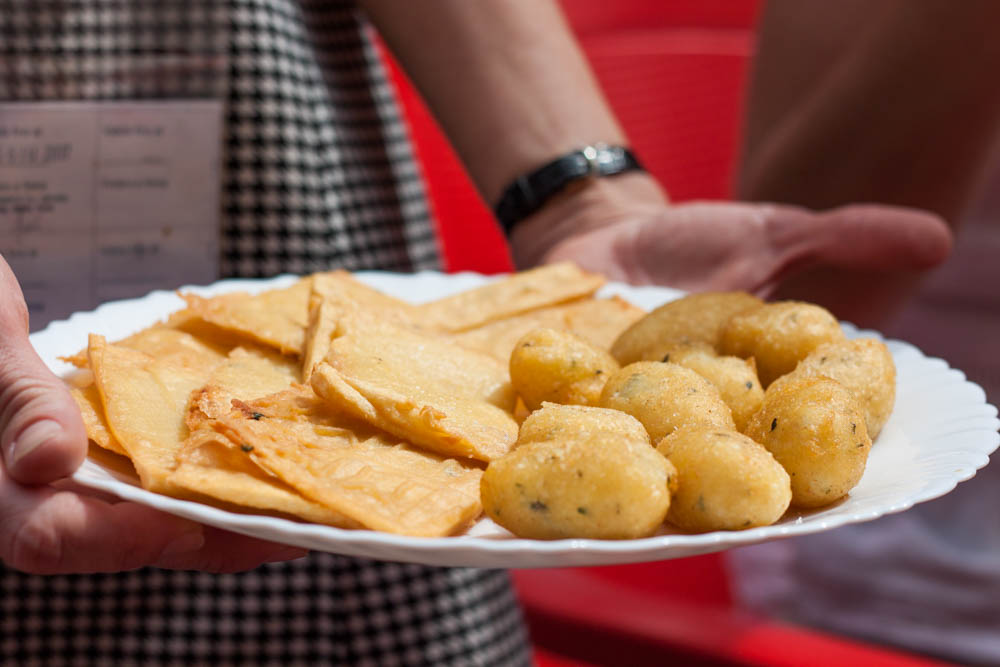 Then it was time to try the king of Sicilian street food. The arancine. Which, unlike in the rest of Italy, is always, always feminine (spelled with an 'e' at the end instead of an 'i') in Palermo. They take great pride in this fact and I wouldn't want to piss off a Palermitan, so try to order with the correct pronunciation. Meaning little oranges, these fried rice balls originated in Sicily during the Arab rule. Saffron rice is formed in a ball around tomatoes, meat, and peas and then covered in breadcrumbs and deep fried. While the arancine were really, really good, if we are talking Italian fried rice balls my heart still belongs to my Roman suppli.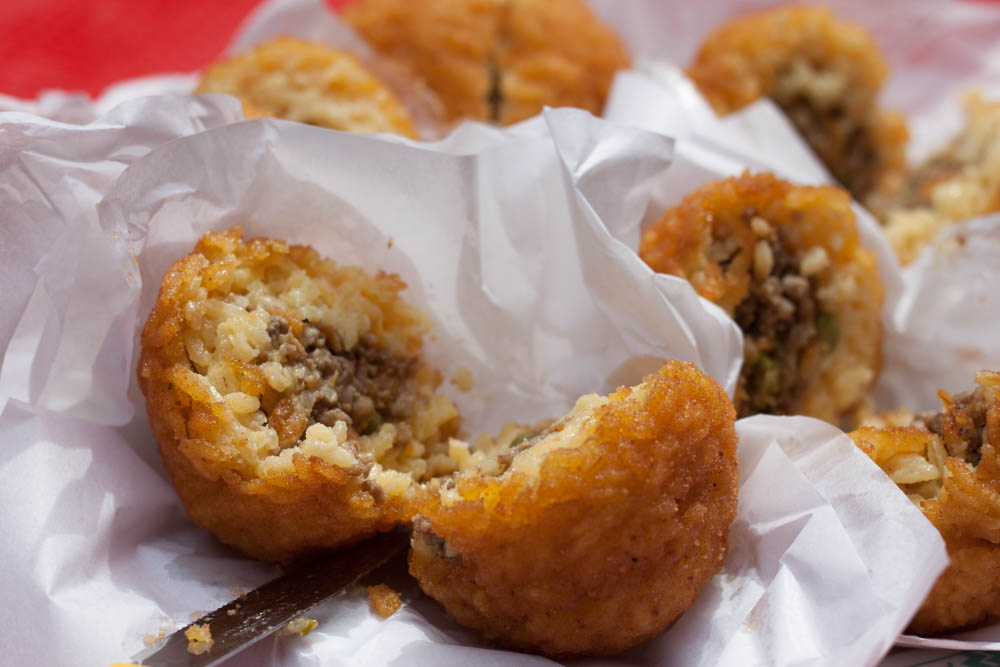 We then left Capo Market and headed toward Via Maqueda, one of Palermo's main thoroughfares, for a taste of sfincione. Often called a Sicilian pizza, this dish is actually focaccia topped with tomato sauce, bread crumbs, and a little bit of grated cheese, usually Caciocavallo, a type of Sicilian sheep's milk cheese. Sometimes you'll find chunks of onion or bits of anchovies too. It's nothing fancy, but it's hearty and had all the tastes of my childhood on one slice.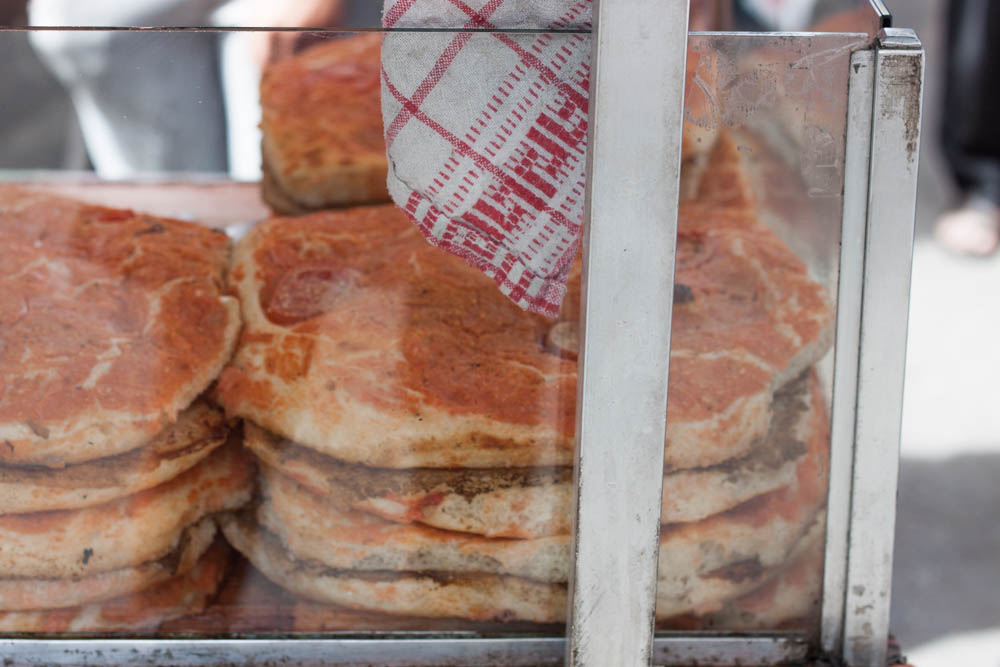 Walking on we continued to La Vucciria, arguably the most famous market in Palermo. For over 700 years the market, open everyday but Sunday, has sold everything from fresh fish to tourist trinkets. While it's not as vibrant as it once was, La Vucciria is still an important place in Palermo. We headed toward a bar in the market to take part in a schiticchio. This word, which is Sicilian and has no real translation in Italian or English, involves having some wine and nibbles. Something I am completely happy to do at just about any hour of the day. We tried three types of sweet Sicilian wines: Zibibbo, Marsala, and Sangue. I'm not a huge fan of sweet wines in general, but a few sips of each went down nicely with our selection of cheese, olives, and almonds.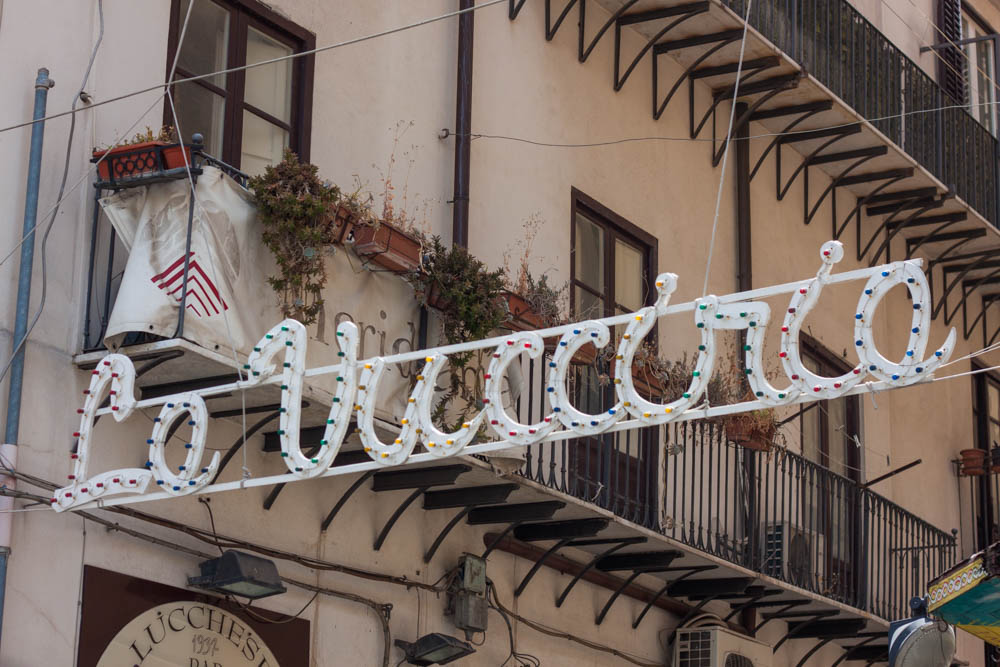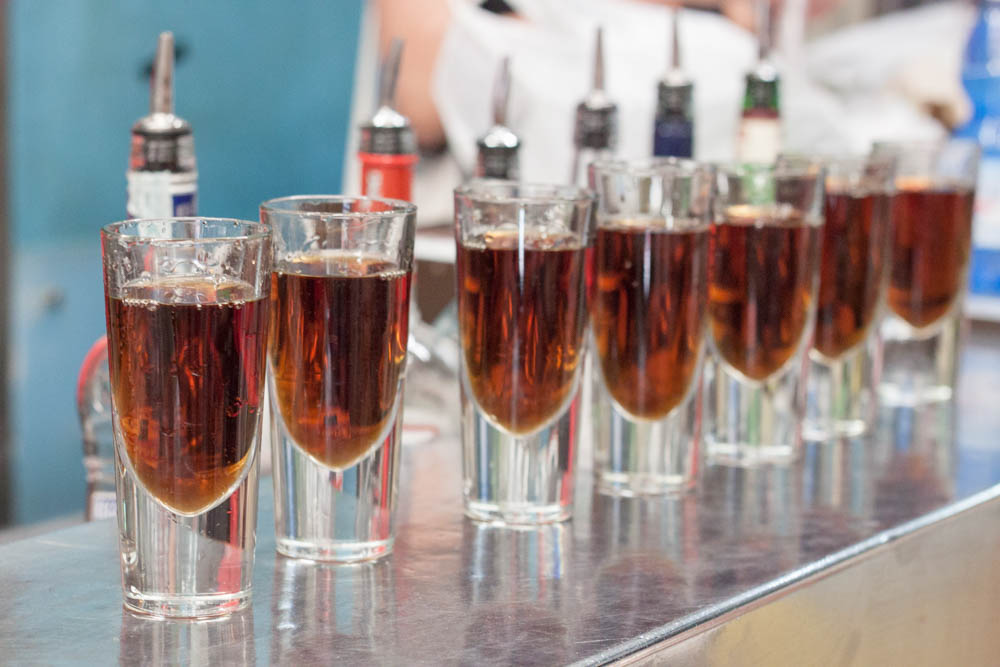 Once we were nice and morning tipsy, we headed toward the most divisive dish of the day: pane ca' Meusa, or spleen sandwich. There's a reason this came right after the alcohol stop. Now, I really enjoy offal so I was particularly excited to try this sandwich filled with the lungs and spleen of a calf. Like the frittula, there was some cartilage texture that threw me off, but the bread helped offset it and this ended up being my favorite dish of the day.
Stuffed and sweaty we headed off to our final stop for something sweet. Fratelli Rosciglione, located near the Ballaro Market, has been making desserts since 1840 and their specialties are the Sicilian classics of cannoli and cassata. Cassata is a cake that has its origins in Palermo and consists of sponge cake dipped in fruit juice and liquor layered with sweetened ricotta and candied fruit. The whole thing is then encased in marzipan and topped with more candied fruit. As a non-lover of candied fruit I chose to try a cannolo. This fried tube of pastry dough filled with a sweetened ricotta cream was something I grew up eating (and loving) and as I watched mine being freshly filled in the back of the shop I knew it would be one of the best I've ever had. And I was right.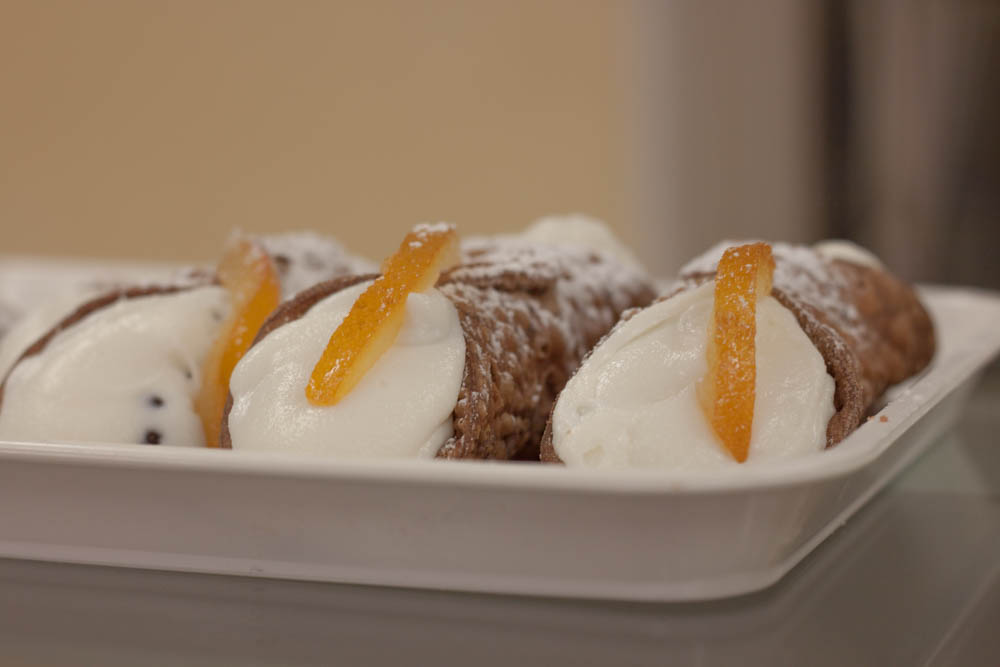 My final thoughts on the tour? This was my highlight of Palermo and something I'd recommend doing one of the first days your are there as it's an excellent introduction to both the cuisine and history of the city. While there's plenty of food, there's also plenty of walking and I left full but not so uncomfortable that I couldn't walk which is something I always appreciate. And most importantly, Marco, the founder of StrEAT Palermo, and his team are so passionate about this city and its food that you'll leave with a new appreciation for Palermo, along with tons of insider knowledge.
Disclaimer: I was offered a free tour in exchange for a review. As always, all opinions are my own. For more information about the tour, or to make a booking, visit StrEAT Palermo's website or Facebook page.