Germany is one of my favorite countries in Europe, so the decision to visit my friend Kasey in Cologne was an easy one. A chance to see my friend again AND explore a new German city. Flight booked.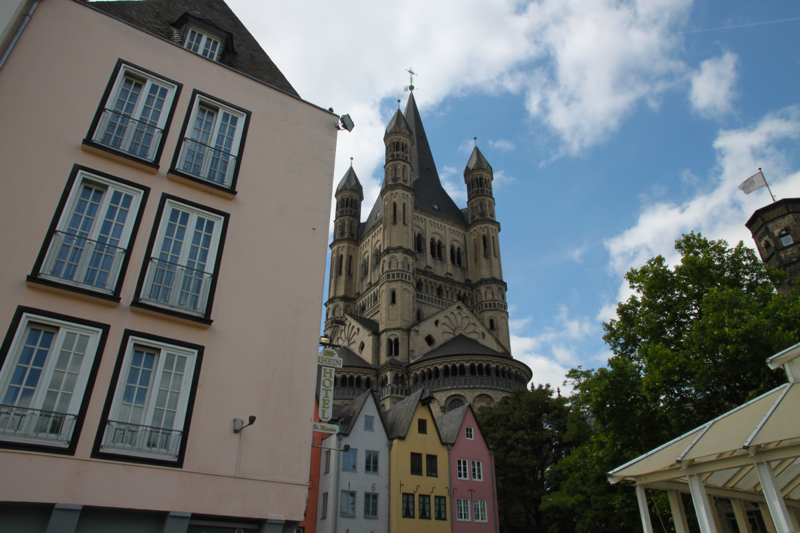 I didn't really know much about Germany's fourth largest city before I arrived. Without the hip factor of Berlin or the Bavarian beer drinking and lederhosen wearing traditions of Munich, Cologne seems to get talked about a lot less than these more popular German cities. Which is unfortunate because Cologne is actually pretty cool.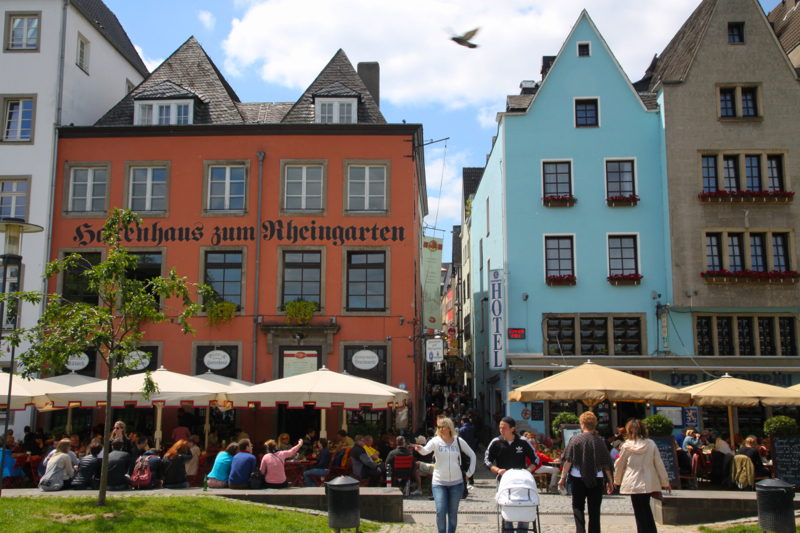 What is there to do in Cologne?
The most famous landmark, Cologne Cathedral (Kölner Dom), is an impressive sight, even for someone who is a little "churched out". Like many German cities, a large part of Cologne was destroyed by Allied bombs during the Second World War which creates for a, uh, very boring architectural style. While the cathedral was hit by bombs, it never collapsed and today the spires of this Gothic cathedral stand tall over the city.
My favorite part of Cologne, though, wasn't the cathedral or the narrow streets in the old part of the city or napping next to the Rhine River. My favorite part of Cologne was their unique beer drinking culture.
Cologne has a long standing brewing tradition. The city's brewers association dates back over 600 years and brew their own kind of beer called Kölsch. Kölsch is a bright yellow and is warm fermented and then cold conditioned, kind of hybrid of an ale and a lager. To be called Kölsch, it must be brewed within the city limits. Today there are about two dozen Kölsch breweries in Cologne, about half as many as there were in the early twentieth century but a marked improvement over the two that were still in operation after the war ended.
A little watery and not nearly hoppy enough for me, it's not the taste of Kölsch that made it interesting to me, it's the traditional drinking culture that surrounds it.
Kölsch is served in 20 centiliter glasses and if you finish your glass, it doesn't mean you are done drinking. Waiters walk around the bar carrying filled glasses in a Kranz, a circular tray, and will keep replacing your empty glass with a new one until you place a coaster over the top or leave half the glass filled. They then mark how many you've had on a coaster.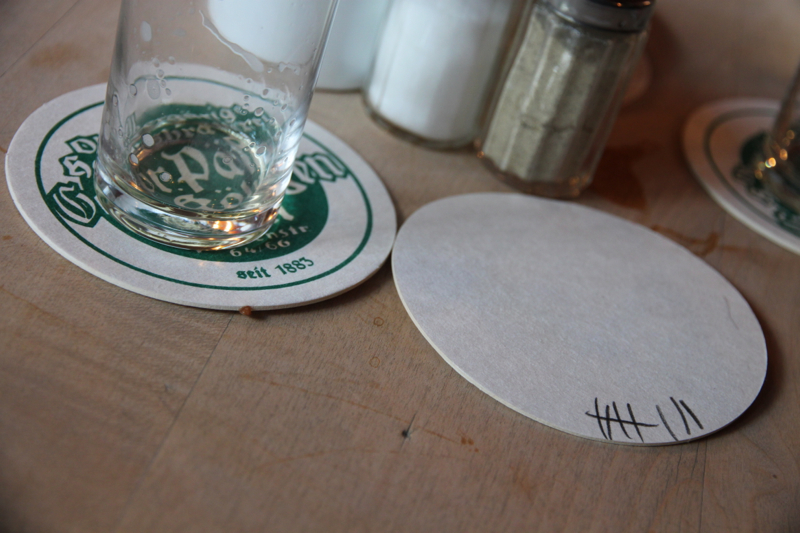 On my first night in Cologne Kasey took me to Gaffel, a brewery near the main station and cathedral, for my first taste of Kölsch. Because it was a national holiday, the locals were out in droves and it made for a fun introduction to Kölsch drinking culture. Waiters at Kölsch bars are supposed to speak not German, but the local dialect, also called Kölsch. (According to Julika, the only language you can also drink!) They are also known to be rude, especially to foreigners, but I never found this to be the case. The waiter was even kind enough to stop serving long enough to let me take this photo.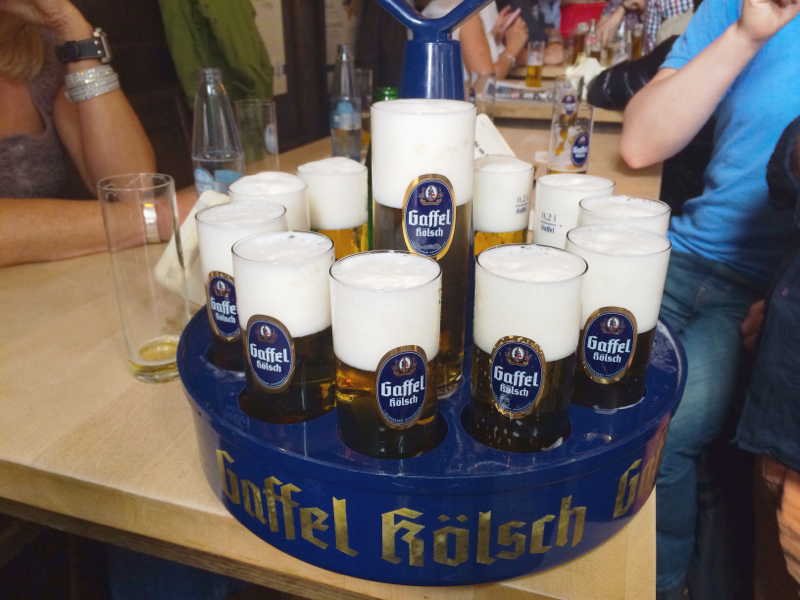 Nothing, though, would be as fun as the next night. Kasey's coworker had recommended that we eat dinner at a place called Lommerzheim. This tiny pub-restaurant is rather famous in Cologne and we were told to arrive at opening time or we would be waiting all night for a table. When we got there 10 minutes before opening there was already a line.
The doors opened and everyone filed nicely inside and chose a table. This is Germany, after all. The crowd was all local and everyone seemed ready for a Saturday night of Kölsch and traditional German fare. After a few beers and some dinner, two German men asked if they could sit at our table because the rest were full. Like seemingly every other person in the country, they spoke fabulous English and were soon telling us about the nights they spent sleeping in their car outside of Lommerzheim after too many Kölsch and shots of what they described as the "local Jagermeister".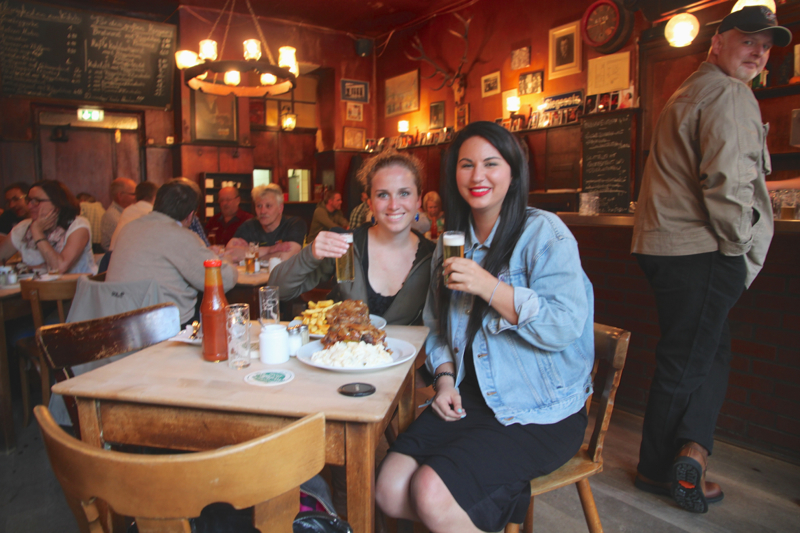 Then, not surprisingly, some shots of the this local Jagermeister showed up on our table. And more Kölsch kept coming. And finally, after a ridiculous amount of 20 centiliter glasses had been consumed, we decided we needed to leave to meet Kasey's friends. We both put coasters on our glasses and waited for the waiter to come so we could settle the bill. The waiter came. And stacked more filled Kölsch glasses on top of the coasters. A breach of Kölsch protocol, I think.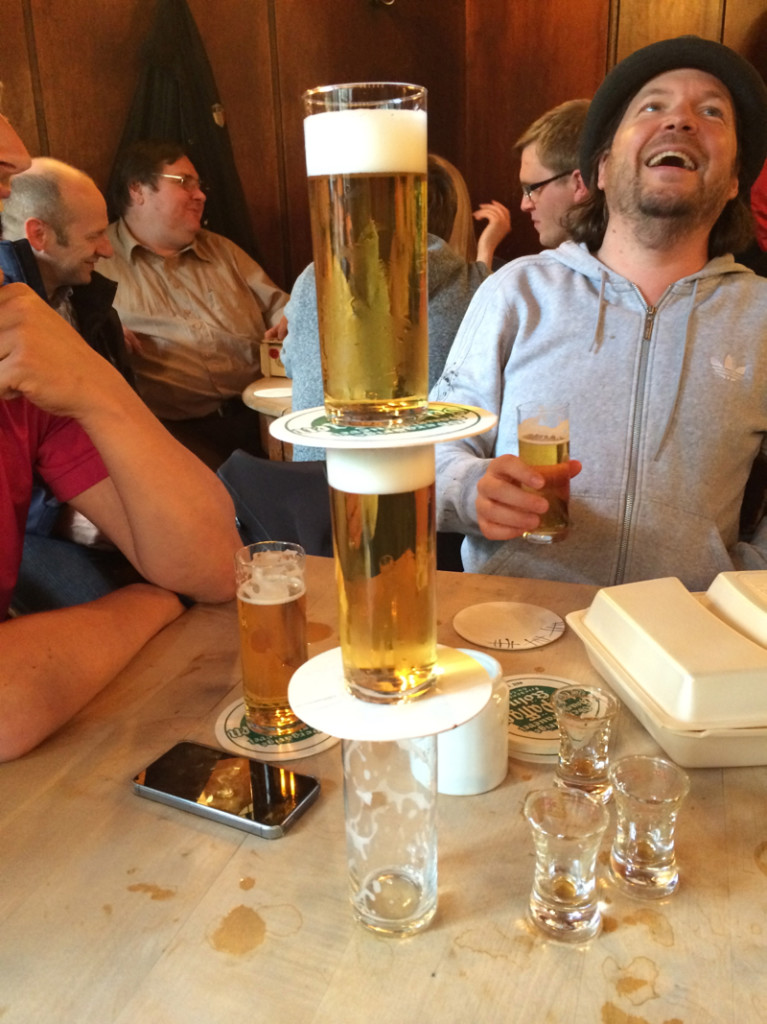 So we continued to drink and when we finally absolutely had to leave, we were able to convince the waiter to let us pay and go. We walked outside and realized we had left the box with our leftover food on the table. Not wanting to both go back in and risk not being allowed to leave again, I waited on the sidewalk and Kasey ventured inside. As soon as she entered the restaurant I heard the entire place start to cheer. Almost immediately she came back out the door empty-handed.
"Amanda, I need you. Come back."
I crossed the street and entered the restaurant. Two shots were sitting on our takeaway box.
"They won't let us leave with our food without taking these shots."
So we took our shots, grabbed our box of food, said goodbye to our new friends, and hobbled outside laughing our heads off.
This is the reason I love the culture of Kölsch.
This is a reason I love Germany.
Have you ever had a funny local dining or drinking experience while traveling?