In case you missed part 1 of what I ate in Rome, I'll give you a quick recap. I spent four days in Rome. I did a lot of walking, but I did even more eating. So much so that I had to split this post into two parts.
Part 2 contains a lot less offal, a couple of Katie Parla recommendations, and a lot of pasta.
Pizzarium
Ah, Pizzarium. This pizza al taglio place owned by renowned pizzaiolo Gabriele Bonci has a lot of hype. Recommended highly by not only Katie Parla, but also featured on Anthony Bourdain's The Layover, I knew this was one place I had to try. Located in a residential neighborhood kind of near the Vatican, Pizzarium is a small shop exploding with creativity and fresh, high quality ingredients.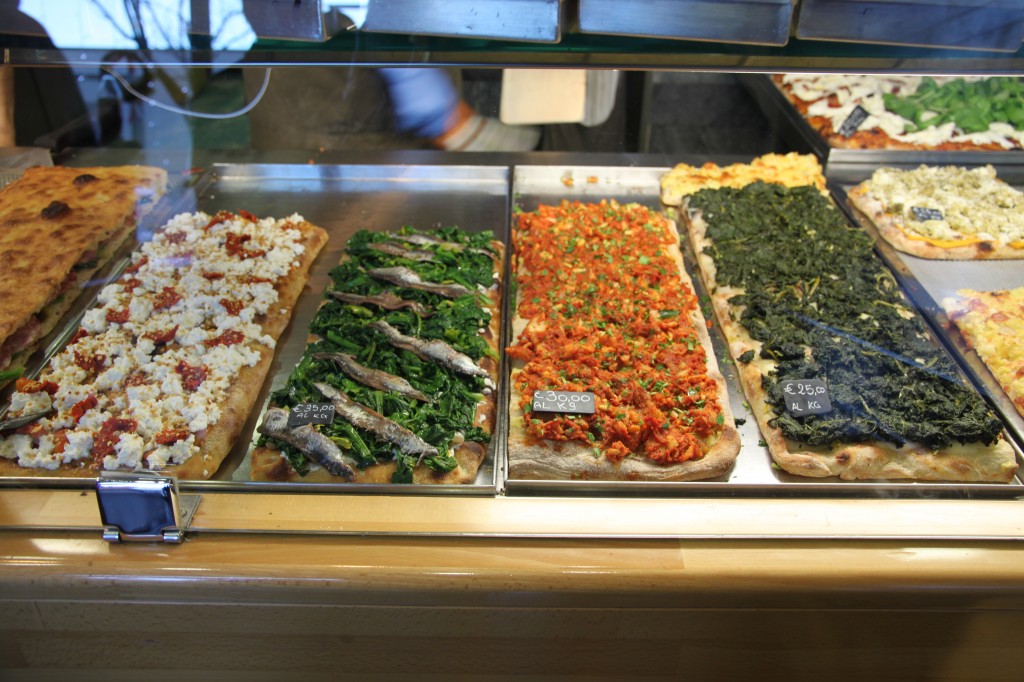 Even though the shop was crowded, I was immediately greeted when I walked in by a man behind the counter who was probably the friendliest Roman I've ever encountered. He also spoke perfect English and helped guide me through the day's choices. I'd read good things about the potato pizza, and being a favorite of mine, I immediately knew I had to try a piece of that. As per the recommendation of the friendly Roman pizza guy, I also ordered some of the cod and pine nut pizza. Oh, and of course, I got a suppli. Though, I decided to veer away from the classic and went with chicken and artichoke.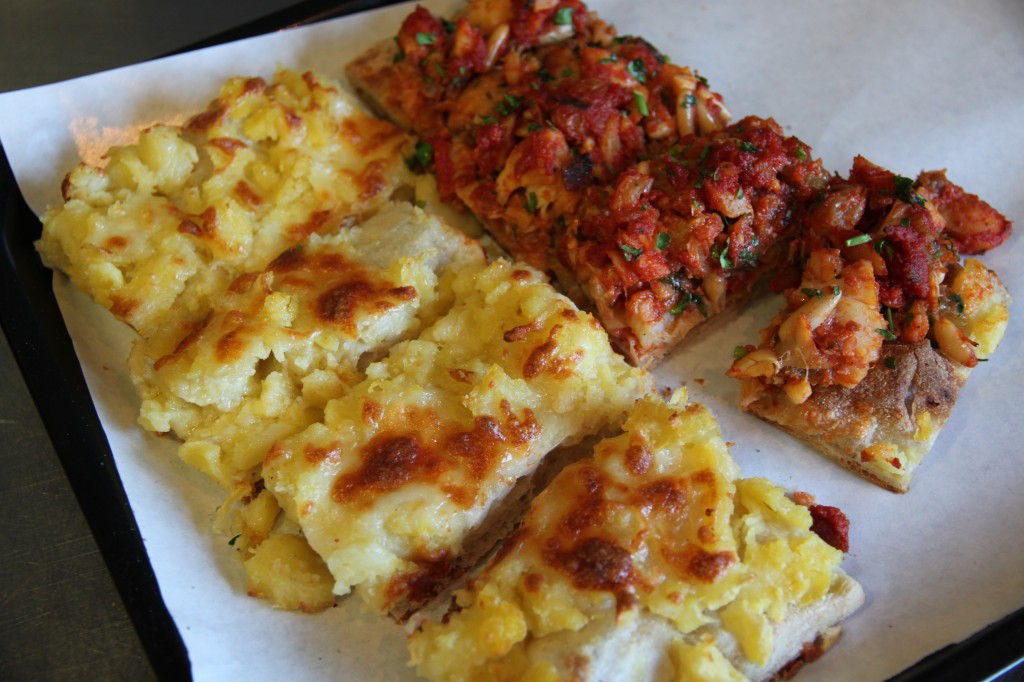 My thoughts on Pizzarium are a little complicated. I really admire Bonci's creativity and innovation when it comes to flavor combinations and his indifference to the traditional pizza al taglio toppings. The cod and pine nut piece that I had was phenomenal. But the potato pizza was a little dry. I thought the crust, Bonci's famous homemade pizza bianca, was dry and overpowering. And my suppli was actually almost inedible due to dryness. Normally at a pizza al taglio place I wouldn't be so critical, but the prices at Pizzarium aren't normal pizza al taglio prices. My lunch ran me €13.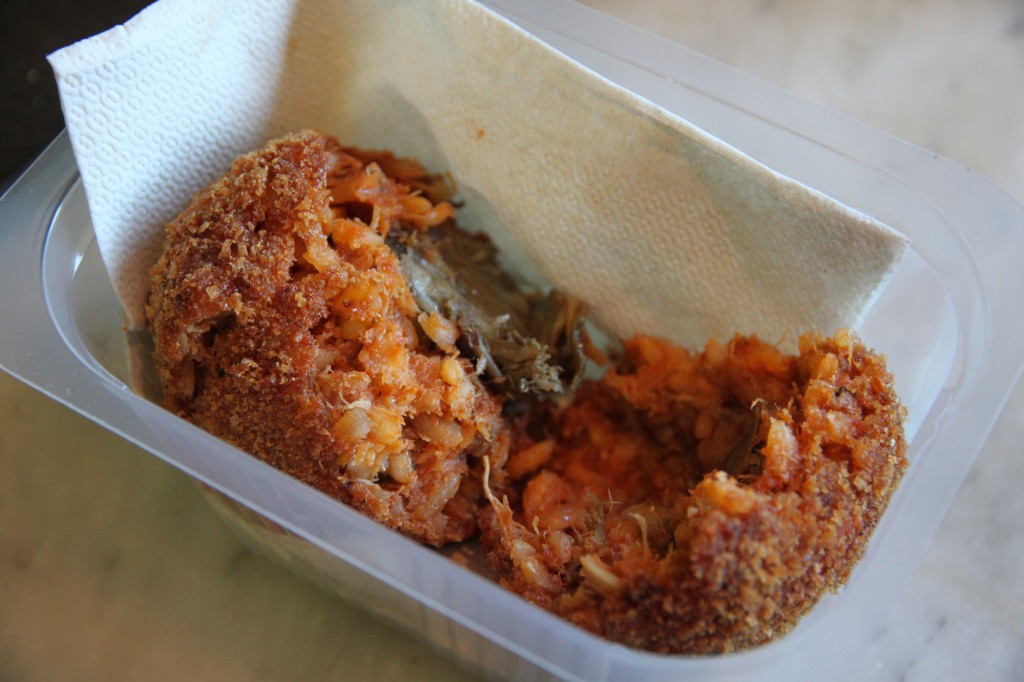 In spite of this, I would still urge others to try this place out. In fact, I'm itching to go back, if only to see what kind of crazy combinations are thought of next. In addition to pizza, there's a good selection of beer and other local drinks, as well as pay by the glass boxed wine. But not, like, Franzia boxed wine. Because this is Italy.
Via della Meloria 43, Prati. Open Monday-Saturday 12:00-22:00.
Da Tonino
On my second to last night in Rome I agreed to go out to dinner with my hostel roommate. I was tired of eating alone and she was nice, so double win. She's a vegetarian and I didn't want to seem overbearing, so I told her as long as they served pasta, I would go anywhere. She mentioned a small, family-run place she'd been to on a previous trip that wasn't a far walk and I agreed. The place was moderately full when we arrived, mostly with Italians. The menu was long. And in many languages. I didn't know what to expect.
I was craving a red sauce, so I ordered amatriciana, a Roman sauce made with tomato, guanciale, and pecorino cheese. Amatriciana is one of my favorite dishes and I was immediately unimpressed. First, it was served on rigatoni, which is fine, but I was hoping for bucatini. Secondly, it was seriously lacking in guanciale and depth of flavor.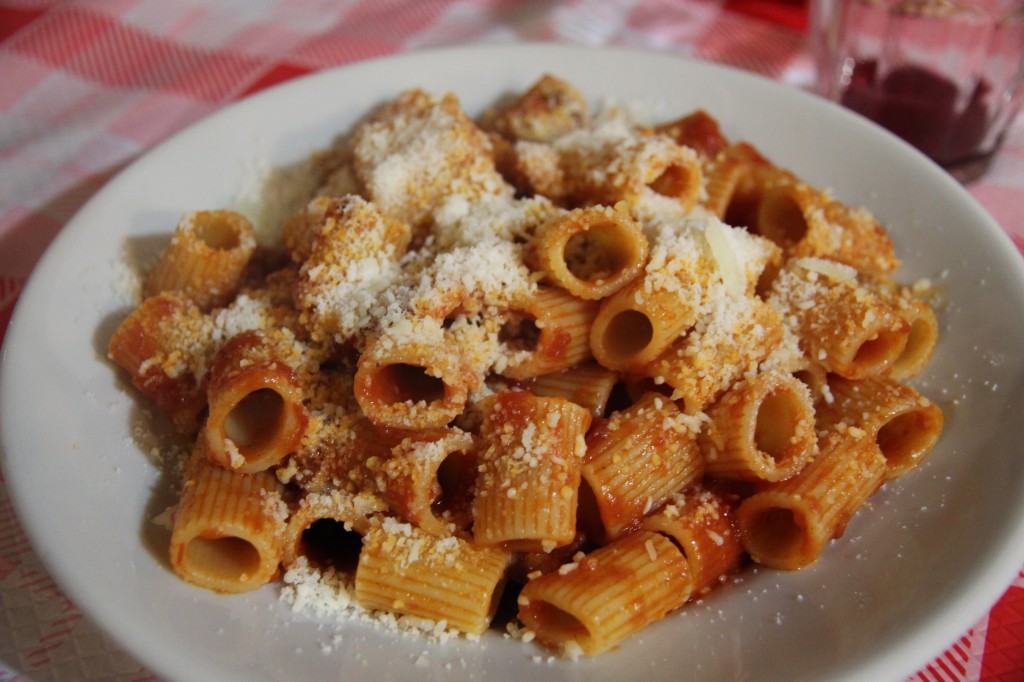 I had eaten an early lunch and was starving by dinner, so I also ordered a secondo. I chose veal with peas and mushrooms. The plate came with a healthy portion of tender veal, but the peas that topped it were definitely canned and the mushrooms were overcooked. The veal had the promise of good flavor, but the taste of canned peas overpowered everything.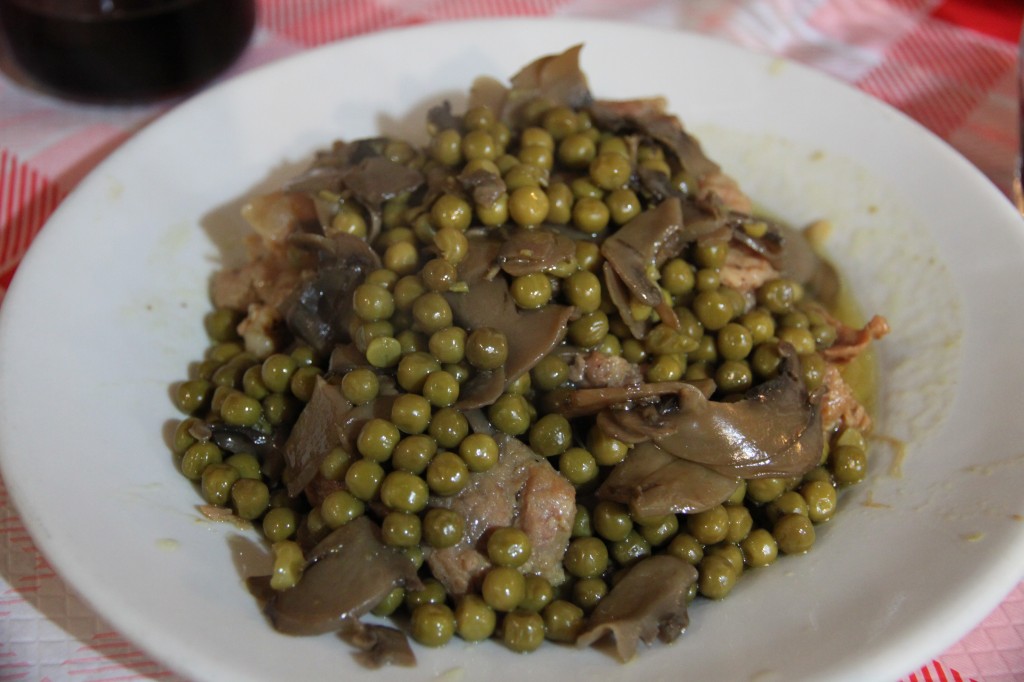 Overall, I paid €20 for both courses and my half of a half liter of wine. So while not expensive (especially considering the portions were enormous), dining at Da Tonino was a good example of why you really need to do your research before dining out in Rome. Especially in the centro storico.
Via del Governo Vecchio 18, Centro Storico. 
Necci dal 1924
On a Sunday I ventured out to Rome's Pigneto neighborhood. This area, a tram ride away from the center, has become quite trendy over the past few years. Rome's artists and hipsters live side by side with Bangladeshi and African immigrants in this diverse neighborhood named for the pine forests that once stood there. I came to Pigneto mainly to go street art hunting, but was happy to find that Necci dal 1924 would be serving lunch on a Sunday afternoon, something that is still somewhat uncommon in Rome.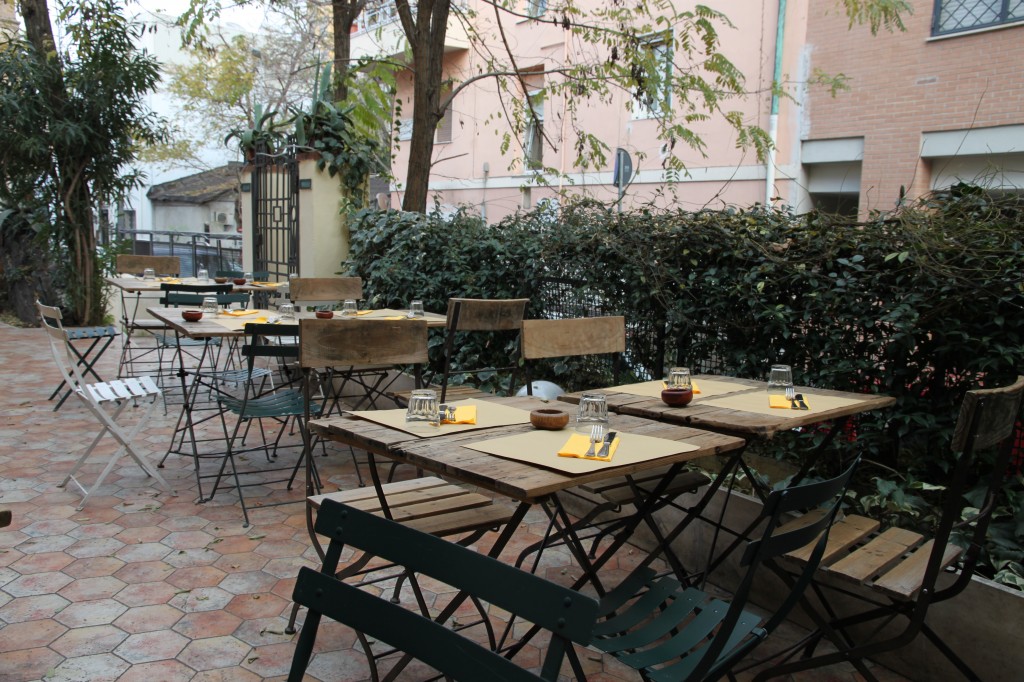 Dating back to 1924, Necci was made famous by Pier Paolo Pasolini in 1961 when he filmed Accattone in the neighborhood, using the bar as his headquarters. Today, Bar Necci is owned by an Englishman and serves homemade, organic cuisine seven days a week. Because it was a nice day, I sat outside on the large patio and lingered for a while over coffee, a meal, and a dessert. This is a place you could stay for a while.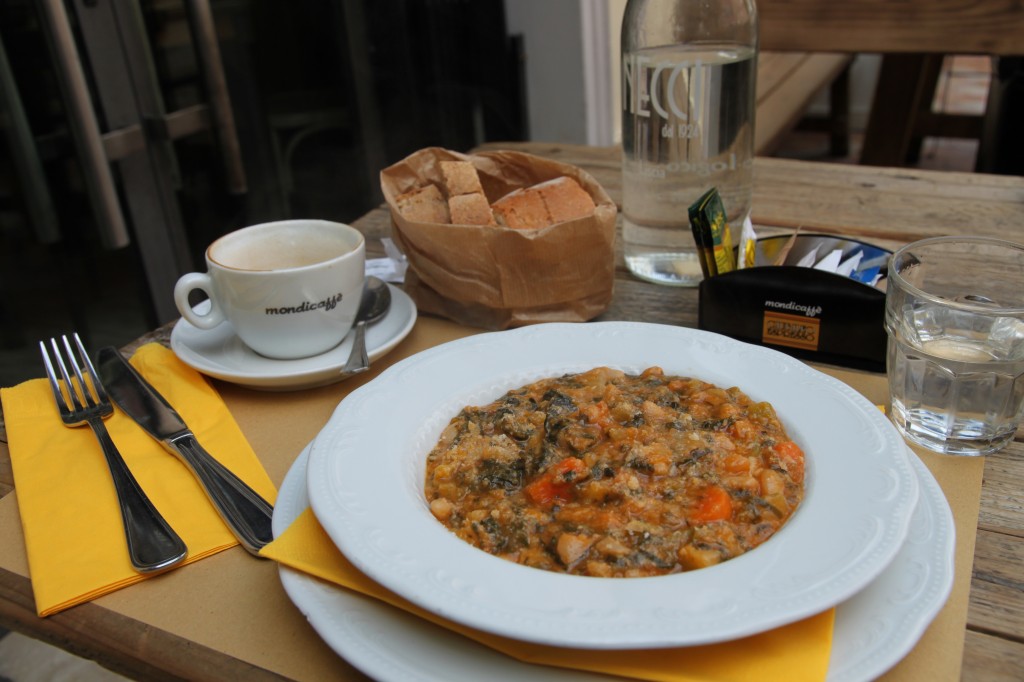 For my main I chose ribollita, a Tuscan soup. Meaning "reboiled", the soup has many variations but always includes cannellini beans and a variety of other cheap vegetables that are lying around. A kind of "throw everything that's left in the refrigerator" type of dish. The ribollita at Necci included carrots, celery, potatoes, and cavolo nero, a type of kale that is grown in Tuscany. The soup was hearty and flavorful, a perfect December meal.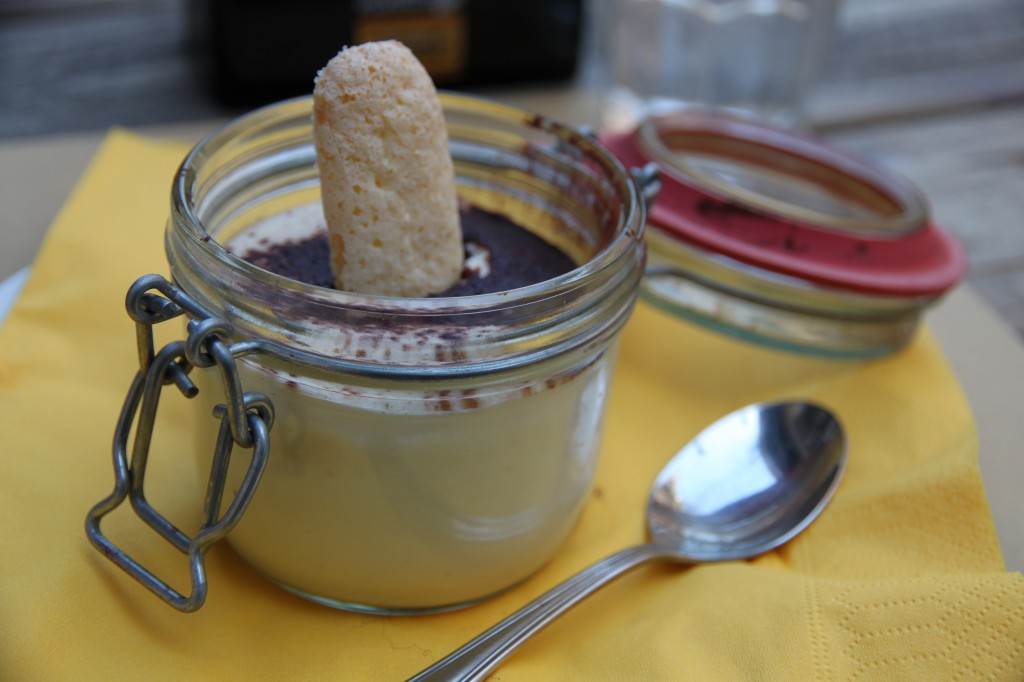 I was so content sitting on the patio reading that I decided to order a tiramisu after I finished my lunch. The waitress said it was the best dessert on the menu and it came in a cute little jar. I can't say that it was supremely better than any other tiramisu I've had, but it was definitely enjoyable.
It might not be worth it to venture out to Pigneto just for a meal at Necci dal 1924, but the neighborhood is worth a glance if you've had your fill of historial Rome and Bar Necci is a great place for coffee, drink, or snack.
Via Fanfulla di Lodi 68, Pigneto. Open everyday 8:00-2:00. For more information visit their website. 
Roscioli 
Rosocioli came highly recommended and I decided to make dinner here an early Christmas present to myself. This is far from your neighborhood trattoria. Located in a salumeria, Roscioli is a higher end restaurant. A higher end restaurant where you can dine next to hanging, cured meat.
After I placed my order, the waiter brought out an arancini as a complimentary amouse bouce. Arancini are closely related to my beloved suppli (closely related as in, basically the same with thing with a different name depending on where they are from) so I was more than pleased with this little treat.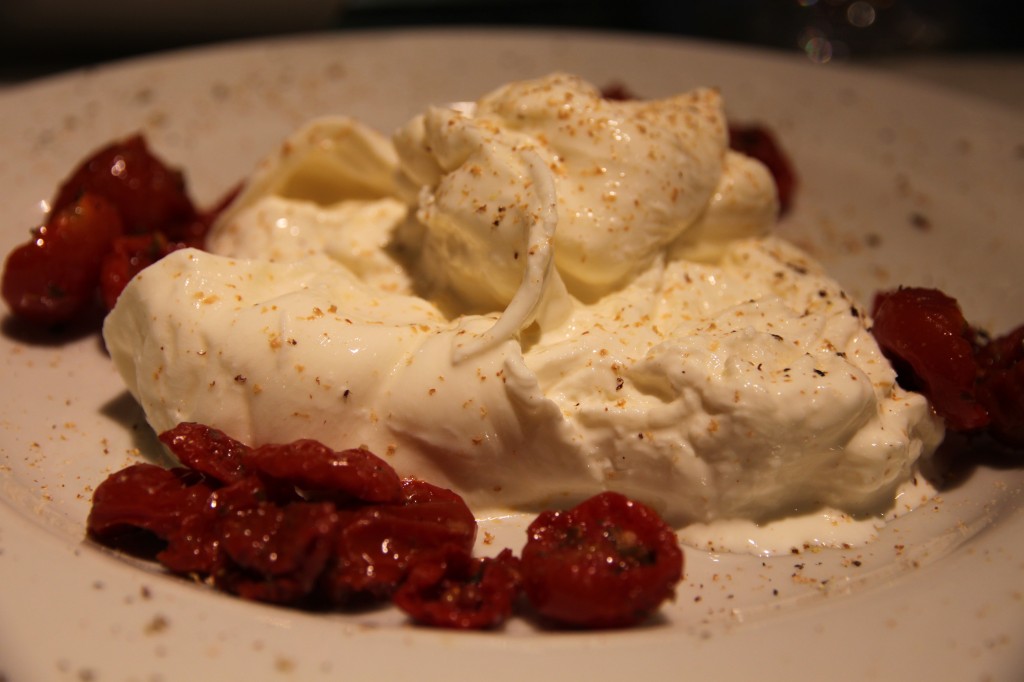 Then came my starter, a plate of burrata surrounded by sun dried tomatoes. But not the overly sweet, overly dried (and in my opinion, gross) sun dried tomatoes that you find in the United States. These tomatoes were both sweet and acidic, and retained some of their tomatoey moisture. When eaten with the burrata, it was pure pleasure. This was a life changing culinary experience. I slowly ate through a dish that could easily satisfy three people with a smile on my face.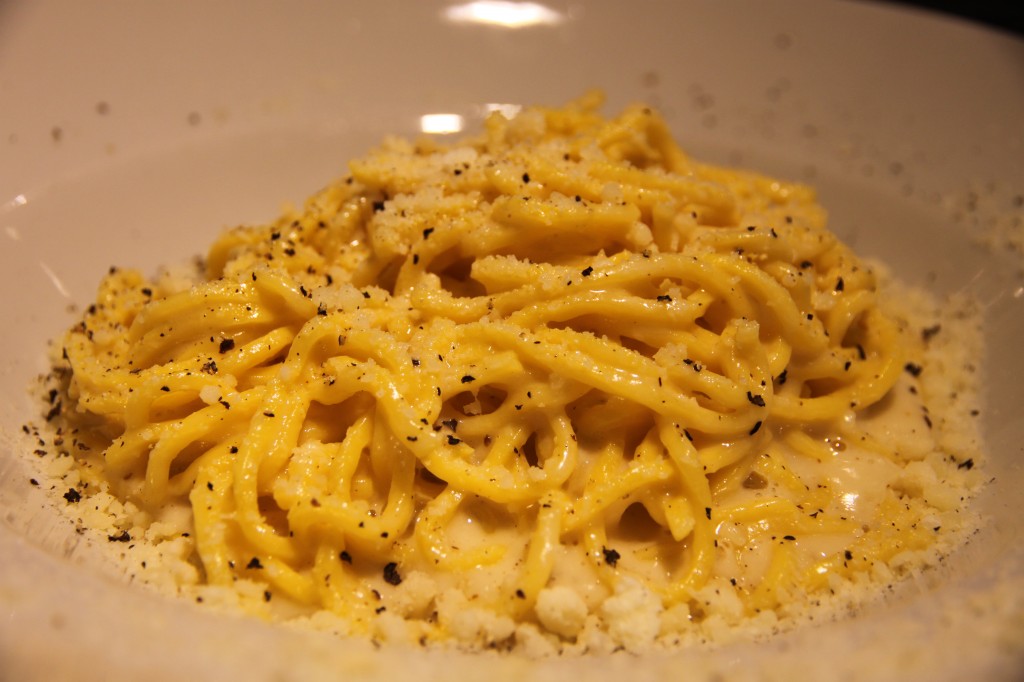 For my main I went with cacio e pepe, a Roman dish made with black pepper and pecorino cheese. This is where I made a mistake. Roscioli is known for their amazing carbonara, but I'd already had carbonara at Da Enzo and wanted to eat cacio e pepe while in Rome. This was going to be my last chance. Halfway through the dish I realized that I don't really like cacio e pepe. Roscioli does a fine version of it, but it's just too heavy for me. I had serious food envy as the girl next me happily ate her delicious looking carbonara.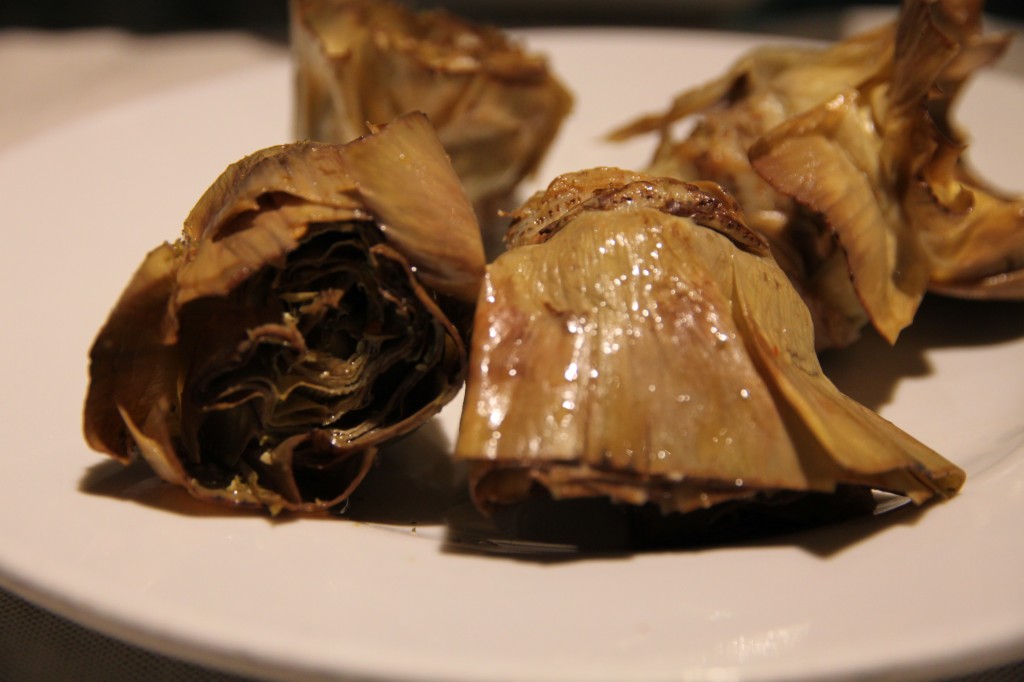 I skipped a seconodo, which ended up being a good decision as by this point I was full to the point of pain, but went with a contorno of artichokes to take advantage one last time of the fact that I was traveling to Rome during my favorite season- artichoke season. When I was finished, I was brought a plate of cookies with a chocolate dipping sauce. A nice touch to the end of a memorable meal.
Roscioli will be a place I return to next time I'm in Rome. Though the service was horrendous (even by Italian standards), the food is phenomenal and it is nice to find such a a high quality place right in the historical center.
Via dei Giubbonari 21/22, Centro Storico. Open Monday-Saturday 12:30-16:00 and 19:00-24:00. Reservations recommended. For more information visit their website. 
What dish looks the best to you? Where would you most like to dine?