When I booked my trip to Rome my friends and family kept asking, "What are you going to do for four days, alone, in a city where you used to live?" To that I responded: eat. And eat I did. So much so that I had to split this post about what I ate in Rome into two parts. (You can see part two here!)
Eating in Rome can be tricky. It's not one of those cities where you can turn up to any restaurant, especially in the center, and find a good meal. To really get the most out of your dining experiences in the Italian capital, it pays do some research. I obsessively stalked Katie Parla's fabulous blog for weeks before departure, carefully crafting the perfect four day food tour around some of her recommendations.
In part 1 of my Roman food extravaganza, I will cover an old favorite, two new trattoria discoveries, and some damn good gelato.
I Suppli
If I had to choose a last meal, it would be a plate of freshly fried suppli from the aptly named I Suppli in Trastevere. For you poor souls who have never tried or heard of these magical treats, suppli are, traditionally, balls of rice, tomato sauce, and mozzarella cheese that are deep fried. It's a Roman dish that is commonly found at pizza places in the region. And it's basically the best thing you could ever put into your mouth. Trust me.
I Suppli is a tiny, hole in the wall place just off Viale di Trastevere and they serve the best suppli in Rome. Again, trust me. This takeaway pizza joint was on my way home from school during my study abroad days and it soon became an almost daily lunch stop. Around this time each day the place gets filled to the brim with pushy Romans trying to get their fill of pizza al taglio, suppli, roasted chicken, and the daily pasta selection. The last time I was there I elbowed a couple of nuns out of the way to get my suppli fix. Anything for suppli. The people who work there, in typical Roman fashion, aren't overly friendly, but they aren't rude. I'm not sure anyone speaks English (or they aren't willing to), but don't be intimidated. They'll be accommodating to pointing and hand gestures should it resort to that.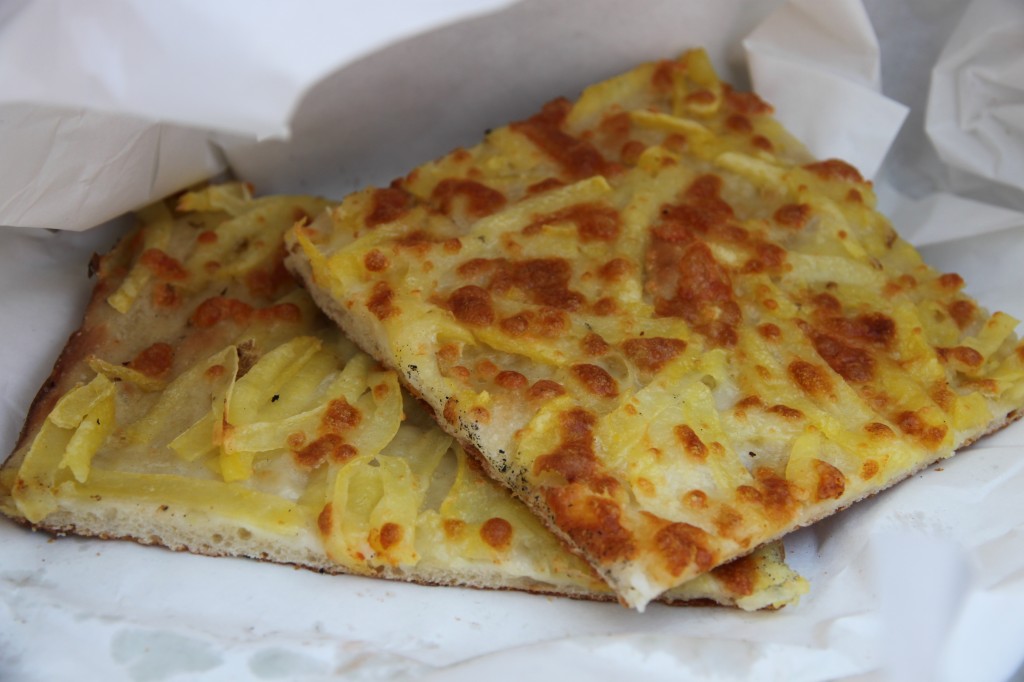 The pizza here isn't bad, either. I always go for a piece of the potato, but the mushroom (funghi) and margherita are also good choices. Just tell them how much you want and they'll cut the piece off for you, reheat it, fold it in half, and stick it between some paper. The price is by kilo and differs depending on toppings. If you want to eat your pizza while you walk tell them "mangio subito" and if you'd like it in a bag to take to your favorite piazza just say "portare via". My huge piece of potato pizza and one suppli cost me €4. If you're just in the mood for a suppli, it will set you back €1.10. I know this from the two other times I went there for an afternoon snack…
Via San Francisco a Ripa 137, Trastevere. Open Monday-Saturday 10:30-21:30.
Da Enzo al 29
After having woken up at 3 o'clock that morning for my flight, I was exhausted by dinner time on my first night in Rome. I wanted to go somewhere for dinner that was nearby so I googled "best trattoria in Trastevere". Da Enzo al 29 popped up with good reviews on Yelp, TripAdvisor, and several blogs. I was sold. Because I was alone, something that is fairly uncommon in Italy, and didn't have a reservation, I showed up shortly after the restaurant opened with hopes that it would help me score a table quickly and without constant dismay of my being alone. The tiny, simple dining room was almost full, but without batting an eye at my da sola status, I was immediately seated in the back. Within 10 minutes they were turning people away.
I decided to go big for my first proper meal back in Italy and ordered a primo and secondo. For the first pasta course I went with a Roman class, carbonara. Made from eggs, cheese, and black pepper and topped with thick cut pieces of guanciale, a type of cured pork cheek, the dish was perfectly creamy, but not too heavy. It seems weird to even comment on how well pasta is cooked at a restaurant in Italy, but the rigatoni here had just the amount of bite.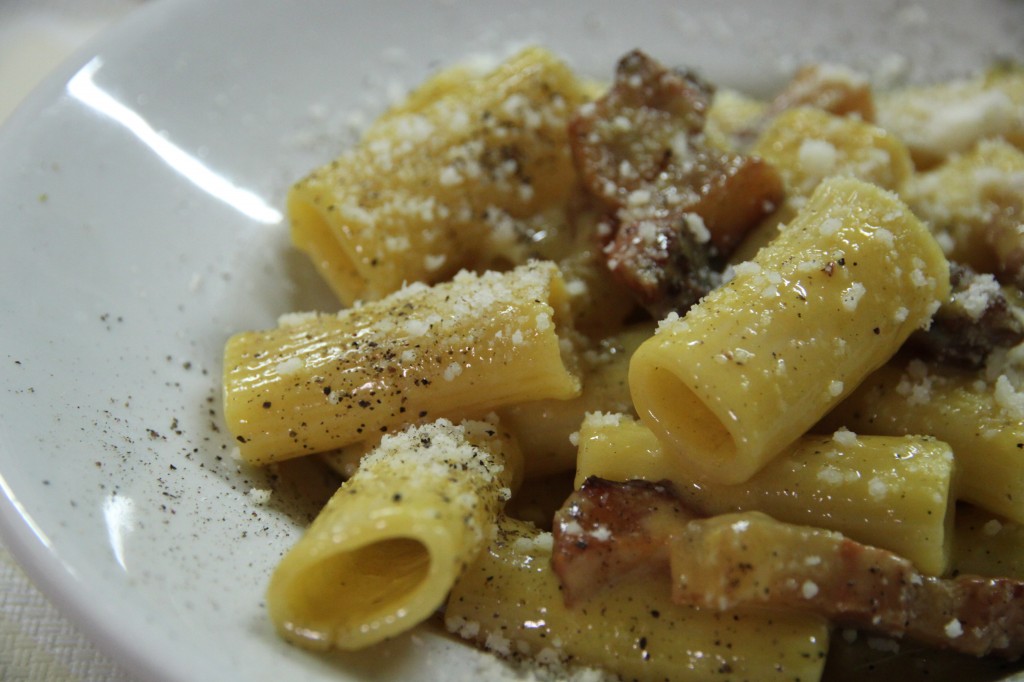 Next up was trippa alla romana, or Roman style tripe. I've been a fan of tripe since I first tried it in a stew that my grandfather cooked for me when I was a child, and as my love for offal has grown stronger over the past couple of years, I was eagerly anticipating trying this classic dish. In Rome, the tripe is slowly boiled until tender and then simmered with a simple tomato sauce and topped with grated cheese. Tripe is one of those ingredients that, if cooked poorly, can have a less than pleasant flavor or texture. But the trip at Da Enzo was nearly perfect- cleaned nicely and not chewy in the slightest.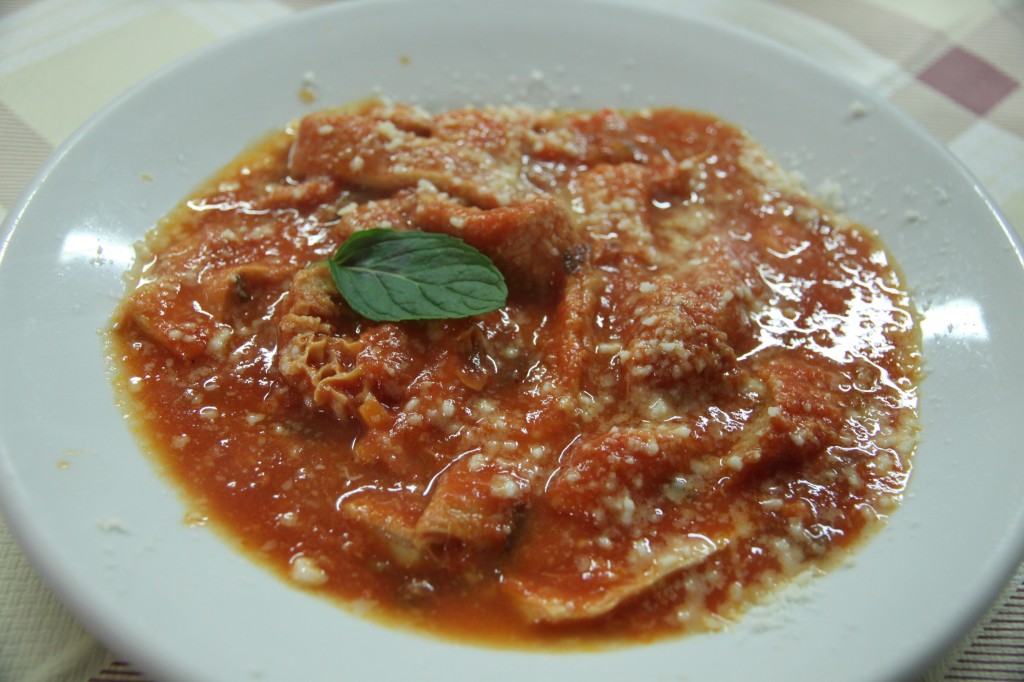 This dinner at Da Enzo ended up being my favorite meal of my 11 days in Italy. The trattoria was simple and unpretentious. The food was the same- simple, flavorful, and traditional. The waiters were friendly and humored everyone's attempts at Italian while maintaing a good level of service. Lastly, Da Enzo is fairly inexpensive. I had two courses, a rather large glass of the house red, and an after dinner espresso for only €24.
Via dei Vascellari 29, Trastevere. Open Monday-Saturday 12:30-15:00 and 19:30-23:00. Reservations recommended. For more information visit their website. 
Agustarell0
A Katie Parla recommendation, this small trattoria in the working class neighborhood of Testaccio is well known for its large selection of quinto quarto, or offal. Testaccio was once home to a large slaughterhouse and offal became an important part of the cuisine of this "outer", less affluent district of Rome. Agustarello is one of the many places in the area that keeps this tradition alive.
I came here fairly early for lunch on a grey Friday afternoon and the dining room was nearly empty. I was still fairly full from a large breakfast (and a mid-morning cornetto snack) so I opted to skip the pasta course and head straight for the good stuff- coratella. Coratella is the heart, lungs, and liver of a lamb. In this dish the organs are cut up and pan fried with artichokes and white wine. I was scooping this up by the spoonful and spent quite a while clearing the plate with bread, making sure I get every last drop.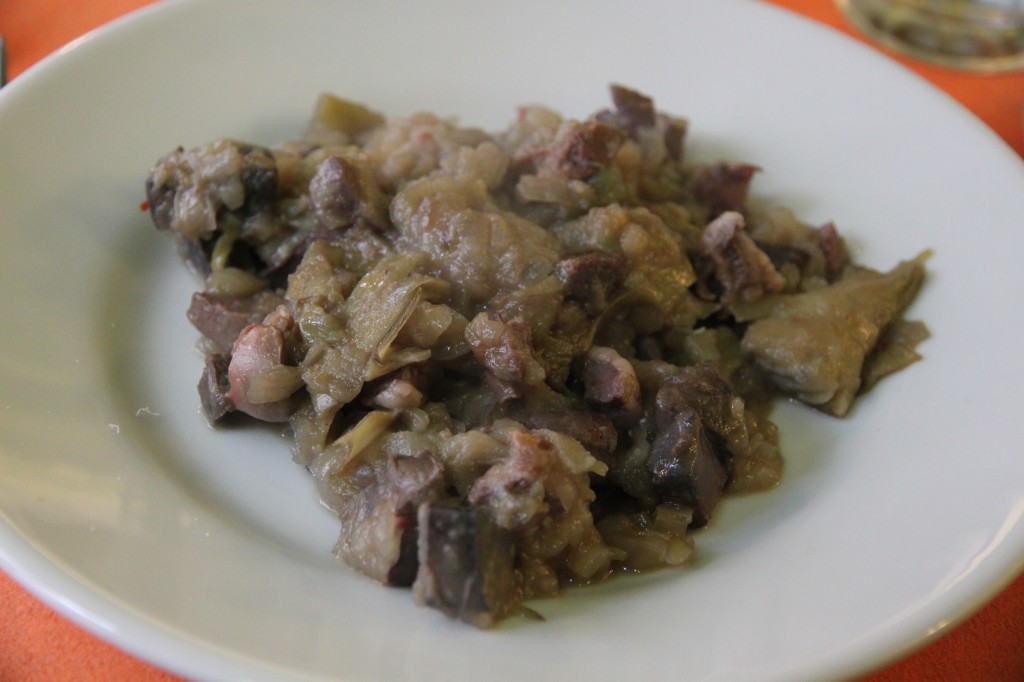 Not as inexpensive as some of the other places featured here, my dish cost €14, but the portion was huge. As a warning, there is no English menu here so make sure you brush up on your intestine related Italian before arriving.
Via Giovanni Branca 98-100, Testaccio. Open Monday-Saturday 12:30-15:30 and 19:30-24:00. Reservations recommended for dinner.
Fatamorgana 
In my 11 days in Italy I somehow managed to only eat gelato once (in my defense, I tried another time in Bologna but they were taking a winter break…). Luckily, the one time I did manage to gobble down this frozen treat, it was at one of the best gelaterie around. Maria Agnese Spagnuolo opened the first Fatamorgana shop in 2003 and since then her all natural, chemical free, and dye free gelato has taken off.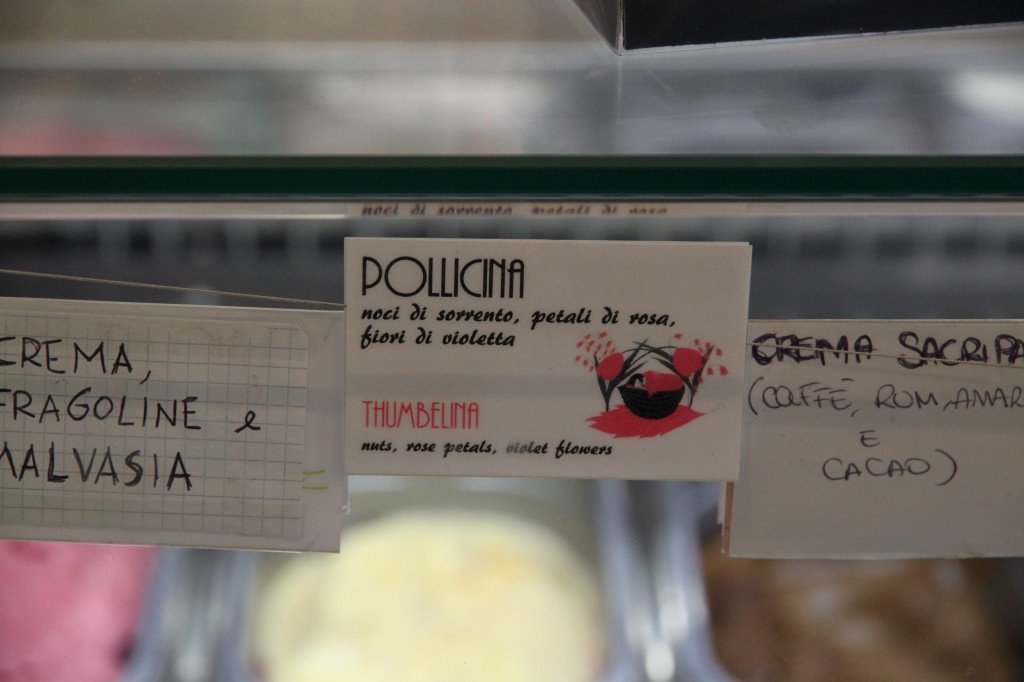 Fatamorgana offers all the traditional flavors of gelato, but in my idea what sets them apart even further is their creative flavor combinations like goats cheese and honey, wasabi and chocolate, and the dark chocolate and tobacco mix called 'Kentucky'.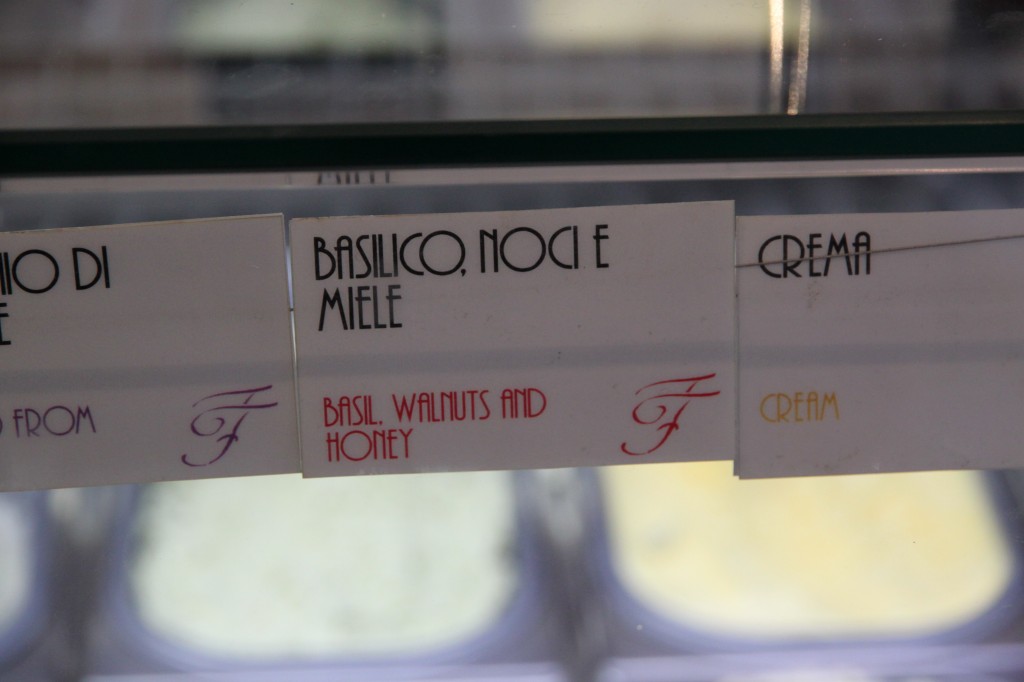 I decided to venture away from my old standby of straciatella and go for something completely unique to Fatamorgana. I chose a scoop of Thumbelina (nuts, rose petals, and violet flowers) and a scoop of the basil, walnut, and honey flavor. They were both fantastic, but my favorite was the basil, walnut, and honey. It was sweet in the way you'd expect from a gelato, but it had these savory notes from the basil that made me want to keep eating.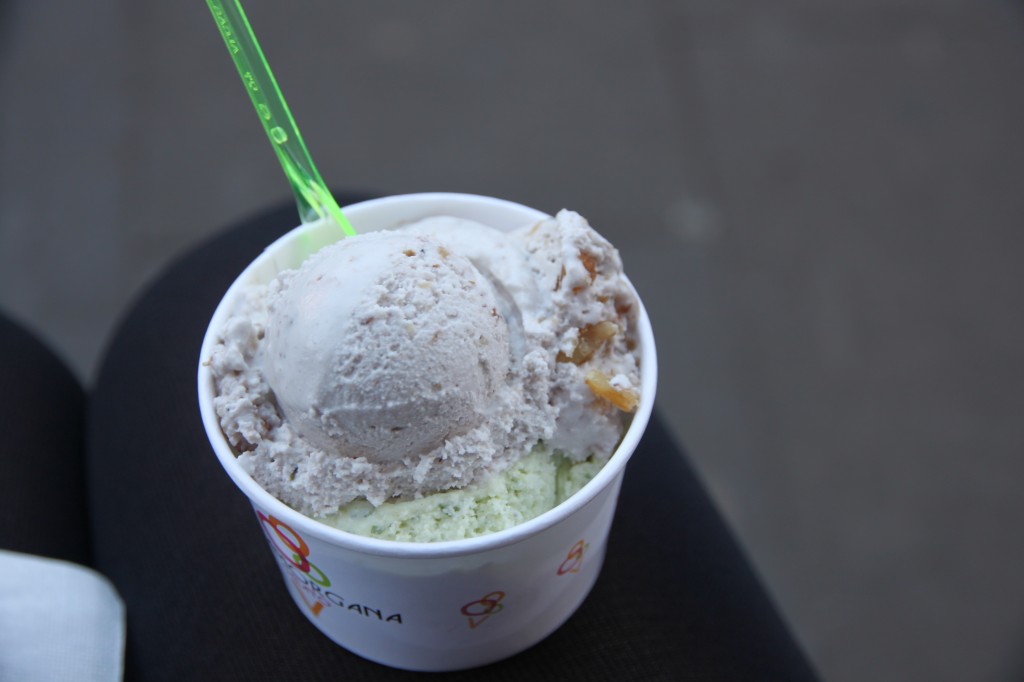 How much is this fancy, artisanal gelato? €2 for both scoops! A lot cheaper than the mass produced stuff they are shilling around the Trevi Fountain, that's for sure.
Various locations. For more information visit their website. 
What dish looks the best to you? What's your favorite thing to eat in Rome?