Bologna is often considered the culinary capital of Italy. A fact which gave me pretty high expectations for eating. I had big plans to get out of Bologna and into Parma and Modena to explore the region, but due to poor planning on my part, I failed. This, in combination with the fact that I was traveling the week between Christmas and New Year which meant a lot of restaurants were closed, led me to be slightly disappointed with my foodie adventures in Bologna. While I think I prefer the cuisines of Rome and Tuscany, my meals in Bologna weren't all bad.
Pasta Fresca Naldi
On my first night in Bologna I accidentally got really drunk. Thus, I woke up the next morning (er…afternoon) feeling pretty horrible. I wanted pasta and I wanted it to be as close to my bed as possible. Luckily, Pasta Fresca Naldi, a tiny fresh pasta shop run by a kind old woman that came highly recommended by the hostel staff, was a quick walk away.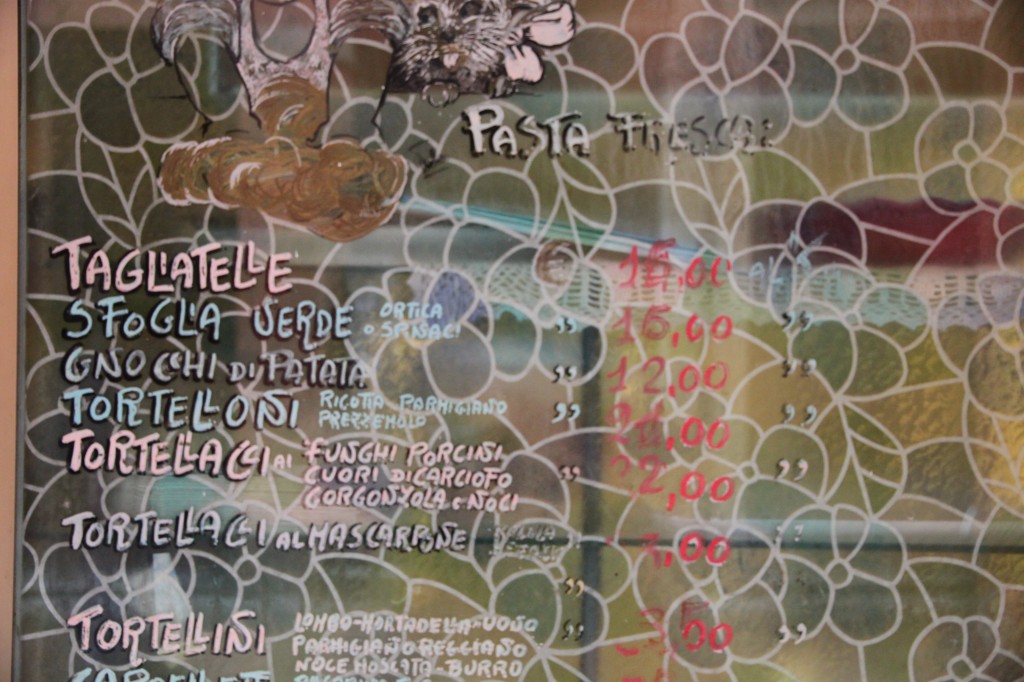 Pasta Fresca Naldi is simple. There are couple of tables and a few stools, but most people order their food to takeaway. There is a list of pastas, all handmade in the shop, and  a list of sauces. You order what you'd like at the counter and a few minutes later you are presented with a plastic container with your food. The owner doesn't speak a lot of English, but she is kind, helpful, and obviously passionate about her craft.
I decided to go with the city's most famous dish, tagliatelle al ragu, known more commonly in English speaking countries as pasta bolognese. Here, though, it's just a simple meat sauce over ribbons of pasta. And like most things in Italy, it once again proves why simple is often better.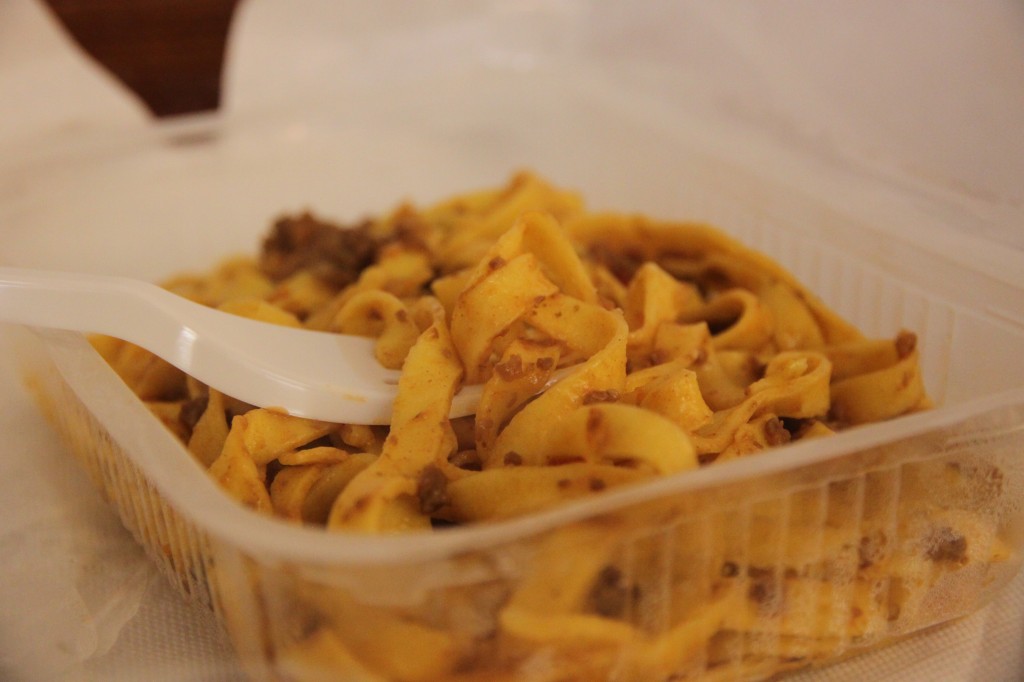 Via del Pratello 71/A. Open Tuesday-Sunday 9:30-14:00 and Friday-Saturday 16:30-23:00.
E' Cucina Leopardi
According to everything I'd read online, E' Cucina Leopardi had no menu. They would ask if you wanted the meat, fish, or vegetarian menu and how many courses you wanted and the rather well regarded chef would choose what to cook and you'd be charged  a set price. This was not the case the day I was there.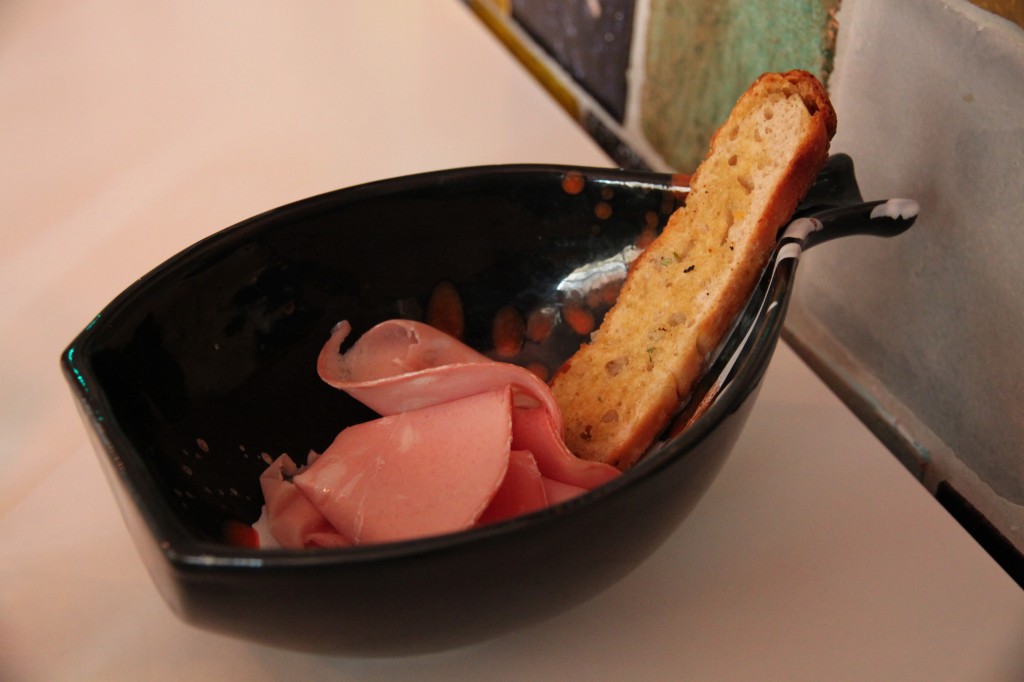 I was immediately greeted with a bottle of water, a glass of wine (included in the set price), and an appetizer of mortadella and crostini. I'm a disgusting person who likes the bastardized child of mortadella (bologna), so I was thrilled to try mortadella in its birthplace. After I finished the waitress came over and listed off the choices of the day. I decided to choose just a first course and went with a ribollita type soup filled with kale, potatoes, carrots, and beans and topped with crispy pieces of speck. For dessert I had a small lemon cake topped with a cream with a heavy alcohol flavor and raspberries.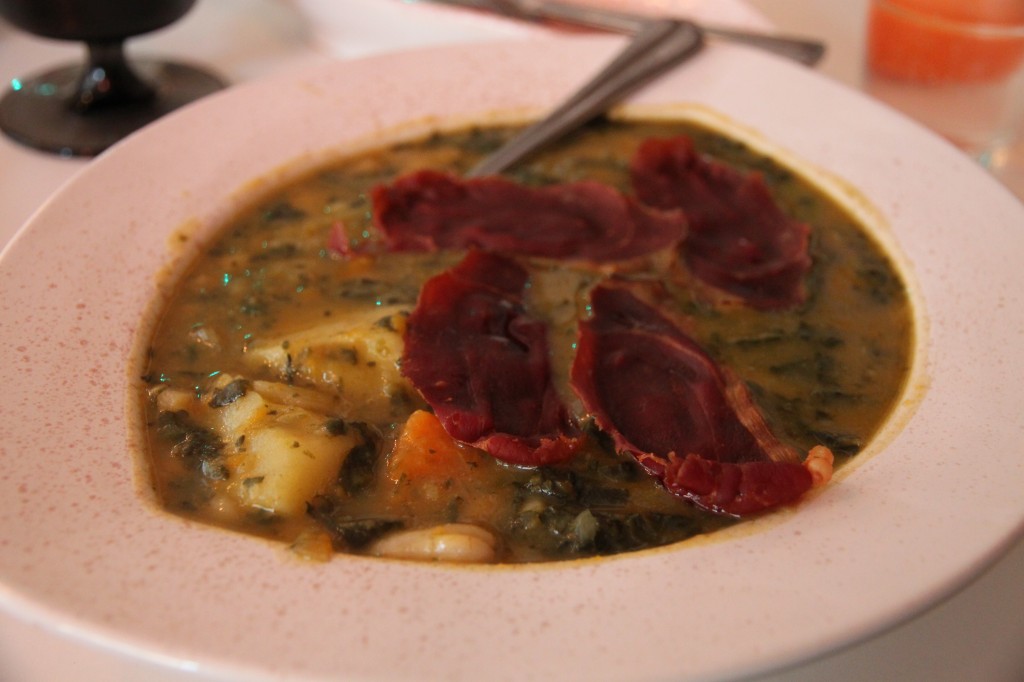 E' cucina leopardi wasn't bad. The modern decor and hip decor were a nice change of place from Bologna's more traditional trattorias and osterias, but I was somewhat disappointed that they weren't offering the creative and fun surprise menu option.
Via G. Leopardi 4. Closed Sunday. Reservations recommended. For more information visit their website.
Osteria dell'Orsa
Osteria dell'Orsa came highly recommended by both the Internet and my hostel's map. Open all day, every day (!!), Osteria dell'Orsa is known for its panini, crostini, and rotating Bolognese specialties. Each day the chalk board set outside the door on the narrow Via Mentana lists the dishes they are serving that day. I was happy to see tortellini in brodo, a classic dish of the region, on the menu when I arrived.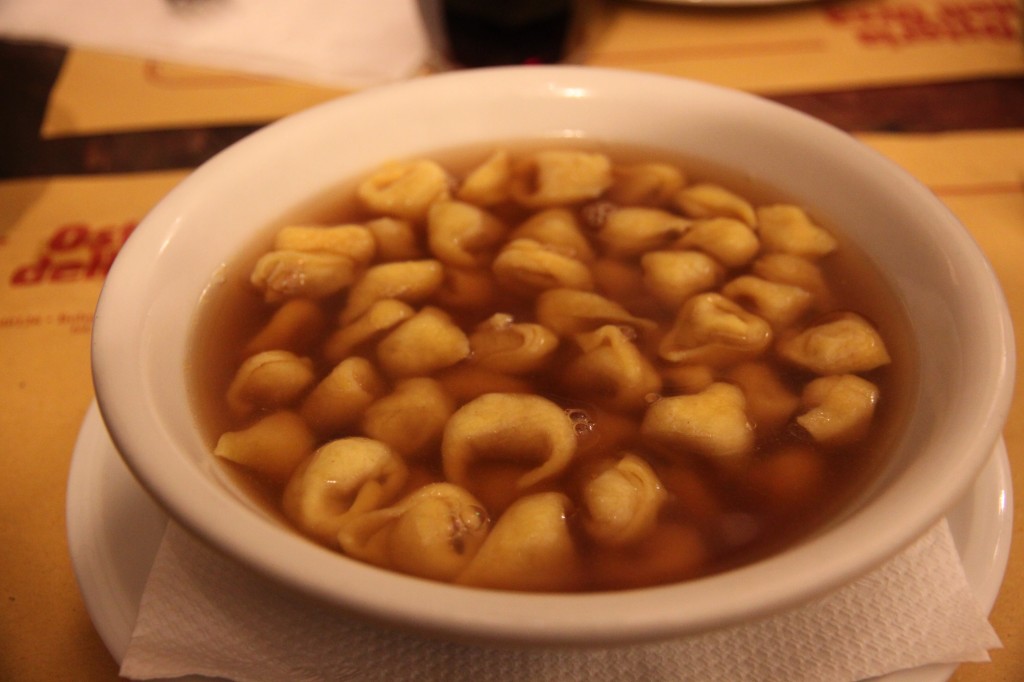 Seated at a communal tables with some new friends from my hostel, I enjoyed a steaming hot bowl of tortellini, said to resemble Venus's bellybutton, in broth and a few classes of house wine.
There's nothing fancy about Osteria dell'Orsa, it kind of resembles a tavern, but it's a nice place for some hearty local cuisine and a cheap glass (or liter) of wine.
Via Mentana 1. Open everyday 12:00-24:00. For more information visit their website.
Trattoria del Rosso
Trattoria del Rosso was an accidental find, a replacement after my desired Sunday lunch location was inexplicably closed when I arrived. This small but bustling trattoria is famous for its €10 two course set lunch menu. The restaurant was already full (with Italians) when I arrived thirty minutes after opening.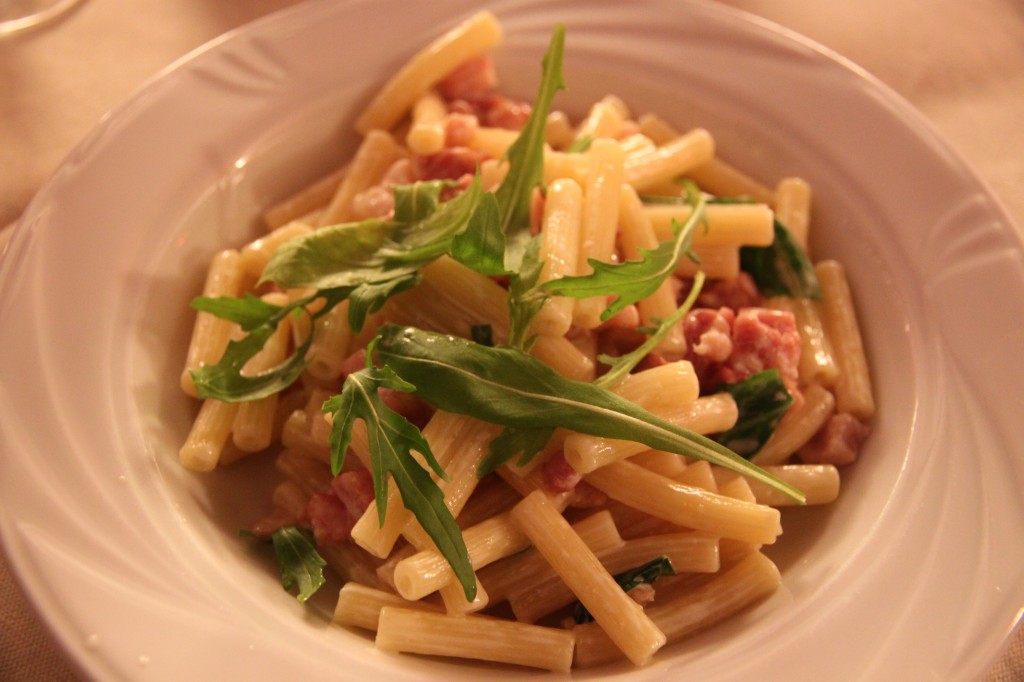 I started with maccheroncini, a small tubular pasta, with pancetta, cream, and arugula and for my secondo I had roast veal with potatoes covered in a thick gravy. Both dishes were simple, like something your grandma would cook for you, but with fresh ingredients and well developed flavors. I finished my meal with an espresso, too stuffed to try any of the delicious looking desserts.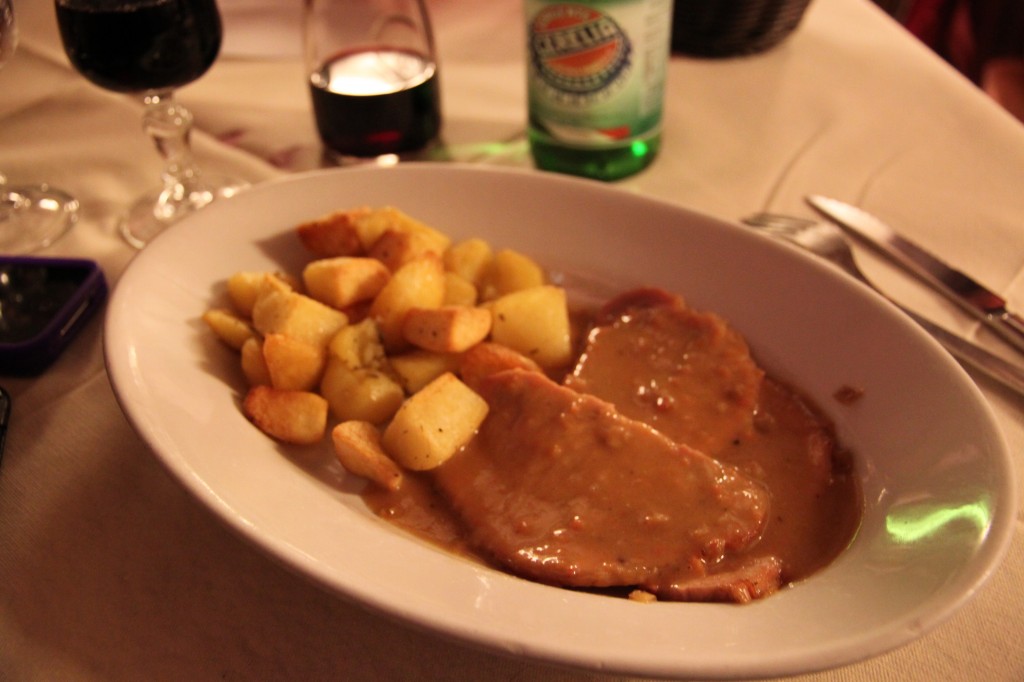 The whole bill, including a quarter liter of the house red, came to €12.50, making Trattoria del Rosso a great value for money.
Via Augusto Righi 30. Open everyday 12:00-15:00 and 19:00-22:30. Reservations recommended. For more information visit their website.
Trattoria Anna Maria
I decided late on Sunday afternoon that I wanted to try lasagna bolognese. Because it was Sunday, it was fairly difficult to find a place that was open. After doing a few Google searches for 'the best lasagna in Bologna open Sunday', I found Trattoria Anna Maria. It was probably one of the most touristy places I ate at during my time in Italy, with a menu in four languages, but the service was friendly. And they were open on a Sunday. I didn't really have the luxury of being choosy.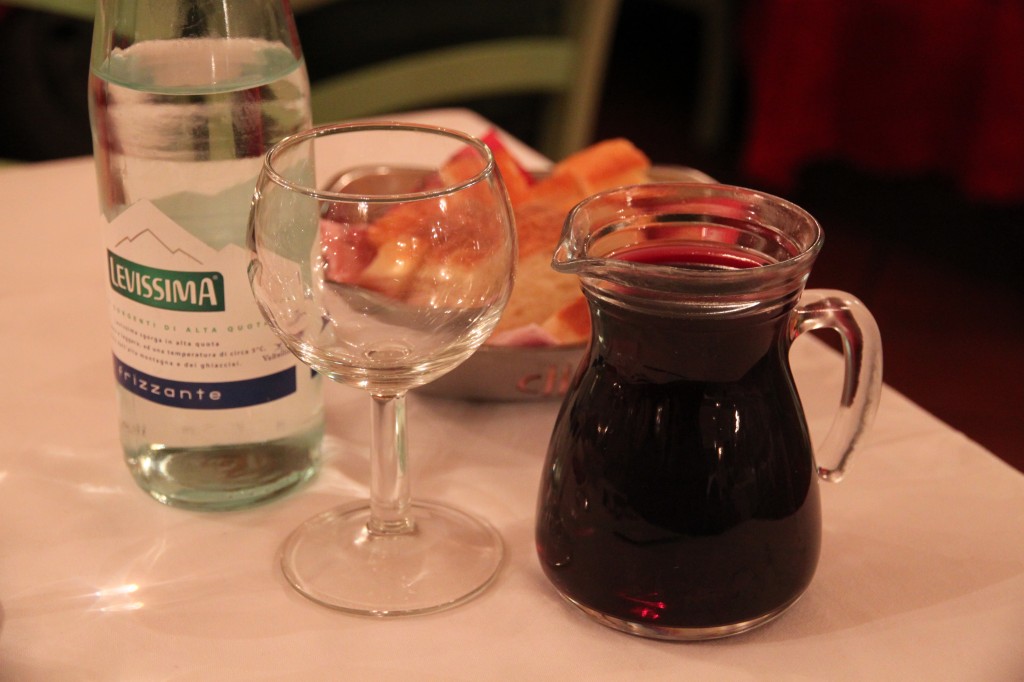 At €14 the lasagna was not cheap, but the bechamel and ragu layered between sheets of pasta were deliciously creamy and I ate away happily, made even happier by a quarter liter of San Giovese for €4.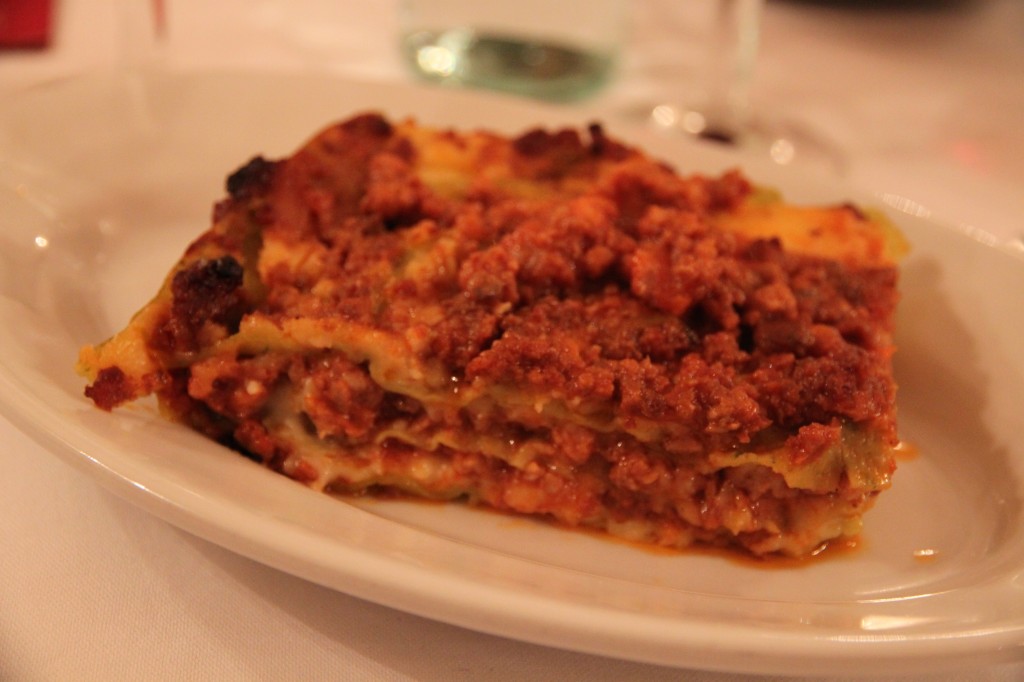 Via delle Belle Arti 17. Open Tuesday-Sunday 12:30-15:30 and 19:00-23:00. For more information visit their website.
What restaurant or dish would you most like to try?