I came to Berlin armed with a long list of dishes to try. As home to one of my favorite fast foods in the world (doner kebab) and rumored to have some of the best Vietnamese food in Europe, I knew Berlin would be something of a food paradise for me. So in between street art hunting and sightseeing, I managed to try quite a places of varying cuisines.
Besides the quality of the food, I enjoyed dining in Berlin for two reasons. The first is that Berlin is cheap. You can get a kebab, currywurst, banh mi, or burger for under 5 euro and can sit down in many restaurants for around 10 euro a person. Compared to most other European capitals, there's a lot of value in Berlin. The second reason is that it's really to easy to eat alone in Berlin. A lot of places are self service or snack stands and even in restaurants people didn't seem to bat an eye when I asked for a table for one. As a sometimes solo traveler, this makes eating out a lot nicer.
Back to the food, if you're looking for something to eat in Berlin, alone or with someone else, here are a few suggestions.
Mustafa's Gemüse Kebap
Doner kebab is a dish that was brought to Germany by Turkish immigrants and adapted to local tastes. It has become a staple around the country and is an obsession of mine. It shouldn't come as a surprise then that after checking into my hostel I made a beeline straight to Mustafa's, what is considered to be one of the best kebabs in Berlin.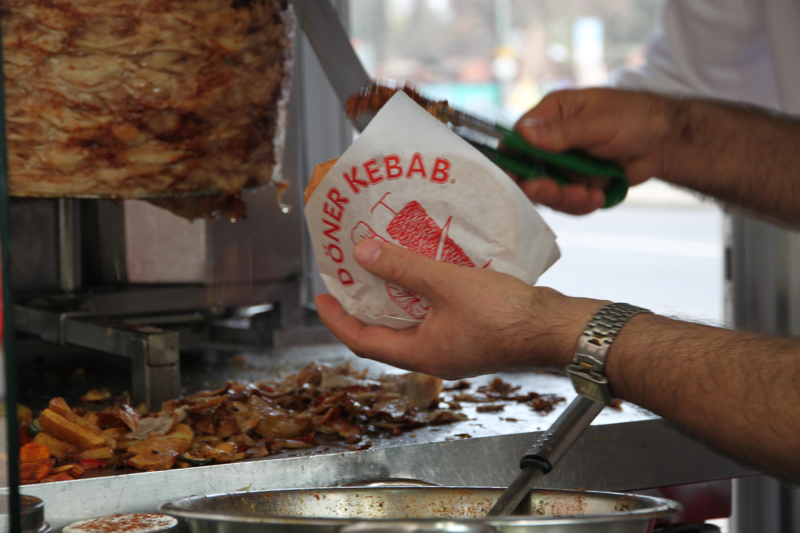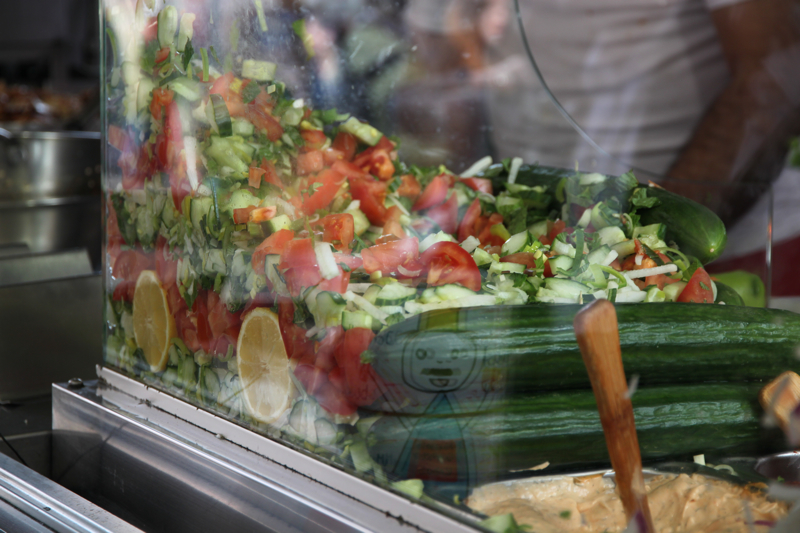 While it might seem weird to have high expectations for a meal that is meat shaved from spit and stuffed into a pita with some vegetables and sauce, after hearing so much about Mustafa's, I did.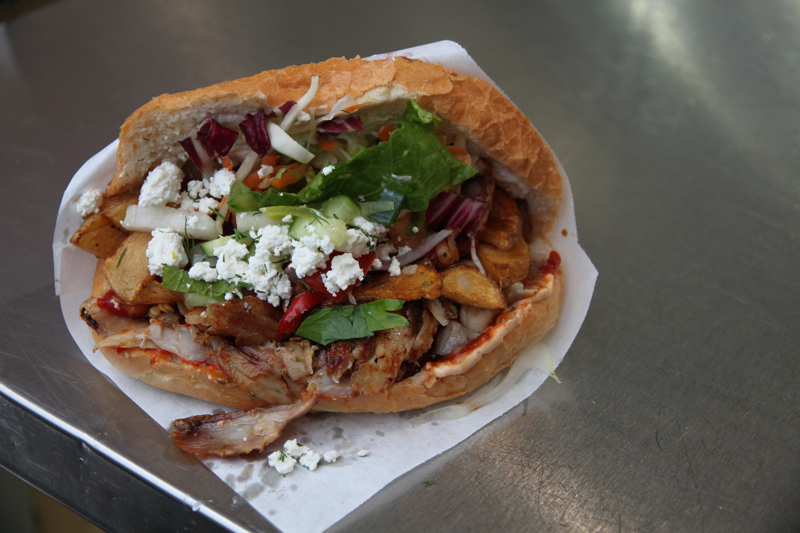 And somehow, this kebab managed to not just meet my expectations, but to surpass them. Here they go beyond the basic kebab. There's the meat,  fresh salad, garlic and hot sauces, but there's also roasted peppers and potatoes, a sprinkle of feta, and a squirt of lemon, which creates an even deeper combination of flavors and some nice variety in texture. This is the way fast food should be done.
My only regret? That I didn't go back for another.
Mehringdamm 32, 10961. Open everyday 10 am – 2 am. For more information visit their website.
Si An
With a large Vietnamese immigrant population, Berlin is often considered to be the capital of cheap Vietnamese food in Europe. In her post about food in Berlin, Julika challenged me to see if the food in Berlin stood up to the real stuff in Vietnam. As with any food challenge, I took this very seriously.
Located in Prenzlauer Berg, Si An was an easy walk down wide, tree and cafe lined avenues from my hostel. One of my favorite things about Vietnamese cuisine was cold noodle dishes served with an abundance of fresh herbs, so when I saw bun cha gio on the menu I knew immediately that's what I would order. Bun cha gio is vermicelli noodles with Thai basil, mint, Vietnamese cilantro, and crushed peanuts topped with a fish sauce based dressing and fried spring rolls. The flavors of Si An were fresh and very reminiscent of the good food I had in Vietnam.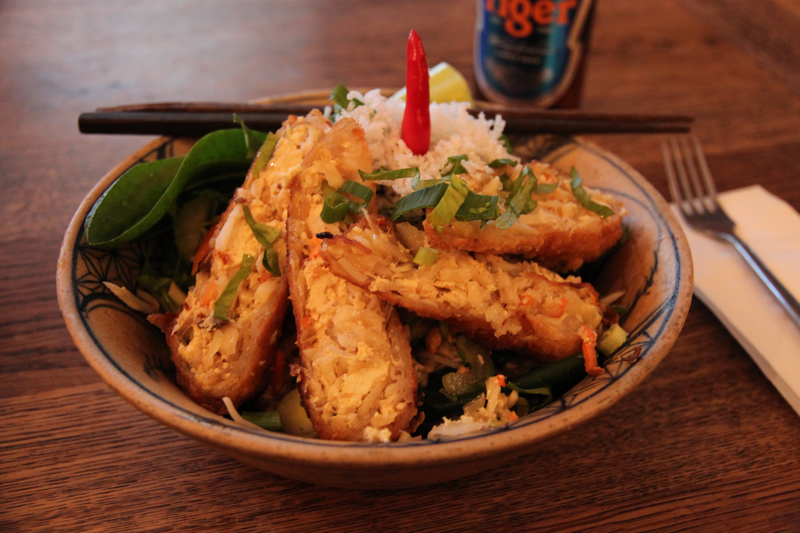 When the waiter noticed I was taking photos of my food, he came over and rearranged the setting so the photo would look nicer. Now that's good service.
Rykestrasse 36, 10405. Open everyday 12 pm – 12 am. For more information visit their website. 
Co Co Banh Mi Deli
Not wanting to end my Vietnam food challenge after one restaurant, I decided to try Co Co Banh Mi Deli, a recommendation from Waegook Tom. In Vietnamese banh mi means bread, but more commonly refers to the sandwiches made on a baguette that are popular throughout the country. The banh mi sandwich is a fusion between Vietnamese and French ingredients with mayonnaise, pate, pickled vegetables, and fish sauce commonly found as toppings.
At Co Co I went with the classic banh mi which came filled with pork, mayonnaise, pate, tomato, pickled vegetables, cilantro, and a fish sauce based dressing. Though the bread wasn't exact (a little too soft and airy), the flavors were spot on. And at €4.20 for a sandwich, it's a great deal.
Rosenthaler Strasse 2, 10119. Open everyday 11 am – 10 pm, except Friday and Saturday when they stay open until midnight. For more information visit their website.
Burgermeister
Burgermeister has an aura of cool around it. Located under the U-bahn tracks in a building that used to house a public bathroom, Burgermeister is known for their delicious burgers and long lines. I'm not usually one to jump in line at a restaurant just because of the hip factor, but this place is also consistently written about as one of the best burgers in Berlin, and as a burger super fan, I had to give this place a try.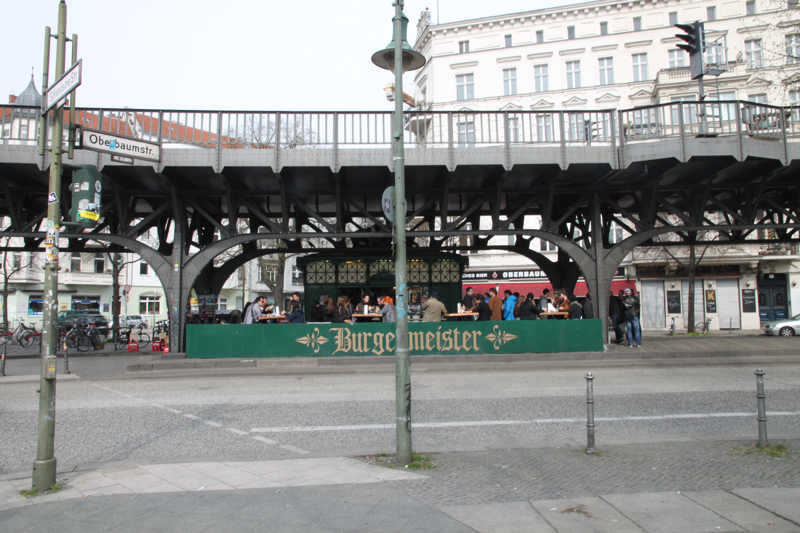 Unfortunately, I was a little underwhelmed. The burgers are uniformly cooked to well-done, an enormous pet peeve of mine, and they had that standard burger-in-continental-Europe taste that I can't really describe but you would instantly recognize if you've ever had a sub-par burger in Europe. The jalapenos I had on my chili cheeseburger added a nice kick, but it's probably not a burger I'd queue up for again.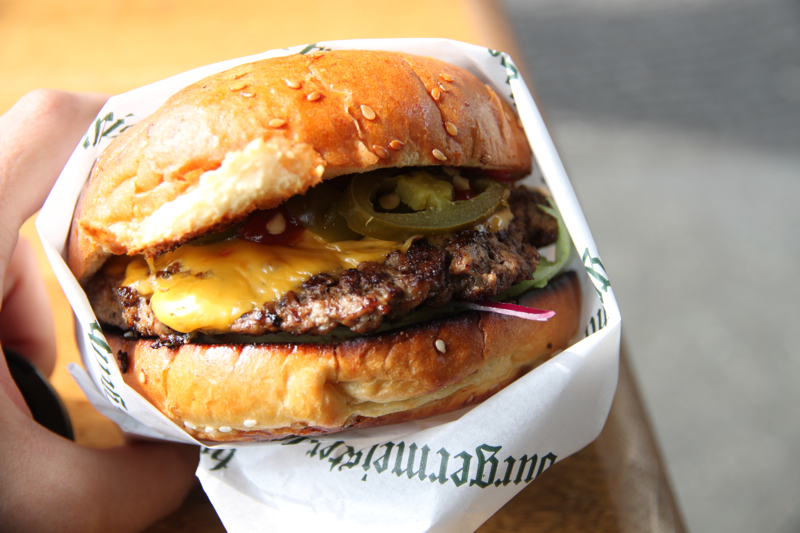 Why am I adding Burgermeister to a list of of places to eat in Berlin if I didn't like it that much? Well, it's a great place to see Berlin's hipster cool in action and I heard the chili cheese fries are great- maybe you'll have better luck with those.
Oberbaumstrasse 8, 10997. Open Monday – Thursday 11 am – 3 am, Friday and Saturday 11 am – 4 am, and Sunday 12 pm – 3 am. For more information visit their website.
Schwarzwaldstuben
I wanted to try some actual German food while in Germany so I headed to Schwarzwaldstuben, a restaurant that specializes in southern German cuisine and that is thought by many to have the best schnitzel in Berlin. My flatmate Claire, who is half German and spent part of her childhood living in Bavaria, sent me some ideas on good dishes to try.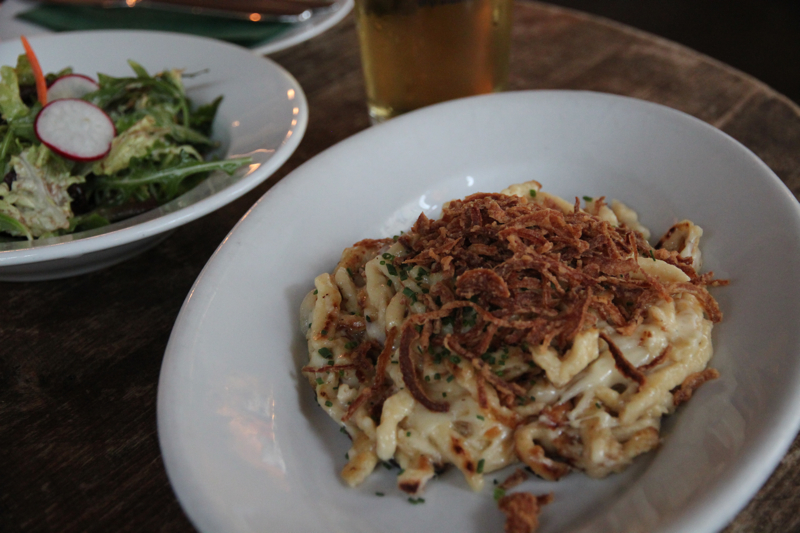 I went with Käsespätzle, a kind of casserole made cheese, browned onion, and spätzle, an kind of egg noodle-dumpling hybrid. This is an extremely rich dish, but washed down with a cold beer, it went down nicely. While it's not exactly cheap, if you're looking for some good Swabian food in a sea of Asian takeaway, kebab shops, and currywurst stands then Schwarzwaldstuben is probably one of your best bets.
Tucholskystraße 48, 10117. Open everyday 9 am – 12 am. For more information visit their website.
Imapala Coffee
I spotted this place on my way to the U-bahn one morning and in need of my daily caffeine fix, decided to try it out. I ended up having breakfast and coffee there for the next 3 days. The coffee is phenomenal, I'm pretty sure they roast their own beans, and they have a large selection of pastries and bagel sandwiches. I personally really liked the apfeltasche and pain au chocolat.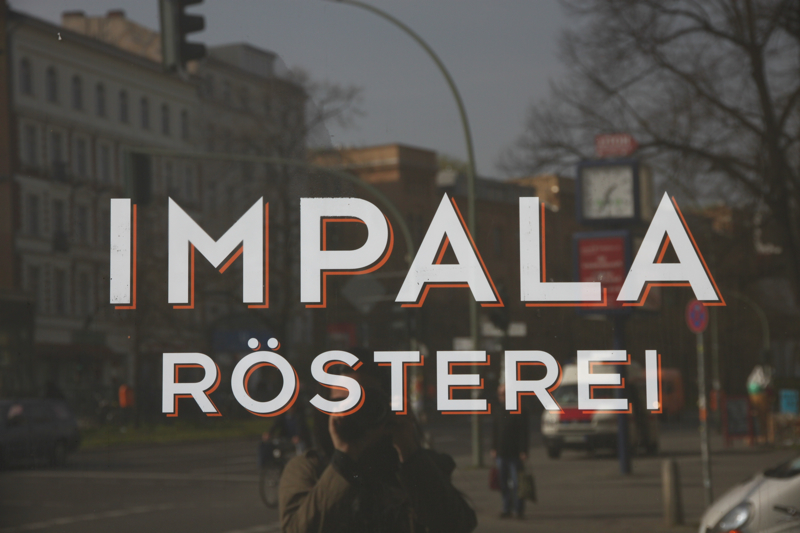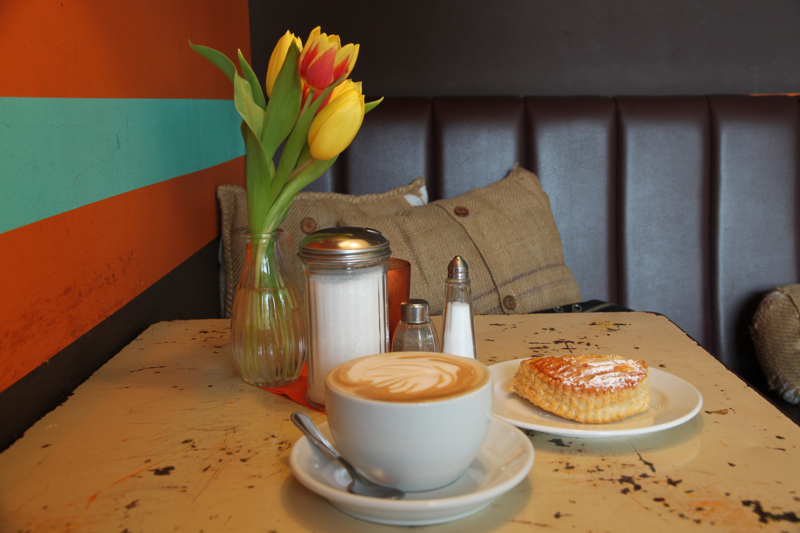 Besides great coffee, the ambience is part of the appeal of Impala. There's a minimalistic shabby chic thing going on- think wood, bright colors, and mismatched pillows. There is also a lot of outdoor seating which made for a lovely place to linger over a cappuccino and a book on a spring morning.
There are multiple locations but I frequented the one at Schönhauser Allee 173, 10119. Open everyday 7 am – 8 pm. For more information visit their website.
Rogacki
Rogacki is a deli-cum-food court that has been around since 1928 and doesn't seem to have changed much since. Opened by a German-Polish family, Rogacki is filled with counters selling every type of sausage imaginable and a wide variety of cheeses, salads, poultry, and fish among other things. Most of the green clad staff seem to have worked here for decades and are friendly, even amid a language barrier. (This is probably the one place in Berlin where no one speaks flawless English.)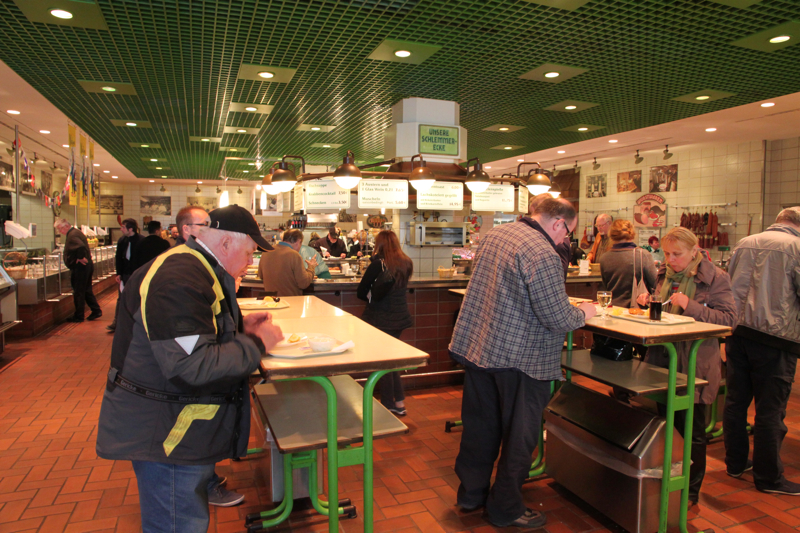 I didn't come to shop, but for a self-service, cafeteria style lunch. I was planning on sausage, but decided to follow the cue of everyone else in front of me in line and ordered a piece of the fried fish and a side of potato salad filled with tiny pickles. The fish, pounded out and fried like schnitzel, was light but filling and considering the number of people passing through here even after lunch time, it's a crowd pleaser.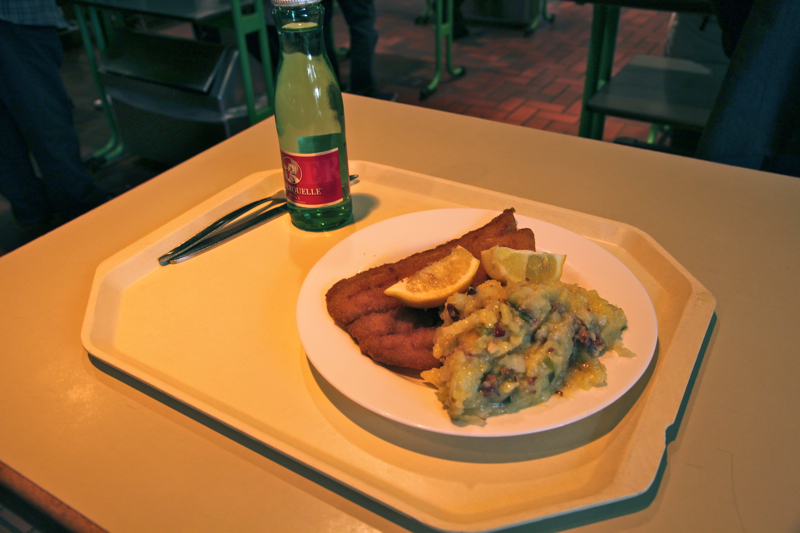 Rogacki may be slightly out of the center, but it's worth a trip for a glimpse into this old world food paradise.
Wilmersdorfer Strasse 145, 10585. Open Monday – Wednesday 9 am – 6 pm, Thursday 9 am – 7 pm, Friday 8 am – 7 pm, and Saturday 8 am – 4 pm. For more information visit their website. 
Konnopke's Imbiss
Currywurst, cut up sausage topped with curry ketchup, is an iconic dish in Berlin. Created by Herta Heuwer in in Berlin 1949, it is estimated that 70 million currywursts are sold each year in the city. I tried some at Konnopke's Imbiss, a stand under the U-bahn tracks next to Eberswalder Strasse Station that is consistently ranked as one of the best places currywurst places in Berlin.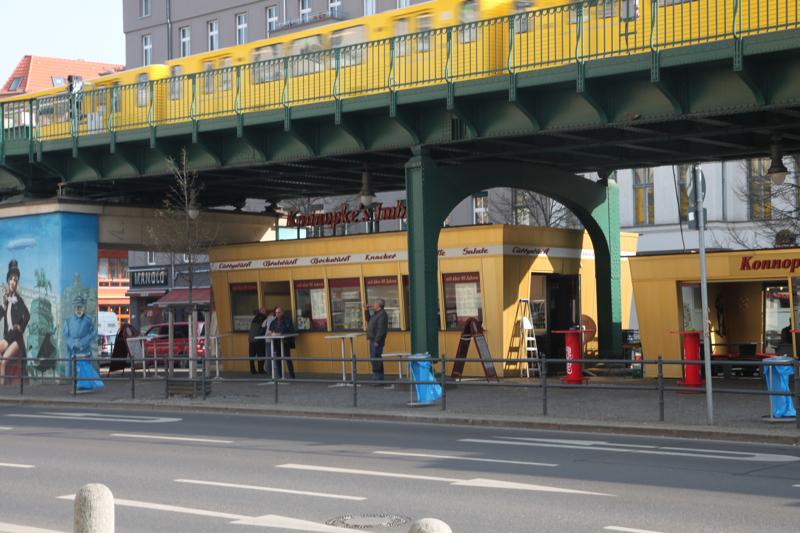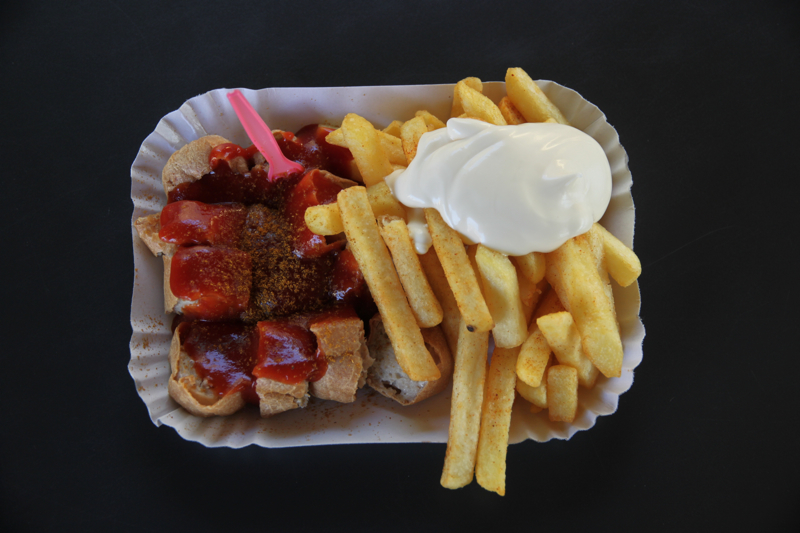 The verdict? The sausage was kind of a strange texture, but you can't go wrong with curry ketchup. Also, the mayonnaise in Germany is some of the best in the world so I won't object to anything that serves as a vehicle for more of that. Also, I had my currywurst as an early snack before a bus to Warsaw, but I'm guessing this is best as a late night snack after a couple liters of beer.
Schönhauser Allee 44 B, 10435. Open Monday – Friday 9 am – 8 pm and Saturday 11:30 am – 8 pm.
What dish looks the best to you?