I love food.
I love street food.
I love cheap food.
Thus, it should be no surprise that the many night markets of Taiwan were my favorite part of the country.
Night markets started in the large cities of Taiwan, usually near temples, as a place to gather with neighbors, eat, and buy things such as handicrafts and traditional Chinese medicines. Today, night markets serve a similar purpose. Vendors line the street selling their xiaochi, or small eats, and knockoff purses from carts or small storefronts while what seems like people from every cross section of life in Taipei- senior citizens, families with small children, groups of teenagers and young adults- mill about. Most dishes run from about $1-$3 US, usually at the lower end of the spectrum, which means you can have a whole meal for well under $10 US.
I visited five night markets in Taiwan, four in Taipei and one in Kaohsiung, and sampled a variety of cheap, street eats.
1. Ningxia Night Market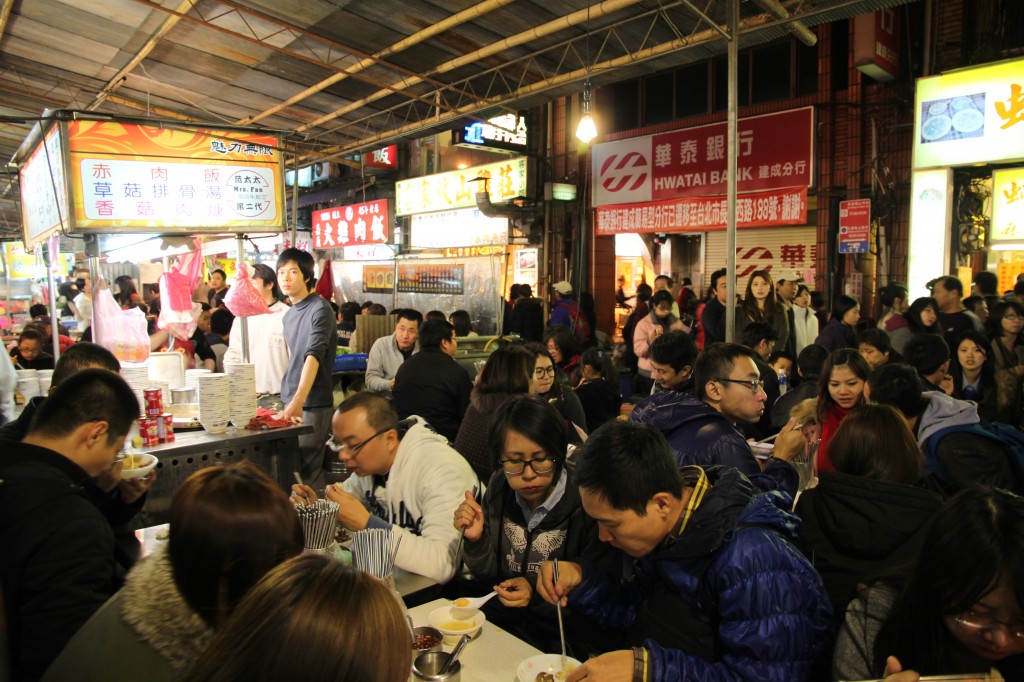 Ningxia Night Market, a smaller, traditional market in an older part of Taipei, was the first night market I visited in Taiwan. On my first night in the country I met up with one of my friends from Seoul, Marty, and his Taiwanese friend, Barry for a tour around this food only night market and an introduction to Taiwanese cuisine. Our first stop was at one of the small restaurants behind the street carts for oyster omelettes and liver soup, two of the must try dishes at Ningxia.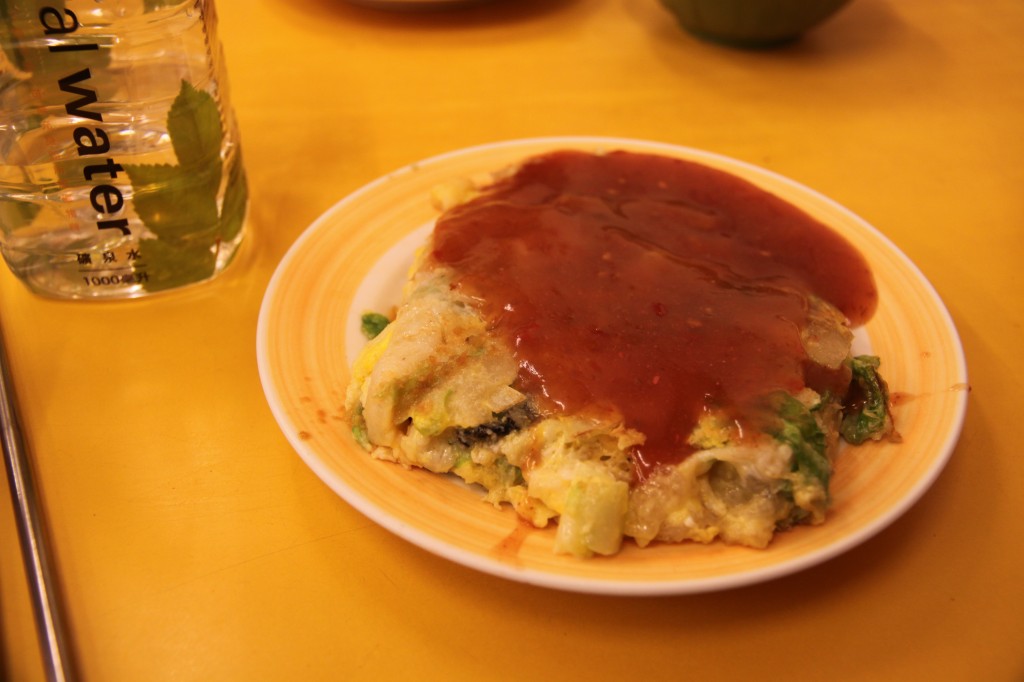 The oyster omelettes were a delicious combination of eggs, starch, and small oysters, fried, and topped with a chili sauce. And the liver soup? Well, it was large pieces of liver in broth and between this dish and others I tried in Taiwan, I discovered I actually like liver. A lot.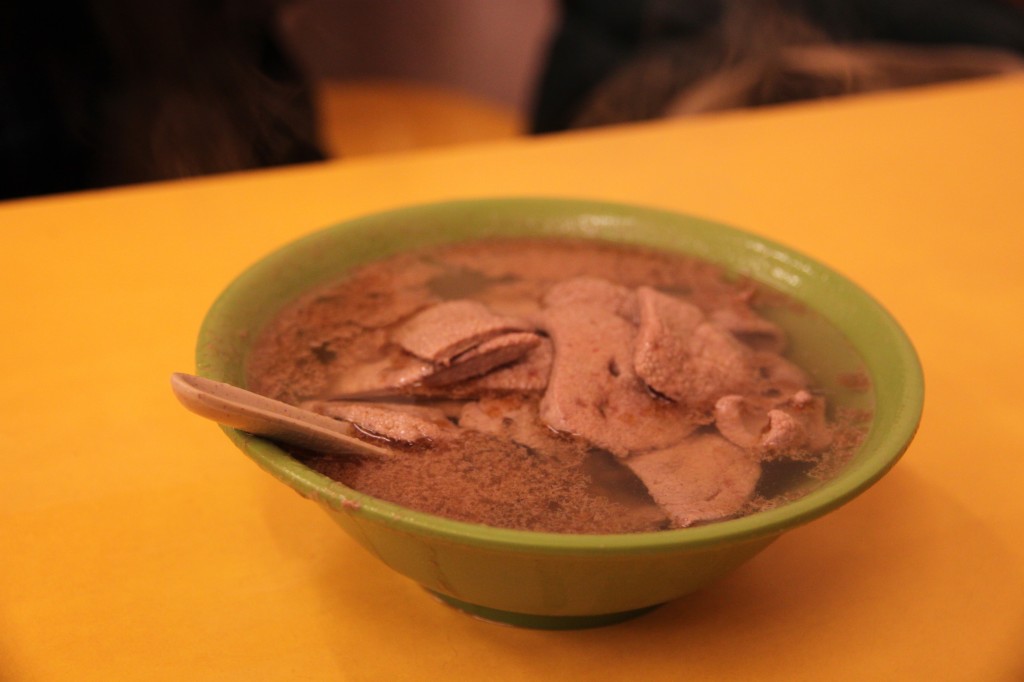 Next up we sampled what is probably Taiwan's most infamous dish- stinky tofu. Stinky tofu has been fermented and the smell is, well, stinky. Not only does it have the aroma of dirty gym shoes combined with body odor, but the smell travels far and lingers for a long time. Surprisingly, you get used to it pretty quickly. And when the tofu is fried and smothered in spicy sauce in cabbage it actually tastes pretty good!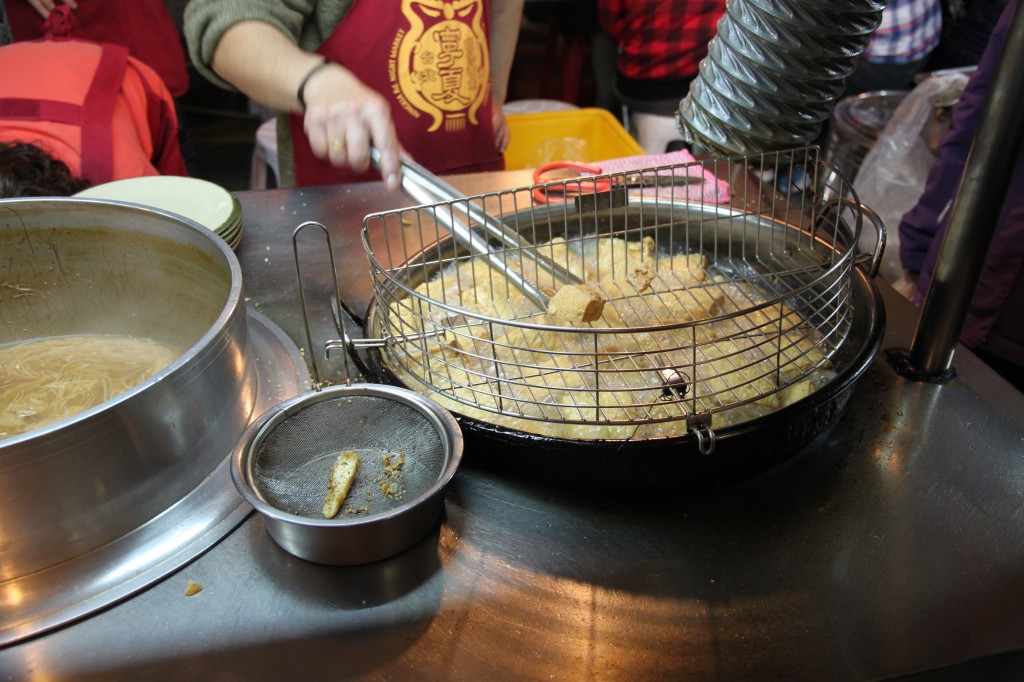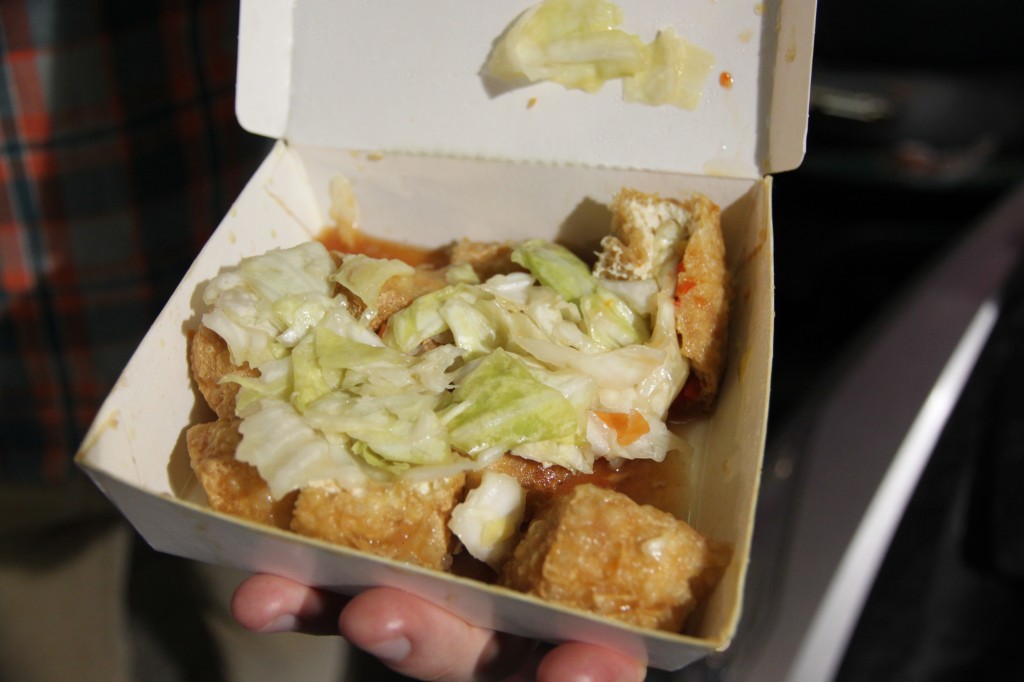 The last thing we tried at Ningxia Night Market was a savory rice pudding made from rice paste, mushrooms, and pork. It is steamed until it is the consistency of a rice cake and topped with a gravy like sauce. It was good, but the chewy texture of rice cakes isn't really my thing.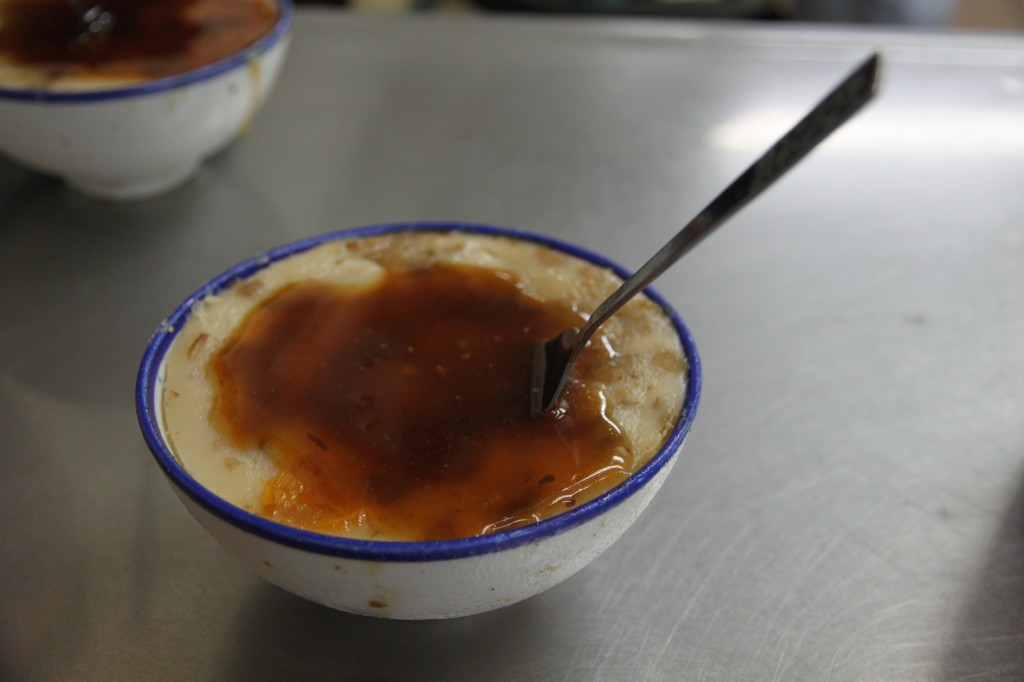 How to get there: Take the Tamsui (Red) Line to Zhongshan Station. Go out Exit 2 and walk for 5-10 minutes.
2. Huaxi Street Night Market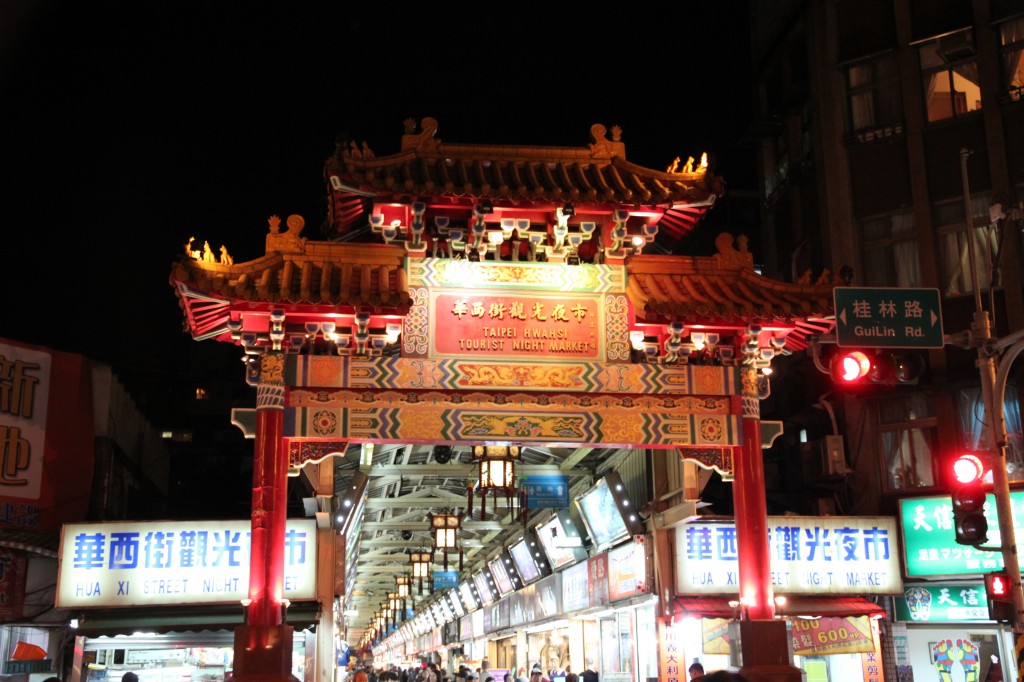 After a few drinks, Marty, Barry, and I ventured on over to Huaxi Street Night Market, better known as Snake Alley. This market sells a lot of the common night market eats but is most famous for the wide variety of more interesting delicacies available, including snake.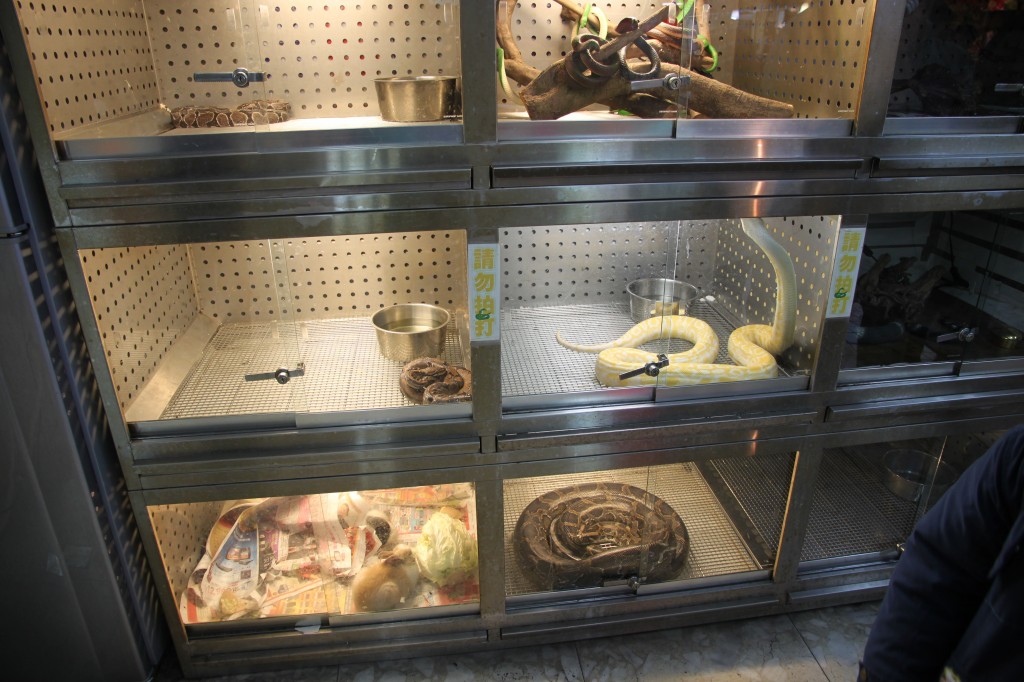 We had come here for one reason: snake shots.
We ordered a set that included three shots- one each of snake blood, snake bile, and snake venom- and a bowl of snake soup. Not entirely confident about what we were getting ourselves into, we decided to each choose one and take only that. I won a game of rock, scissor, paper and chose the snake venom shot. It was the smallest and, unlike the blood shot, did not contain a strange capsule floating on top.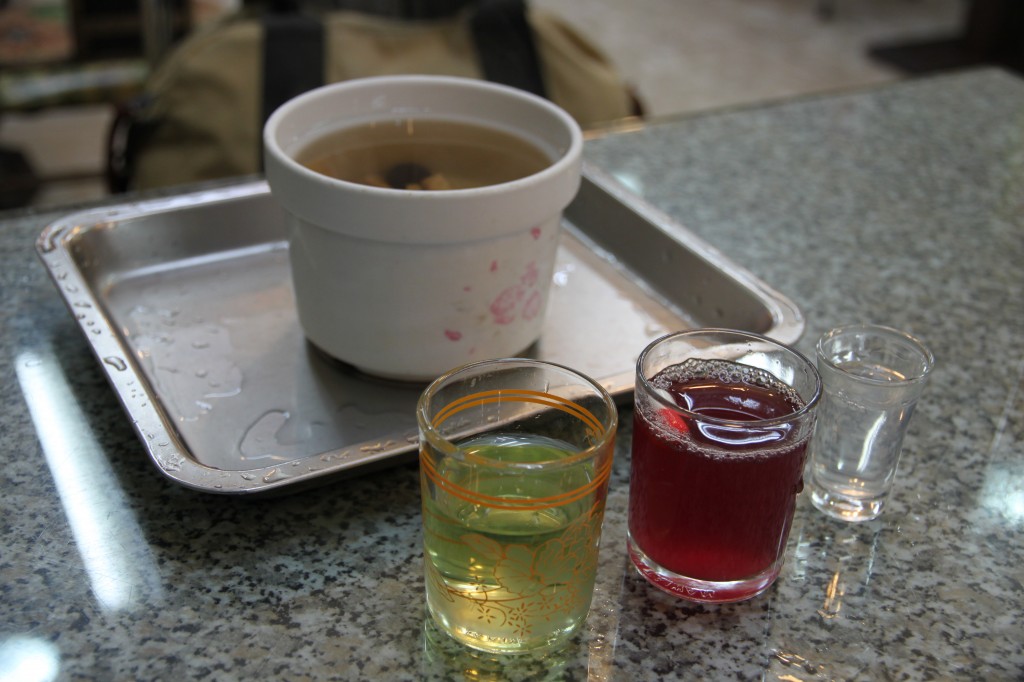 The shot tasted mostly like Chinese whisky and I washed it down with a slurp of the cinnamon flavored soup.
We decided to follow this up with a taste of zhuxie gao, coagulated pig's blood. On a stick! The blood is combined with rice cake, steamed, and then rolled in peanut powder. Again, the taste was fine but the texture of rice cake is too chewy for me.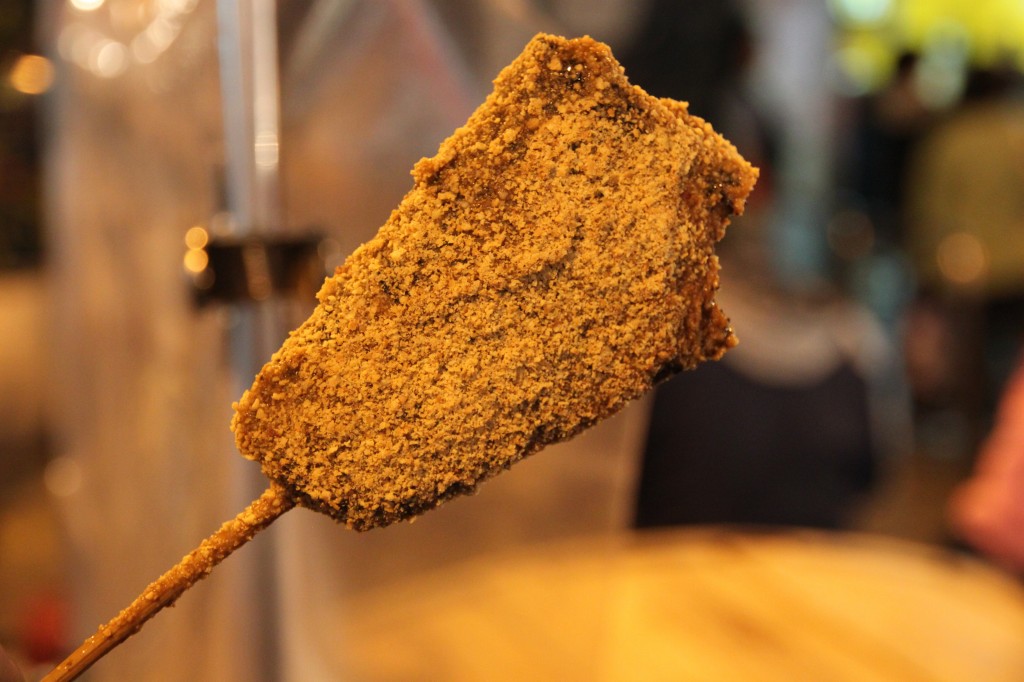 How to get there: Take the blue line to Longshan Temple Station. Walk to the temple and turn left. When you reach Guangzhou Night Market turn right and you will see Huaxi Street.
3. Raohe Street Night Market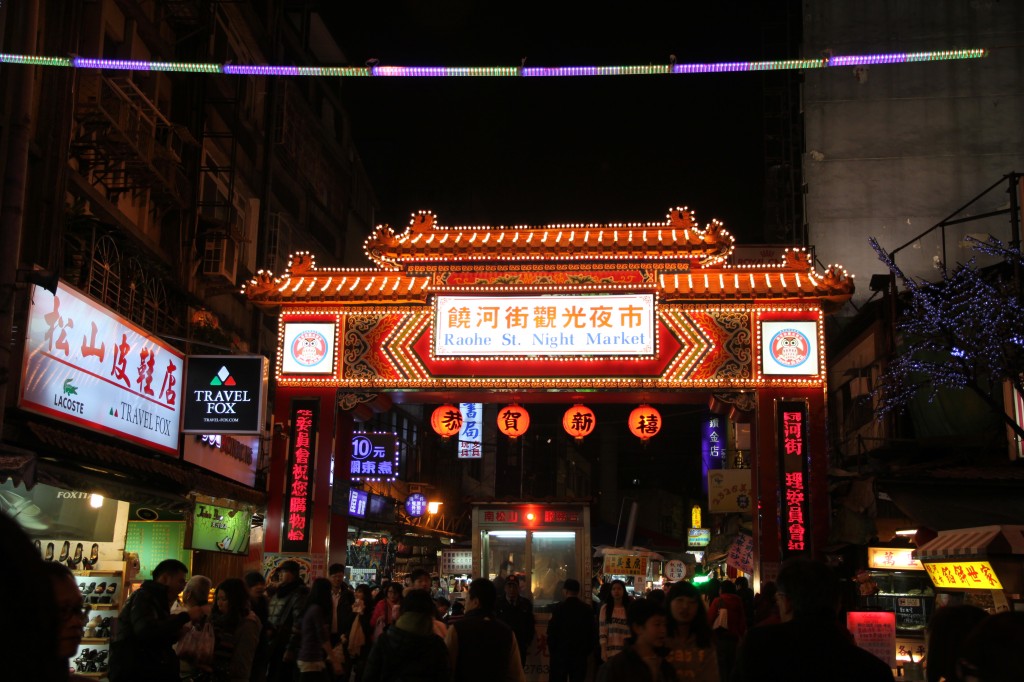 Raohe Street Night Market is one of the most famous in Taipei and was conveniently located near the hostel I stayed at after my return to the city. I checked out this market along with two girls I met at my hostel after a long day of sightseeing. Before I even passed through the entrance I saw a stand that caught my eye, a stand selling baked potatoes smothered in fake, orange cheese. If I have one weakness in life it is creamy, neon nacho cheese.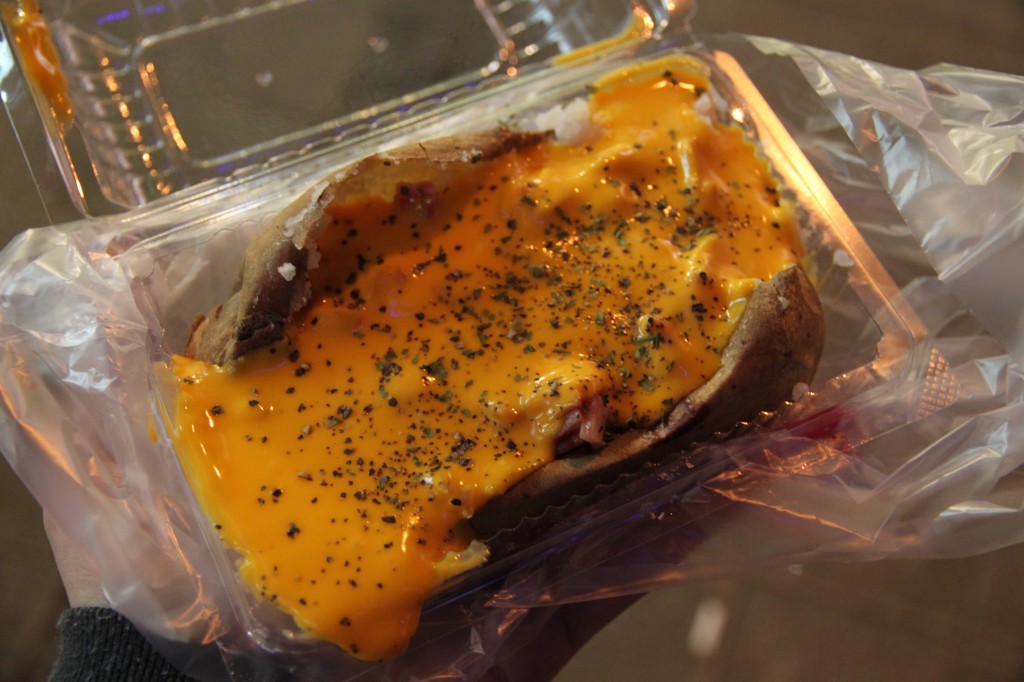 After that I decided to try something sweet and completely new- fried milk. The vendor took what looked like gelatinous ball of sweet milk custard and dropped it into hot oil. The golden brown balls popped when bit into, releasing a creamy, sweet custard. I'm not a sweet tooth and this was one of my favorites.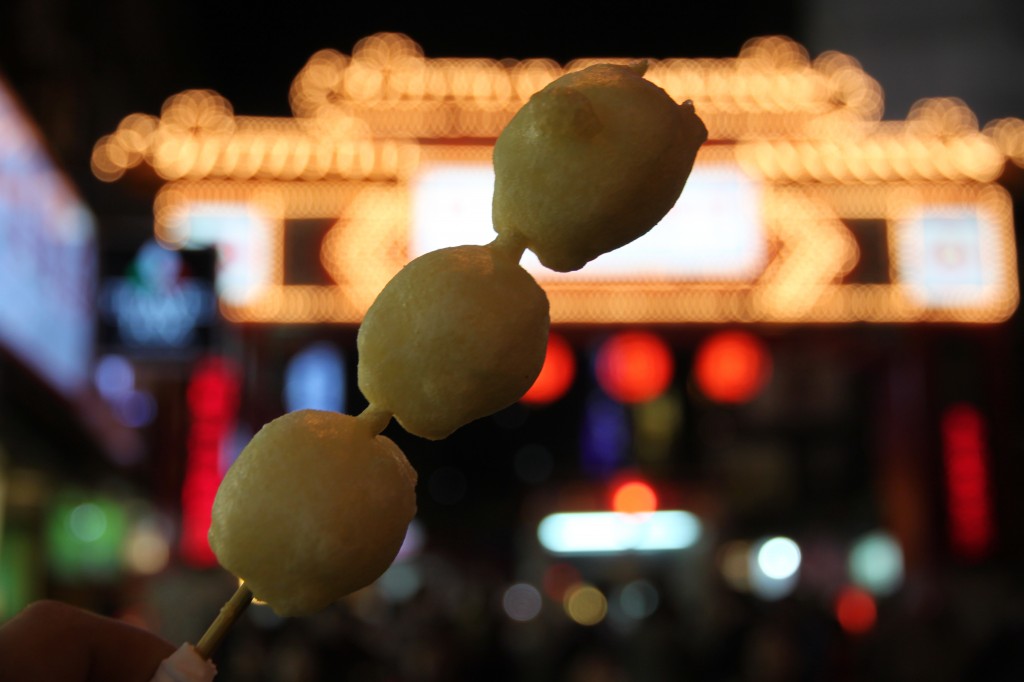 I can never pass up a good dumpling when I saw a stand selling large dumplings filled with glass noodles and green onion I was first in line. I slathered on a good amount of hot sauce and devoured it while walking to find my next snack.
The last dish I tried at Raohe Street Night Market was actually not Taiwanese or Chinese, but Japanese. Okonomiyaki was one of my favorite dishes in Tokyo and the cart selling these Japanese pancakes had a long line with cooks who made cooking a show.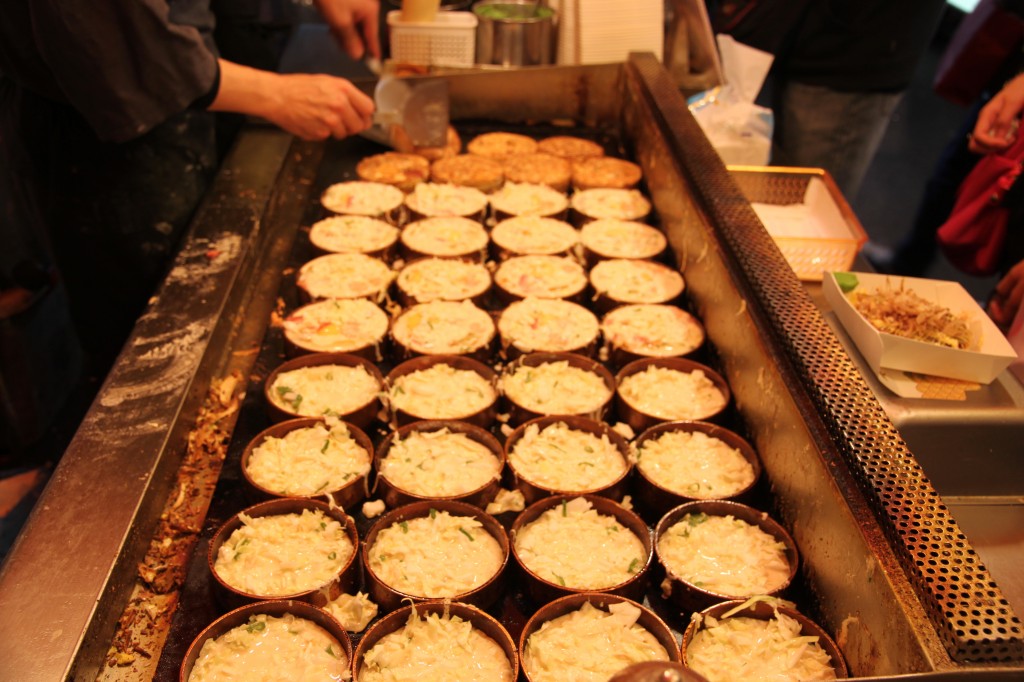 How to get there: Take a train (not the MRT) to Songshan Station and follow signs to the temple.
4. Liuhe Night Market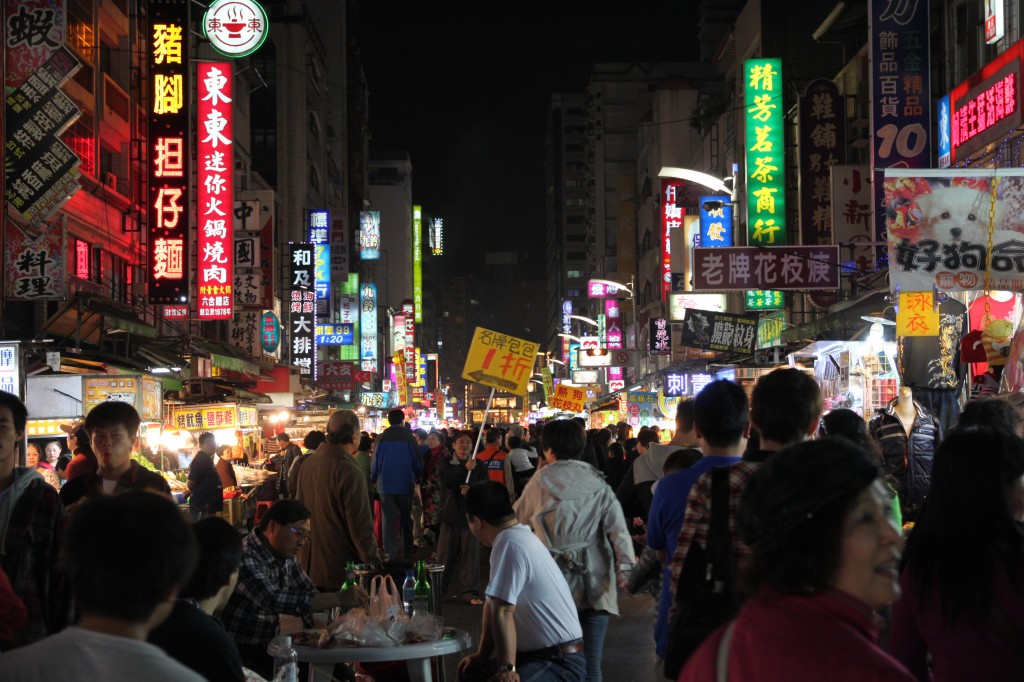 Liuhe Night Market in Kaohsiung is one of the oldest night markets in the entire country. Being as Kaohsiung is a city on the ocean, this night market is particularly famous for its seafood offerings.
The most famous thing, by far, to try at this night market is the papaya milk. Sweet and creamy, this drink is a great treat on a hot night and is famous with celebrities and politicians from all around Asia. The line might be a little long, but it is definitely worth it. I wanted to go back to get a second but was embarrassed of being judged.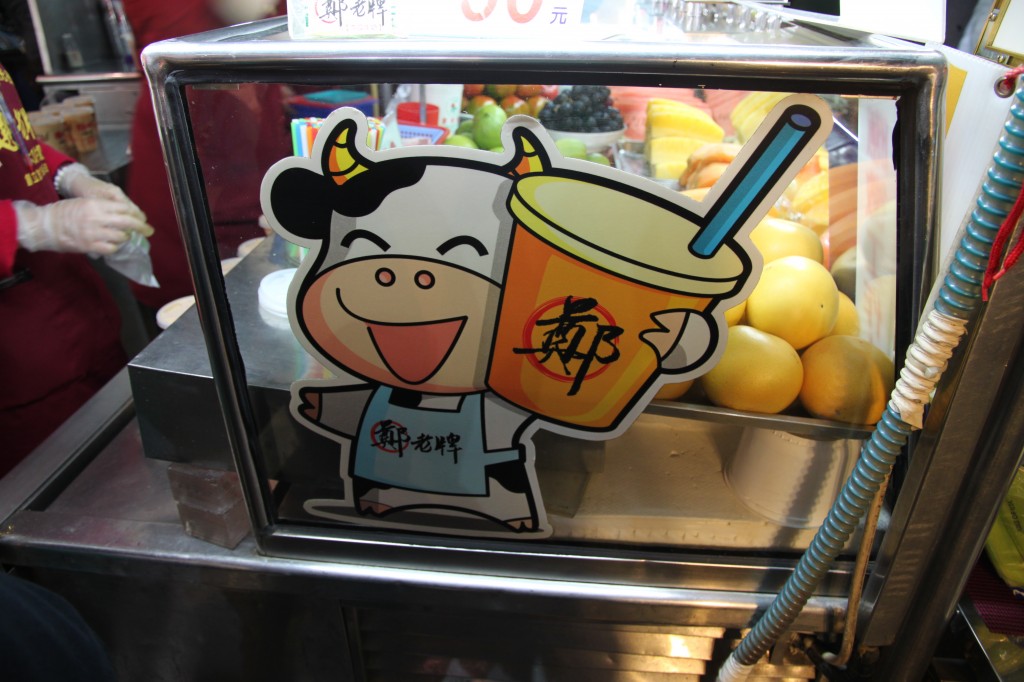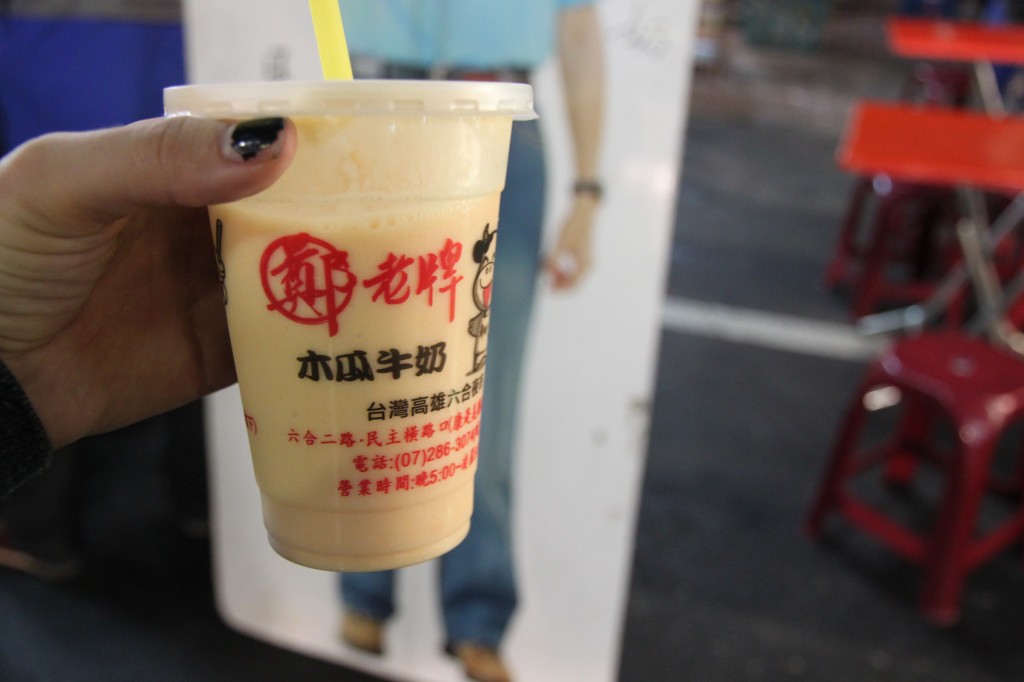 I was ready for some food and wanted to try something from the sea. The grilled shrimp looked appetizing but there were no tables available and I'm not great at shelling shrimp one handed while balancing a purse and camera in the other. Then I saw a cart selling cheese covered scallops and I was sold.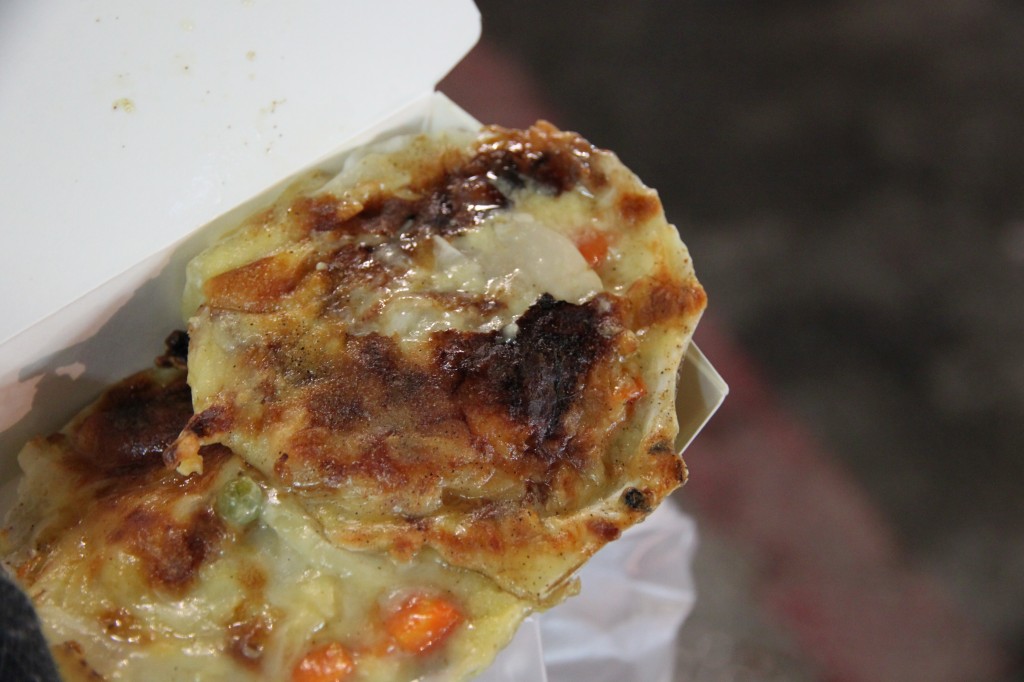 I wandered around a little more but ended back at a dumpling stand near the entrance for a tray of xiao long bao, my beloved soup dumplings. The woman who owned the stand was very sweet and a woman at the next table who spoke perfect English was very interested in my travels. It was a nice end to my solo trip to the night market in Kaohsiung.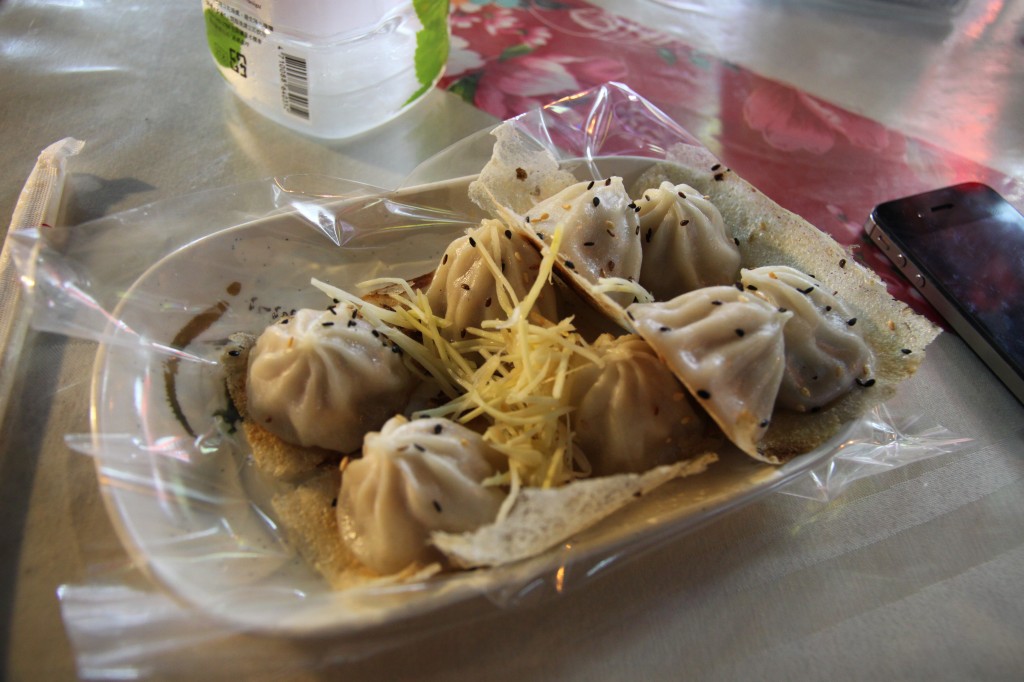 How to get there: Take either MRT line to Formose Boulevard Station. Go out exit 11 and the night market will be immediately on your left.
5. Shenkeng Old Street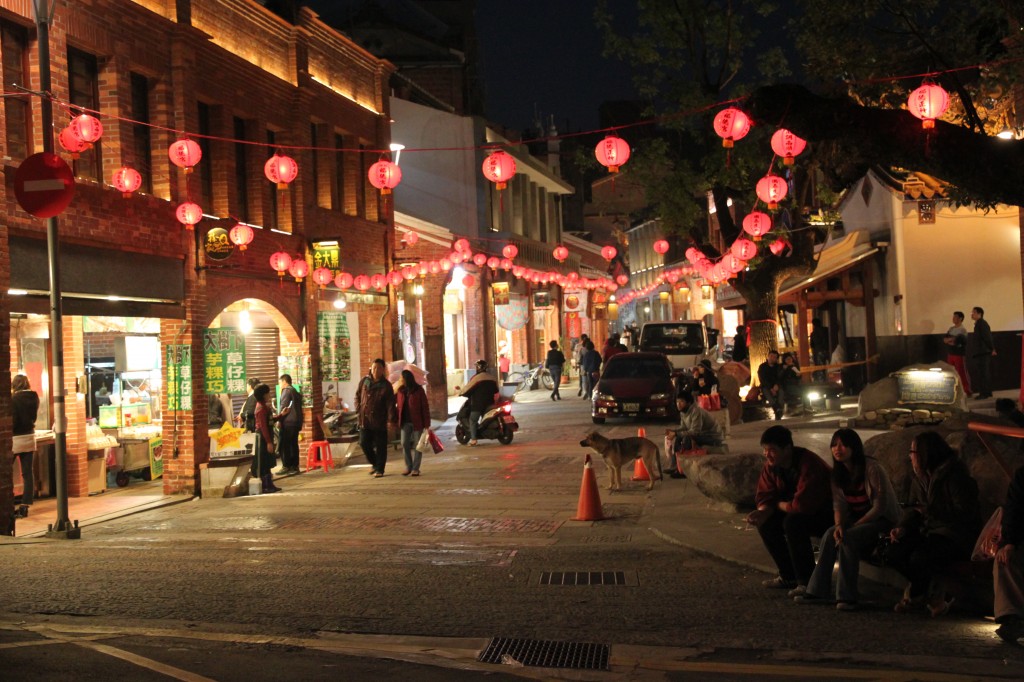 Not really a stereotypical night market, I still think Shenkeng Old Street deserves a mention here. James and Yina, who I met in Maokong earlier that day, took me to this city in the New Taipei that is famous for its production of stinky tofu. The old street was beautiful with its brick buildings and red Chinese lanterns. We stopped by a cart near the entrance to get our taste of the famous Shenkeng stinky tofu. Covered in a spicy sauce and topped with different types of fermented cabbage (almost like a Chinese kimchi) and lightly pickled cucumbers, this version was even more delicious than the type I'd tried in Taipei. I do believe I'm a stinky tofu convert!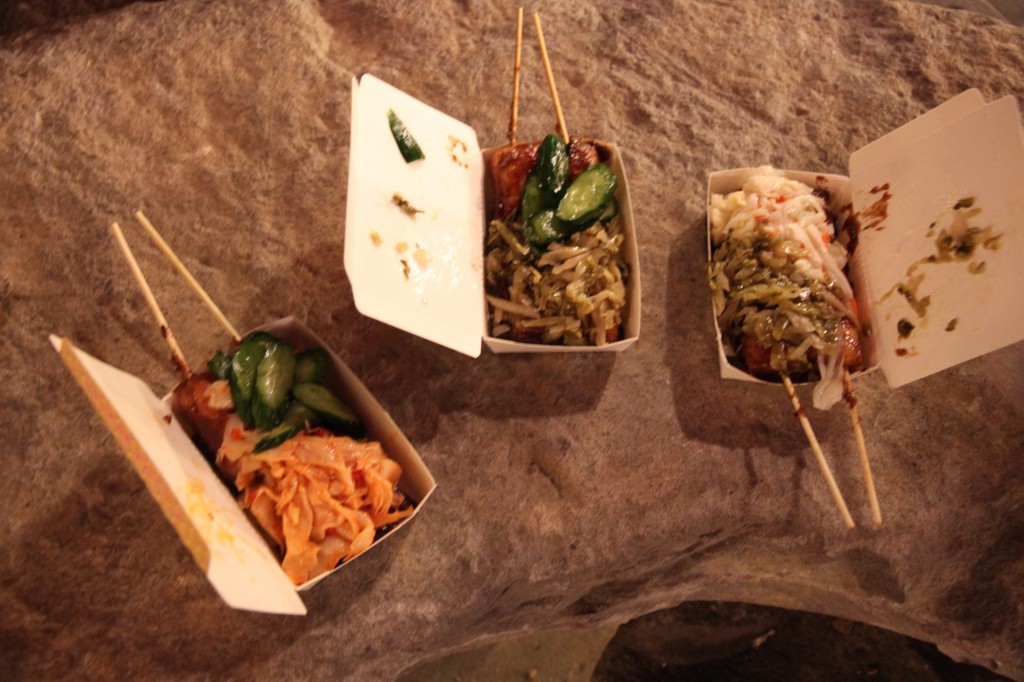 Besides my new favorite food, this street is filled with shops selling other goodies like rice cakes and traditional candies and snacks.
How to get there: Take a Taipiei Bus on the Pingxi Line to Yongding Elementary School.
The night markets in Taiwan provided a great way to sample new food and experience Taiwanese life.
What food looks the best to you? What looks the worst?