Food is an integral part of my travels with meals and and must try dishes planned out months and ahead. I was slightly nervous I'd have a hard time in Tokyo restaurants alone, a problem in some Korean restaurants, and miss out on eating some of the best food Japan has to offer. I was also worried that eating out in Tokyo would be a budget breaker. I imagined myself spending 5 days in front of convenience store counters pulling noodles out of Styrofoam instant noodle bowls while feeling depressed.
I couldn't have been more wrong. In fact, the biggest problem I had was that I didn't have enough time to try everything I wanted. With counter seating and a variety of options in all price ranges, Tokyo is a solo diners dream. What were my five favorite Tokyo dishes?
1. Ramen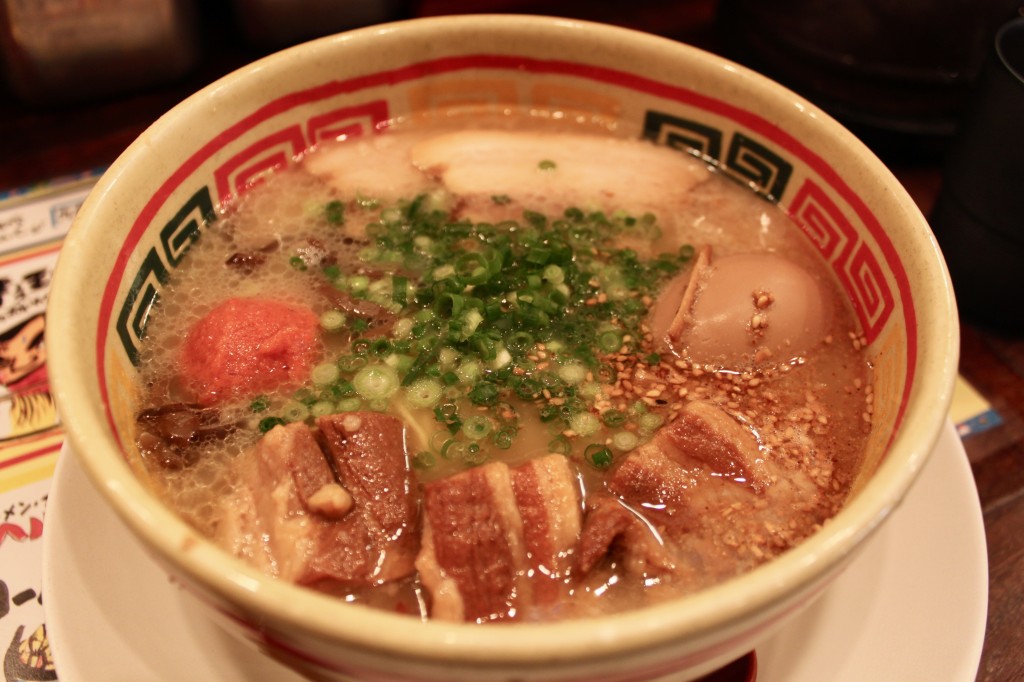 For the majority of my life, ramen meant noodles cooked in three minutes with a politically incorrect named flavor packet. The ramen in Japan bears almost no resemblance to that. Far exceeding any attempts at ramen I've had at Japanese restaurants in other countries, this was my favorite Japanese dish. So much so, that this was the only food I repeated during my stay.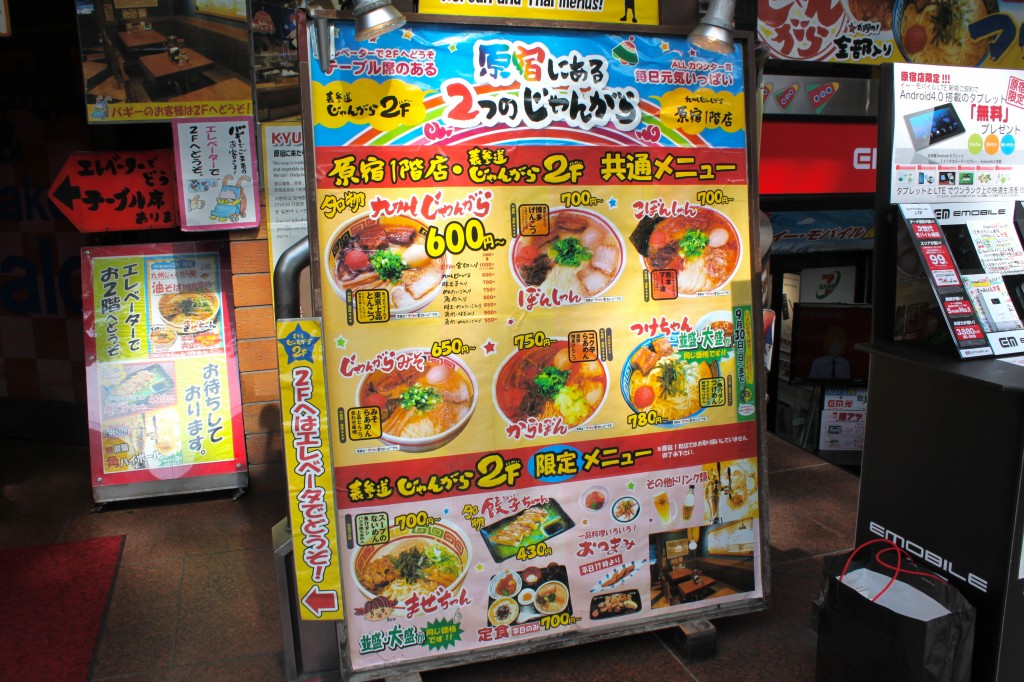 I ate at Kyusyu Jangara, conveniently located in Harajuku. Though they have an English menu, this place is far from a tourist trap with lines out the door during the lunch rush. First, you order and pay at the cash register near the front. I chose the most popular ramen, the #1, during my first visit which cost 1,000 yen. After paying you head to the counter, grab a stool, give the cooks the chip you were given when you paid, and a few minutes later a steaming hot bowl of near culinary perfection is placed in front of you.
The #1 is known for its variety of toppings. Resting on top of a a bed of thin noodles were mushrooms, sliced pork, sweet braised pork belly, and a hard boiled egg. The cloudy, brown broth was perfectly salty and I couldn't hold back a few loud slurps. On my second visit I tried the garlic version of the #1 (1,100 yen). Very similar toppings wise, this rendition included a lot of minced garlic in the broth. For a garlic lover like myself, it was perfect.
To get here take the JR Yamanote Line to Harajuku Station, exit out of the Omotesando exit (South) and cross the overpass, or from Meiji-Jingumae Station on the Tokyo Metro Chiyoda or Fukutoshin Lines, take exit 3 and it is on your left on the second floor. 
2. Japanese curry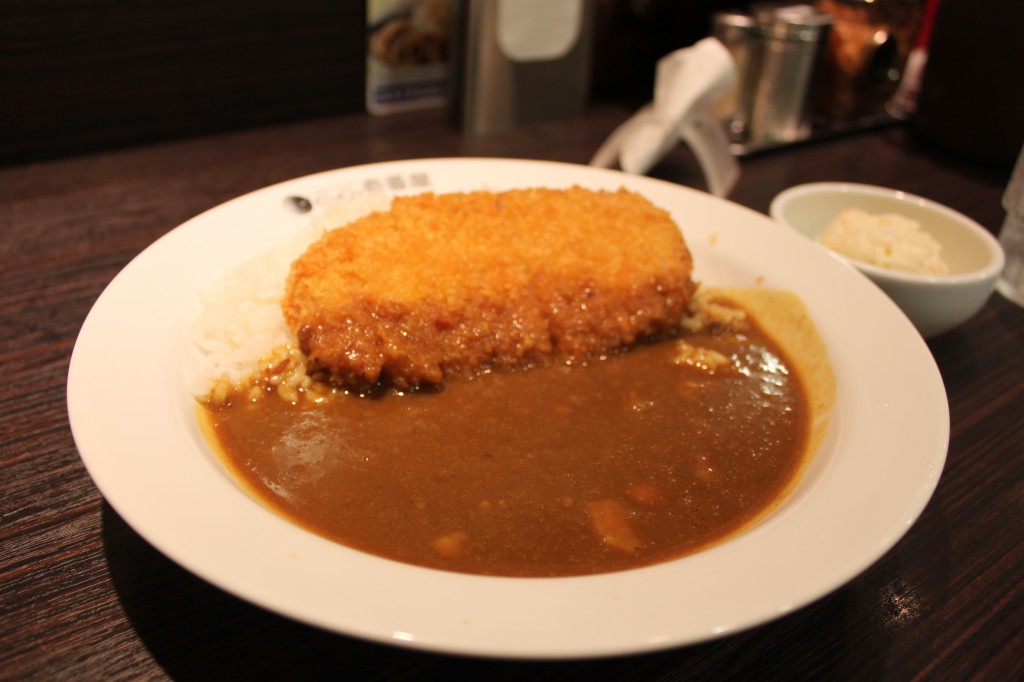 Japanese curry bears no resemblance at all to the curries of Thailand and India that I was more familiar with before moving to Asia. Curry was introduced to Japan by the British in the early twentieth century. It is thick and usually dark brown in color, often served over rice and with a side of breaded pork cutlet. Though it might not look great on a plate, curry rice is warm and hearty, packing a lot of flavor and some heat.
On my first night in Tokyo the last remains of a typhoon blew through the city. When the winds started to threaten my umbrella, I decided to stick close to my hostel for dinner. Luckily there was a branch of the popular curry restaurant chain, CoCo Ichibanya, nearby.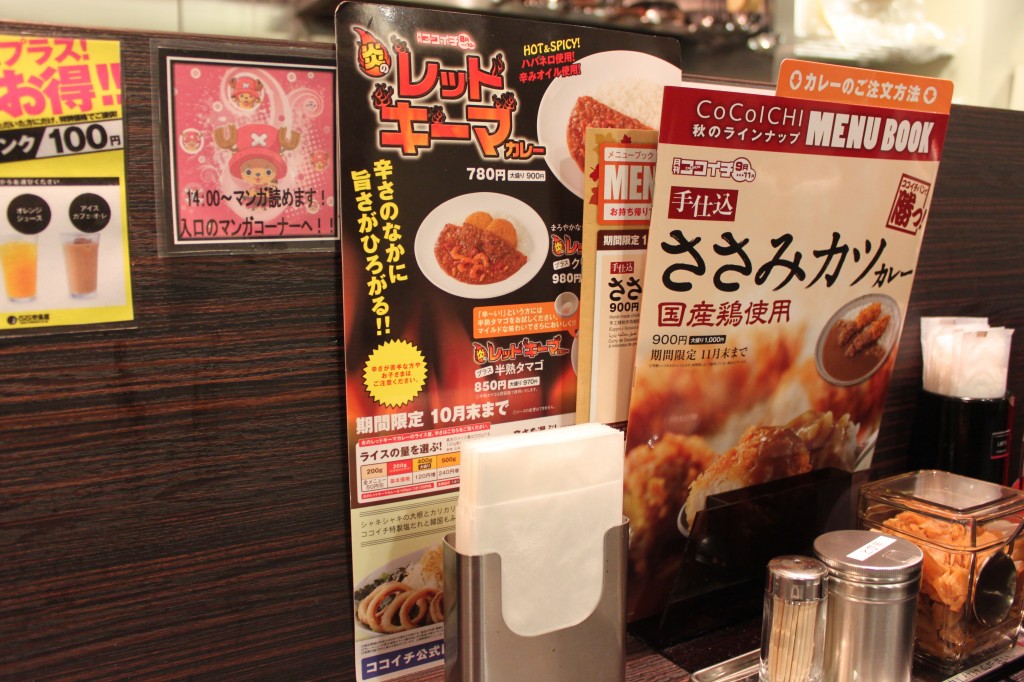 At Coco Ichibanya you can customize your curry order. Customers can choose the type of curry (beef or pork), the amount of rice, spiciness of the curry and add on anything from garlic bits to hand breaded chicken cutlet. I went with the familiar pork curry, a medium spice level, and a pork cutlet. The satisfying meal only set me back 750 yen.
There are CoCo Ichi locations across the country (and also in China, South Korea, and the US).
3. Sushi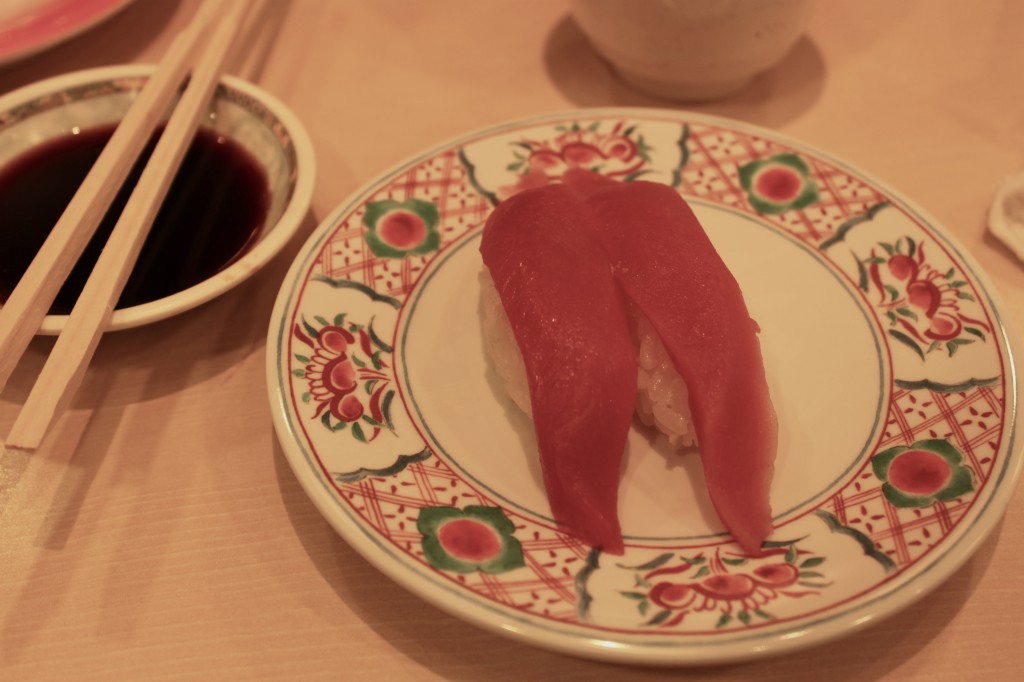 Sushi was my first foreign food obsession and there was no way I was visiting Japan without eating any. While prime cuts of tuna were out of my budget, I could still enjoy a little bit of conveyor belt sushi fun. Though sometimes seen in a negative light, recently people in Japan have started to realize that conveyor belt sushi doesn't necessarily mean low quality.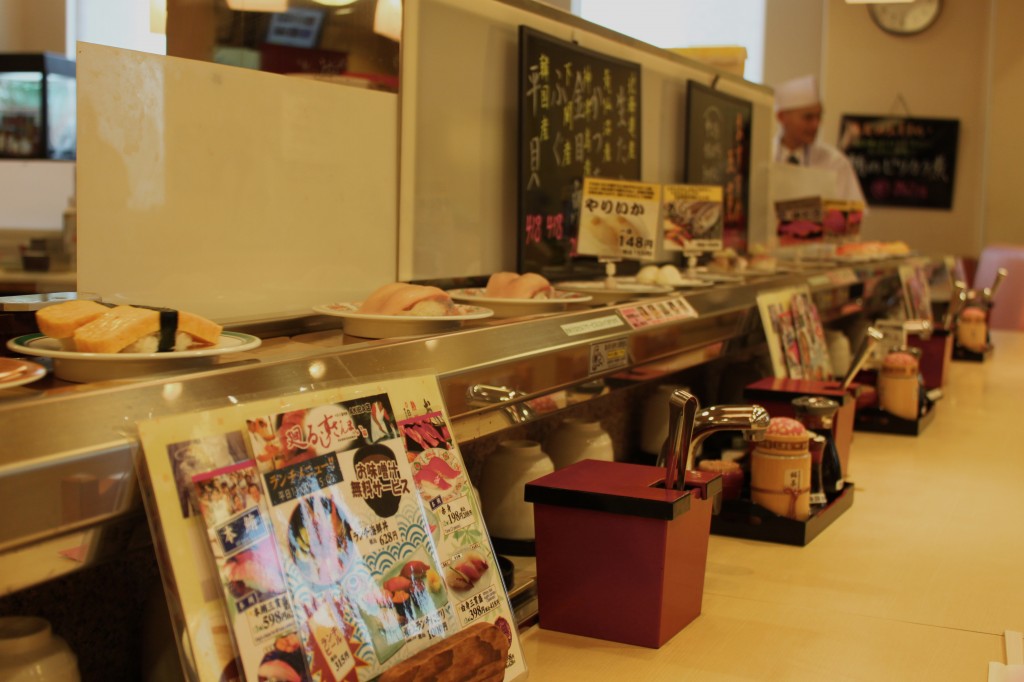 With this type of dining you can carefully control how much you spend. Each plate color or design correlates to specific price. For example, anything on a yellow plate might cost 200 yen. As the sushi goes around, you pick what you want to eat, and at the end the waitress counts your plate to determine your final bill. A variety of fish and rolls come around and the chefs will usually take requests. This is fun time to be daring and choose fish you might've never tried before!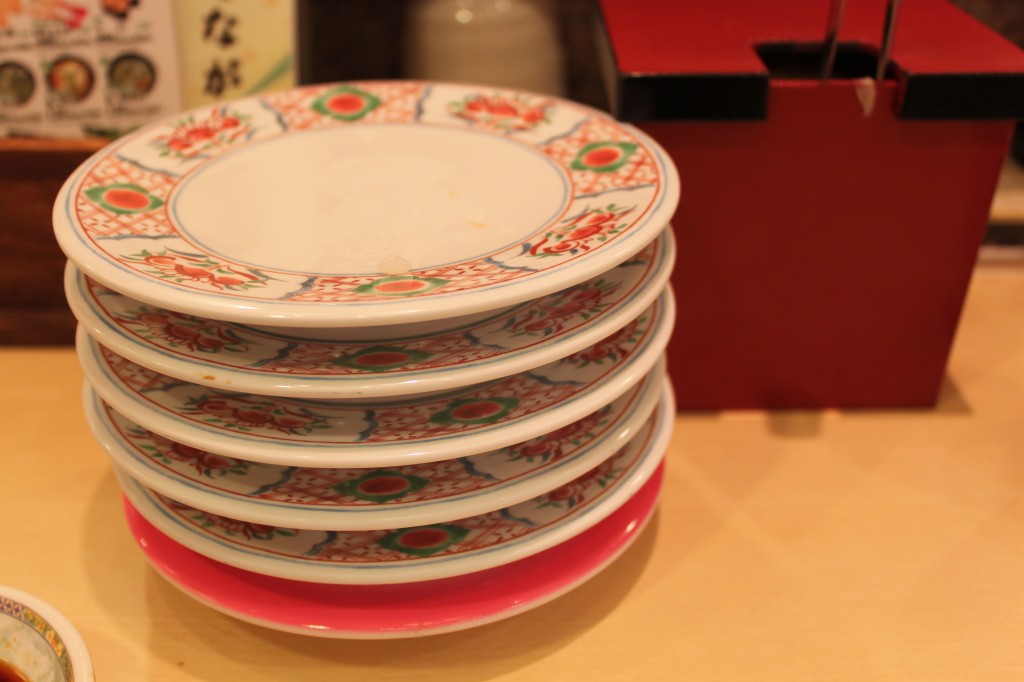 Sushi isn't hard to find in Tokyo. I ate on the 8th floor at the Yodobashi Camera Store in Akihabara, accessed by the JR Yamanote, Chuo-Sobu, and Keihin-Tohoku Lines or the Tokyo Metro Hibiya Line. 
4. Oyakodon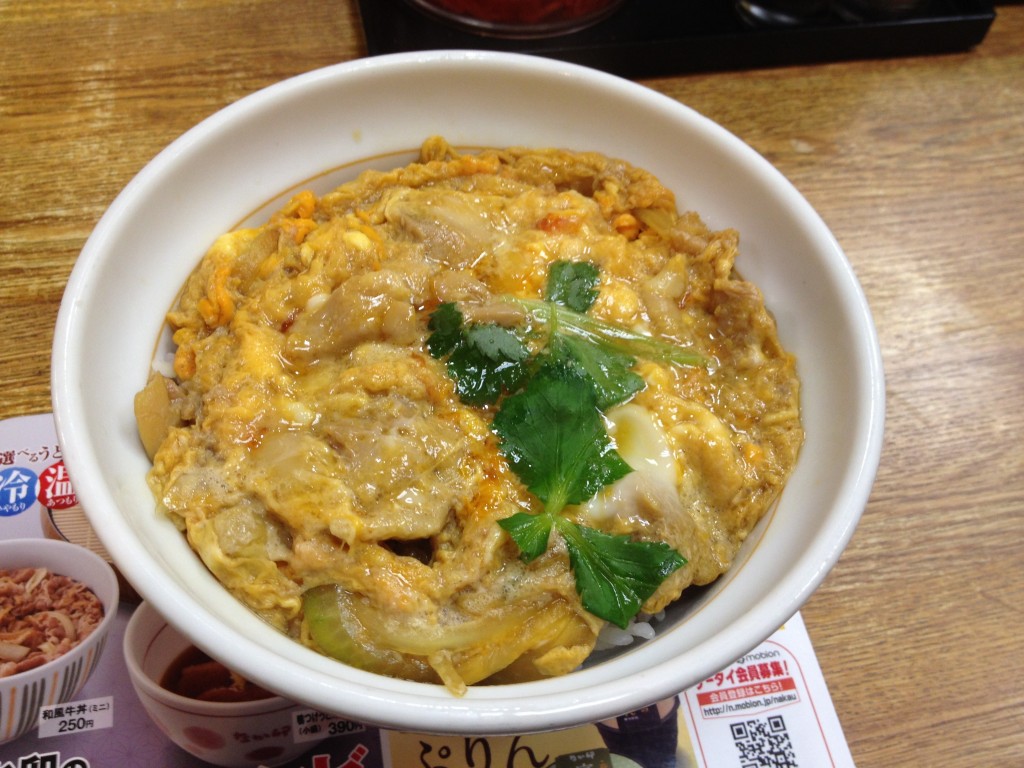 After a particularly long day trip out of Tokyo, I was extremely tired and decided to grab dinner at a donburi, Japanese rice bowl, place outside the train station when I returned to the city. Oyakodon, literally meaning "parent and child rice bowl", is playful name based on the fact that both chicken and eggs are used to make this dish. These two ingrideints, along with green onions and a sauce made from dashi and soy sauce, are laid over a bed of rice. This simple dish was not only tasty and filling, but also inexpensive, costing only 500 yen.
You can find oyakodon at many Japanese "fast food" restaurants (like I did), but the most famous place for it in Tokyo is at Tamahide, located about a one minute walk from Ningyocho Station on the Tokyo Metro Hibiya Line and the Toei Asakusa Line.
5. Okonomiyaki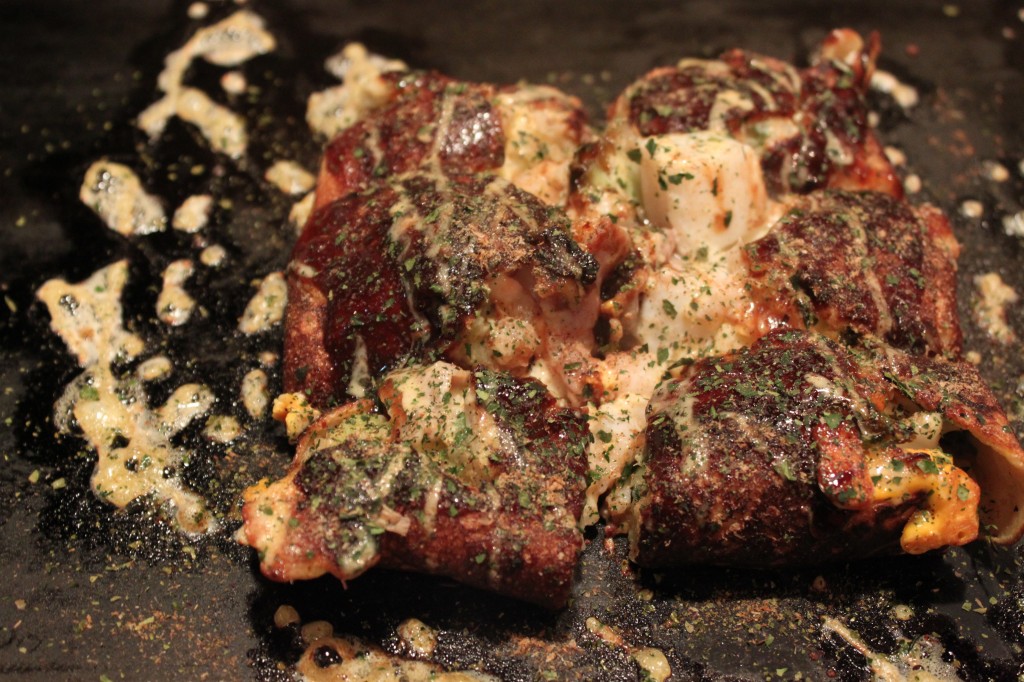 Okonomiyaki is a savory pancake that originated in Osaka, but is popular throughout Japan. Usually you cook the pancake yourself at a hot grill in the center of the table, but at the restaurant I tried it at, Nanbantei in Shimo-Kitazawa, the server will do all the work for you. Perfect for an okonomiyaki newbie like myself.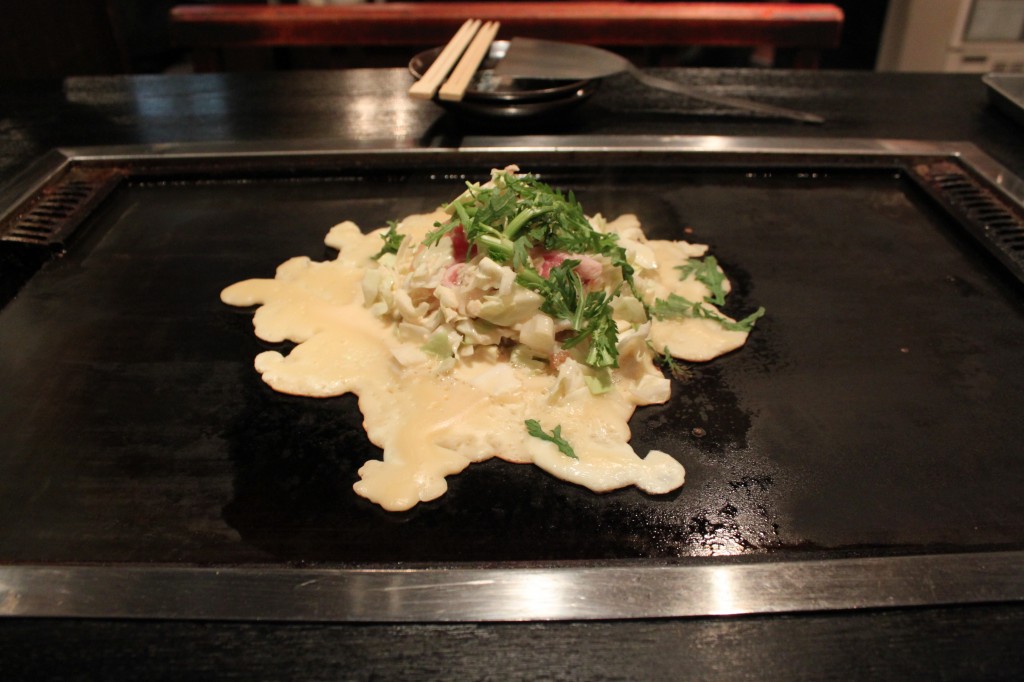 Okonomiyaki can have a variety of fillings, and I ordered mine with everything, which included bits of squid, meat, and vegetables. First, the batter, made mostly of flour, water, and grated cabbage, is poured onto the hot griddle, or teppan. An egg is then added, followed by more batter and fillings, and then finally it is made into kind of a pocket. A weight is pressed on top of it and the okonomiyaki is left to cook until golden brown. Finally, it is topped with Japanese mayonnaise,  black paper, and aonori, or seaweed flakes, and then cut into pieces to be served. .
The food itself was fairly cheap, around 900 yen, but I couldn't resist a couple of draft beers at this small, hip, student filled joint, which drove up the bill slightly.
To get there take the Odakyu or Keio Inokashira Lines to Shimo-Kitazawa Station. Take the south exit and turn left at Softbank. The second floor restaurant is on the next corner on your left.
What dish looks the best to you? What are your favorite Japanese foods?