It's time for another installment in my greatest hits of Southeast Asia series where I recap my favorite moments from my trip that I barely blogged about. A trip that started almost a year ago! To catch you back up, after the Philippines, Singapore, Malaysia, Thailand, and Burma, Tara and I made our way overland (overwater?) to Laos.
What were my favorite moments in this landlocked, Communist southeast Asian country?
Slow boat journey from Chiang Kong to Luang Prabang
This two day journey on the Mekong River is a popular way for backpackers to travel from northern Thailand to Laos. With my fear of bus and van rides on windy roads and Tara's fear of flying, we were both extremely happy to have an alternate mode of transportation available. We had heard reviews of the boat trip that ranged from two day rager party boat to absolutely, horribly boring (and Lauren's dead woman story), so we really weren't sure what to expect.
We were pleasantly surprised that it was neither of this things. And there were no dead people.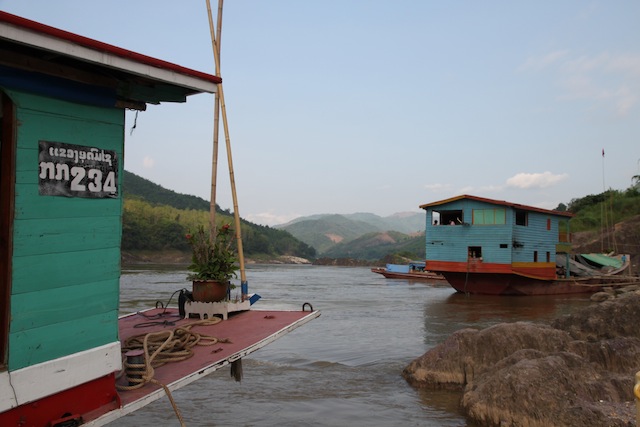 By the time we crossed the border and got everything situated, it was nearly noon when we set off down the river. Everyone was in a bit of a celebratory mood at this point, beers were being purchased from the stand near the back of the boat and someone pulled a bottle of whiskey out of their backpack. The afternoon was spent casually drinking and swapping travel stories. My favorite companion was a man in his 70s returning to Southeast Asia to revisit all the places he'd seen in the 1960s and 1970s. His stories about the area back then, and the differences today, were enthralling.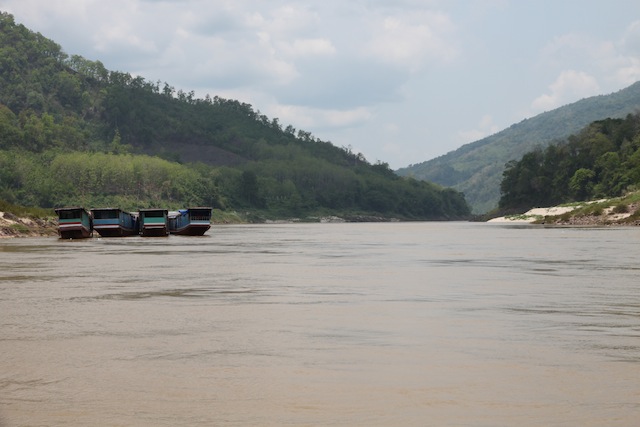 Our night in Pak Beng, the halfway stopover, was less than great, with cockroaches, a barely functioning fan, and many mosquitoes that I were sure were carrying malaria or dengue, but that made it all the easier to wake up early the next morning to grab a good seat on the boat. We'd been warned that the boat the second day is smaller, and we wanted to be sure to get the more comfortable torn-out-of-a-minivan seats. This early start also gave us time to buy sandwiches and water for the trip.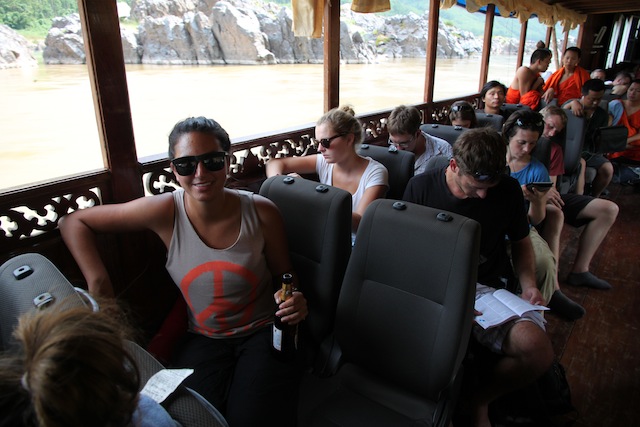 The second day was much more low key. I spent most of the time reading or listening to music. As we got closer to Luang Prabang the scenery began to change with palm trees and dramatic rock formations rising out of the banks.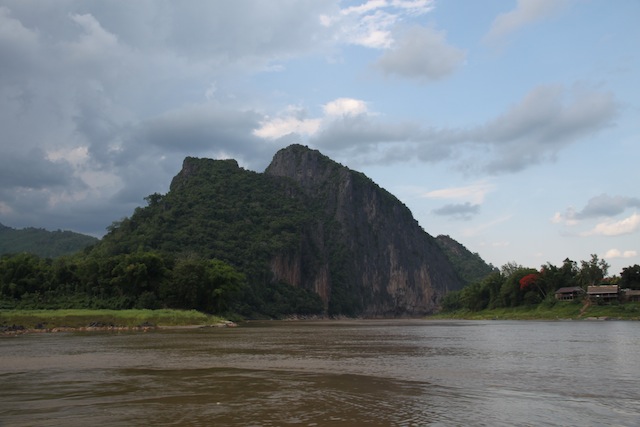 As much as the two day journey was a highlight, I was happy to be able to stretch my legs after we hit land near Luang Prabang.
Kuang Si Falls outside of Luang Prabang
About 30 kilometers south of Luang Prabang, lies Kuang Si Falls. There are three tiers, starting from small, shallow pools and growing to a 60 meter (200 ft) cascade at the final level.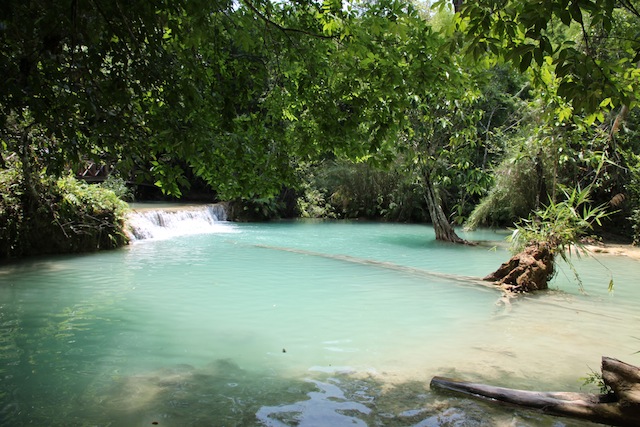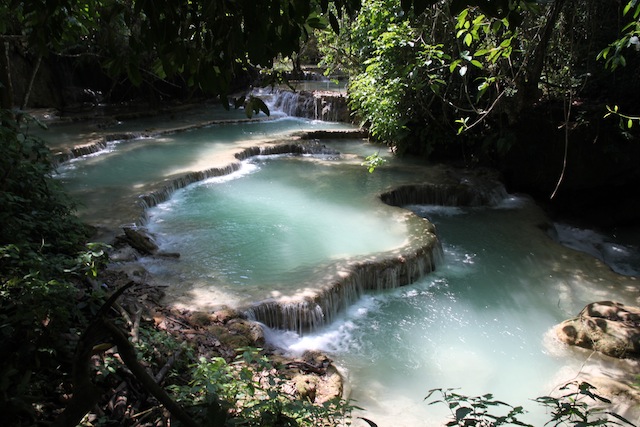 Tara and I hired a tuk tuk driver who took us out to the falls, waited for us while we were there, and drove us back for a reasonable price. Going early-ish in the day (before noon) was a good decision as the falls were almost empty and just started to get crowded as we were leaving mid-afternoon.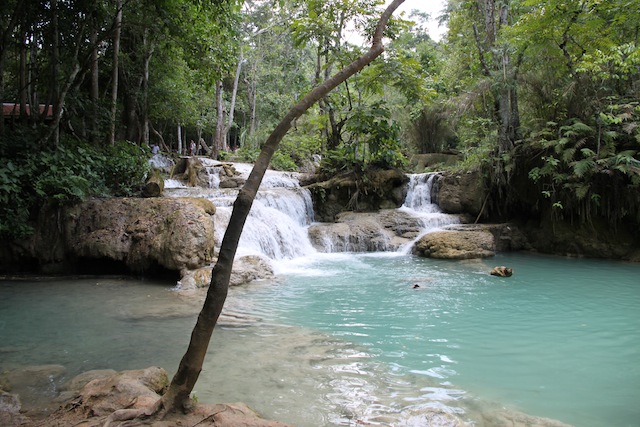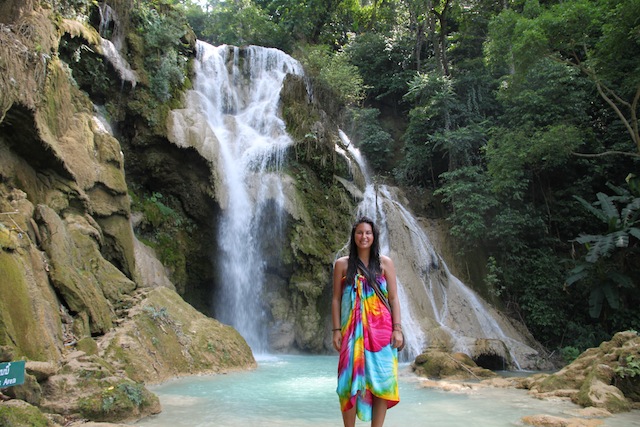 The Kuang Si falls are not only beautiful with their clear, turquoise pools, but they are also a great place to swim. The water was bone chillingly cold at first, but it was soon pleasant. The water was fairly shallow and it was clear enough to see the bottom (and the fish who want to snack on your toes).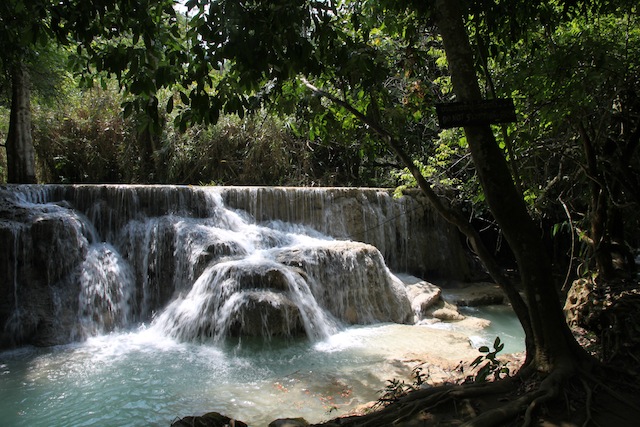 Luang Prabang is a sleepy little town and the Kuang Si Falls are a nice half day activity that will not only provide some excitement, but also cool you down.
Sunsets on the Mekong
Laos may be a landlocked country, but that does mean there is a lack of spectacular sunsets. In fact, the sunsets in Laos were some of the best I saw during the whole four month trip, and that says a lot considering I did a whole lot of sunset watching! It became somewhat of a tradition during our two weeks in Laos, especially in Luang Prabang and the 4,000 Islands, that we would post up at a bar or restaurant next to the river with our favorite Southeast Asian beer (Beer Lao Dark) and a plate of spring rolls and marvel as the sky became a beautiful swirl of pink, red, purple, and orange.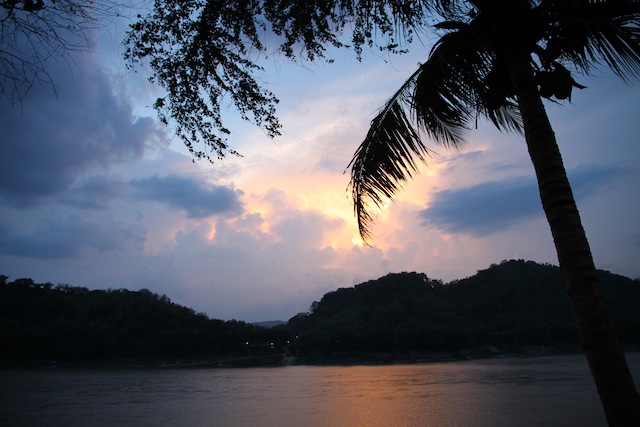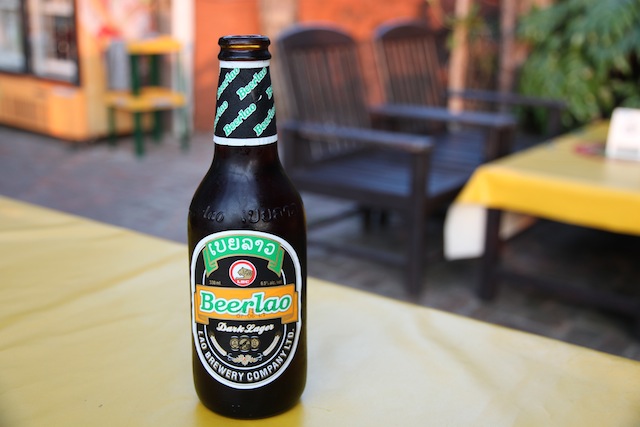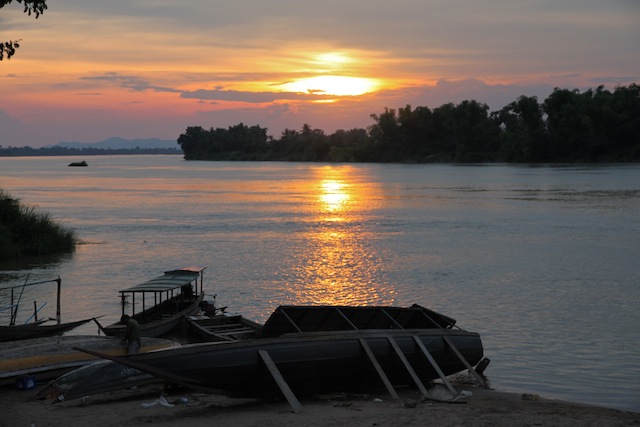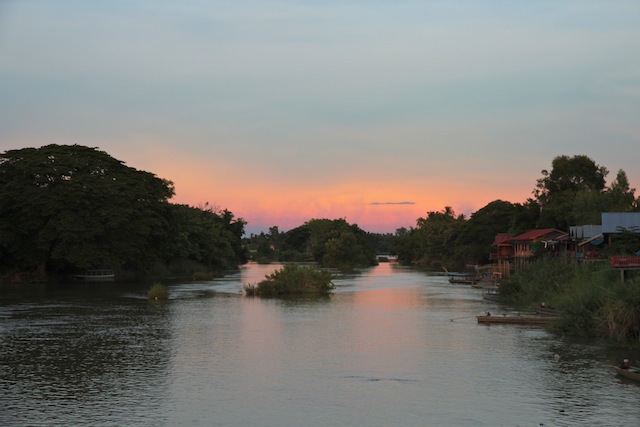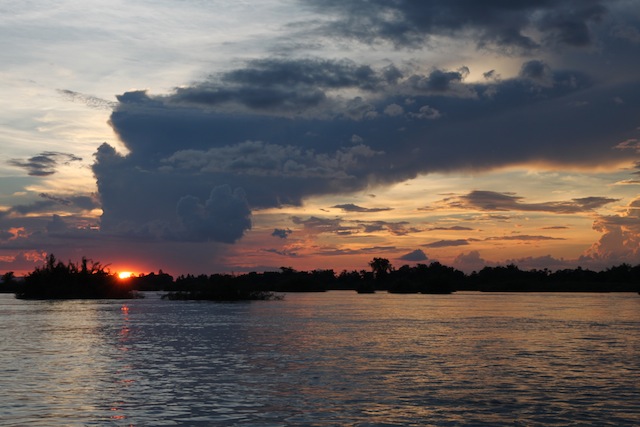 Tubing in Vang Vieng
Vang Vieng was quite the party town, known for its wild tubing adventure down the Nam Song River, until last year. A rise in deaths along the river led to most of the bars being shuttered and now a lot of the hard partiers pass on this once sleepy Laos village. The idea of diving into a rather shallow river while high on mushrooms never really appealed to me, so the closing of the bars didn't really deter me in my desire to visit Vang Vieng and go tubing.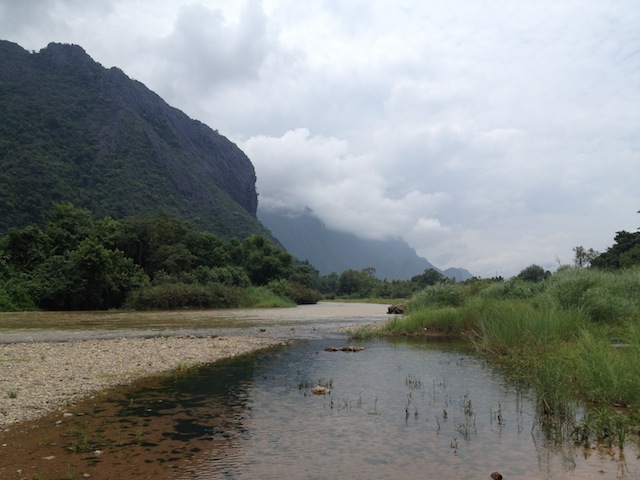 And you know what? It was a lot of fun. There were still three bars open on the river, the first one being the most popular. Tara and I set off around noon and when we were roped into the first bar about half an hour later there were a couple people already there. We sipped on some beers and soon more people arrived. After a few games of beer pong, most of us headed to the third bar as it was nearly approaching the cut off the return the tubes.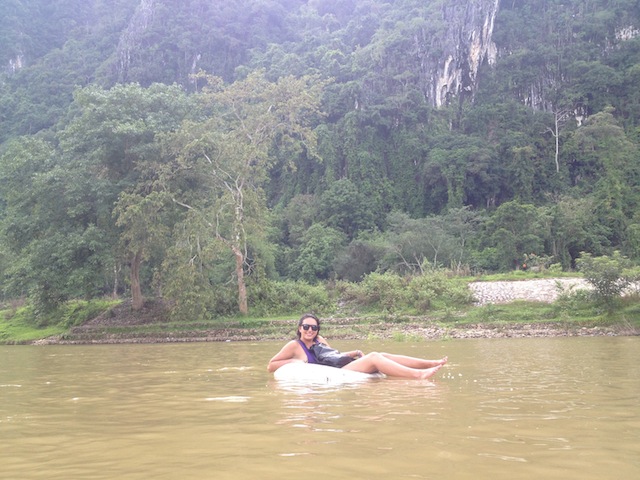 Besides being a lot of fun, the journey down the Nam Song is beautiful. Moss and tree covered cliffs rise up along both sides of the river and it is so quiet and peaceful you feel as though you're far from civilization. This was a day that made me very sad not to have a waterproof housing for my camera.
Chilling out in the 4,000 Islands
Si Phan Don, better known to travelers as the 4,000 Islands, are a group of islands in southern Laos where the Mekong spreads to almost 9 miles wide. The 4,000 Islands were kind of a last minute addition to our itinerary. We never planned to go to southern Laos, but after hearing rave reviews about the islands from fellow travelers we decided to see what the place was all about for ourselves.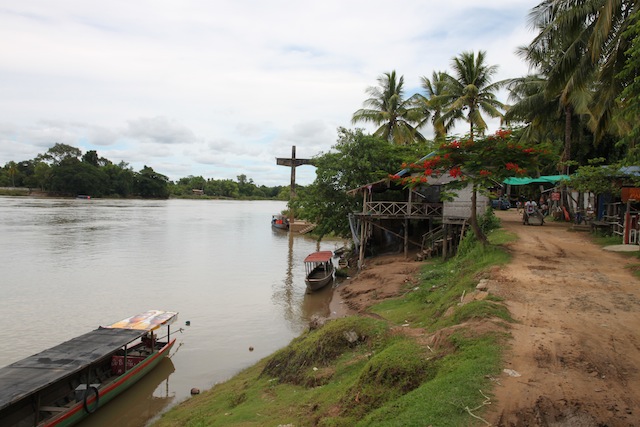 There's not much to do there. There are no ATMs. There are frequent power cuts. But that's kind of the point. It's the perfect place to relax.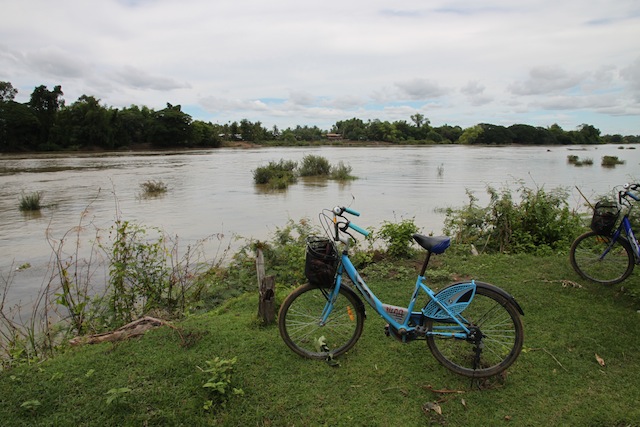 We rented bikes and cycled from Don Det to Don Khon, passing by small villages and rice paddies. On Don Khon we visited Li Phi waterfall. Though not impressive in its height, the volume and power of the water flowing over the large boulders made it different than of the other falls we'd seen.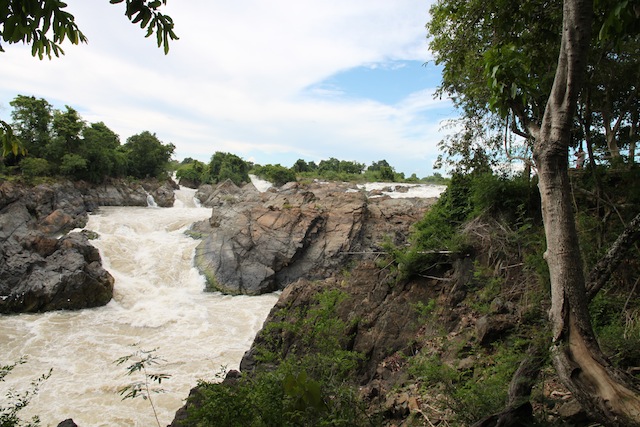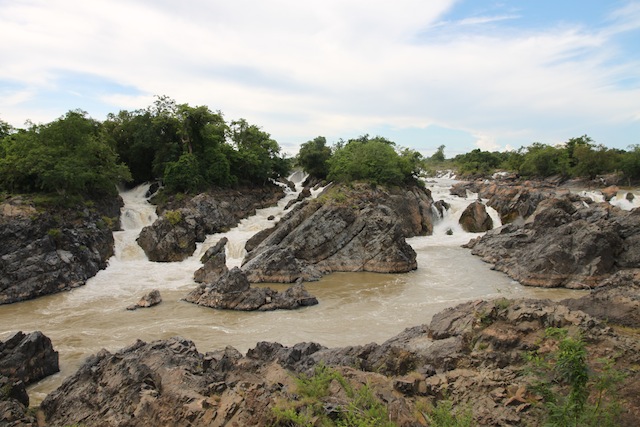 On our last night in Laos we took a sunset boat tour. We grabbed some beers from a small convenience store and our boat driver took us to a tiny, private island where we could watch the sky slowly change.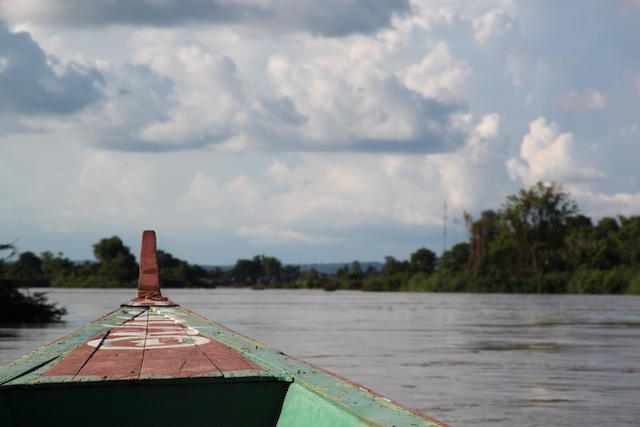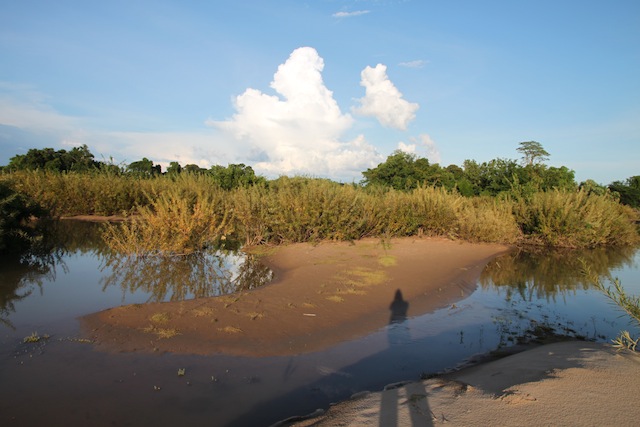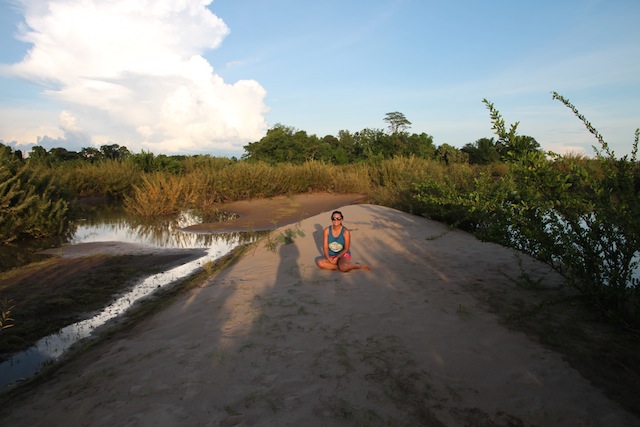 Besides that we spent our time eating the best burgers in Southeast Asia (seriously, we went there three times) or at a cheap Indian place, just relishing the time spent away from saying "no" to beach vendors or haggling with tuk tuk drivers.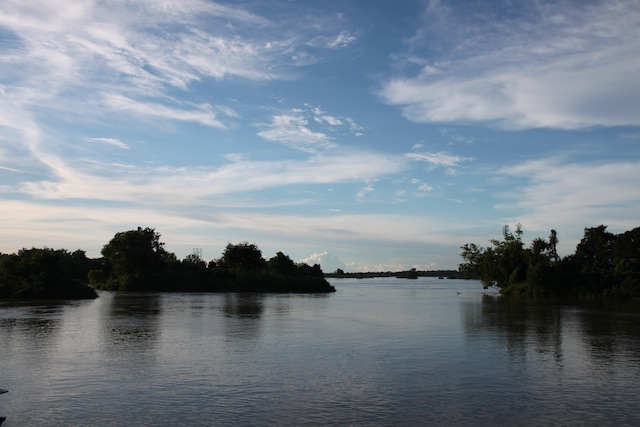 If you've been to Laos, what was your favorite part? If you haven't, where would you most like to go?