February was a busy month, but in a good way. Though I had a lot going on I still found time to do a fair amount of eating. I only managed to cross one restaurant off my must-eat-in-London list (Seoul Bakery), but managed to find some standouts and ate a couple of delicious meals courtesy of my awesome internship.
Without further ado, my February favorites:
Seoul Bakery 
Don't let the name fool you, cakes, except in the rice or fish form, are nowhere to be found at Seoul Bakery. Instead, this tiny cafe serves up simple Korean favorites at cheap for London prices. I came here on Lunar New Year weekend for a bit of celebration. The first thing that made me happy? They have metal chopsticks! This may seem stupid, but you don't find plastic or wood chopsticks in Korea and it always feels weird to tuck into a Korean meal with the non-metal variety.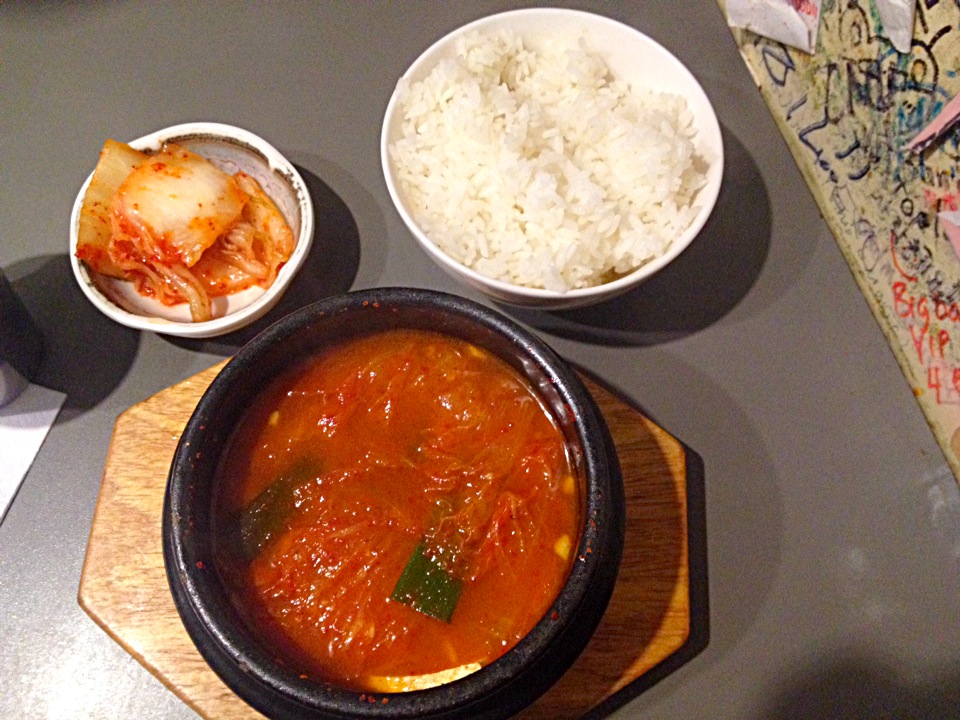 Seoul Bakery kind of reminded me of a Korean kimbap restaurant. The menu was smaller but there were the same kinds of offerings- ddeokbokki, kimbap, jjigaes, bibimbap, and the like. I had a bowl of kimchi jjigae, and while it was a little small and lacking in pork belly, the taste was spot on. I also got a tuna kimbap to go for dinner later that night and biting into that instantly brought back memories of day hikes and field trips.
55 St Giles High Street WC2H 8LH.
Mama Lan
This was my standout meal for the month of February. I've already talked about my love of Brixton Village, but I didn't go into specifics about my favorite find. Mama Lan does Beijing style street food. And they do it very well. The menu is small, two types of noodles and a few varieties of dumplings, but this is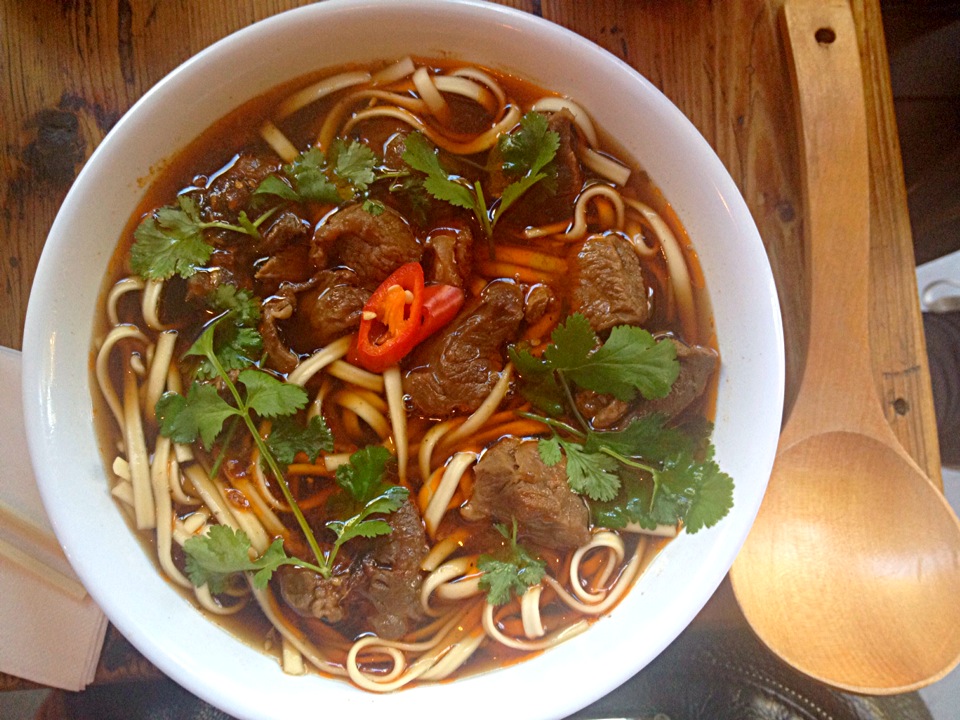 The spicy beef noodle soup made me feel like I was back in Asia slurping down noodles on a tiny plastic stool under a tarp on the side of the road. The broth had some serious depth of flavor and that perfect level of spice that isn't just hot for the sake of being hot. Spice that actually adds to the dish. The noodles themselves reminded me of my beloved kalguksu- medium thickness with some good chew.
I also had some dumplings which were good, but these noodles. These noodles are it.
Brixton Village Market SW9 8PR. For more information visit their website.
Four to Eight 
Okay, this is moderately self serving but I ate here twice this month and it was really good so…
Four to Eight is an Italian restaurant that is opening in Covent Garden later this year. I'm their social media intern. I've been working with them since late last year and it has been really fun to see what goes on behind the scenes of opening a restaurant. Plus, the group of people behind this endeavor are really great.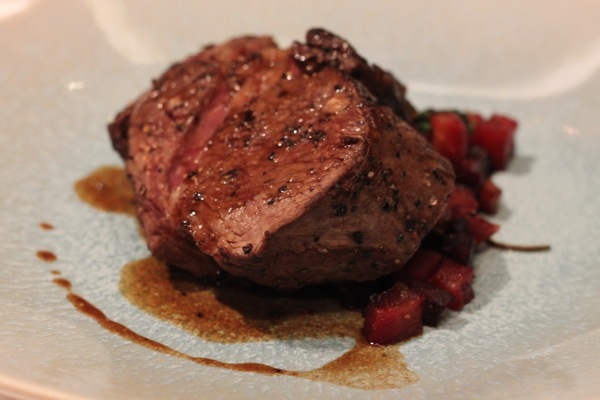 In February we had two tasting dinners in order to give the chefs some practice and get some feedback about potential menu items. These dinners made me very excited about the restaurant's opening. For the most part everything exceeded my expectations and exemplified Four to Eight's motto of 'beautiful simple dining'.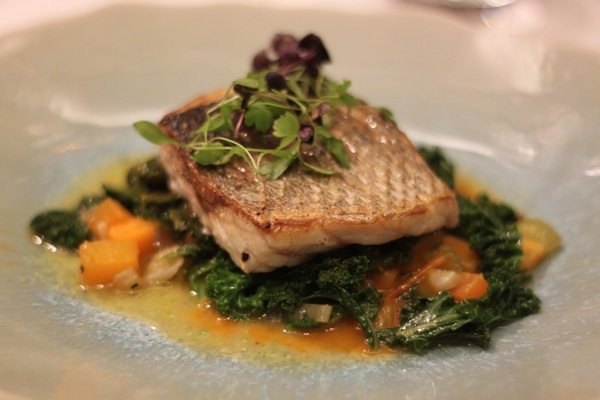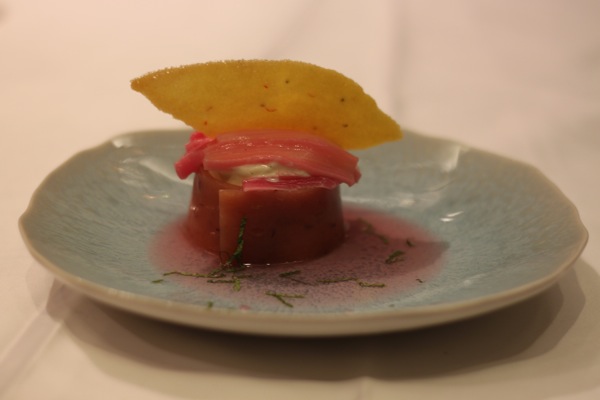 What did we eat? Seared diver scallops. A warm salad with radicchio, guanciale, and smoked scamorza. Sea bass with a butternut squash and kale ragout. Buttermilk panna cotta. Red millet and risotto. Slow cooked ribeye. Olive oil cake with poached pears.
Coming soon to Covent Garden! For more information (please) follow our Facebook, Twitter, Instagram, or blog.
Sushi Waka
A couple of weeks I had a night out with uni friends that began at Sushi Waka, a small Japanese joint in Camden. Going out with people who live in different parts of the city is usually a good way to discover some "local" gems, and this was no exception. We sat upstairs, where all the seating is on the floor, amid Japanese art on wood paneled walls. One of my fellow students is Japanese and even he thought this place was authentic.
We ordered a bunch of stuff to share- huge platters of sushi and sashimi, tempura vegetables, gyoza, and fried chicken. I'm a person who always thinks sushi isn't anything special. Then I eat good sushi and am reminded that it is actually amazing when it doesn't come prepackaged from the grocery store. At Sushi Waka there is one sushi chef, a very old man who obviously knows what he is doing and takes great pride in his work.
Sushi Waka is also great value for money. I had two beers, left absolutely stuffed, and only paid £20 for my portion of the bill.
75 Parkway NW1 7PP. For more information visit their website.
The White Horse
One of my favorite things about England is pub culture. Pubs are more than a place to drink, they serve as a community gathering place. The White Horse is about a two minute walk from my flat and I guess you could call it my local. The White Horse is firmly in gastropub territory with a changing seasonal menu and even though they are owned by Fuller's, they serve Frontier, a "craft" beer they produce.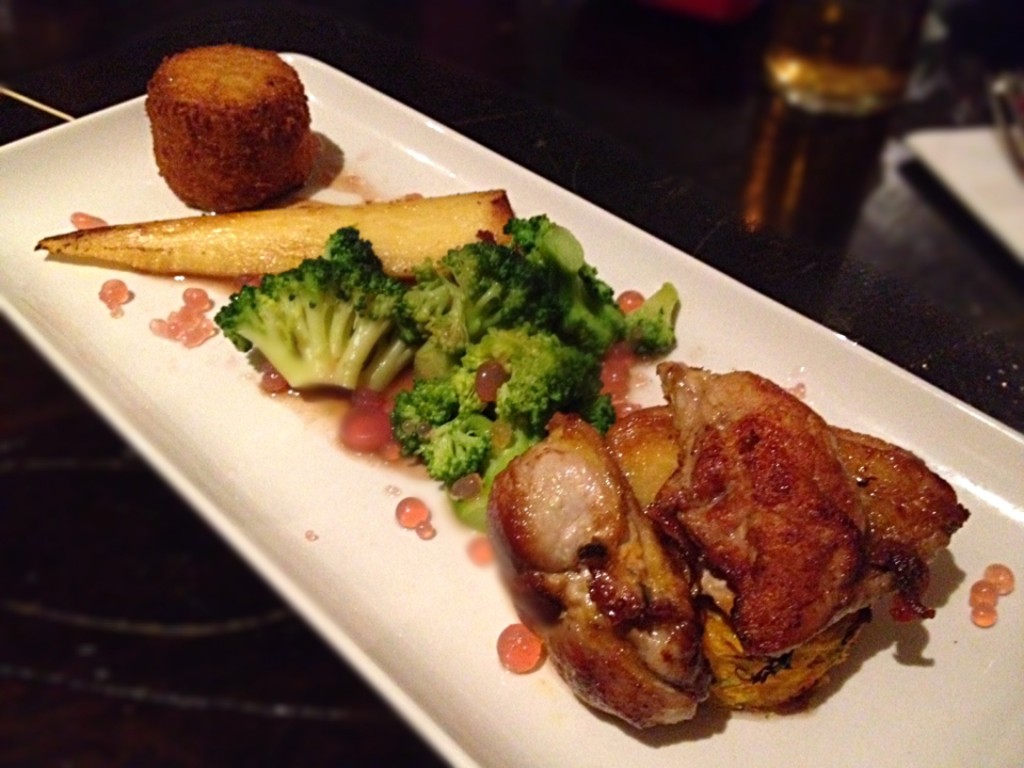 My birthday was luckily enough on a Thursday, the same night as the pub quiz, so I had a little birthday dinner here. I had one of the day's specials: pheasant breast, confit pheasant leg cake, butternut squash rosti, parsnip, honey glazed broccoli, and wine pearls. The pheasant was flavorful and not dry and it went well with the rosti and parsnip. My complaint, though, is that the broccoli was frozen. I don't understand how you can get away serving frozen broccoli in any restaurant these days, but especially one that prides itself on sourcing locally.
Frozen veg aside, I'll be back. I still haven't won the pub quiz.
14-16 Worple Way TW10 6DF. For more information visit their website.