Eating in and around Detroit is very special to me. I don't get to eat in Detroit very often anymore and each trip back is like walking down a foodie memory lane of all the things I loved growing up. Secondly, the new restaurants popping up around the city are indicative of the growth of Detroit. Creative concepts and trendy bars are popping in places you wouldn't have wanted to spend much time in 10 years ago. It's an exciting time for Detroit in many ways, including the food scene.
That's why when I plan visits to Detroit now I try to eat at some of my old favorites and try a few of the newer places. This list, while obviously not comprehensive, is indicative of that and is a good starting point if you're trying to figure out where to eat in Detroit.
Sides at Slows Bar B Q
Slows is probably the most famous restaurant in Detroit and was one of the first places to open in the Corktown neighbor during the city's so called renaissance. And though it may be one of the older "new Detroit" restaurants, it doesn't show any signs of slowing down. The place is still packed on most nights and new locations are popping up around Michigan. Slows does BBQ of all kinds and in many iterations, including by the pound, on sandwiches, and even in quesadillas. While the meat isn't bad, the sides stole the show for me. Make sure you save room for plenty of mac-n-cheese, sweet potato mash, and pit smoked pork and beans. You won't be disappointed.
Website | 2138 Michigan Avenue, Detroit, MI 48216 | 313-962-9828
Anything at Leo's Coney Island
So much of the coverage of the Detroit coney scene focuses on the battle between Lafayette and American, and while Lafayette is good for a simple coney dog, my coney island allegiance is to Leo's. A local chain started in 1972 by brothers Leo and Peter Stassinopoulos, Leo's Coney Island serves up the traditional coney menu along with Greek favorites and all day breakfast. I usually order lemon rice soup and chili cheese fries, but they also have great gyros, omelets, coney dogs, and, of course, Greek salads. If you are in Metro Detroit and don't hear, you're stupid. If you do, send me pics so I can live vicariously though you.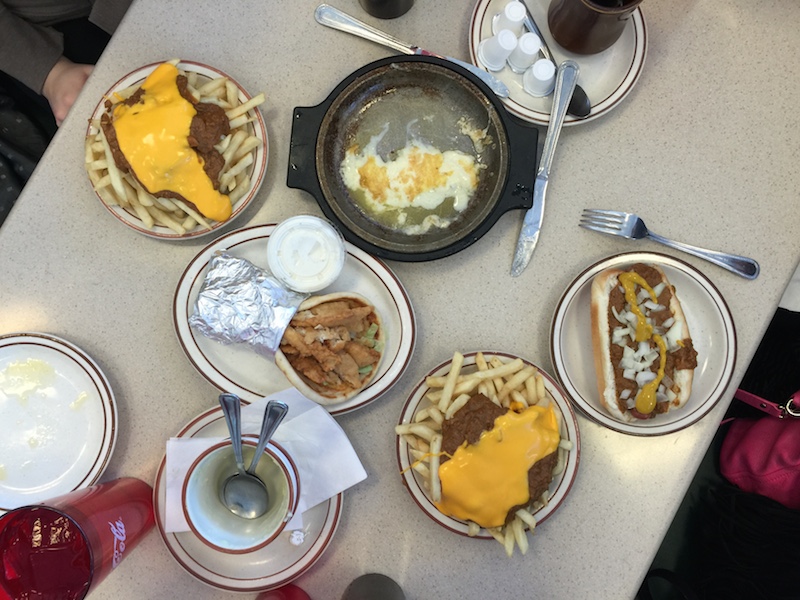 Website | Multiple locations
Deviled Eggs at Public House
Ferndale, a hip suburb bordering Detroit, is chock full of cool bars and restaurants, including Public House. The decor is decidedly old-school and the menu is full of snacks, small plates, and sliders. While the sliders we had here weren't bad, the real star was the chicken wing deviled eggs. How do you make a deviled egg better? Add buffalo sauce, that's how. There's also a menu of well-priced, creative cocktails and a fair amount of local beer. Public House is the perfect way to get a small taste of hipster Ferndale without spending a ton of cash.
Website | 241 W Nine Mile Road, Ferndale, MI 48220 | 248-850-7420
Sliders at Green Dot Stables
Sliders are having a moment right now in Metro Detroit and Green Dot Stables has the best. Located off the main drag in Corktown, you're probably going to have to wait to try one of the 20 sliders on the menu. There was even a line when I arrived at 11 am on a Monday! But with options ranging from quinoa patties and marinated tempeh burgers to Philly cheesesteaks and fried bologna sandwiches, the wait is worth it. My favorite was the Korean- a beef patty with kimchi and peanut butter. Sounds strange, but like all their combinations, it totally works.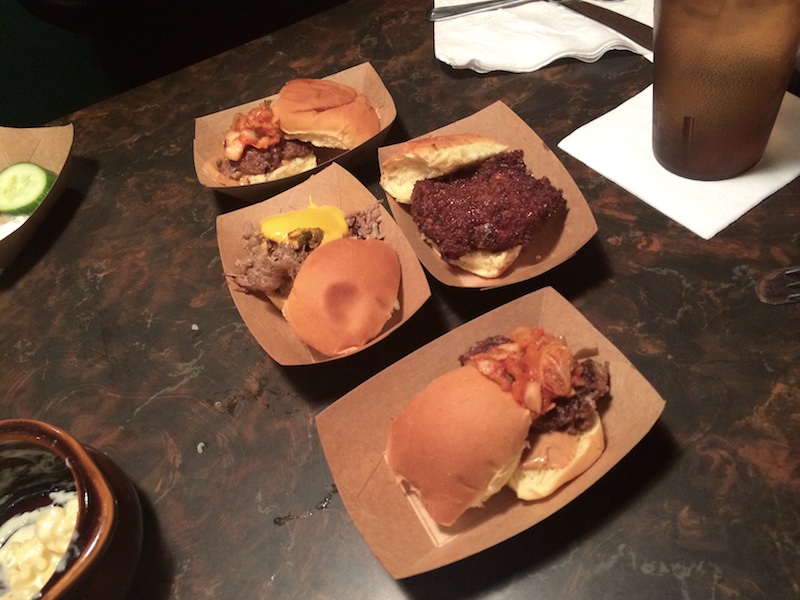 Website | 2200 W Lafayette Boulevard, Detroit, MI 48216 | 313-962-5588
Shawarma and lentil soup at Mr Kabob
Metro Detroit has some of the best Lebanese food in the country, no contest. But would be you believe me if I told you the best Lebanese food in the area was served out of a gas station? And not some hipster converted gas station, it's an actual Sunoco station and it's true. It's mostly a takeout place, but there are a few tables for those wanting to enjoy their lunch in between aisles of chips and anti-freeze. You can't really order wrong at Mr Kabob, but their lentil soup and shawarma are some of the best I've found in about 20 years of taste testing around the area.
Website | 3372 Coolidge Highway, Berkley, MI 48072 | 248-545-4000
Tater tots at Mercury Burger Bar
I can't actually vouch for the burgers here, but Mercury Burger Bar has some killer tater tots and a long list of local beer so it's obviously a place you should try. If you're around during the warmer months try to get a seat on their patio. With bright murals and some picnic tables, this is the place to be in Corktown for some summertime Detroit day drinking.
Website | 2163 Michigan Avenue, Detroit, MI 48216 | 313-964-5000
The Original Olga and snackers at Olga's Kitchen
Yes, it's a chain, but it's also a local institution. Started in 1970 by Olga Loizon, her namesake restaurant serves up some tasty Mediterranean inspired dishes. There is a menu here, but the only things I've ever ordered are The Original Olga and snackers. The Original Olga is a gyro made with beef and lamb, tomatoes, onion, and Olgasauce, a type of yogurt sauce and snackers are pieces of seasoned fried pita bread served with swiss almond cheese for dipping. It's like the fat kids delight and you won't want to stop eating them. Ever.
Website | Multiple locations
Crack fries and beer at HopCat
HopCat is a small chain of craft beer bars with a few location in Michigan and Indianapolis. In December they opened their Detroit location and became the largest craft beer bar in the state with 130 beers on tap. The vast majority of the beers are from Michigan brewers, a lot of small breweries I'd never heard of, and I had a great night sampling a bunch of new to me IPAs and pale ales that I can't find in Kentucky. Besides beer, HopCat has a food menu with burgers, sandwiches, and other bar type food. While our mains weren't anything spectacular, their crack fries, beer battered fries with a black pepper seasoning, with cheese sauce lived up to their addicting name. Order a basket of these to go along with your beers and plan to take an Uber home. You'll need it after a night here.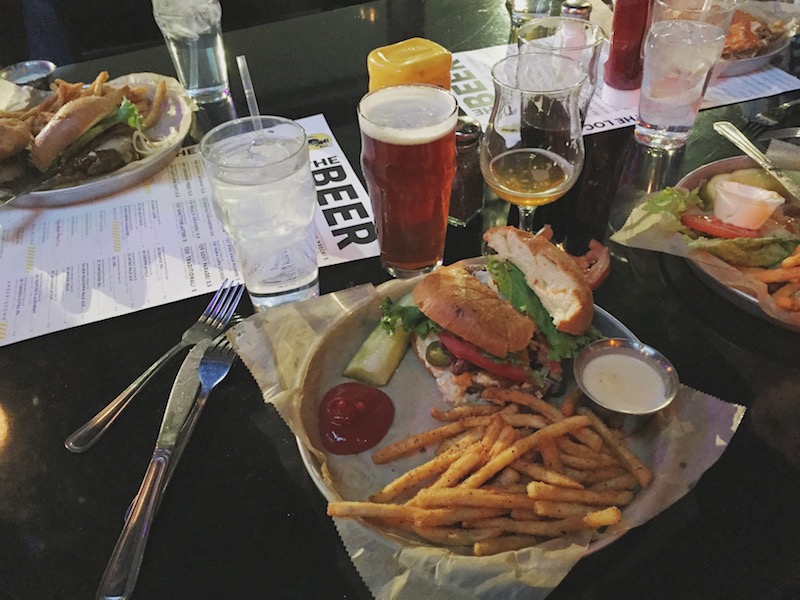 Website | 4265 Woodward Avenue, Detroit, MI 48201 | 313-769-8828
What would you want to eat in Detroit? Anything else you would add to this list?