I'm a Michigander.
I might not live there anymore, but Michigan will always be home. I spent 24 years living in Metro Detroit and Ann Arbor and my Mitten pride runs deep. How is it then that it took me moving out of the state and traveling around the world to realize that I'd missed out on some of my state's greatest treasures?
Because I'd never traveled to Northern Michigan.
While the vast majority of Michigan's population is settled in the southwest corner of the state, the majority of its natural beauty is located in the north. When I realized last summer I would have 10 days between my flight landing in Detroit and my friend's wedding in Ann Arbor, I decided it would be the perfect time to explore a little more of my home state. Luckily my friend Kelsey was also down to do a little in-state travel and the two of us took off on a whirlwind Labor Day weekend tour of Northern Michigan.
While we didn't have the time to see everything we originally wanted, we still managed to check out the following places.
Traverse City
Traverse City blew my mind. Traverse City is hip in a way I wasn't sure possible of a town this far north in Michigan. In addition to its beautiful location on Grand Traverse Bay, the city exudes cool. Craft breweries, exciting eateries, independent shops, art galleries, and coffee houses line the downtown streets and there were plenty of people out and about taking advantage of this. I was supremely sad we'd only given ourselves one night here. I could've stayed the entire weekend.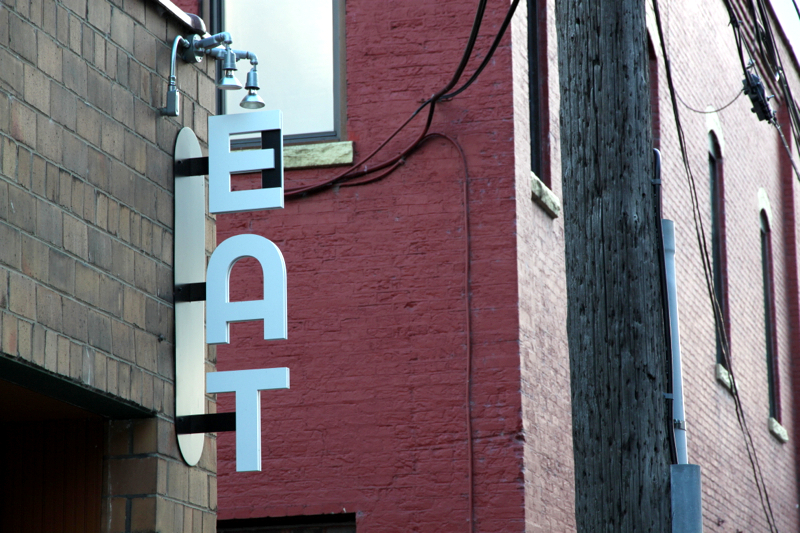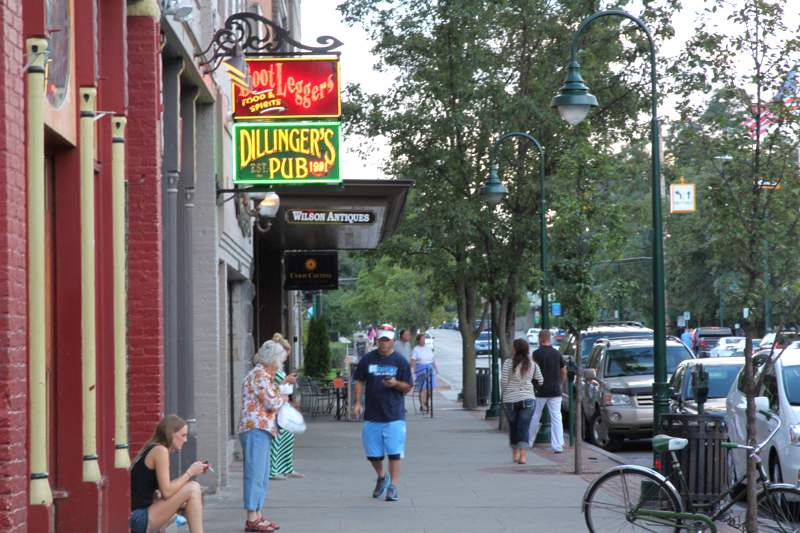 Sleeping Bear Dunes National Lakeshore
The main purpose of staying in Traverse City was so we could pay a visit to nearby Sleeping Bear Dunes National Lakeshore, once voted the most beautiful place in America. The park stretches for 35 miles along Lake Michigan's coastline and is home to not only some impressive sand dunes, but also dense forests and beautiful beaches.
Because the skies looked like they could open up at any moment, we decided to forego climbing the dunes and instead embarked on the 7 mile Pierce Stocking Scenic Drive. The Visitor Center has free maps that outline the different stops and includes information about the area, wildlife in the park, history, and what you're seeing when you stop at the scenic overlooks.
If you're short on time skip right to stops number 9 and 10 for the Lake Michigan Overlook. Follow the path from the parking lot and soon you'll be standing on one of the highest dunes looking right down onto the lake. While the weather wasn't as beautiful as I'd hoped, we managed to get a few minutes of clear-ish skie before the thick fog and rain rolled in.
The Upper Peninsula
I was going on and on once, talking to a non-Michigan friend about the U.P. this and the U.P. that before she finally interrupted and asked, "What the HELL is the U.P.?" Well, for all you non-Michiganders, the U.P. is Michigan's upper peninsula, that weird little bit at the top that hangs off the edge of Wisconsin.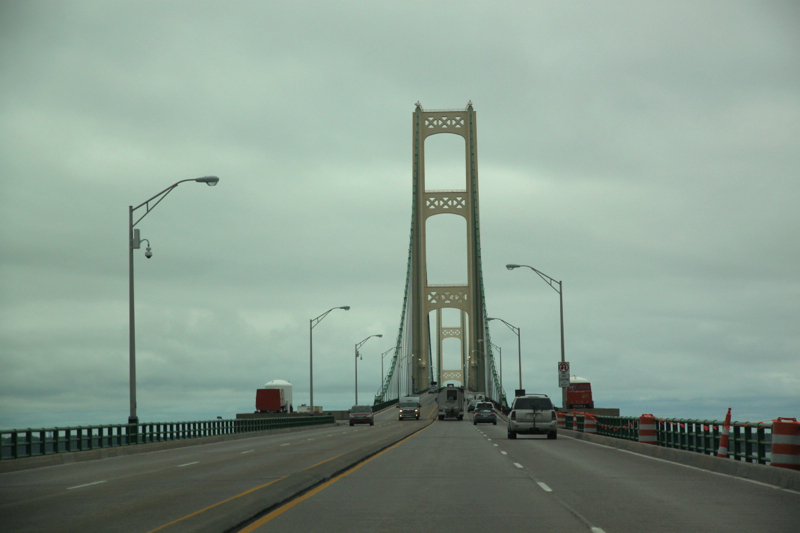 With long, tough winters, the Upper Peninsula is home to only 3% of Michigan's population, but immense natural beauty. As soon as we crossed the bridge the sun came out, glistening off Lake Michigan to our left, and we were surrounded by evergreen trees. This is exactly why people travel to the UP. And hunting and snowmobiling and ice fishing.
Pictured Rocks National Lakeshore
We had come to the U.P. for one reason, to visit Picture Rocks National Lakeshore, a stretch of Lake Superior's coast between Munising and Grand Marais. The most famous area of the lakeshore, and the reason behind its name, is the 15 miles of colorful sandstone cliffs northeast of Munising. I'd fallen in love with pictures of clear, turquoise water reminiscent of the Caribbean crashing into tall, colorful rock formations.
Of, course, the day we showed up for our boat tour it was cold, grey, and raining. Undeterred, we boarded the boat for our three hour tour of the 500 million year old cliffs. While the water wasn't nearly the color I'd imagined, the cliffs were. Caused by high levels of minerals in the rocks, the evaporating ground water causes the colorful streaks.
It's also possible to kayak along the cliffs and hike, something which I'd love to do in the warmer and sunnier summer months.
Mackinaw City
Mackinaw City is tourist central. The kitschy shops and streets of chain hotels and ferry services make it obvious that this city exists pretty much solely for those making trips to Mackinac Island. And that's fine, it was just kind of a shock after a couple of days in the very secluded U.P..
The highlight of Mackinaw City for me was Mackinac Brewhouse, a craft beer store in the middle of the city. I made my own six pack of local IPAs and we enjoyed some of their offerings on draft. It's located in a totally touristy shopping center, but with over 10,000 bottles the selection of beer can't be beat.
Mackinac Island
I don't know how I lived in Michigan for almost 25 years without making it to what is arguably the state's most popular tourist attraction, but I did. And I was seriously missing out. This summer colony and resort island is known for its fudge, architecture, and lack of cars, but it's much more than a playground for the wealthy middle aged.
Kelsey and I took one of the first ferries over in the morning and arrived to find the island almost empty as most of the Labor Day vacationers had already left and the day trippers hadn't yet arrived. We wandered around a bit as the morning fog burned off and then decided to venture to higher elevation. Almost 80 percent of this 3.8 square mile island is a protected state park and there are plenty of walking of cycling trails throughout.
We followed the sign postings to Arch Rock and then slowly wandered around, being careful to avoid the horse drawn carriages full of tourists that seem to be around every corner, before returning to the main town for some of the island's famous fudge.
After a ferry ride back to the mainland we hopped in the car and began the four hour drive back down to Ann Arbor, happy to have seen just a little more of the state we both call home.
Have you ever realized you missed out by not exploring close to home?