Early this year I cut my original plans to spend all of April traveling around central Europe in half for a truly great reason- a chance to reunite with 3 of my best friends from college. Alicia and Kasey were both in Europe on work assignments and our friend Tara decided to use some vacation days and fly over from the States to take advantage of the long Easter weekend. We threw around a few different ideas- Istanbul, Tel Aviv, or Egypt- but eventually decided to stay closer afield and decided to rent a car and see some of Scotland.
Planes, trains, and a night bus were booked and we all eventually made it to Glasgow on Thursday morning.
Glasgow
If I told a British person I was going to Glasgow their general reaction was "why the hell would anyone want to go there?" Described mostly as ugly, devoid of any charm, and boring, my expectations for Scotland's largest city were really low.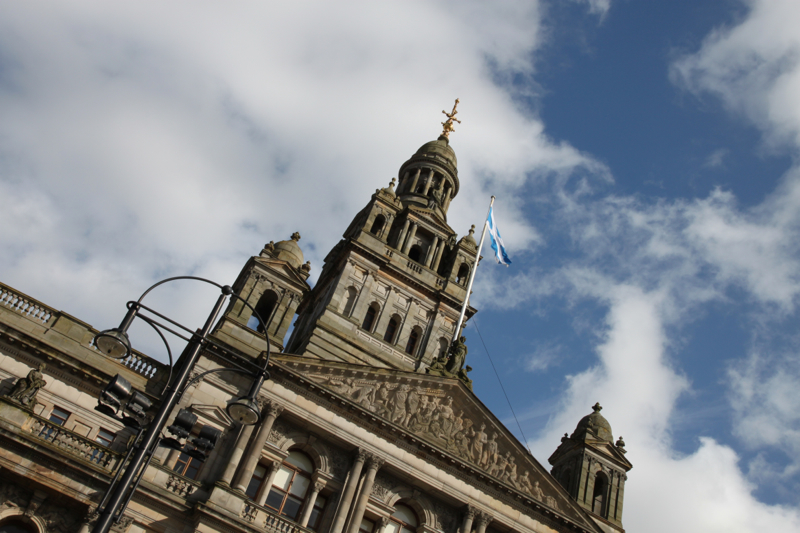 Then I went to Glasgow Cathedral and Necropolis. The Necropolis, a Victorian cemetery sat upon a small hill, gave off a sense of eerie beauty. Tall, ornate gravestones, afternoon haze and sunshine, and colorful spring flowers set a scene far different from what I'd been told about Glasgow.
Okay, yeah, that was pretty much the only site I saw in the city, but I had a great time exploring the nightlife. The four of us hadn't been together in five years- a lot of celebrating was necessary. Easily facilitating this celebration? Things in Scotland are really, really cheap, especially compared to London prices. Rounds of shots for the four of us were less than £10. Then there was the fact that everyone was absolutely shocked that four Americans would be in Glasgow. We got a lot of free drinks. We played drinking games with people who had such strong Glaswegian accents I wasn't fully convinced they were speaking English. There were late night doner kebabs.
It wasn't the most cultural of visits, but hey, everyone needs to have a little lot of fun every now and again.
Where To Eat: Glasgow was once named the Curry Capital of the UK so a trip for Indian food was in order. We sampled a bunch of dishes at The Wee Curry Shop and were impressed with everything. Once of my favorite Indians in the UK! If you're into craft beer check out Munro's, a pub serving their own brews as well as other local options alongside delicious pub fare.
Glengoyne Distillery
What's a road trip in a Scotland without a morning stop for Scotch? It isn't one. Because of this we made sure our first stop after picking up the rental car in Glasgow was a distillery. Glengoyne, located on the division between the Scottish Highlands and Lowlands, is unique because it is the only distillery that produces a Highland single malt that matures their whisky in the Lowlands. Or so they say.
We took the Wee Tasting Tour which costs £10 a person, lasts an hour, and includes 2 tastings. We began in the main building by watching a video about Glengoyne and then moved into the production area where we learned how Scotch whisky is made. Not surprisingly, it is a very similar process to distilling bourbon, something I know a little about.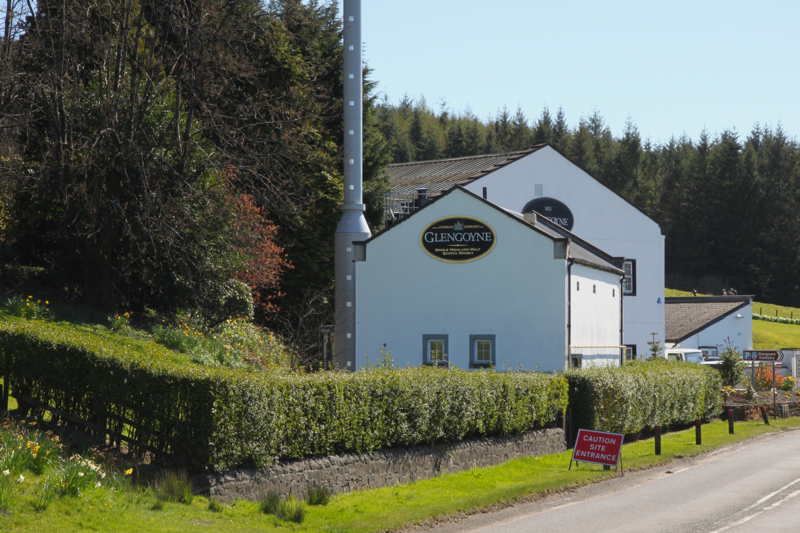 I'm not a huge fan of straight whisky, especially before noon, but the beautiful scenery and passion for this Scottish product made a visit to Glengoyne memorable.
Loch Lomond
After finishing the tour we continued heading away from Glasgow toward Loch Lomond for a little afternoon hike. From a car park in the small village of Balmaha, we began our ascent up Conic Hill. The climb up the 250 meter hill wasn't too difficult, even for someone as out of shape as me. The last bit, best described on one website as a "short rocky scramble", had me on my hands and knees but the views of Loch Lomond, the largest inland lake in Britain, from the top were more than worth it. 
Stirling
On Saturday, after a bit of a late start due to the previous night's festivities, we left Glasgow for good and drove east toward Stirling. People come to Stirling to do see two things- the castle and the Wallace monument. We managed to squeeze in both in one afternoon.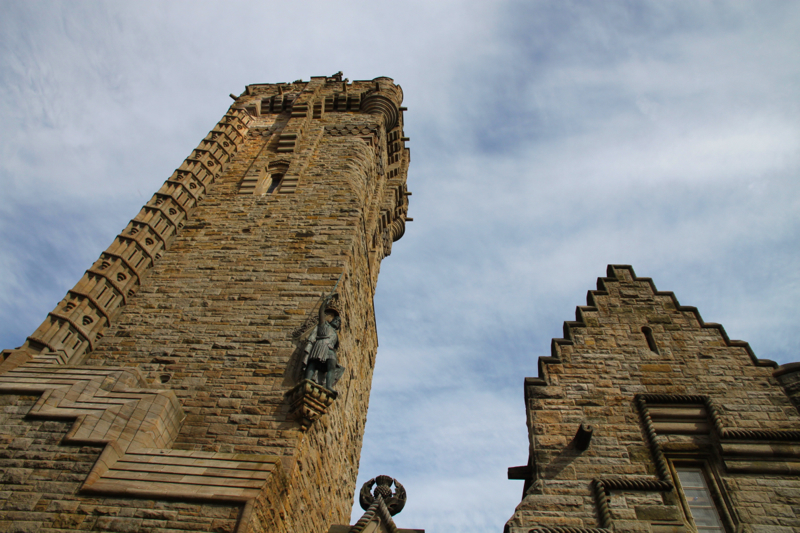 First up was the Wallace monument. The 67 meter tall tower honors William Wallace, national hero of Scotland and main character of the movie Braveheart. It was here that I learned Braveheart, a movie I've never seen, was loosely based on fact. A very strange man with an almost decipherable accent told us the story of William Wallace. I won't get into the details, but it didn't end well for him. Or Scotland.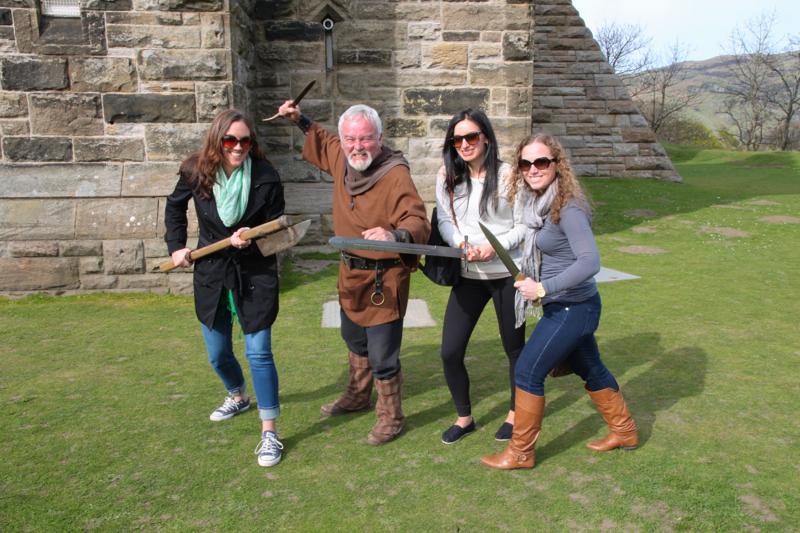 We quickly climbed the 246 steps to the top of the tower, admired the view, and ran down in order to make it to our next destination before it closed.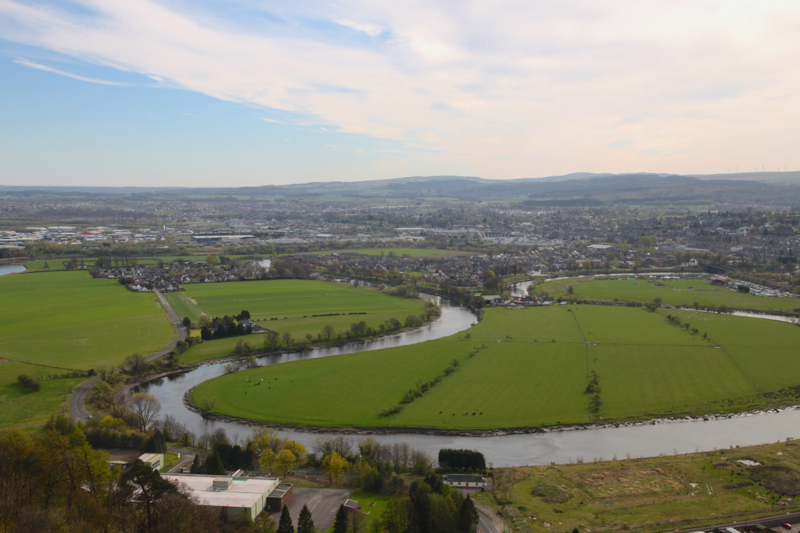 Stirling Castle, which dates back to the 12th century, is one of the largest and most important castles in Scotland. Which is saying something because there are a lot of castles in this country.
Much of the property seemed to be closed while we were there, but we did enjoy dressing up in royal clothing meant for children and having other visitors take our picture.
Where To Stay: The Allanpark Hotel is cute and quaint and there's even a little pub (filled with very old Scottish people) inside! They let us put four adults in a family room and provide a free hot breakfast. It's walking distance from the main part of town and there's free parking.
Edinburgh
My expectations for Edinburgh were the exact opposite of the ones I had for Glasgow. People love to talk this city up. And for good reason. It. Is. Gorgeous. The Royal Mile, which runs downhill for one Scots mile past some of Scotland's most historic buildings, is a lovely place to walk and admire the architecture. It's also filled with souvenir shops and touristy restaurants, but ignore those and focus on the beauty.
It's not just the Royal Mile, either. The beauty extends to the parks and around random corners. It's when you look up and see a castle on a hill while you're standing next to a H&M.
And then there's Arthur's Seat. This 251 meter tall hill in the middle of the city is a popular place for a city hike an panoramic views over the city. I don't know if it was because we had spent the two hours previous to climbing at a craft beer festival, but climbing Arthur's Seat was a bitch. Totally worth the pain and beautiful, but more difficult than it appears.
Then, after one last night out on the town, it was time to say goodbye, to Scotland and to each other. On the train back to London I kept thinking how lucky I was to explore a small part of a beautiful country with some of my favorite people. Corny yes, but after 2 weeks of solo travel it made me appreciate having great people to share great experiences with.
Where To Eat: A bit of a splurge on a student budget, dinner at Wedgwood was worth every last penny. Using local ingredients, they put a modern twist on traditional Scottish cuisine and flavors.
Is Scotland somewhere you'd like to visit?