While I love visiting countries like Italy and Thailand where I know I love the food, there is something equally as exciting about visiting a country where I know next to nothing about the cuisine. That's how I felt in Poland. While I grew up eating variations of a few popular dishes, there was much that was unfamiliar about Polish cuisine to me.
What did I discover? That Polish food is simple, but full of flavor. It is hearty. It is delicious. Potatoes and cabbage, two of my favorite foods, feature heavily, as does sausage. There are a lot of similarities with other eastern and central European countries, but all with their own Polish flair.
This guide, while far for comprehensive, can help you eat your way through Poland.
Popular Polish Dishes
Pierogi
Probably the most famous of all Polish dishes, pierogi are a type of dumpling that can be either savory or sweet. Potato, sauerkraut, cheese, meat, and fruit are the most common fillings, but many eateries offer different and more creative options including things like goat cheese. I grew up eating frozen pierogi as an afternoon snack and was excited to be able to try the real thing in Poland. And try them I did. While there weren't any variation that I didn't like, my favorite were the pierogi ruskie, filled with potato and cottage cheese, and topped with a large dollop of sour cream.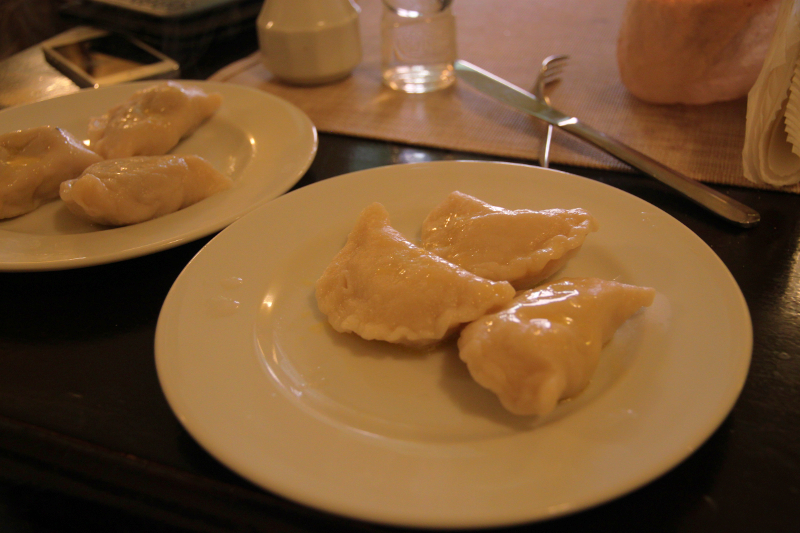 Bigos
Bigos is a meat and cabbage stew that is popular in many eastern European countries. Also known as hunter's stew, bigos is made of cabbage, sauerkraut, mushrooms, tomatoes, and some kind of meat, the most common being kielbasa. It is most often served with a side of rye bread or mashed potato. This is a hearty, filling dish that would be perfect on a cold night.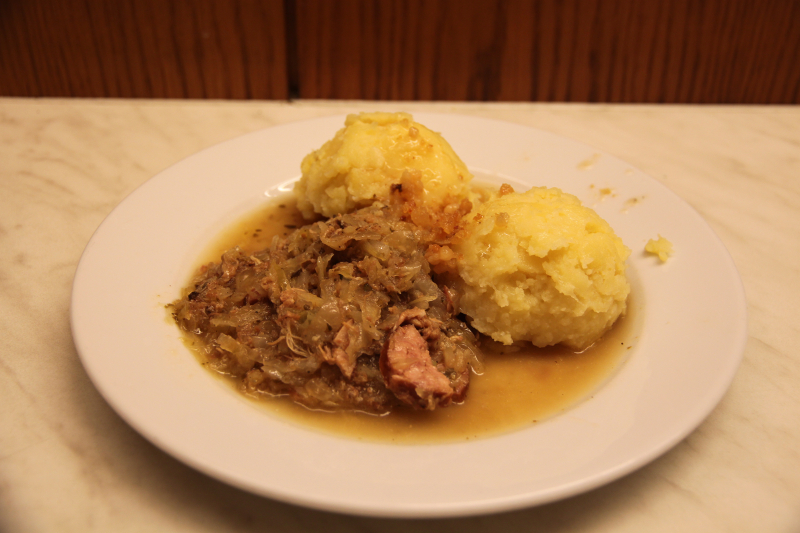 Golabki
Known in English as stuffed cabbage, golabki are rolls made by wrapping slightly boiled cabbage around ground beef or pork, onions, and rice and then baking it all in a tomato sauce. Golabki are an important dish in Poland, often served around Christmastime and at weddings, and were rumored to have been served to the Polish army before a battle in the Thirteen Years War. A battle they won, naturally, after such a hearty meal.
Zapiekanka
Zapiekanka is every American college student's late night food desire. Even if they've never heard of it. If they had, they would love it. A halved baguette is topped with cheese and toasted before other toppings and dressings are piled on. The possibilities are endless. I had one with kielbasa, fried onion, pickles, and garlic sauce (8 zloty, about $2.50) which was absolutely glorious. Future food truck endeavor? Possibly.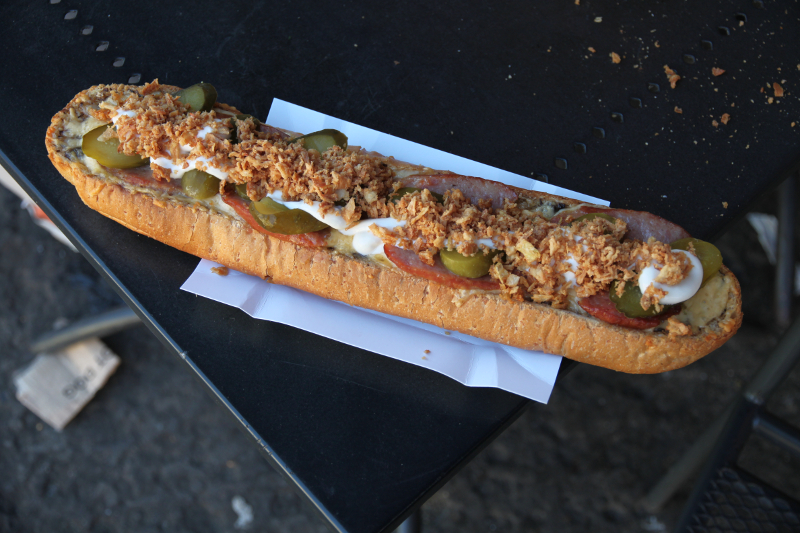 Barszcz
More commonly known in English as borscht, this beetroot soup that originated in Ukraine is also popular in Poland. Borscht is a staple in many eastern European countries and each one puts their own little spin on things. In Poland borscht is made, at its simplest, with red beetroot, onion, and garlic. Oftentimes it is also boiled with other vegetables such as carrots or turnips. One version I tried even contained tiny meat filled dumplings. A small cup or bowl of borscht became a favorite of mine over my week in Poland. The warmth and depth of flavor were a nice way to start a meal without being too filling.
Zurek
Another Polish soup, this one is made of soured rye flour and meat and often topped with a hard boiled egg. I stupidly managed to try this only once, in the cafeteria at Auschwitz of all places, and was immediately a fan. Though the broth is thin, the flavors are big and the egg and side of bread provided some nice sustenance. I can only imagine what this would taste like at a proper restaurant.
Placki Ziemniaczane
These Polish potato pancakes are made of shredded potato, flour, and eggs and can be eaten in a variety of ways with different toppings, both sweet and savory. This dish dates back to the 17th century when it was a staple at Polish monasteries. Today they are usually served with goulash (my favorite), sour cream, apple sauce, or mushroom sauce.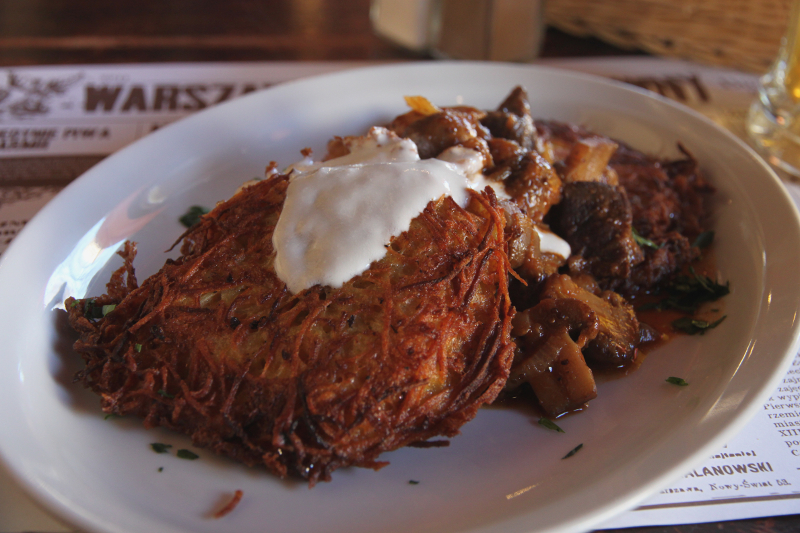 Obwarzanek
This ring shaped bread that resembles a large donut is a Krakow staple, it even has Protected Geographical Indication in the EU. The bread is boiled then baked and topped with salt, poppy, or sesame seeds. Though it looks like a bagel, the texture is decidedly different and the taste is slightly sweeter. Obwarzanek have been sold in Krakow for over 600 years and can still be found for sale at countless carts in the city center.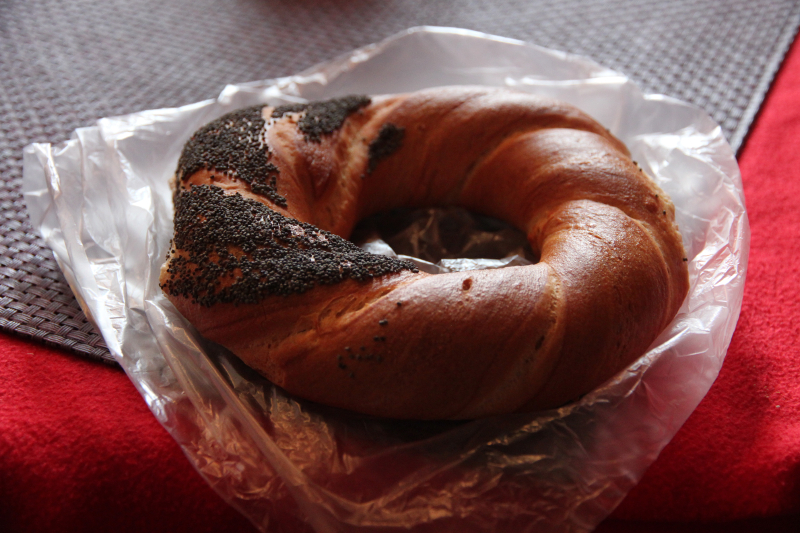 Paczki
In Metro Detroit, where I grew up and where there is a large group of people of Polish descent, Fat Tuesday is known as Paczki Day. Long lines form at bakeries, especially in Hamtramck, as people buy boxes of these pastries to celebrate the last day before Lent. What is a paczki (pronounced kind of like pawnchki)? Well, it's really similar to a jelly donut, but richer. Paczki are deep fried pieces of dough filled with fruit preserves or cream and topped with powdered sugar, icing, or orange zest. After growing up eating these at least once a year I was excited to try them in Poland and was even more excited when I discovered that the Metro Detroit version seems to be a pretty authentic one.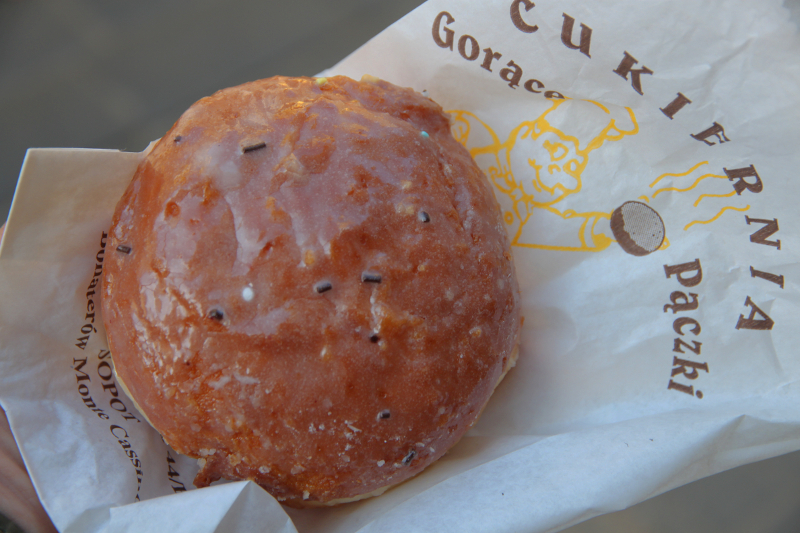 Where to Eat in Warsaw
Pierogarnia na Bednarskiej
This place is recommended all over the Internet as the best pieorgi in Warsaw. Though I had better pierogi in Krakow, the ones here were still very good. My favorite part about Pierogarnia na Bednarskiej is that they offer half portions meaning you can try more varieties! I had the ruskie and some filled with mushrooms and sauerkraut. While I'm usually a big fan of cheese and potato filled pierogi, the ones here were a bit heavy while the mushroom and sauerkraut had the perfect amount of bite to them along with a nice variation in texture.
Bednarska 28/30. Open everyday 12:00-20:00. For more information visit their website. 
Bar Mleczny Familijny
This recommendation is more for the experience rather than the quality of the food. Bar mleczny, or milk bars, are a type of Polish cafeteria. Serving cheap but hearty dishes, milk bars reached the height of their popularity during the country's Communist days. Now their numbers are dwindling, but Familijny remains true to its old self on a street now taken over by Starbucks and expensive foreign food. Milk bars serve Polish classics and once they are out of a dish they are out for the day. I arrived near closing time and most things were sold out so I settled on a plate of bigos and mashed potatoes for a whopping 7.80 zloty. That's $2.50. So while it wasn't world class, it was still tasty and cheap. Even worth getting yelled at for taking photos.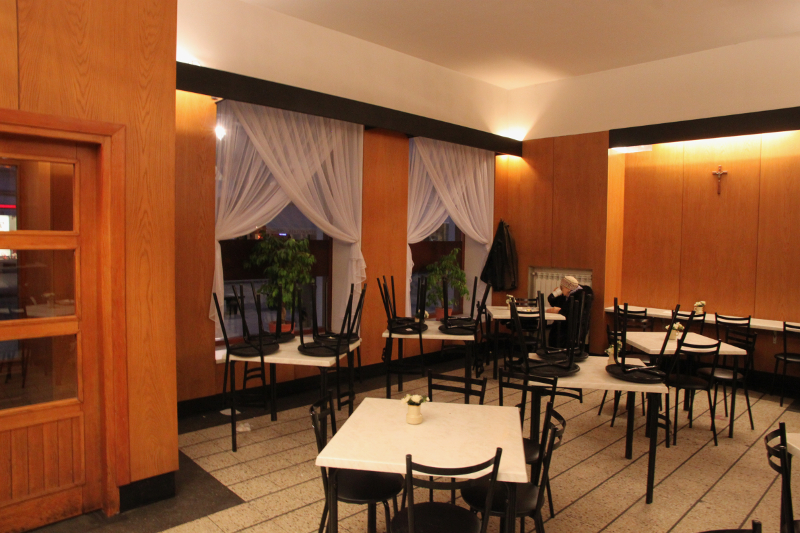 Nowy Świat 39. Open Monday-Friday 7:00-20:00 and Saturday 9:00-17:00.
Cukiernia Pawłowicz
If you're looking for the best paczki in Warsaw, then look no further. This place is so popular, with both tourists and locals, that there is usually a line. But a line is a good thing here because it means the paczki are made fresh and served hot. The menu is in Polish, so I tried my best at pronouncing whatever appeared to be the name of the classic paczki and was pleased- a piping hot, sugar coated pastry filled with a rich fruit jam.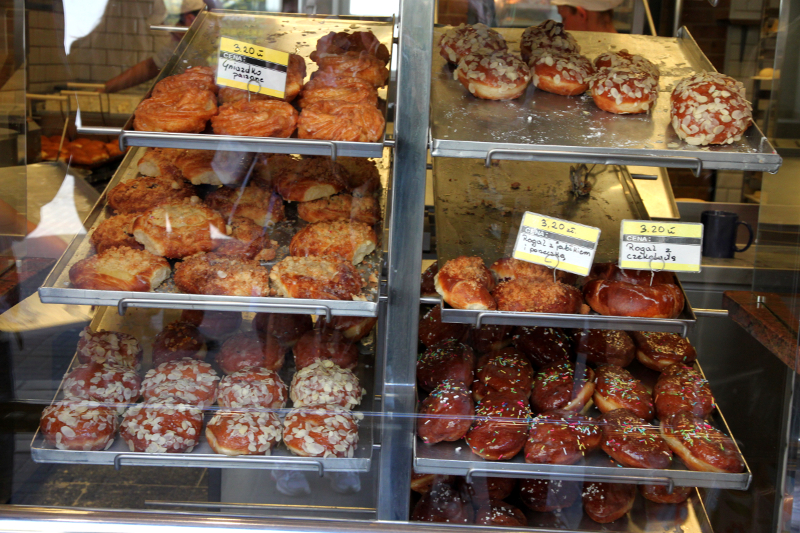 Ulica Chmielna 13. Open Monday-Friday 9:00-20:00 and Saturday-Sunday 10:00-20:00.
Where to Eat in Krakow
Pierozki U Vincenta
I ate a lot of pierogi in Poland and the pierogi here were by far my favorite. I had the pierogi ruskie with bacon and a mug of their borscht. The dumpling skin wasn't too thick, something that had bothered me about the pierogi at other places, and the filling was rich but not too heavy. They were so I good to got a few to go for my long distance bus to Budapest that night.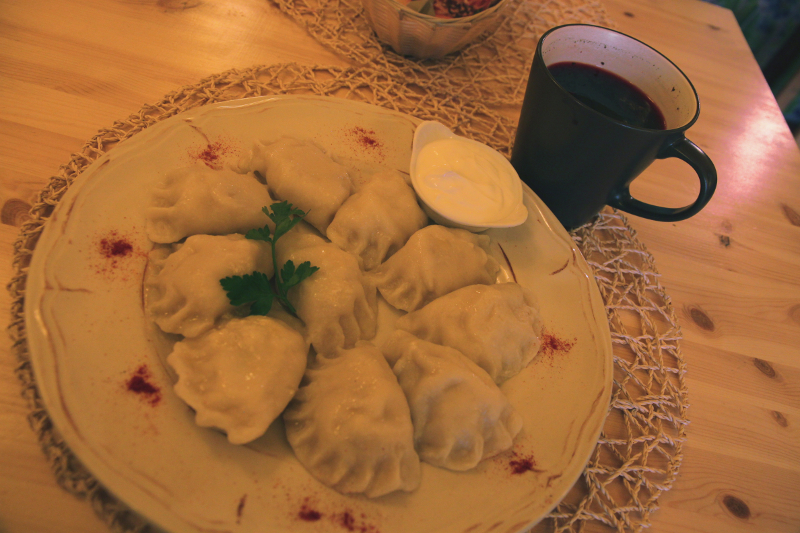 Bożego Ciała 12. Open everyday 11:00-21:00. For more information visit their website.
Milkbar Tomasza
A modern milkbar near Rynek Glowny, Tomasza serves delicious Polish food at a great price. There's a set lunch menu everyday that includes a soup and entree for 18 zloty, but nothing struck my fancy so I ordered a plate of fried chicken livers, boiled potatoes, and cabbage. It was easily my favorite meal in Poland – the liver was perfectly cooked with a lot of flavor, the prices were cheap, and  the service was friendly.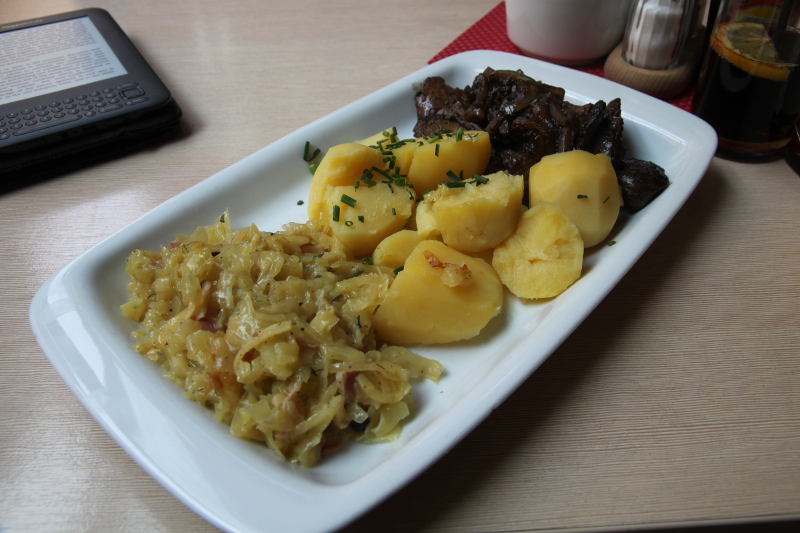 Ulica Tomasza 24. Open Monday-Saturday 8:00-22:00 and Sunday 9:00-22:00.
Polakowski
Polakowski is a small chain of self service restaurants around Krakow. While the food isn't out of this world, it can be a good place to try some classic Polish dishes. You order from the counter and then your food is brought to you when it is ready. Once you're done, don't forget to clear your table and bring your dishes to the window that looks into the kitchen. I had a huge portion of golabki and a large beer for about $5.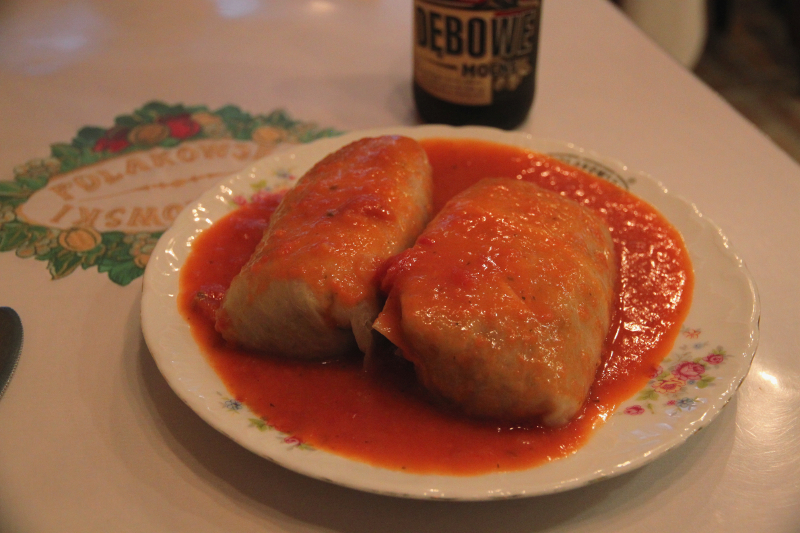 Multiple locations. For more information visit their website. 
Pod Baranem Restauracja
I try to go to at least one "nicer" place in each city I visit and after reading about Pod Baranem in the Guardian I decided to give it a try. The wait staff has been trained at a waiters' school (though peculiarly, it is male only) and the service is attentive and helpful. I started with a bowl of borscht with uszka, tiny pork filled dumplings, which was delicious. I made a poor, hurried last minute decision after what I originally wanted for my main course was sold out and chose duck breast with mashed potatoes. The duck was fine, but nothing special, but the mashed potatoes had definitely been microwaved. The szarlotka, Polish apple cake, with vanilla sauce was a perfect finish. Overall, it was a decent enough, reasonably priced meal. And I got a free shot of homemade fruit vodka with my bill.
św. Gertrudy 21. Open everyday 12:00-23:00. Reservation recommended. For more information visit their website.
What's your favorite Polish dish? What Polish food sounds the best to you?