Alternatively titled, how our plans went to shit. In the best way possible.
In the few hours after Tara and I arrived in Jeju, we sat over plates of delicious Indian food (more on that in a post next week) and sussed out some plans for our three fulls days on the island. Number one on our agenda was to hike Hallasan, Korea's tallest mountain. By nighttime we'd agreed, Halla in the morning, but somehow instead, the next day we found ourselves on Jeju Island's most beautiful beach.
We woke up the next morning to dark grey skies and a forecast of increasing rain as the day went on, less than optimal hiking conditions. Afraid of getting caught in a torrential downpour while halfway up the side of a volcano, and also a little bit scared of taking on this challenge while extremely out of shape, we decided that the rain served as a perfect excuse to look for another activity.
We decided on the beach, figuring that even if it was raining a swim would still be nice in the muggy weather.  A quick look at Google later and we'd decided on Hyeopjae Beach due to its proximity to Jeju City and the white sand and turquoise waters in the image results. This was quite possible the best beach in Jeju Island.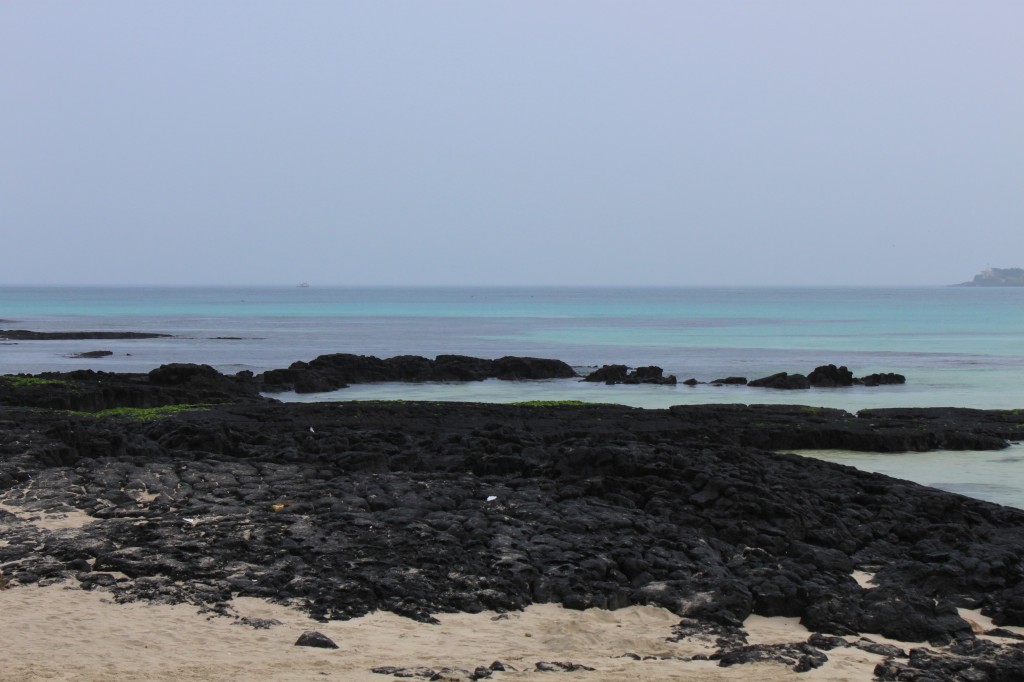 Being that it was already somewhat late in the day (and we are somewhat lazy) we grabbed a taxi. About 30 minutes and 20,000 won later we arrived at Hyeopjae Beach. Grey clouds hung ominously in the sky as we wandered along the waterfront and volcanic rock taking photos and not letting the weather ruin the first day of our Jeju vacation.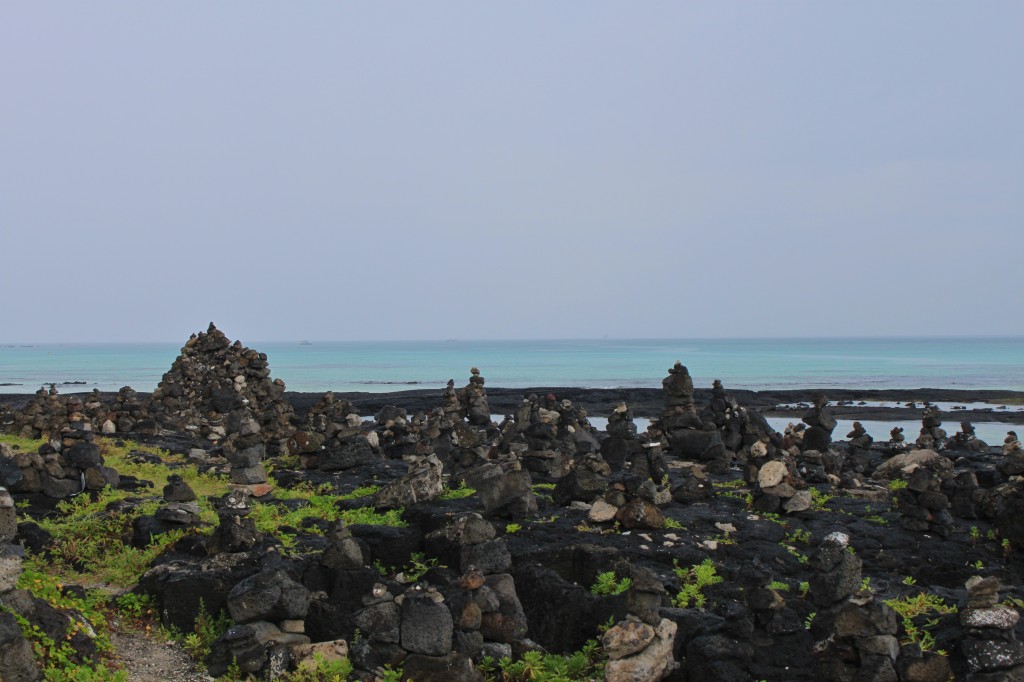 Almost immediately after I got my camera out of its bag, the skies opened up and the rain started pouring down. Still undeterred we got on taking photos, under and umbrella, and continued on in search of a place to sit.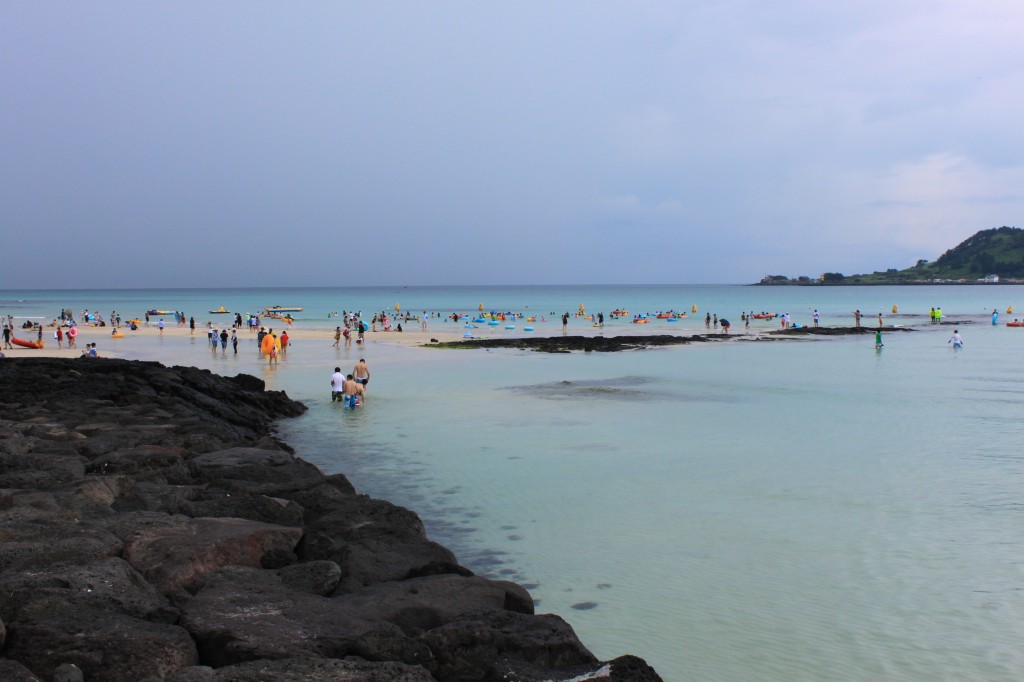 Hyeopjae Beach is split into two sections by some rocks. One side was packed, in Korean beach tradition, with people in giant,yellow inflatable tubes, while the other had side far less people. We went that way and paid 10,000 won for an umbrella and mat, hoping to keep our belongings dry as we ventured into the sea.
Hyeopjae Beach is perfect for swimming and wading as the it is very shallow, you can walk for about 200 feet and its barely at your waist, and the tide is almost nonexistent. The water is turquoise and clear.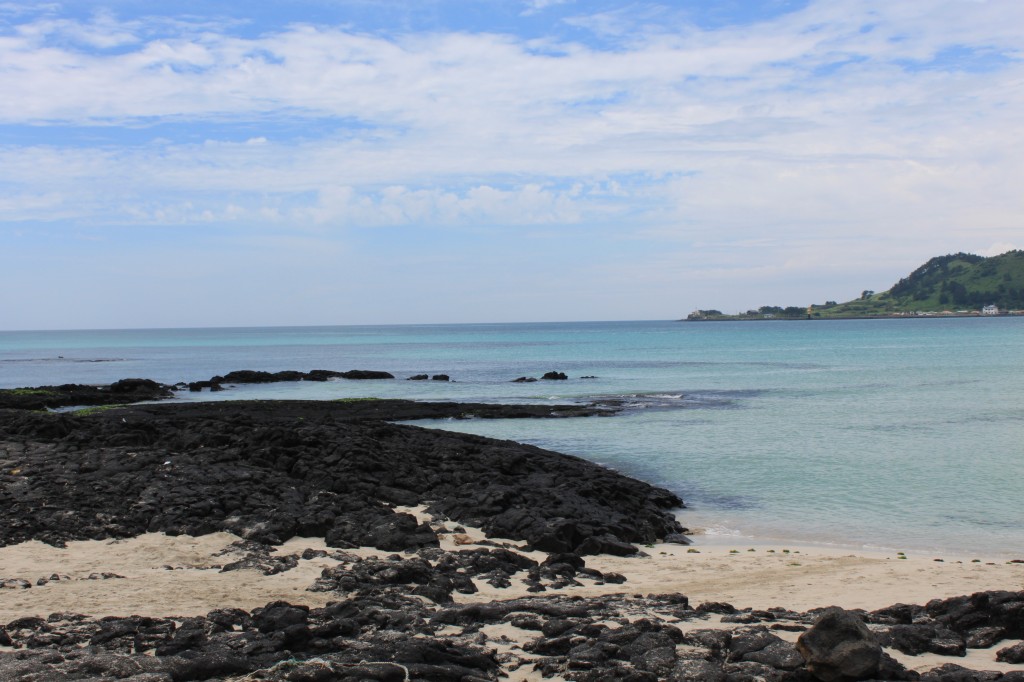 Almost unbelievably, especially after the morning's weather and the forecast, during our swim the rain stopped and the clouds began to push further east. After an hour or so, the sky was completely clear and the sun shone across the sea making it look like the tropical paradise we'd dreamed about.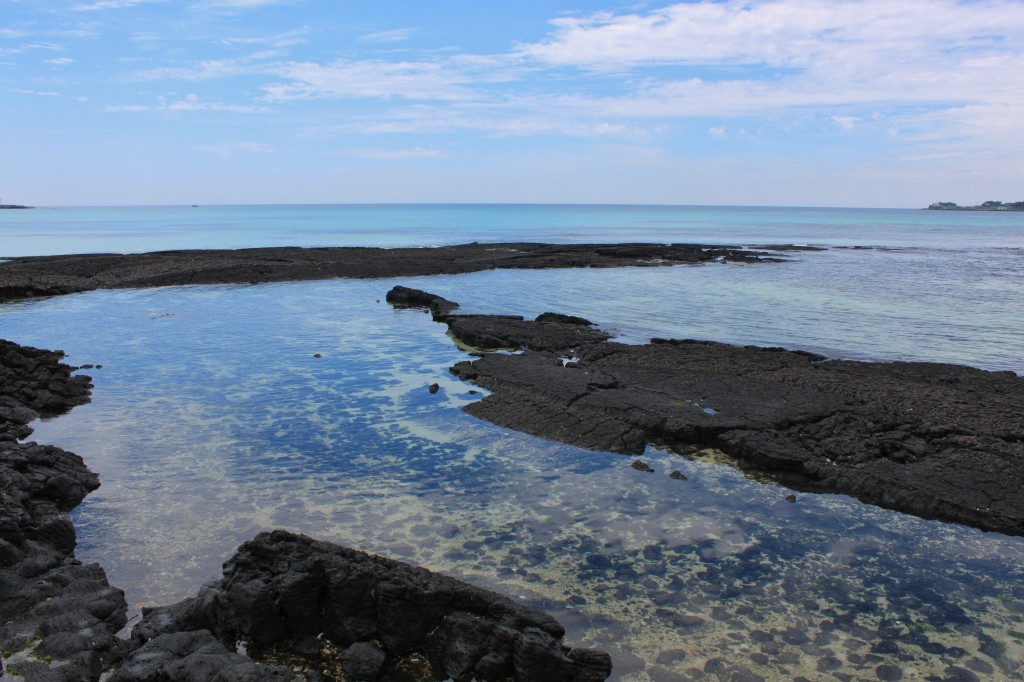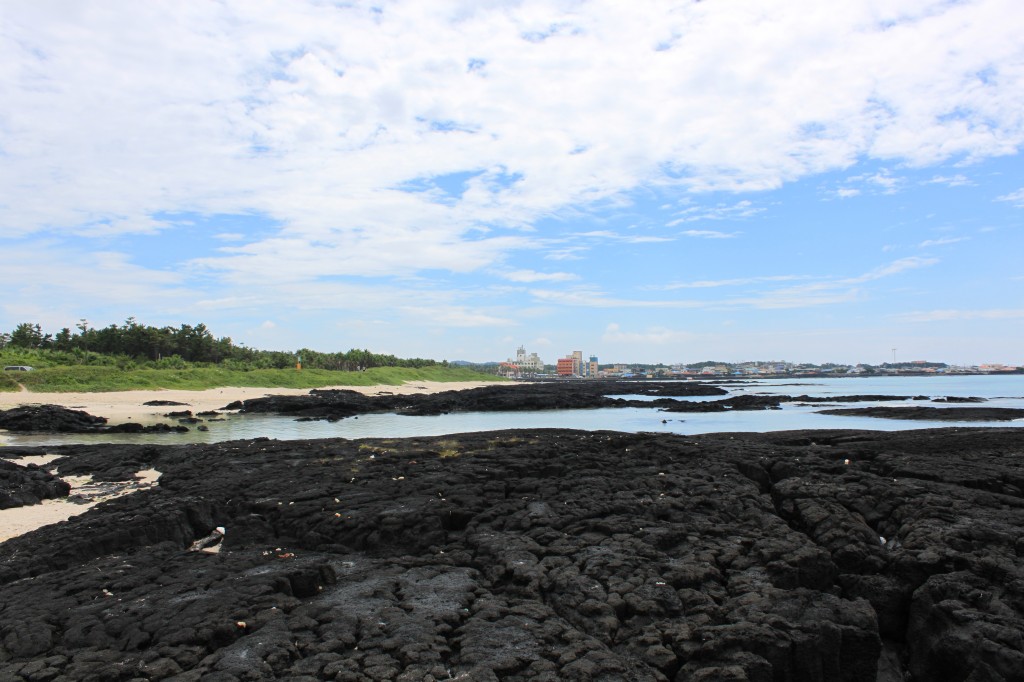 Tara and I spent a few hours frolicking in the sun and taking more photos before heading back to Jeju City on the bus (3,000 won, about 1 hour travel time), happy that we hadn't followed our original plans. And even happier that the we had seen the sun.
Do you tend to keep or break your travel plans? Or not plan at all? And if you've been to Jeju, what beach did you find to be the most beautiful?
If you haven't already, please 'Like' Farsickness on Facebook and stay up to date on all my travels and posts! Your support is greatly appreciated.