When Old Manila Walks tour leader Ivan said that the day's tour would be a history lesson through food, I knew I was in the right place. I'm a bit of a history nerd (it's what I have my useless BA in) and I obviously love to eat.  We met Ivan in the lobby of Binondo Church with empty stomachs and an open mind.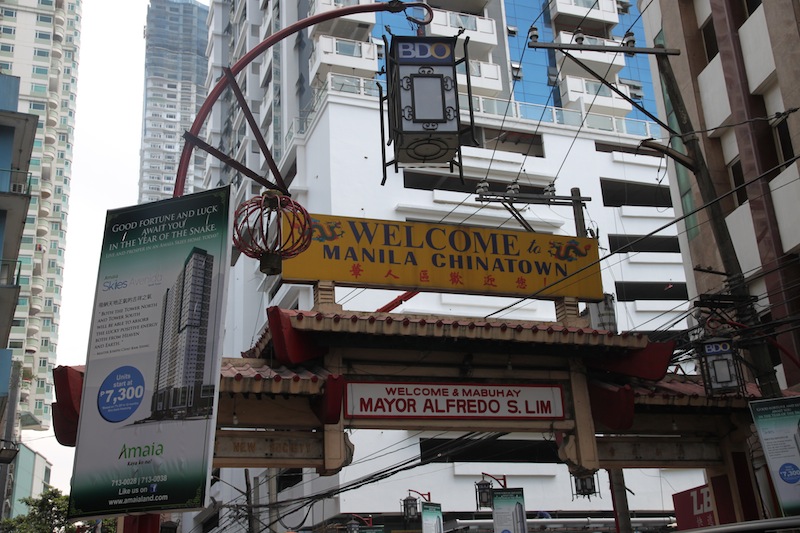 Binondo is a majority Chinese area in Manila, and is considered to be the world's oldest Chinatown. 5% of Manila's population is Chinese, called 'Chinoy', and their cuisine plays a major part in the way the people of the city eat.
From Binondo Church we walked to New Po Heng Lumpia House, a small restaurant located in the back courtyard of a old building. Seated on plastic chairs, Ivan told the group about one of the most famous Chinese foods in Manila, lumpia, or spring rolls. At New Po Heng we would try the most classic type: freshly rolled.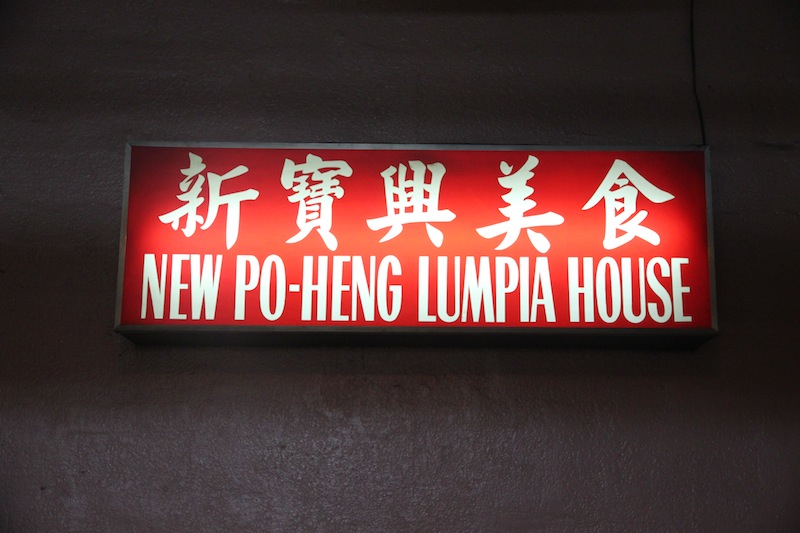 The lumpia were much larger than I expected, almost resembling a small, Chinese burrito and filled with 90% vegetables. Ivan gave us instructions on how to ready them for eating: a dab of hot sauce, a glob of a sweeter sauce, and a dusting of peanuts. The combination of sweet, hot, and the crunch of the fresh vegetables was fantastic and I had to keep reminding myself that there were still 3 more hours of eating left.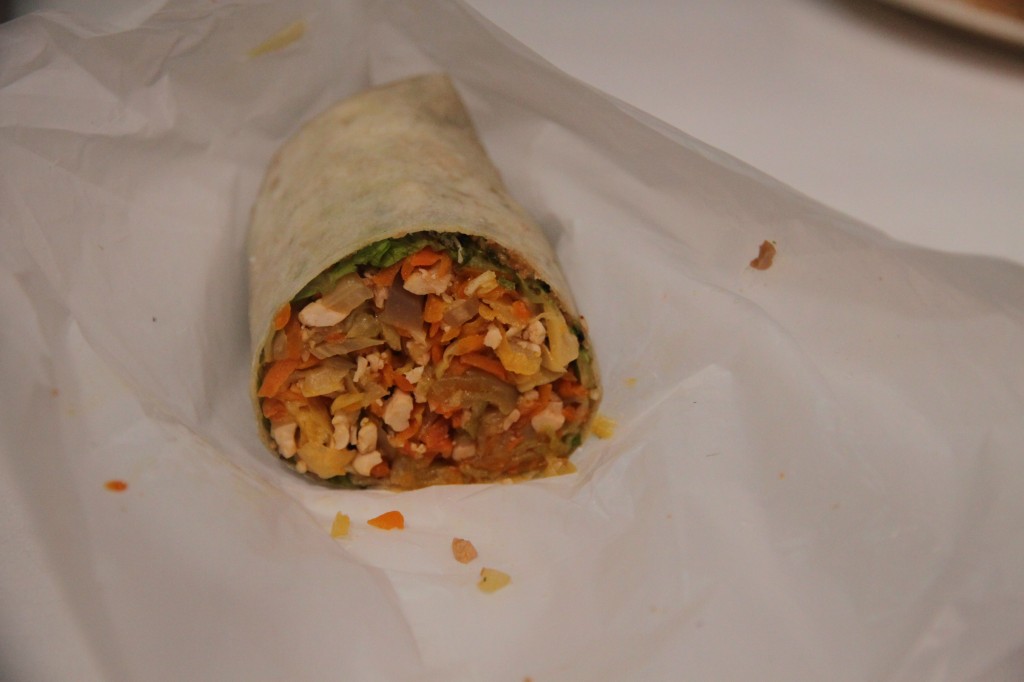 After lumpia, we made our way to Dong Bei Dumpling House. Although the majority of Chinese immigrants in Manila came from the southern Chinese province of Fujian, the dumplings of Dong Bei are northern Chinese cuisine.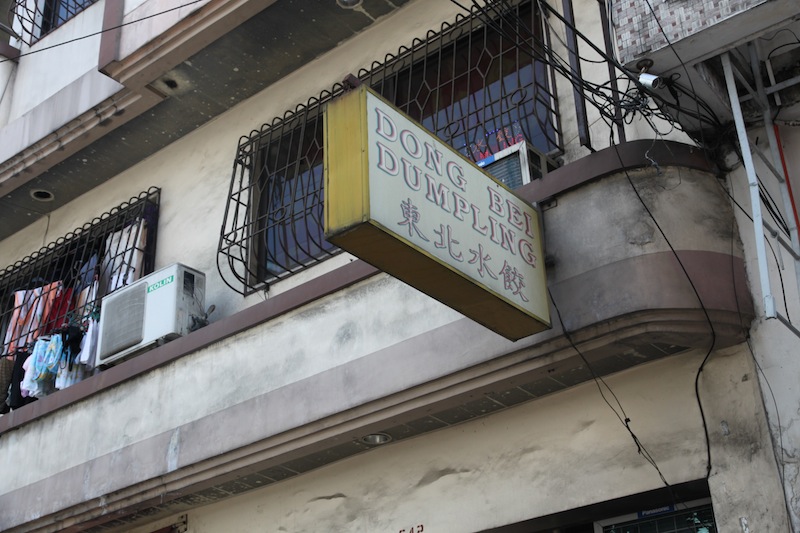 Everything at Dong Bei is homemade and we were able to watch the employees roll out the wrappers and fill them before they were sent to the back to be boiled.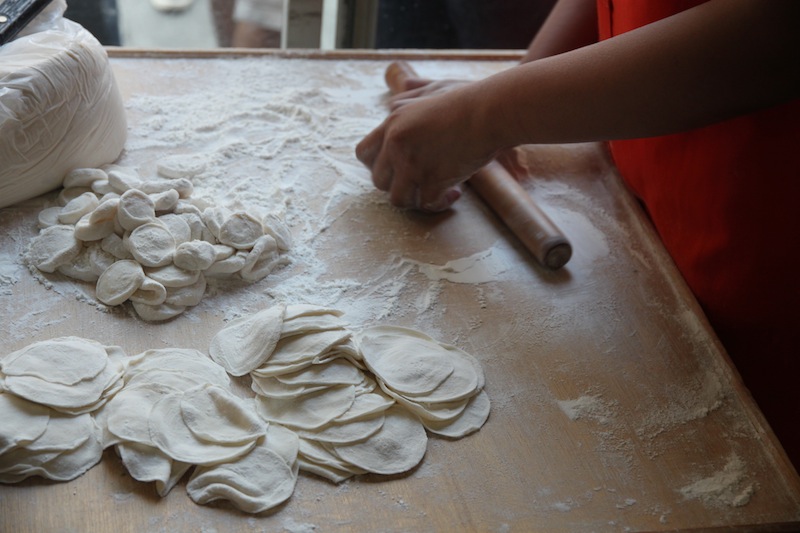 First, we tried jiao tse, a dumpling that looks similar to a potsticker. The jiao tse had three different types of fillings which gave them a slightly different appearance. The dumplings filled with chives were a vibrant green, those filled with celery and cabbage looked much more pale, and the ones with shrimp inside were slightly orange. Next up, we tried a Chinese stuffed pancake, similar to something I'd made in Taiwan, which is almost like a dumpling that is pressed flat.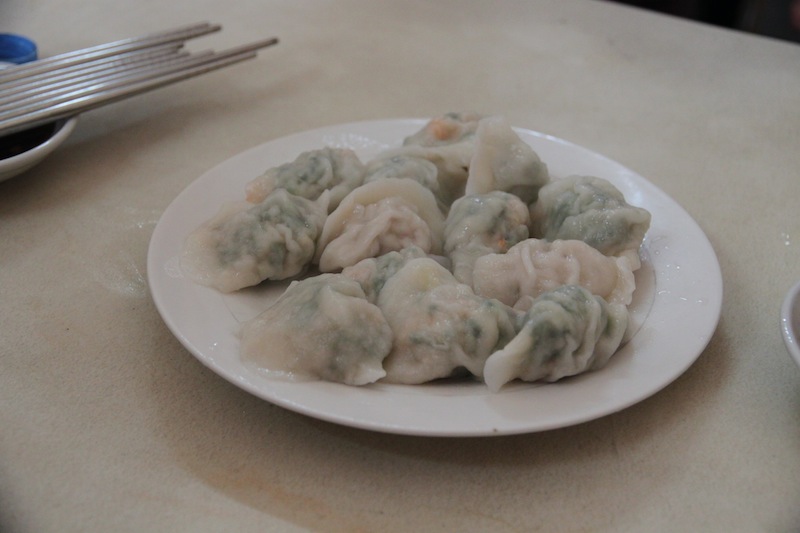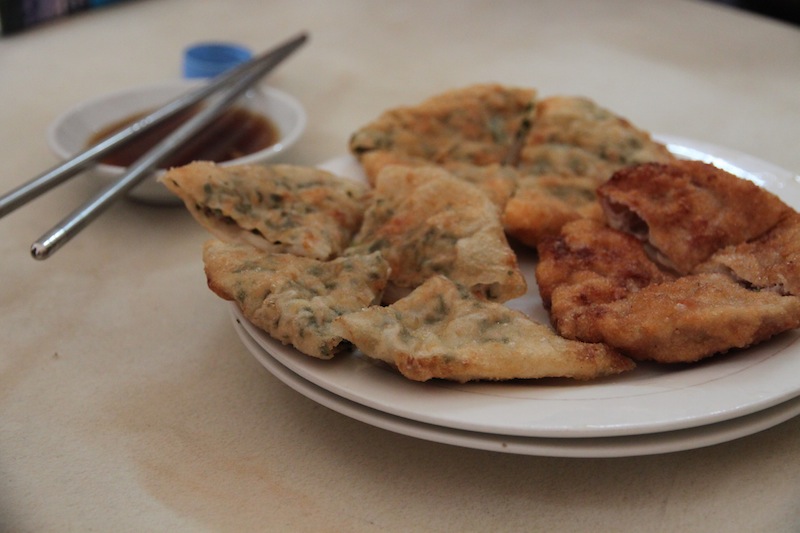 Dipped in a sauce made of soy sauce, vinegar, garlic, and chili oil, the dumplings were delicious and fresh.
Though we were starting to feel ever more full, we continued on for merienda. A holdover from the Spanish colonial times, merienda is a snack between lunch and dinner. Being Chinatown, our first merienda treat was siu bao. Siu bao is a Chinese hot bun that is filled with pork and seven spices and then steamed. The taste was slightly sweet, different from other pork buns I've had.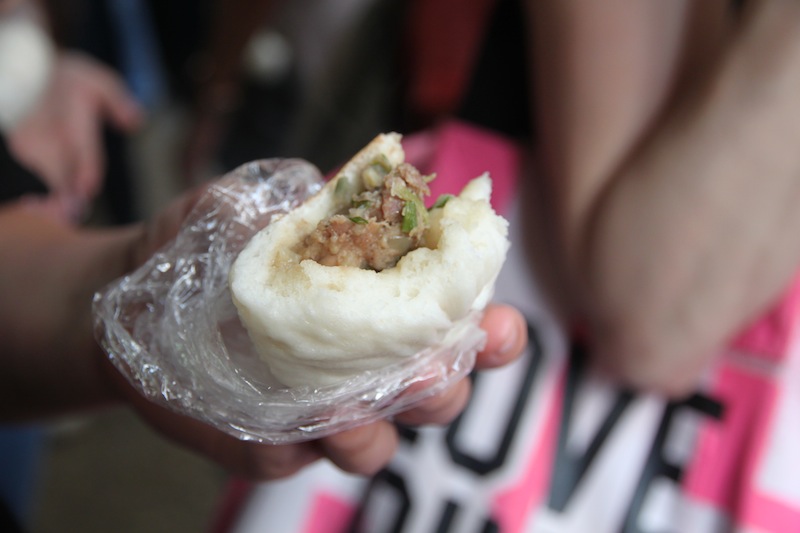 Finally, it was time for the main course, lunch, at a second floor restaurant called Cafe Mezzanine. We were served salted rice, a type of white rice cooked with soy sauce, peanuts, and chives, and fish ball soup and instructed to dip the rice into the soup broths to wet it slightly. Luckily, the portions were small as I was positively stuffed at this point.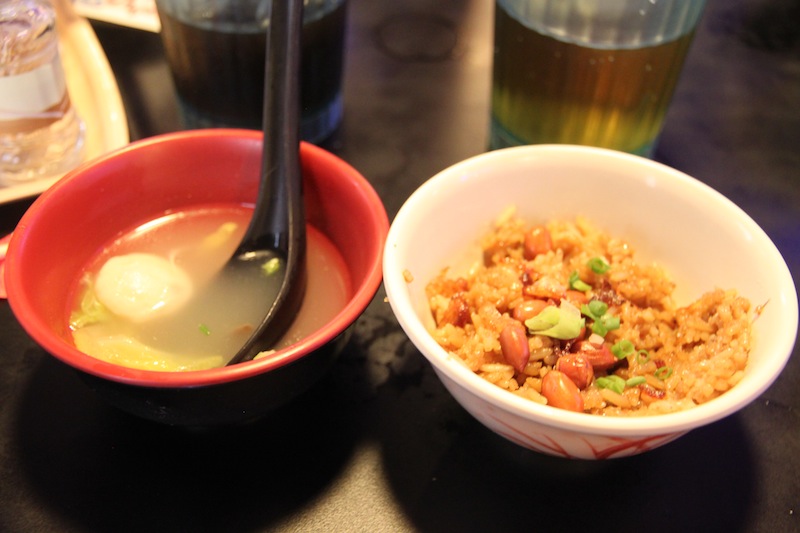 That being said, there was still one more stop. Dessert. Ivan brought us to a small shop selling hopia, a pastry traditionally filled with bean paste. At the mention of bean paste I was hesitant. I'd choked down enough red bean filled desserts in Korea to know I was not a fan, but when I was handed a newer version of hopia, filled with a sweet pastry cream, I was impressed. Though, with only enough room in my stomach for a tiny piece.
With that the tour was over and it was time to roll my over-indulged self through the sweltering streets of Manila, back to air conditioned sanctuary that was my hostel to recover.
The morning spent exploring Manila's frenetic Chinatown with Old Manila Walks was an entertaining and educational one.
And one that kept me full for hours.
What dish from Manila's Chinatown sounds the best to you?
Note: My tour was in no way sponsored, nor was I asked to write a review.