I'm a bit ashamed to admit that before I spent a weekend in Madrid I didn't really have a good grasp of what exactly Spanish cuisine entailed. Sure, I knew paella and I'd been to a tapas bar or two in Chicago but besides that I was a bit clueless. So I made it my mission to discover as much as I could in the 48 hours I had in Spain. Luckily, I had the help of Jessica and Madrid Food Tour to teach me the basics.
What did I discover?
Tapas
On Friday Lauren from Madrid Food Tour took us on a customized market and tapas adventure in order to introduce us to a time honored Spanish tradition- tapear.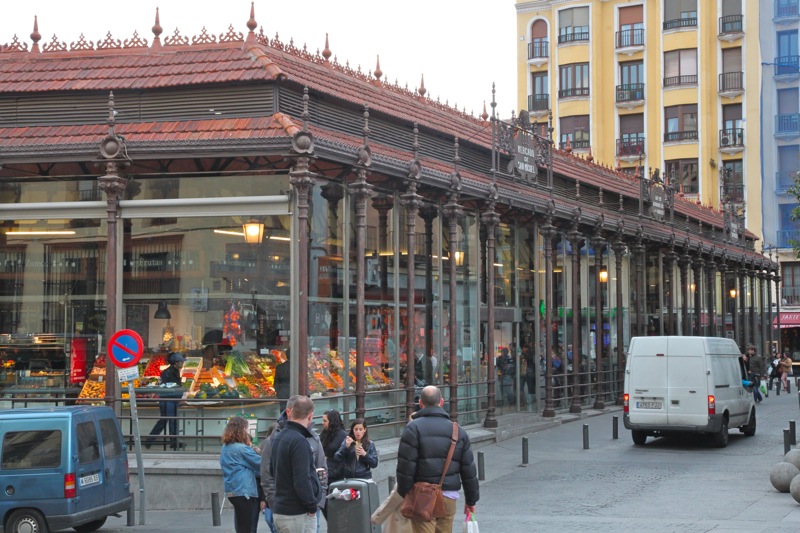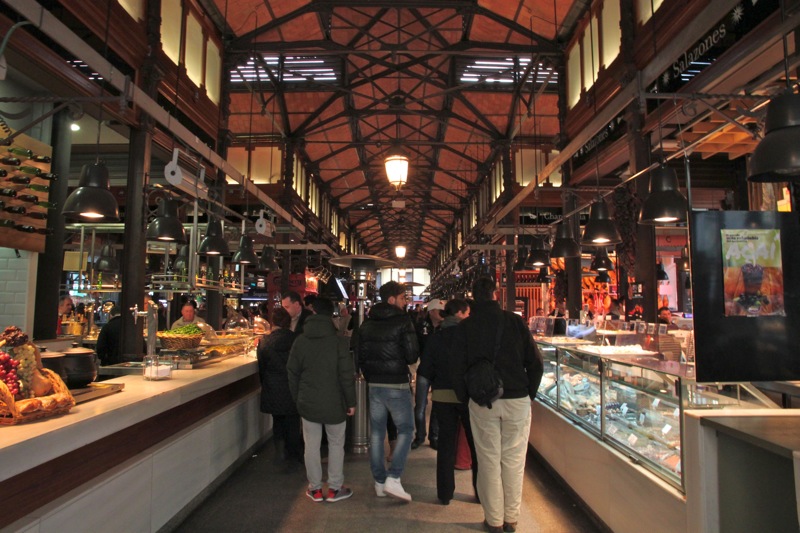 After meeting Lauren in Plaza Mayor (a short walk from our GowithOh apartment), our first stop was the Mercado de San Miguel, a beautiful cast iron building originally built near the turn of the 20th century and recently revamped and reopened as culinary paradise. The market is a mix of stalls selling produce, meat, fish, and other goods, and of small bars and restaurants.
We first went to one such bar for a vermouth (on tap!) as an aperitif. I wasn't very familiar with vermouth but Lauren explained that it is a fortified wine flavored with different spices and herbs and can be either dry or sweet. Along with our drinks, we nibbled on on skewers of quail egg, salted anchovies, and olives along with campo real, what many consider to be Madrid's finest olive. Campo real olives are bright green and shiny and have been marinated thyme, garlic, fennel, and oregano. They were incredibly juicy and had a really mild flavor. An enjoyable start.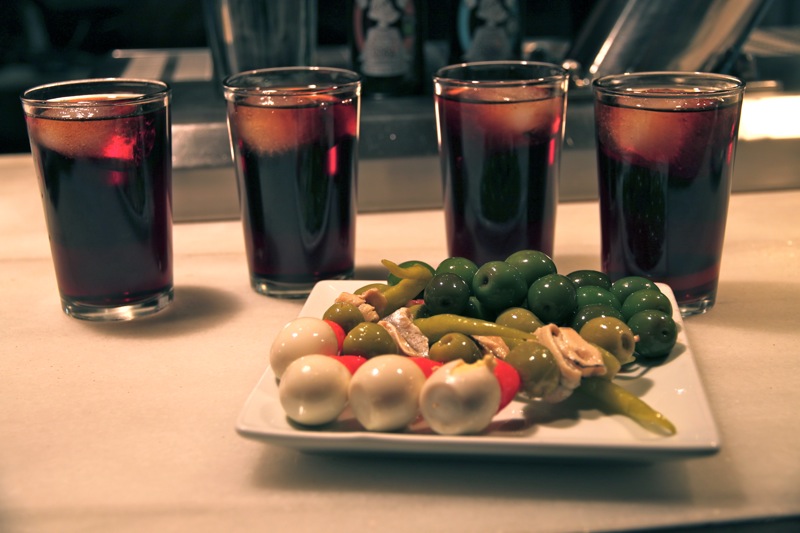 We then moved onto a stand selling pintxos, small snacks that are popular in northern Spain. Elegantly displayed in cases, there many different things to choose, mostly small pieces of bread with different toppings like cheese, vegetables, olives, or even octopus.. I picked foie gras and caramelized onion because it foi gras is an option I'm always going to choose it.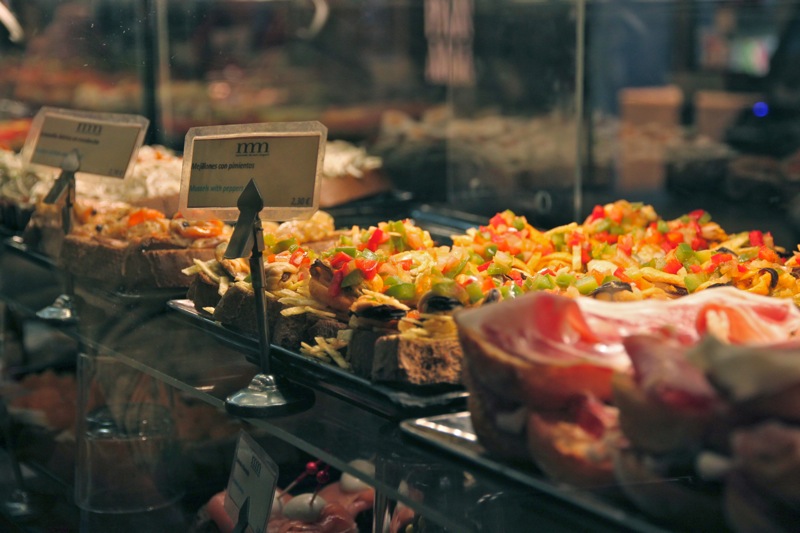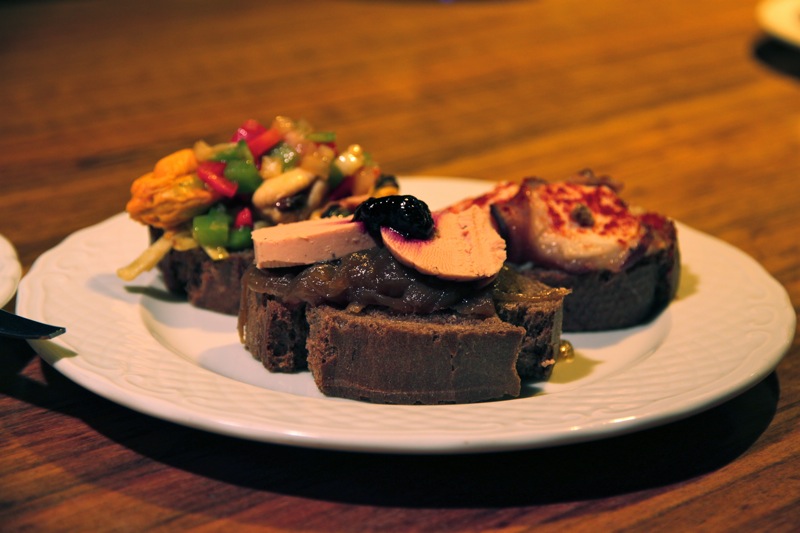 Leaving the market, we made our way to nearby Meson del Champiñon, literally meaning house of mushrooms. This place is famous for one thing: their mushrooms stuffed with chorizo. While the toothpick setup made them a little difficult to eat, once you got it into your mouth it was worth the struggle to enjoy the combination of flavors. We enjoyed them along with some crispy, salty fried peppers that would serve well as a vegetable alternative to a potato chip, and a caña, what they call a small glass of beer in Spain and a popular accompaniment to tapas.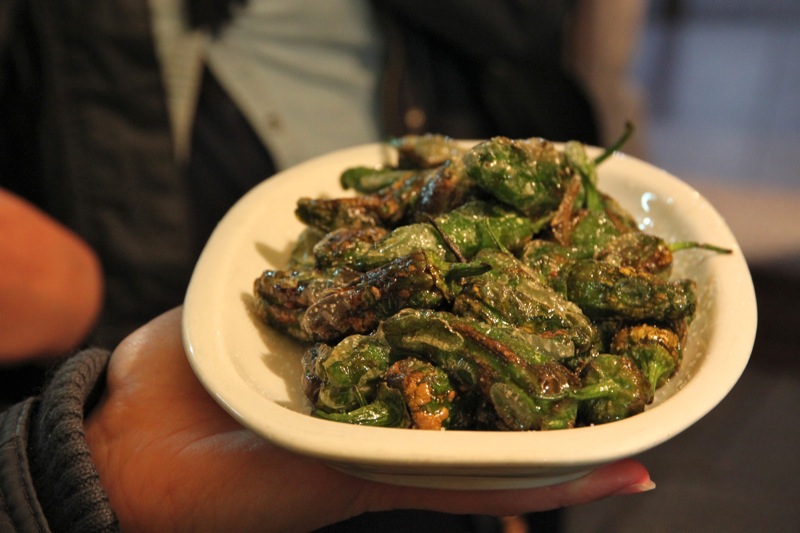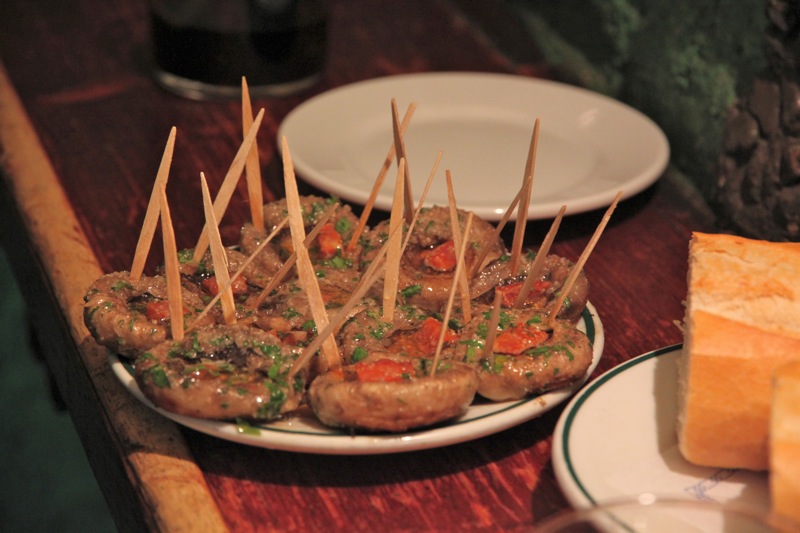 Next we went to my favorite stop of the tour, Casa Revuelta. This tiny restaurant was packed will old Spaniards throwing their trash straight on the ground. They seemingly serve up only one thing- fried cod. The huge piece came on a toothpick and biting into it was like biting into butter- creamy and rich and salty. Sorry to say it Brits, but it put every piece of fried cod I've had here to shame.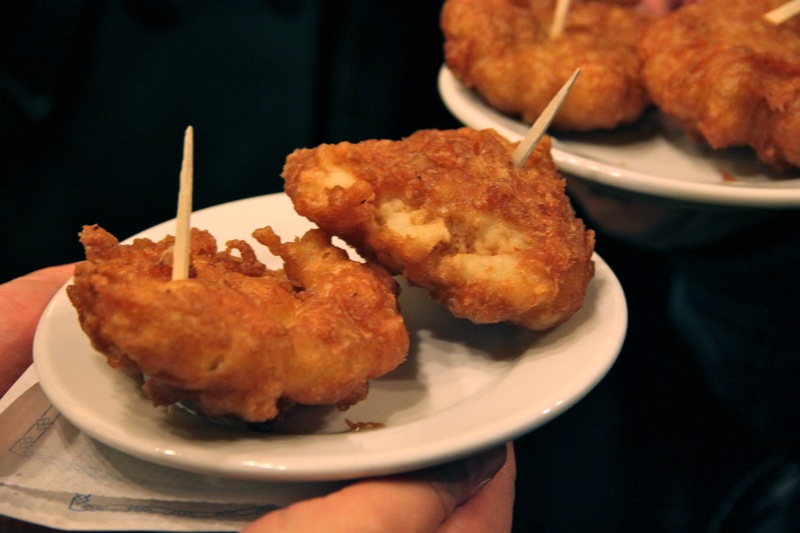 After washing down our fish with another caña we walked over to our final stop- a pintxo place. Lauren ordered us up a platter of mixed pintxos, many of which were topped with delicious anchovies, and a common snack of potato chips with anchovies. (Anchovies are big here.)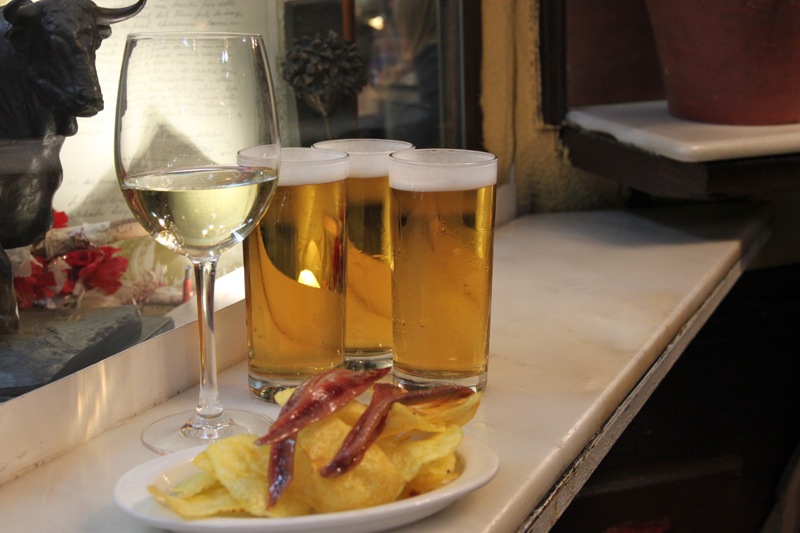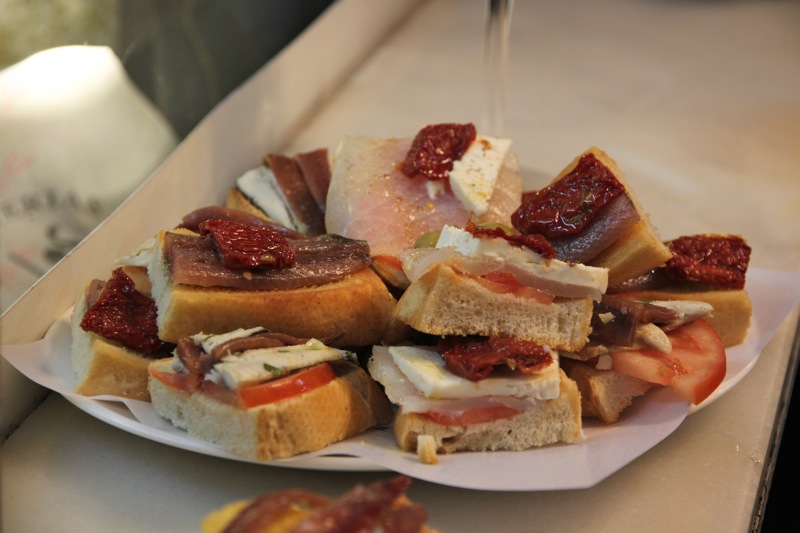 While everything we tried was delicious, it became apparent soon after starting the tour that when eating in Spain, like in so many other countries, it's not just about how the food tastes. It is also about enjoying the people you with and enjoying the meal as whole.
Churros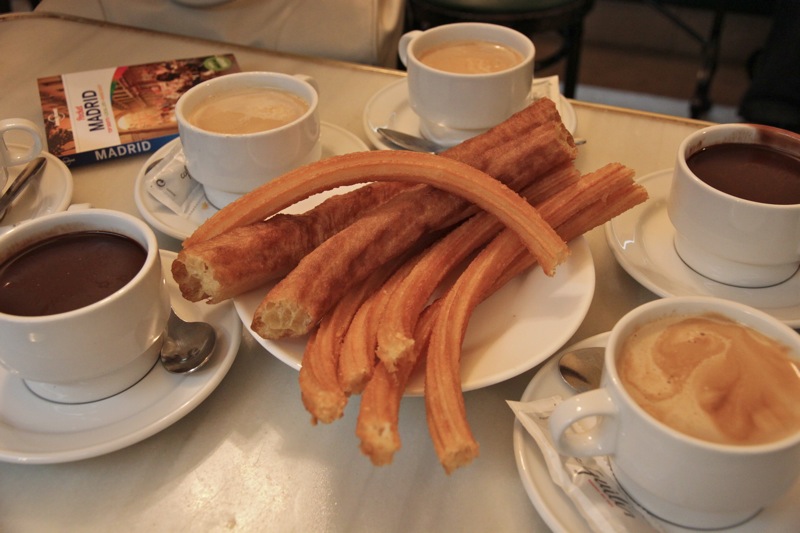 This snack of fried pastry dough (dipped in thick hot chocolate) made for the perfect pit stop on our day of rainy sightseeing. I soon learned from Jessica that there are actually two types of churros, the thin ones and a thicker version called porra, both are prisms with a ridged surface. We ordered some of both kinds and two cups of chocolate to share. I was initially surprised that the churros weren't covered in sugar. I was expecting something more like an American-style elephant ear. Instead, they are served plain which is actually a good thing as the chocolate was very rich. I only ate a couple before I had to lay off the chocolate, but if you're a chocoholic then this is the breakfast or snack for you.
Tortilla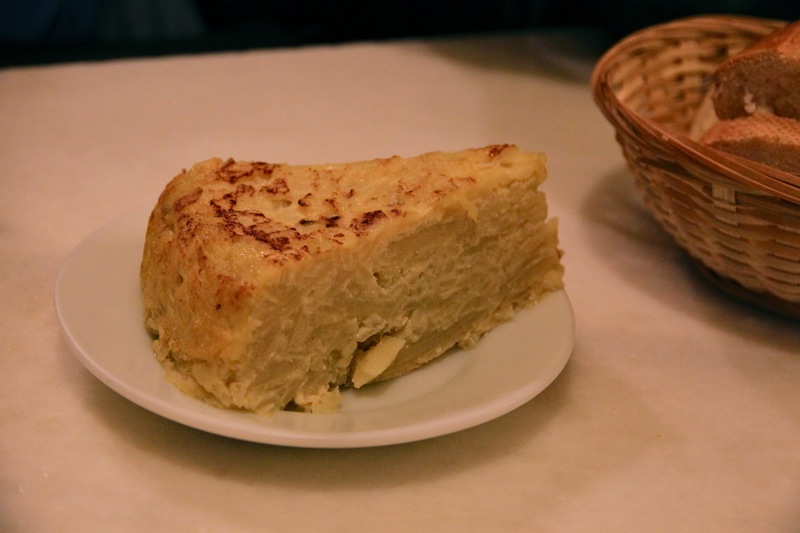 Growing up my dad would sometimes make potatoes and eggs in a skillet for breakfast on the weekends. The simple flavors and different textures made me happy. After breakfast I'd eat cold leftover slices for lunch, savoring every last bite. Now, if you're imagining something flat and round used to make tacos, you might be confused about why I'm talking about potatoes and eggs. But the tortilla of Spain in no way resembles the Mexican tortillas we are so familiar with in North America. Tortilla de patatas or tortilla española is actually a thick omelette made from egg, potato, and onion. It can be served hot or cold and is oftentimes seen as a tapa. We had it as part of our dinner one night- hot, with the eggs slightly runny, on slices of bread.
Croquetas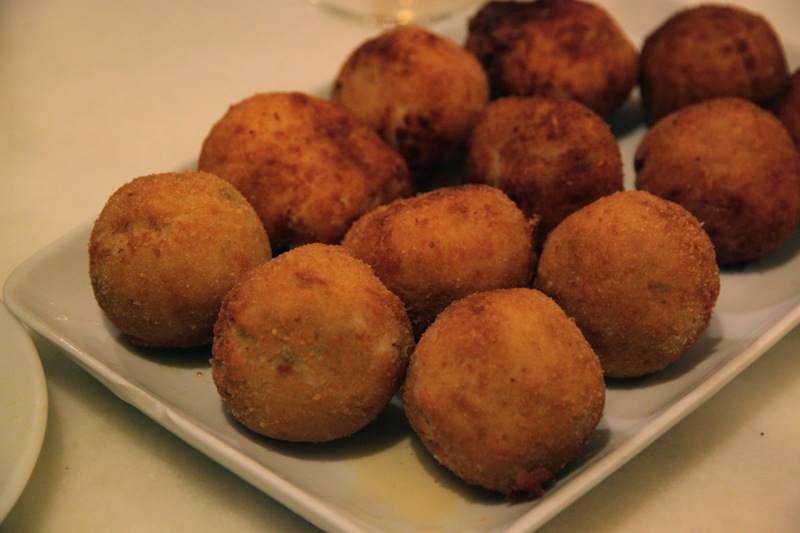 I'm a firm believer that if you take a bunch of stuff, put it together, and fry it that it's gonna be pretty damn delicious (this is probably why I love suppli so much), so I knew off the bat that croquetas would be something I would enjoy. Adapted from a French dish, croquetas are, at their most basic, bechamel sauce that is deep fried. It is possible to put pretty much anything in with the bechamel sauce, from seafood or shredded chicken to mushrooms or cheese. Croquetas are a commonly used to get rid of leftovers from the day before. Chop up whatever was for dinner, toss it in with the bechamel, and fry. We tried a few different varieties, but my favorite croquetas were the ones filled with ham or mushrooms, two ingredients that stood up well to the rich, creamy bechamel.
Patatas Bravas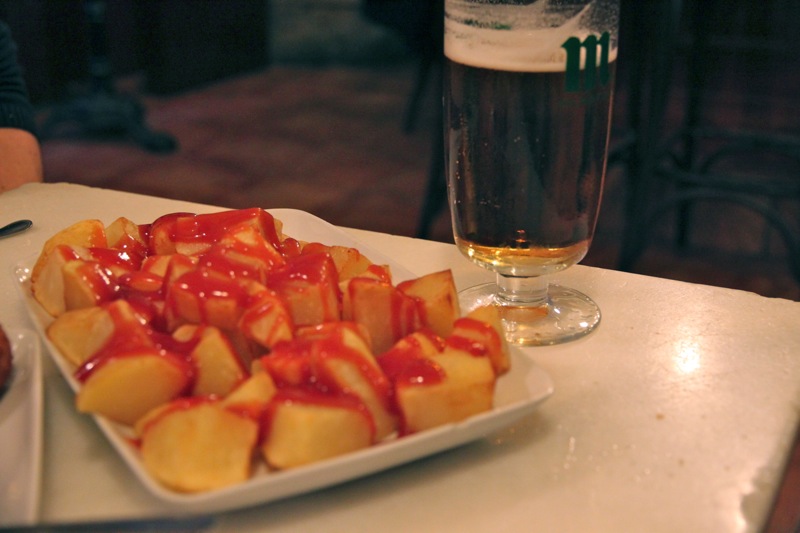 I first became obsessed with patatas bravas in Barcelona. These fried cubes of potatoes were served with an aioli that had me wishing it was appropriate to lick dishes in public. When I saw them on a menu in Madrid I couldn't wait to be reacquainted with my old lovers. Thus, I was slightly disappointed when I found out that this popular tapa in Madrid isn't served with that same aioli. Instead, they are topped with a "spicy" tomato sauce. Though they weren't quite as spectacular as their Catalonian counterparts, I'm never going to be one to turn up my nose at fried potatoes.
Huevos Rotos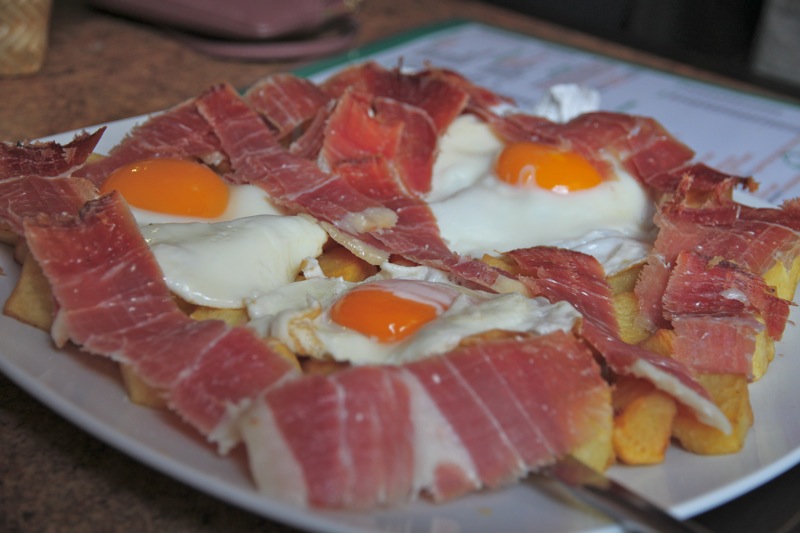 Literally meaning broken eggs, this dish of french fries topped with fried eggs with a runny yolk is basically what every hungover person wishes would be delivered to them in bed. Besides french fries and eggs, huevos rotos can include a variety of other toppings. We had ours with jamon serrano (dried ham) that was freshly shaved behind the bar. The salty ham was a perfect contrast to the rich yolk and fries. This is guilty pleasure food at its prime.
Disclaimer: Madrid Food Tour offered me a complimentary tour. As always, all opinions are my own.
What is your favorite Spanish food? What Spanish dish would you most like to try?