I fell hard in Jordan. For the culture and history and stunning scenery, yes.
But mostly, I fell in love with the food.
As someone who grew up in Metro Detroit, an area home to one of the biggest populations of Arabs outside the Middle East, the flavors were familiar, but the variety of dishes, way of eating, and presentation were often new and exciting.
Pack some stretchy clothes, don't eat for a week before leaving, and get ready to be pleasantly surprised (and permanently stuffed) by the food in Jordan.
Mezze
Most meals in Jordan start with mezze, a bunch of small plates that are enough food to be a meal in and of themselves, but are usually the the appetizer course. The mezze were my favorite part of each meal, not just because it meant I got to try a little bit of many tasty dishes, but also because of the communal aspect.
Bread is a staple at every meal. There are a variety of types of bread served in Jordan, but the most common is a type of pita bread. Don't think it of like the pitas you buy in a package at the grocery store, though. This is much thinner and tastes a lot better.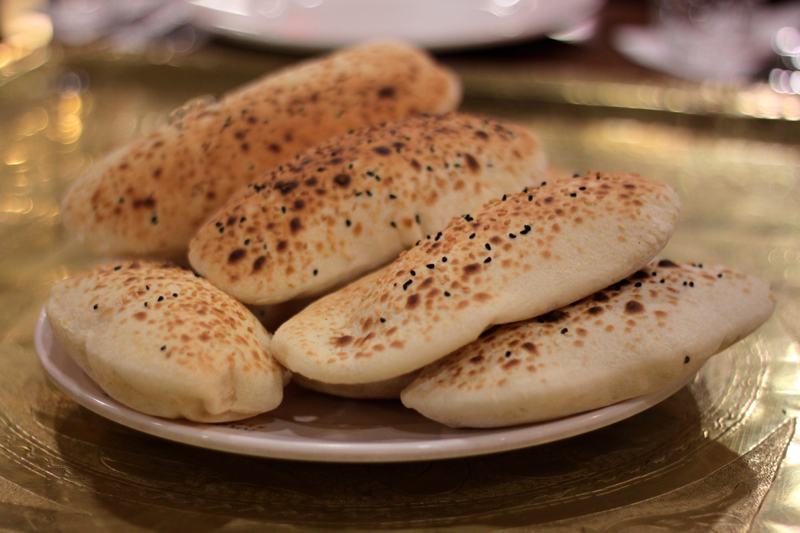 You're also likely to find hummus, chickpeas blended with lemon, garlic, and tahini; tabbouleh, a salad of tomatoes, mint, parsley, bulgur, and onion; labaneh, a thick sour yogurt; olives; and pickled vegetables during most mezze. I ate hummus at breakfast, lunch, and dinner most days and loved every second of it.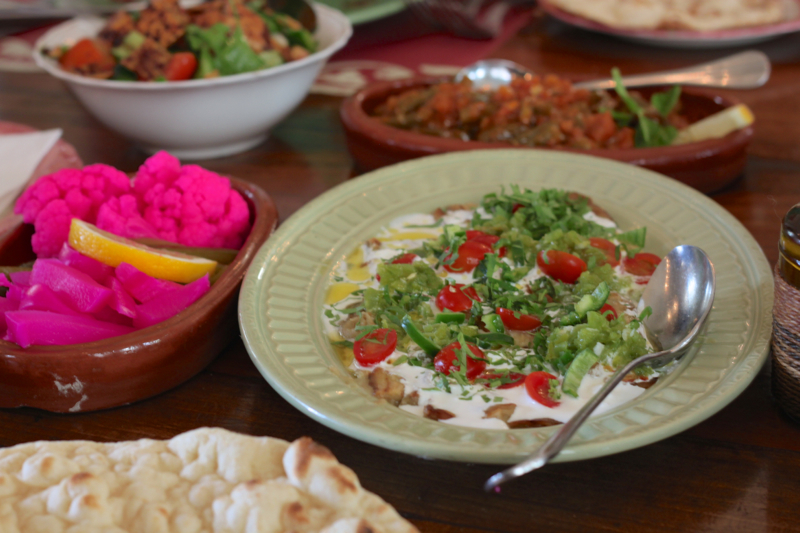 Other common mezze dishes include moutabal, roasted eggplant pureed with garlic into a dip; fattoush, a salad of chopped vegetables (usually tomato and cucumber) served with bits of fried pita bread and sumac sprinkled on top; and grape leaves.
My favorite mezze were those that included fried Haloumi; falafel, fried balls of chickpea flour; and sautéed chicken livers. Because I value heart health, obviously.
Mains
With such an abundance of delicious mezze in front of you, it can be hard to remember to save room for the main course, but rest assured a main course always comes and is also so tasty that you'll be testing the limits of your stomach once again.
The most common main dishes were shish taouk  and kofta. Shish taouk, more commonly known as a shish kebab in the West, is pieces of chicken that have been marinated, placed on a skewer, and then grilled. My favorite iteration of this dish is when the chicken has been marinated in yogurt as it makes it oh so juicy. Lamb is also often served grilled on skewers in a similar style. Kofta is kind of like an Arab meatball that isn't always round. Ground beef or lamb is spiced and shaped, in Jordan it was usually cylindrical, and then grilled to perfection.
Mansaf, the national dish of Jordan, is made with lamb cooked in fermented yogurt, served over rice, and topped with shaved almonds. Mansaf isn't just delicious, it's also fun to eat as customarily you don't use cutlery, just your right hand. Each person takes an area of the communal tray as their own, pouring a bit of the fermented yogurt sauce on top to moisten everything and form some of the rice into a ball. Our guides were able to lightly toss it into the perfect ball and then place it nicely in their mouths, while we ended up looking like barbarians just shoving huge, messy clumps rice into our mouths. We soon learned, though, that appearances don't matter as much when something tastes this good.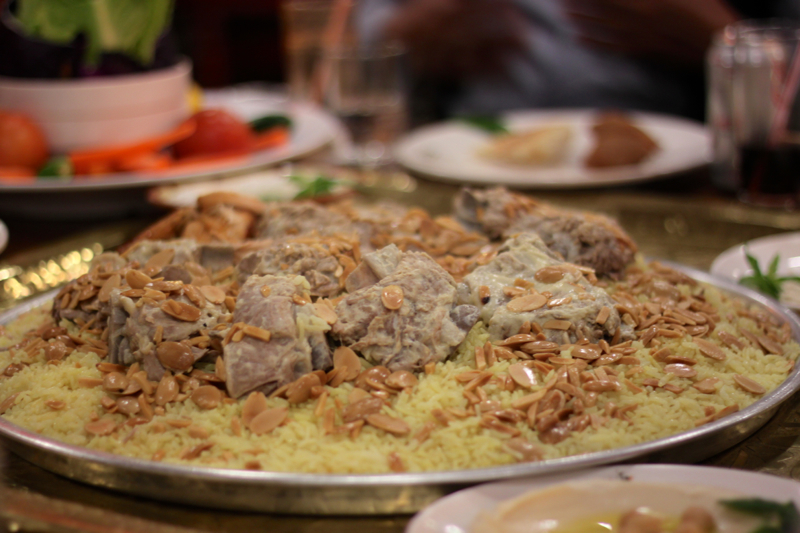 My favorite main dish of the trip, though, was maklouba, meaning upside down. Rice, meat, and vegetables are placed into a pot which is then flipped upside down at the table, hence the name. The version we had was made with chicken, potatoes, and cauliflower and was a nice Jordanian example of the simple, earthy, peasant food flavors I find so appealing. Plus, carbs on carbs.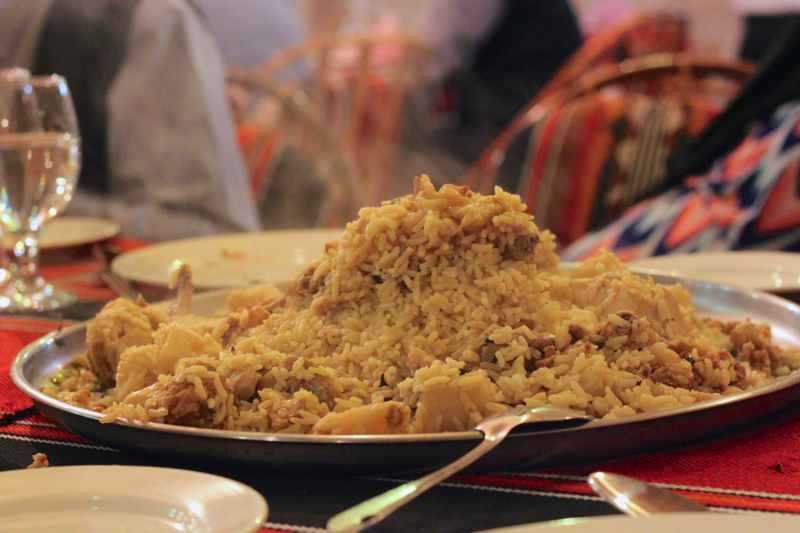 When Maria, the wonderful cooking instructor instructor at Beit Sitti, described fattet jaj I wasn't sure what to expect. Yogurt isn't once of my favorite foods, so I wasn't sure how it would fit into a casserole of chicken, fried pita bread pieces, and rice. Turns out they go really, really well together and I found myself going in for a second helping of this simple but flavorful dish.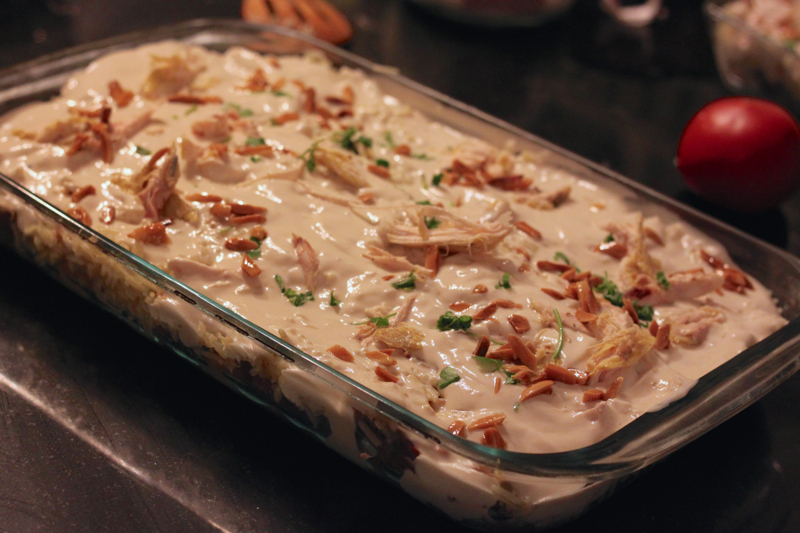 Zarb can be best described as Bedouin barbecue. A large hole is dug in the ground and hot charcoal is placed on the bottom. A tier of meat and vegetables is then placed on top of the coal and whole thing is covered and then buried so that no heat is able to escape. A few hours later the whole thing is pulled out of the ground and dinner is served.
Desserts
Baklava, layers of filo pastry with honey and nuts, might be the most famous Middle Eastern dessert around the world, but it wasn't my sweet treat of choice in Jordan. Instead, I fell in love with the use of rosewater in desserts.
The light semolina and coconut cake hareesa (also called basbousa) had the slightest taste of rose and was light and not too sweet after a big lunch. I want this as my birthday cake next year.
Osmaliyeh, rosewater cream between two layers of shredded pastry, was refreshing, and again, light.
Drinks
Lemon-mint juice is quite possibly my favorite non-alcoholic drink ever. I'm already pretty obsessed with fresh lemonade, but the addition of mint made it even more refreshing, especially on those hot days.
Almost every meal in Jordan ended with a tiny cup of coffee. While it looked similar to the espresso that Italians enjoy daily, the coffee in Jordan is traditionally flavored with cardamom. This cardamom coffee took a little but of getting used to, but by the end of the week I was happily sipping away. After I added about 2 tablespoons of sugar, of course.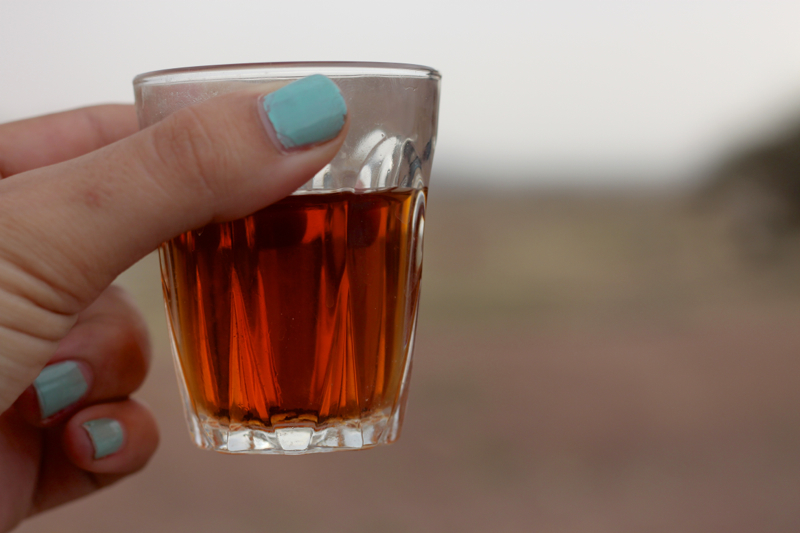 Tea plays an important part in Bedouin culture and while in the desert we were offered many, many cups. Served in small glasses, the tea was always very sweet and very hot. Though I burned my fingers most every time my glass was filled, I couldn't say no to another refill.
Surprisingly after stuffing my face with food in Jordan all week, I came back thinner than before. I guess there is something to say about that Mediterranean diet!
Are you a fan of Arab food? Which Jordanian dish sounds the best to you? 
Disclaimer: I was a guest of the Jordan Tourism Board, but all opinions are my own.