How quickly can you fall in love with a new place?
Because I feel in love with Athens sometime during the 30 minute taxi ride from the airport to my hotel in the center.
My visit to Greece's capital city was brief and, to be honest, kind of an after thought, an after thought on a hastily planned trip.
Sometime in about mid-May I realized that British summer was probably never going to include high temps, endless sunny skies, or beach weather. While that was perfectly fine with me, I did want to come away from summer with a little bit of a tan and some time spent in a bikini. I was looking into booking a flight to southern Italy when Tara (the one from Korea and Southeast Asia) messaged me saying she had a week off at the end of July and wanted to take a little break from Asia. She suggested Greece, flights to Athens were relatively cheap from London, and a week later we had everything booked.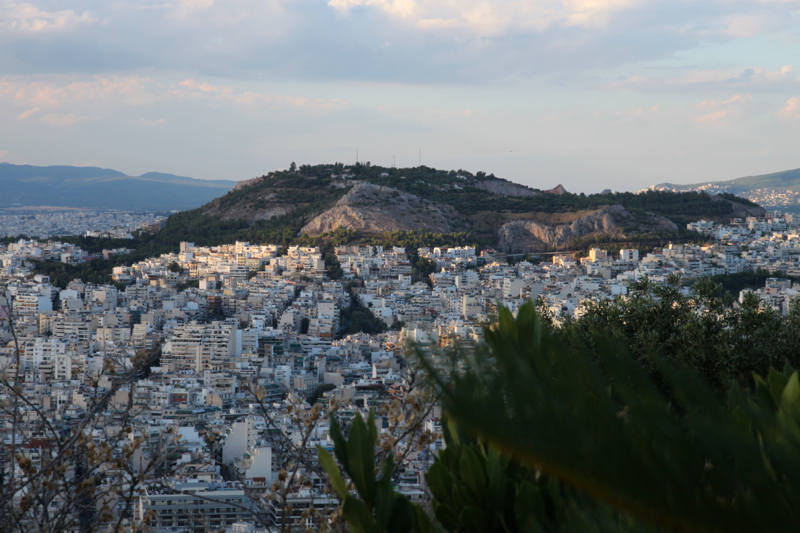 Because we both wanted more of a vacation where we could feel relaxed and she had limited time off from her hagwon job, we decided to spend most our time in one place. After reading about the sunsets on Santorini, I was sold. We booked ferry tickets to the island with a night in Athens on either end.
Turns out this was a massive mistake.
I could've spent the entire week in Athens alone.
My flight landed in Athens on a late July afternoon. After a long morning of delayed Tubes, missed busses, and flight delays I decided to forego public transportation and instead decided to take a taxi to my hotel. As soon as I stepped through the doors outside of the arrivals hall I knew I was no longer in England. The air was warm and smelled like combination of sea and big city, everyone was speaking a language that sounded to me like a strange mixture of Russian and Arabic, and there was that feeling of slightly disorganized confusion that is prevalent in southern European countries.
My taxi driver was friendly but quiet, and seemed intent on getting me to my destination as quickly as possible. The buildings we quickly passed were mostly white or tan in color, probably built in the 60s or 70s, and most had balconies decorated with drying laundry or flags proudly displaying the resident's preferred soccer team.
It reminded me of Rome. I felt my hear flutter a little. The first signs of love.
After passing a car that was passing someone else, another reminder of my favorite country, the space between the buildings grew smaller and the amount of street art increased. Soon I was being dropped off at my hotel in Athen's Exarcheia neighborhood. This area of Athens is known for being home to not only intellectuals and artists, but also to socialists, anarchist, and antifascist groups.  In 2008, after the murder of a 15 year old student by police, Exarcheia erupted into civil unrest. People took the streets protesting Greek corruption, economic decline, and a rising unemployment rate. Today it is a safe area to visit, with much of the political frustration now being expressed through street art. Another heart flutter.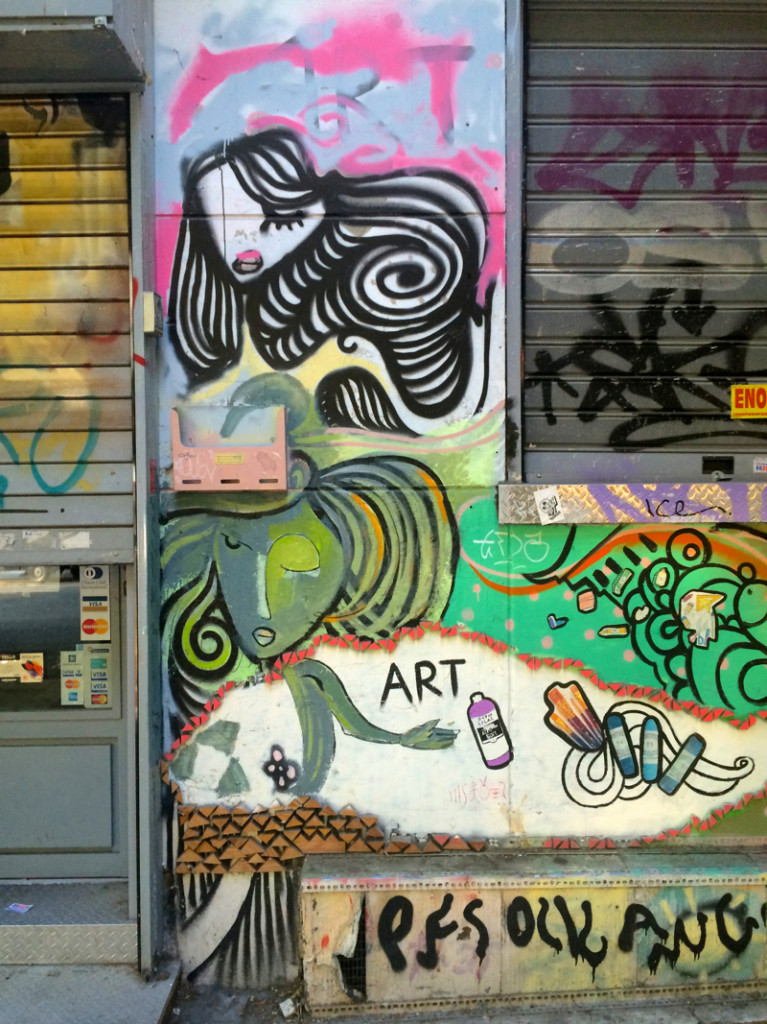 I excitedly said hi to Tara, dropped my bag, and insisted we check out the left-leaning neighborhood immediately. We walked toward Exarcheia Square in search of street art and food, and happily found an abundance of both. After admiring some awesome pieces and snapping a few pictures we settled down outside a tavern for a few beers and a sampling of different Greek dishes.
By the time we'd finished dinner and catching up the sun had set and young Athenians had come out in droves, sitting around drinking beer and smoking on a Saturday night. With an early ferry to catch I begrudgingly decided to call it a night and say goodbye to city I could feel myself falling for.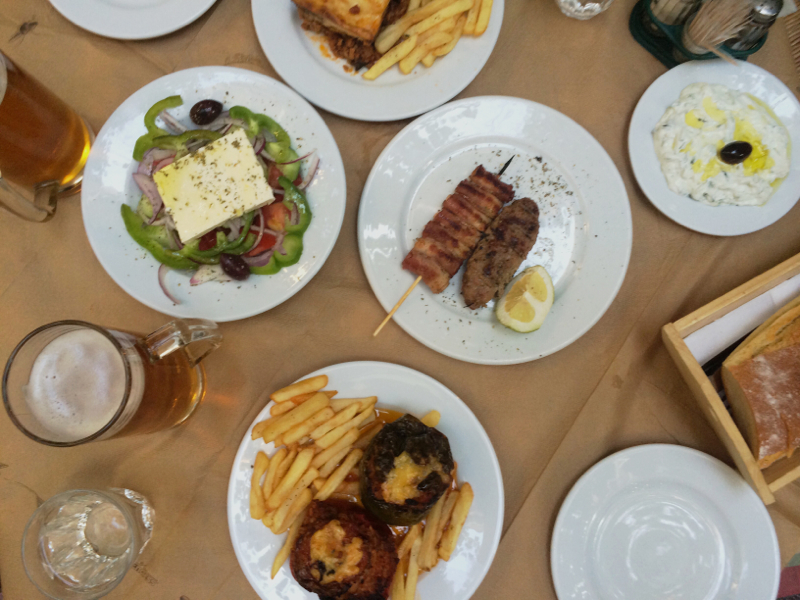 A week later I arrived back in Athens, more tanned and relaxed than before. Although I would have been perfectly content with another night in Exarcheia, we decided to venture over to Mount Lycabettus, the highest point in the city, for a view and a sunset.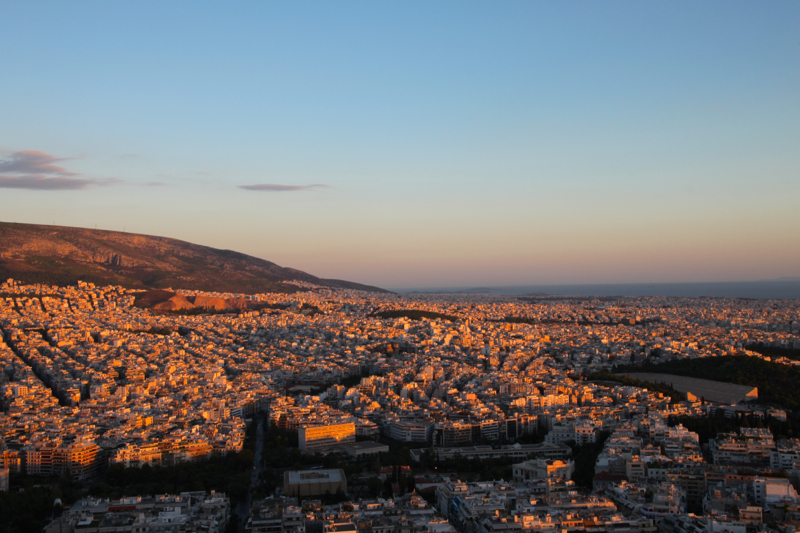 With the sun quickly approaching the horizon, we took the funicular up to the top, making it just in time to watch the entire city become blanketed in orange and red.
As the sun set on Athens and my time there, I was completely sure of one thing.
I was in love with Athens.
And it was a love affair that had to end much too soon.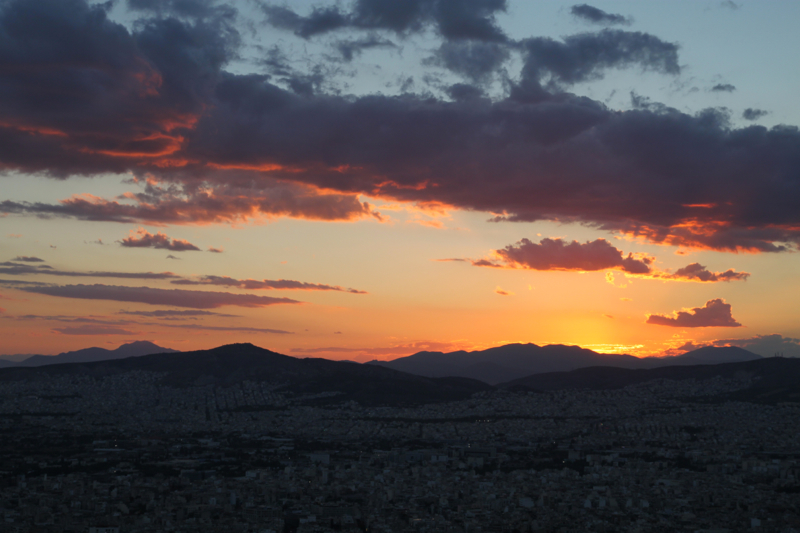 With an exciting history, both ancient and modern, along with killer street art, proximity to the sea, a relaxed vibe, friendly people, and delicious food, Athens is a city that deserves to be a destination rather then just a stop to or from the Greek islands.
I know that next time I'm in Europe I will give Athens the time it deserves.
And if anyone asks, "Is Athens worth seeing?" I know my answer will be a firm hell yes.
Have you ever fallen in love with a place almost instantly?