When I announced I was moving to London, everyone I talked to was extremely enthusiastic. They were planning their trips and talking about their favorite places to shop and what free museum is the best. The only (supposed) negative they kept bringing up?
The food.
English food still has quite the poor reputation on the other side of the pond. As anyone who has been to England in recent year knows, this just isn't the case anymore. Zagat recently published the results of a survey and Londoners are eating out as often as those residing in New York, and they are often choosing to dine at creative, forward thinking pop up restaurants, food trucks, and food festivals.
London is not the culinary wasteland many think and Eating London, a new food tour company, is out to prove this to the world. So when they invited me on one of their London Food Tours, I said yes without hesitation.
I met Nicole, the charismatic and incredibly knowledgeable tour leader, and the rest of the group at Spitalfields Market on Saturday morning . Soon I learned that I would not only be introduced to the food of East London over the next 3.5 hours, I would also be gaining valuable insight into the history of this diverse and ever changing London neighborhood. Is there a better way to spend your first weekend in a new city? I think not.
Our first stop was St. John Bread & Wine for bacon sandwiches. Apparently bacon sandwiches are kind of a big deal here (I told you it was a good introduction to the culture), and that Brits hold a good bacon sandwich in high regard. I've learned over the past few years abroad that bacon around the world is often very different from the bacon in the United States. And this is often terribly disappointing. The bacon at St. John Bread and Wine is definitely not American style, but as this is a restaurant that specializes in a nose to tail approach to eating, they know their meat. Stacked on toasted bread and covered with a secret ketchup sauce, this was a perfect start to the day. And I already have plans to come back here to sample more of their offal-loaded menu.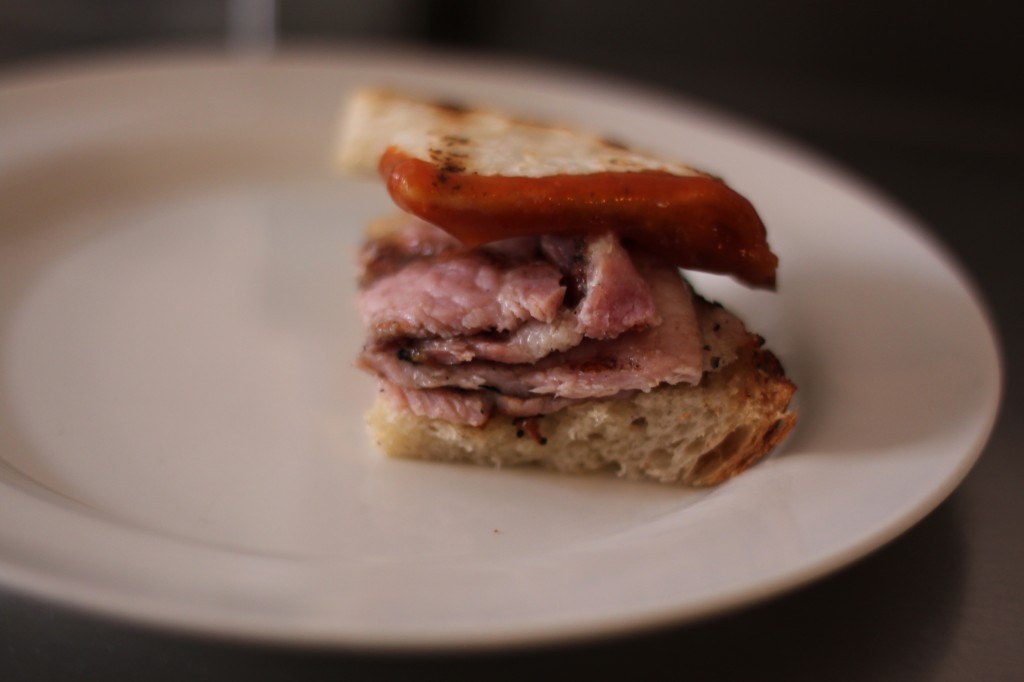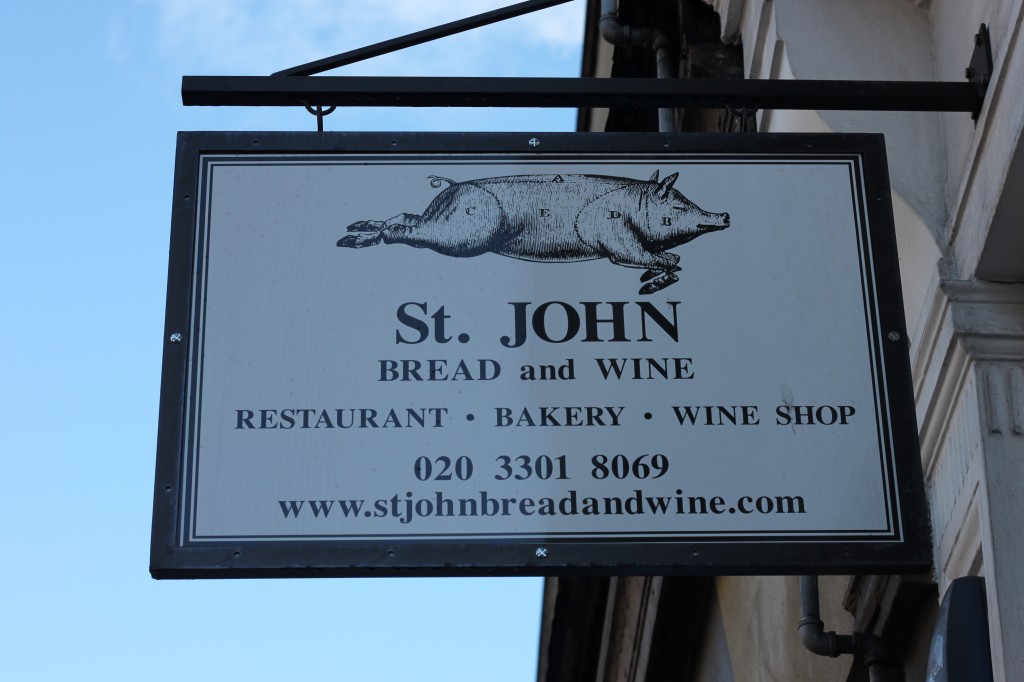 From there we headed to The English Restaurant for our first sweet sampling of the day- bread pudding. Bread pudding is one of my favorite desserts, mostly due to the fact that mushy is one of my favorite food textures and this was one dish I had high expectations for. Spoiler alert: It was my favorite dish of the day, which says a lot coming from someone who would normally always choose savory over sweet. The bread pudding, served in the oldest building at Spitalfields, isn't just any bread budding, it's banana bread pudding topped with a vanilla and rum sauce.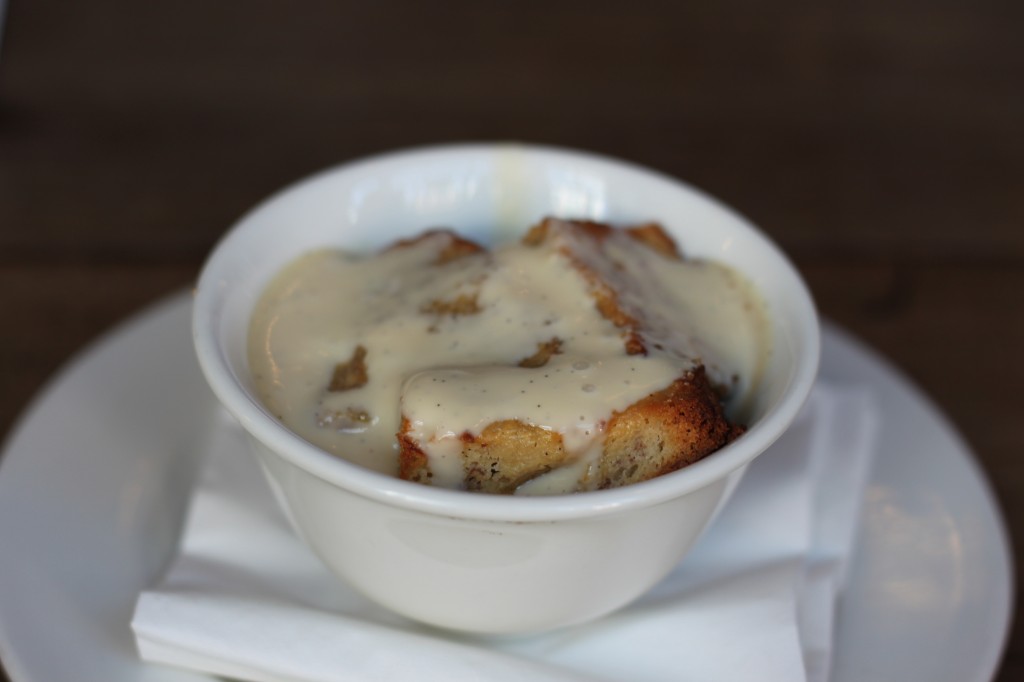 After satisfying our sweet tooth, we went back to the market for a lesson on English cheese from Androuet, a legendary French cheese making company. I've never been much of a cheese person, blasphemous I know, but I've recently been coming around to the softer variety and after sampling three cheeses here I may be a complete convert. My favorite were the Waterloo, a soft, creamy cheese with a mild flavor, and the Stilton which was served with candied walnuts to help cut the strong flavor.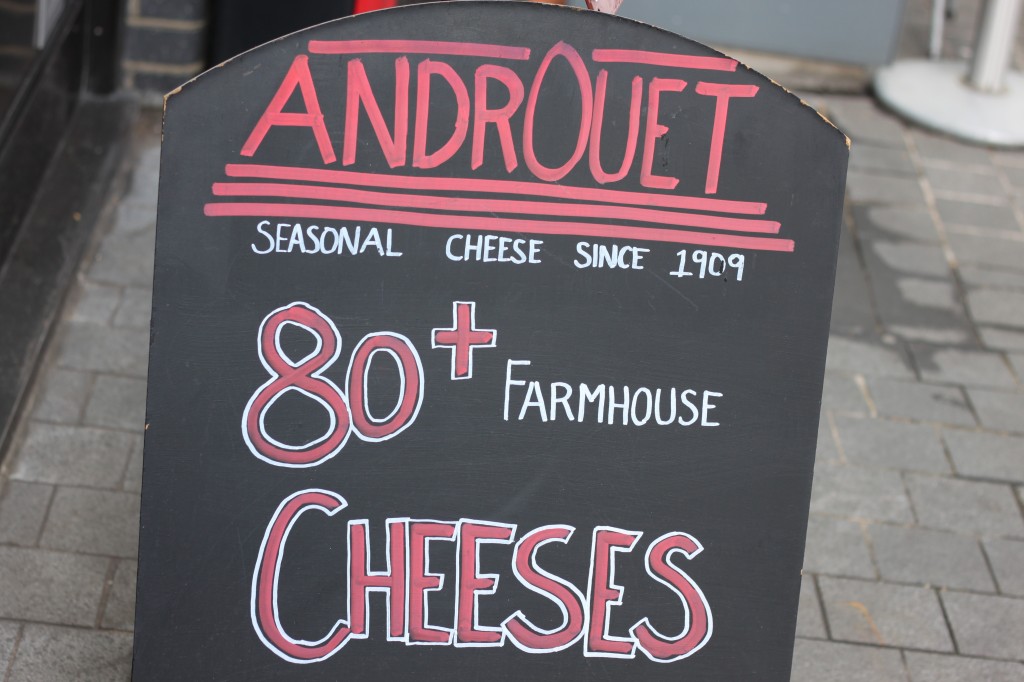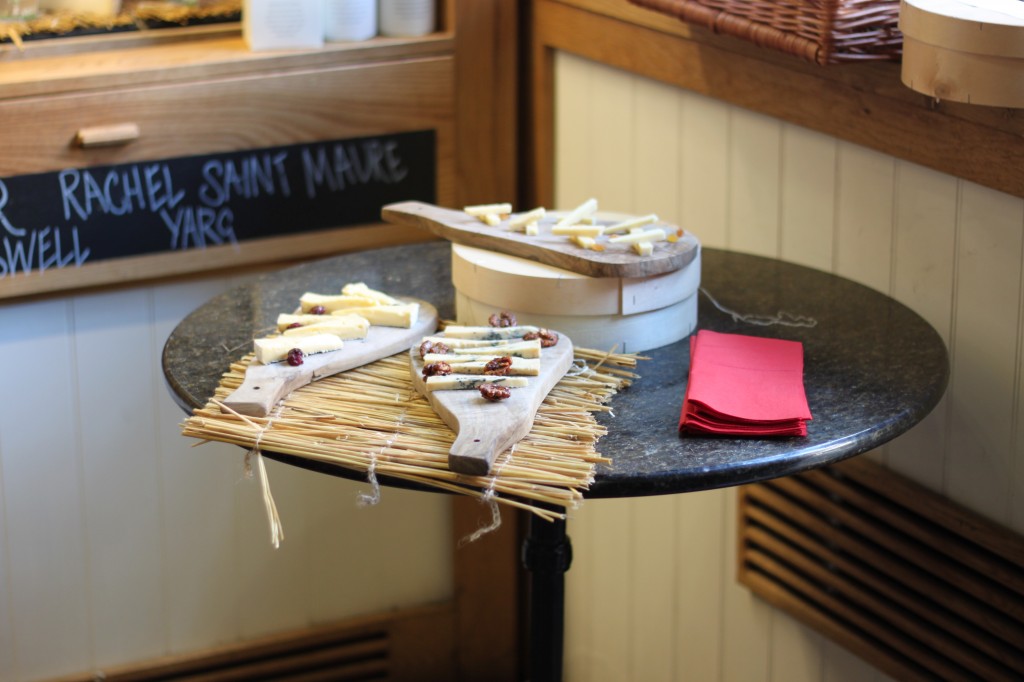 Before the tour began we were each asked what we were most looking forward to eating that day. My answer was fish and chips. Fish and chips is probably the most famous English dish in the States and I was excited to finally be trying it in its country of birth. The fish and chips (along with mushy peas- my favorite) at Poppies were a fantastic introduction. In a dining room reminiscent of a 1950s American diner I doused my plate with vinegar (as the English do, I'm told) and devoured some crispy battered Cod and even crispier fries chips.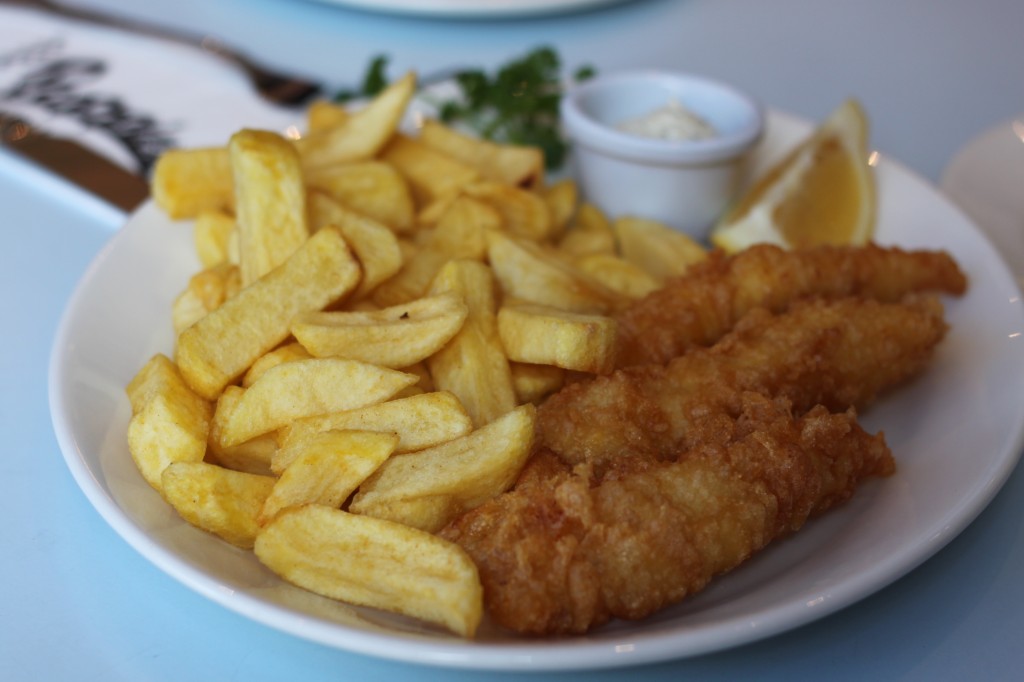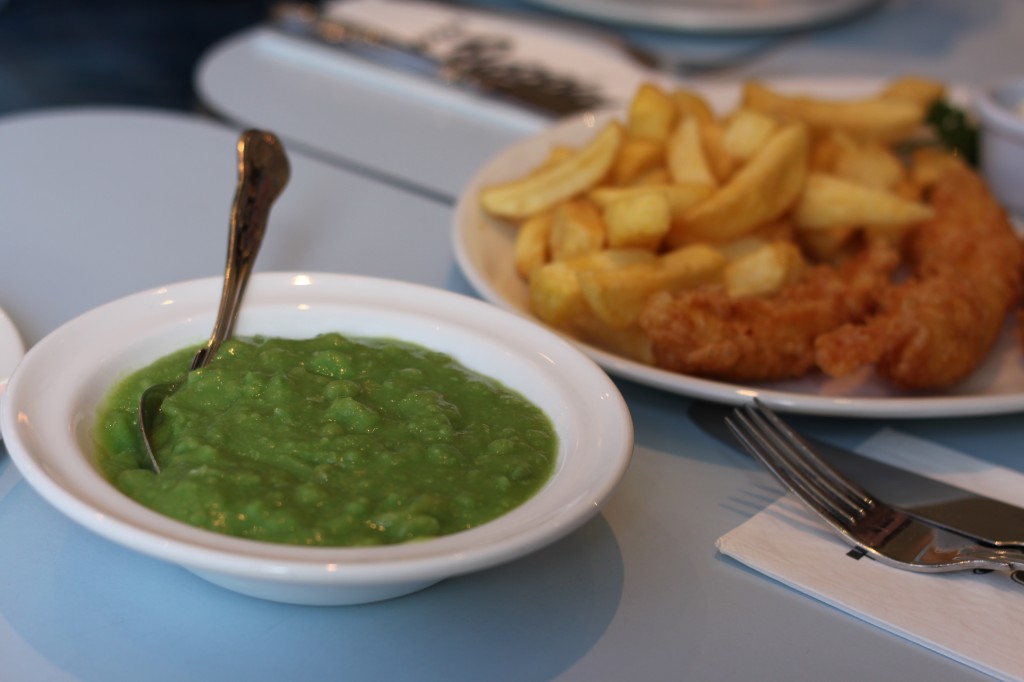 At this point we were all feeling a bit full, so we took a break. Where do you take a break in England? At a pub, of course. We sampled an English ale and cider at the Pride of Spitalfields, a traditional looking pub on a small street off Brick Lane. I wasn't a fan of the English ale as I like a bit of refrigeration and carbonation with my beer, but I was quite impressed with my first cider. Which leads me to my only semi-complaint about the whole tour. I wish that glass of cider had been a tiny bit bigger. But it was before noon, so…
Feeling fully ready to eat again, we walked along Brick Lane in order to finally sample England's national dish- curry! The East End is home to many Bangladeshi immigrants and some of the finest curry houses in the country. We tried three curries at Aladin- a mild veggie option, a slightly hotter lamb curry, and a spicy chicken madras. It's impossible for me to pick a favorite as I could eat curry breakfast, lunch, and dinner with no hesitation. I love it all.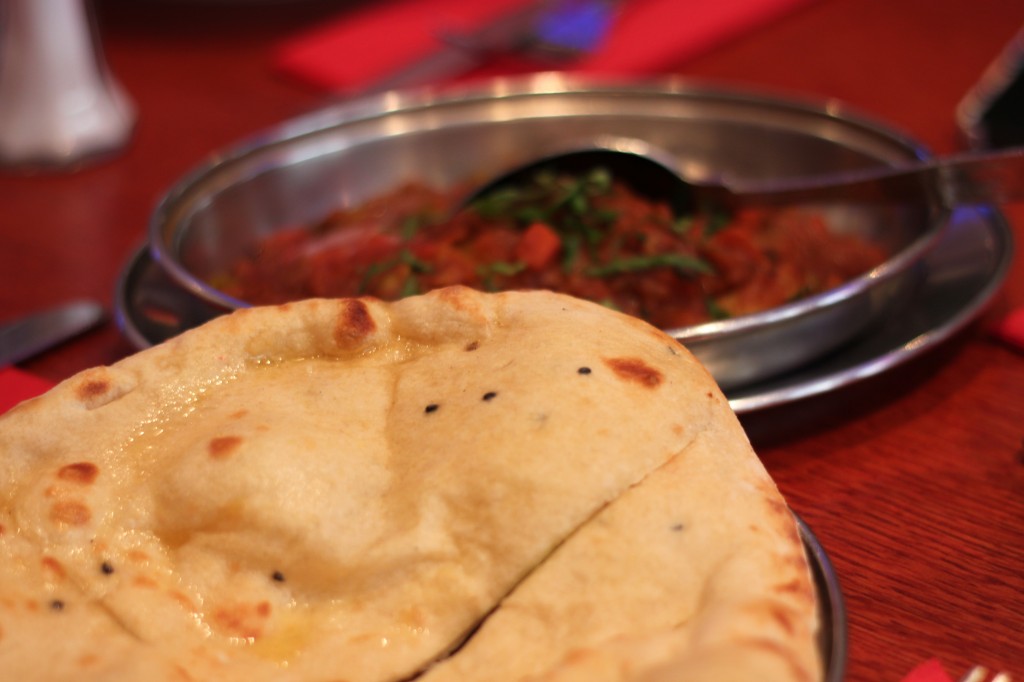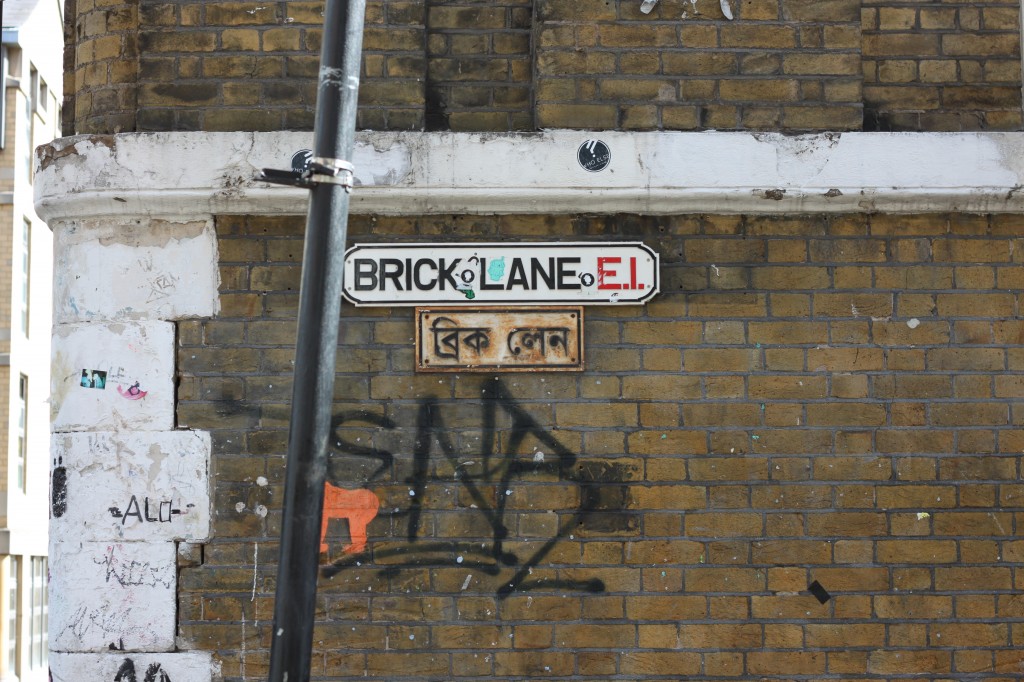 The Bangladeshis aren't the only immigrant group to have called the East End home. In the early 20th century, East London was an enclave for the Jewish community. Beigel Bake, a tiny 24 hour shop on Brick Lane, is a reminder of the cuisine that once dominated this area. The bagels here are boiled instead of steamed, and we had ours topped with salt beef and a tangy mustard. It wasn't a New York bagel, but it was certainly a tasty treat.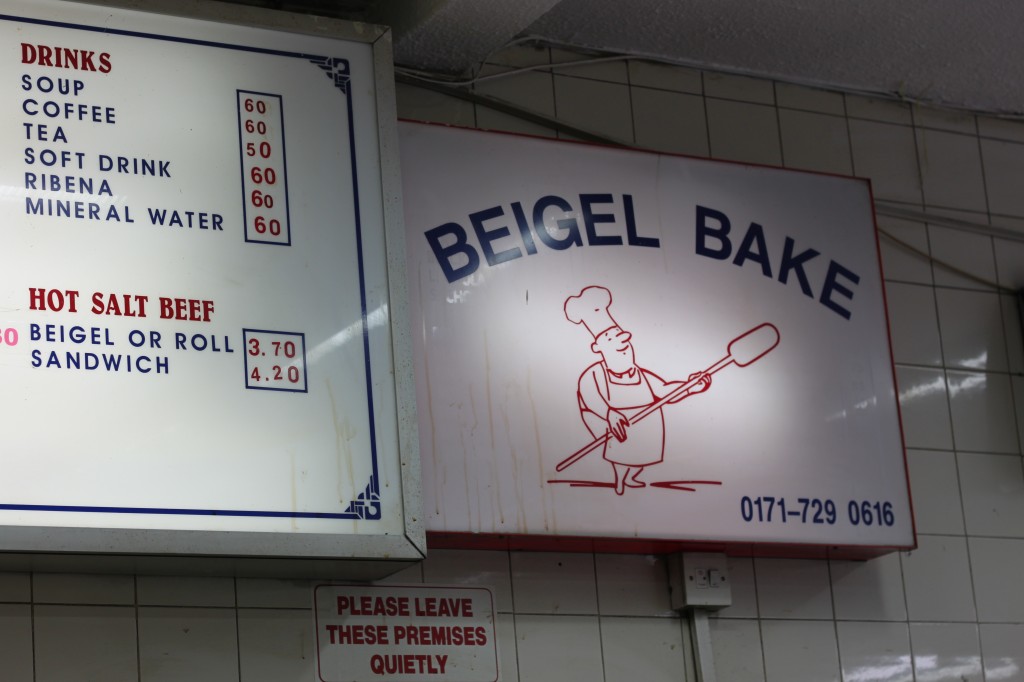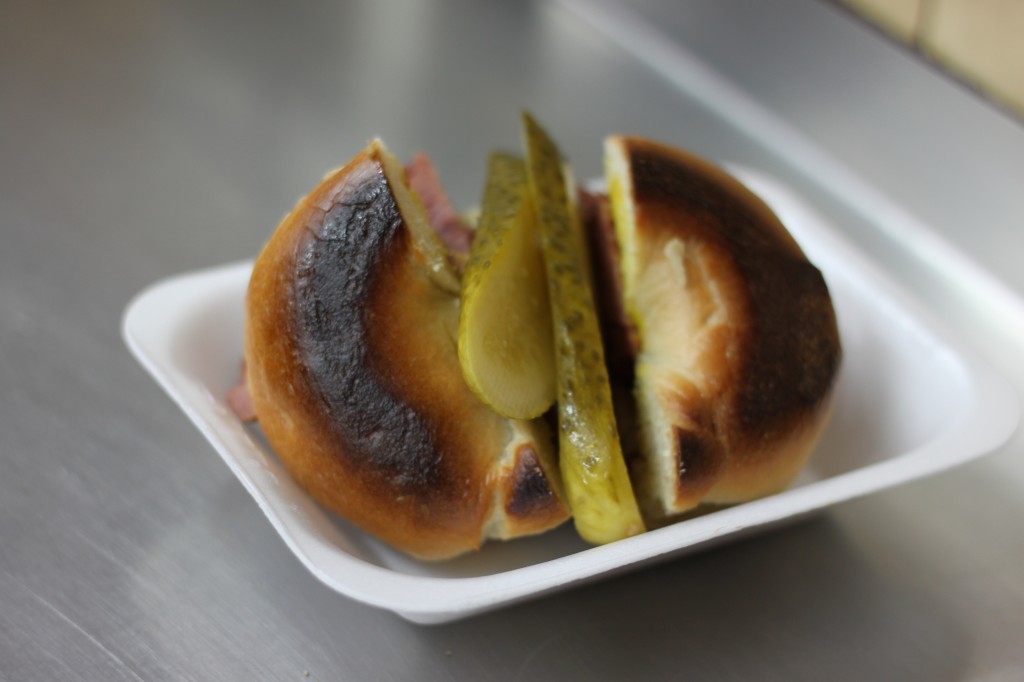 And finally we made it to the last stop. Not finally because I was ready for it to be over, finally because I was so full I wasn't sure I could fit another bite. Until I saw what we were being served, that is. Pizza East is popular with newest immigrant to the East End- the hipster. We were each given a cup of tea and a sliver of a salted caramel and chocolate tart. This was another dish that made me reconsider my choice of savory over sweet – I devoured the entire thing.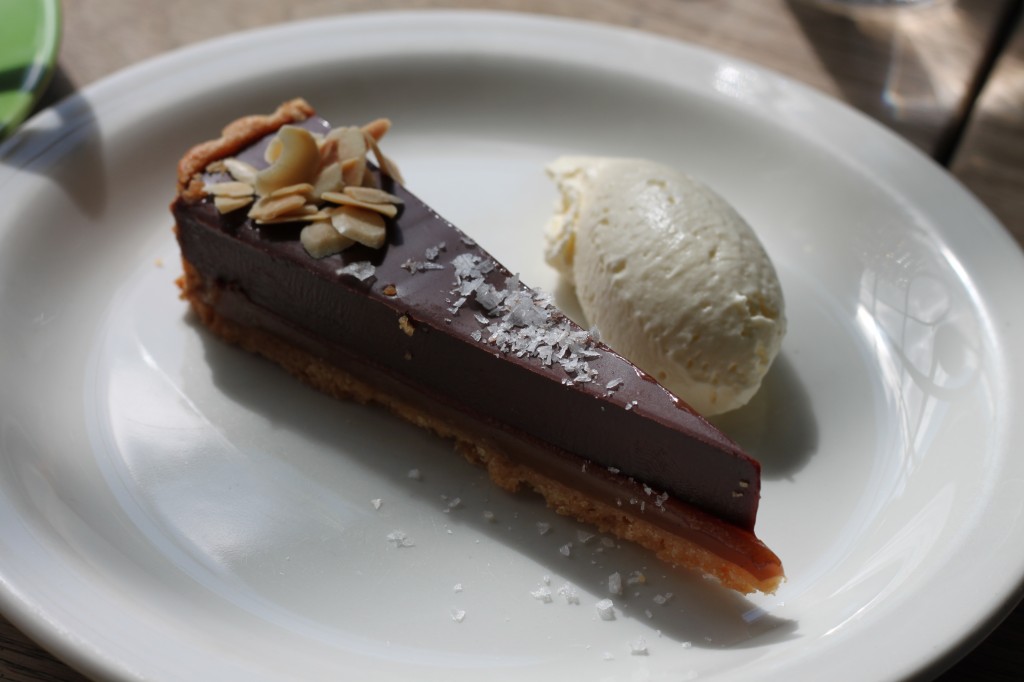 Once the tart was finished it was time to say goodbye and roll myself home on the tube. The mild pain of overeating was worth it, though. The Eating London tour was the most perfect introduction to my new home.
Want to go on a food tour with Eating London? (Yes, you do!) Take a look at their website, Facebook, or Twitter for more information. 
Disclaimer: I was offered a complimentary tour in exchanged for a review. I was in no way asked to provide such a glowing one, I just really loved it that much.