Though I ate very well the entire time I was in Louisville, there was one meal that stood out far and above the rest. This meal was the winter tea dinner at Louisville's hippest tea cafe- Hillbilly Tea.
I've had Hillbilly Tea on my to-eat list for a while. Their farm to table Appalachian inspired menu always had me drooling in front of my laptop and their creative tea blends had me looking at my cup of $3-for-500-bags green tea with disdain. I knew that this year, during this visit, I was putting Hillbilly Tea in the number one spot on my list of places I had to eat. A few weeks before making my way back to the States I was torturing myself by browsing their menu online when I saw something about a winter tea dinner. This five course meal with tea pairings would preview their new winter menu. I immediately clicked over to my e-mail for reservations.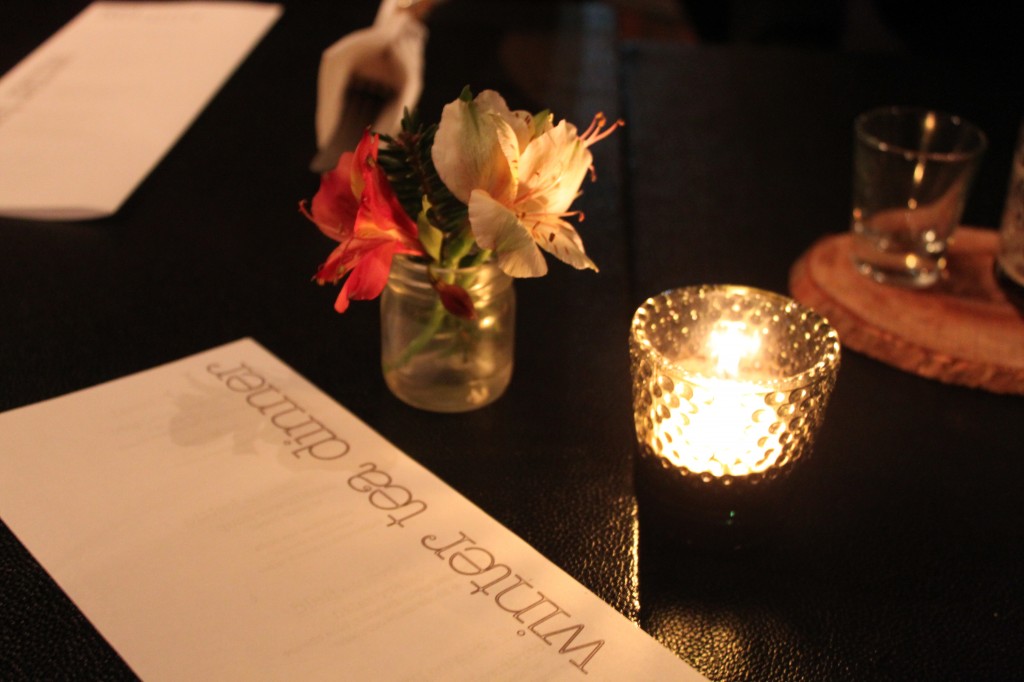 A few weeks later, appropriately scheduled on the night of the winter solstice, my family and I headed over to Hillbilly Tea's rustic location in downtown Louisville. The dinner was a small, intimate affair with less than ten tables of appreciative foodies. Held upstairs, the dimly lit room, complete with the largest Christmas tree you've ever seen, was warm and cozy. An atmosphere to perfectly complement the theme of the dinner.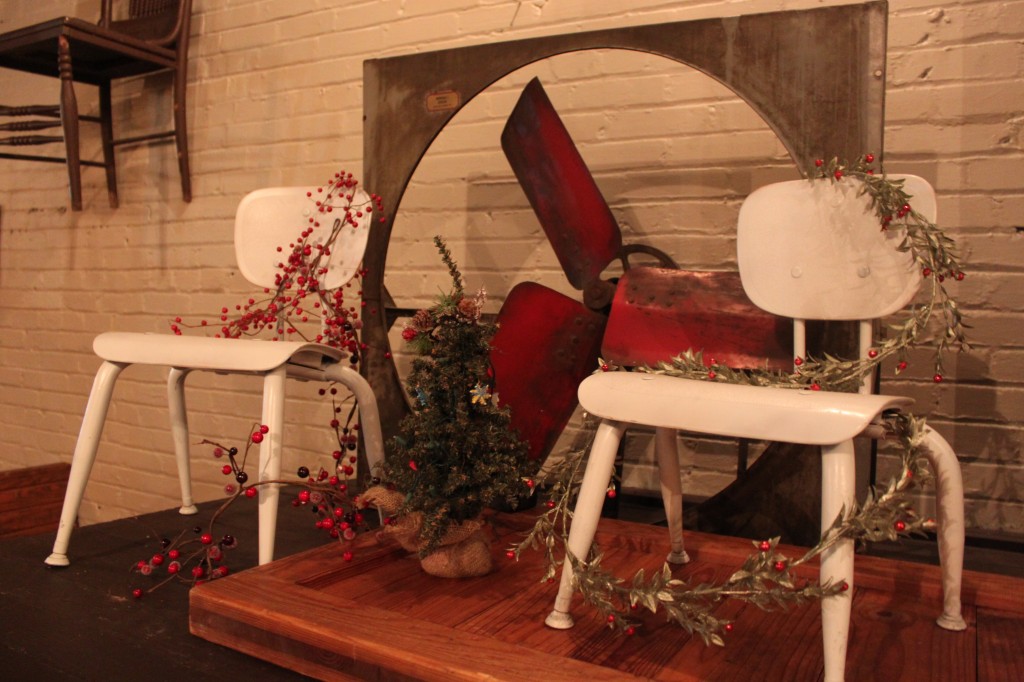 After a brief introduction to the meal and the restaurant, the first course was served. A teacup of braised pork with cream of wheat and cottage cheese dumplings in a tea broth was set in front of each diner. While the pork and dumplings were both seemingly perfect, the highlight of this course for me was the broth. Smoky, thick, and cloudy, it reminded me of my favorite ramen in Tokyo. While I could've happily drank the broth and had my thirst quenched, there was a special drink that accompanied this course- a boiler maker (a beer and a shot of whisky) done tea style. A small glass of Upland Brewery's Bad Elmer's Porter sat beside a shot glass of twig hooch, a homemade tea whisky, on a small slice of tree.
The second course began with what could possibly be the best nonalcoholic drink I've ever tasted. When I read the menu and saw a "Christmas tea soda" listed, I almost immediately wrote it off as something I wouldn't like. But the combination of frankincense, myrrh, and spices was liquid perfection. It wasn't too sweet. There wasn't too much carbonation. It was Christmas in a mason jar.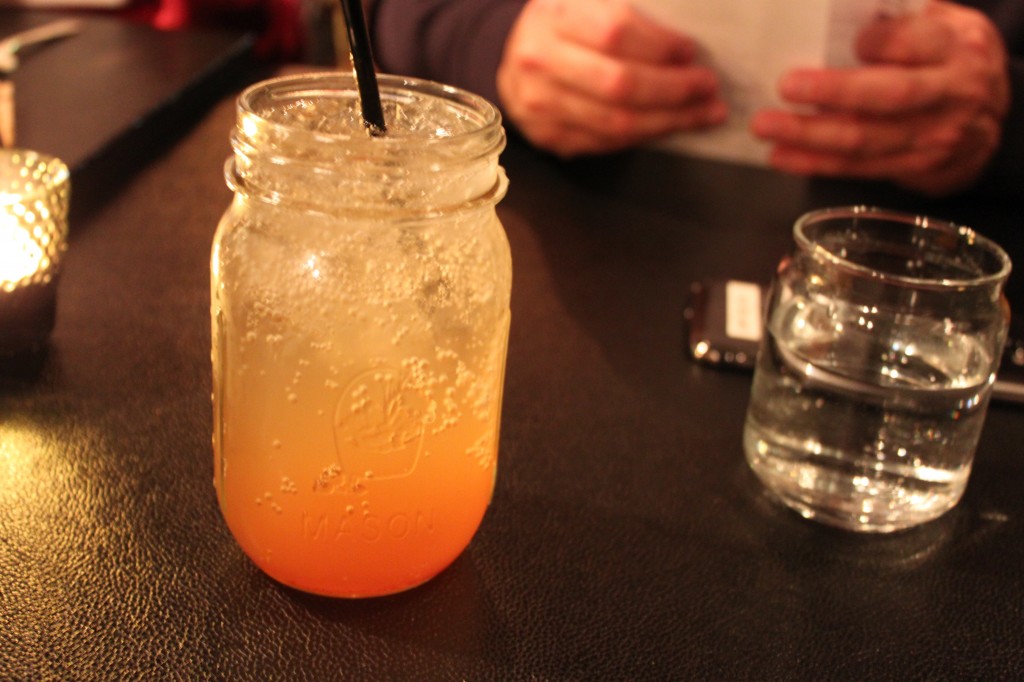 The food that followed was just as tasty. In another tea cup was a stew made from pork and beans. Beans are in my list of the top 5 things I miss about food while living in Korea, and this creamy, smoky stew was a pretty awesome reintroduction to legumes after a year away.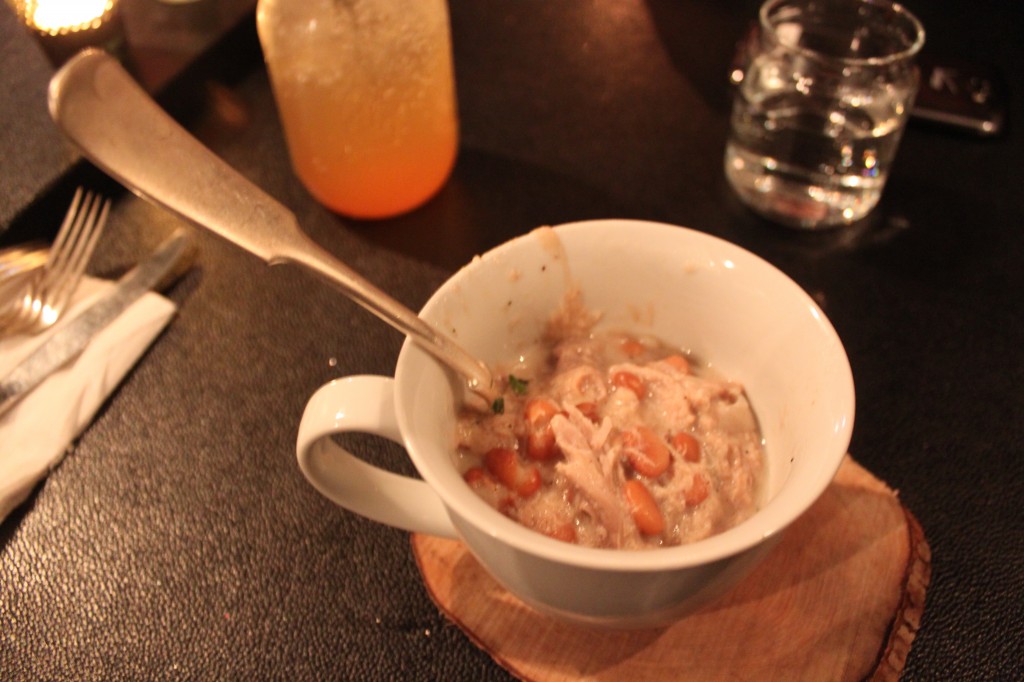 It was at this point that I became so heavily invested in eating and enjoying that I stopped writing detailed notes. A celery salad followed, and as someone who could leave salads and never look back, my plate was cleared. Take that for what you will.
The main course consisted of a braised lamb shank over succotash and charred broccoli. I love lamb, but in my opinion, if it's not cooked right it can quickly go from great to funky. This lamb, though, fell off the bone with the tiniest flick of the fork and was far from funky tasting.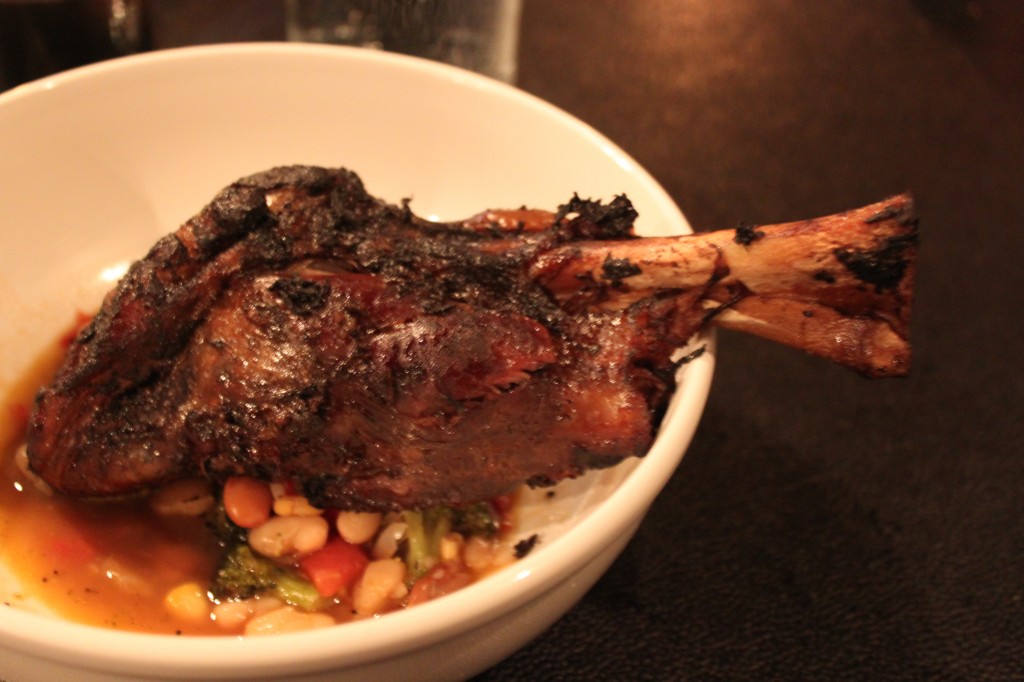 The final course was a chocolate mousse with forest berries and tea cookie crumbles. The accompanying tea blend, called Horny Goat, had a minty taste that was great for cutting down some of the sweetness of the mousse.
As the meal was over I found myself in my food happy place. I had high expectations for Hillbilly Tea. And those expectations were met and more. It was a meal that left no room for complaints. Delicious, well executed comfort food, a relaxed atmosphere, and some fantastic company. Though the last part was not supplied by Hillbilly Tea.
And for all my friends in Asia, Hillbilly Tea is opening a location in Shanghai. Yes, China. I know I'll be adding it to my itinerary!
Visitor Information: Hillbilly Tea is located on 120 South 1st Street in Louisville. They are closed on Monday. For more information visit their website.
Note: I was not paid or asked the write this review. I just really loved this meal, the concept, and the restaurant this much that I felt the need to write 800 words about how fabulous it was. Also, I saw something about a Valentine's Tea Dinner on their website so if you're in the Louisville area (or feel like traveling for some awesome food) you could possible attend a dinner as wonderful as this one. Seriously. Go.
What dish sounds the best to you?