In between admiring the beauty of Budapest, throwing back palinka shots at ruin bars, and recovering in the thermal baths, I found time to do a fair bit of eating. Like Polish food, Hungarian cuisine was fairly new to me. I mean, even the one dish I thought I knew (goulash) I ended up being totally wrong about. This meant every meal was not only delicious, but also a discovery.
A lot of the food is rich and heavy, but in that good comfort food sort of way. Of course, many dishes contain Hungary's most famous export- paprika. I'm a huge, huge paprika fan (I even put it in tuna salad) and I eagerly ate every last drip of sauces and soups containing this delicious spice. And Hungary also seems to be a big fan of sour cream. Which, well, is another thing you won't find me complaining about. The only time I complain about sour cream is when there's a lack of it. I'm looking at you Korea.
Here's what I ate in Budapest. Minus the Quarter Pounder with Cheese I ate hungover at a shopping mall. No judgement, please.
Central Market Hall
What I Tried Here: Lángos
The Central (or Great) Market Hall is a 3 floor market selling everything from spices and salami to souvenirs and spirits. On the third floor of this historic covered market built in 1897 is an area selling a variety of prepared Hungarian classics. Though it is crowded with mostly tourists, this is a good place to get your bearings when it comes to Hungarian cuisine and sample a few things.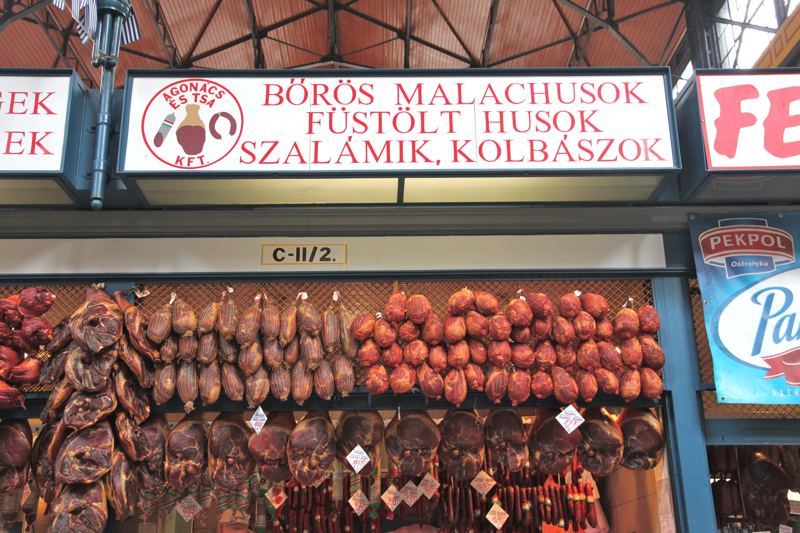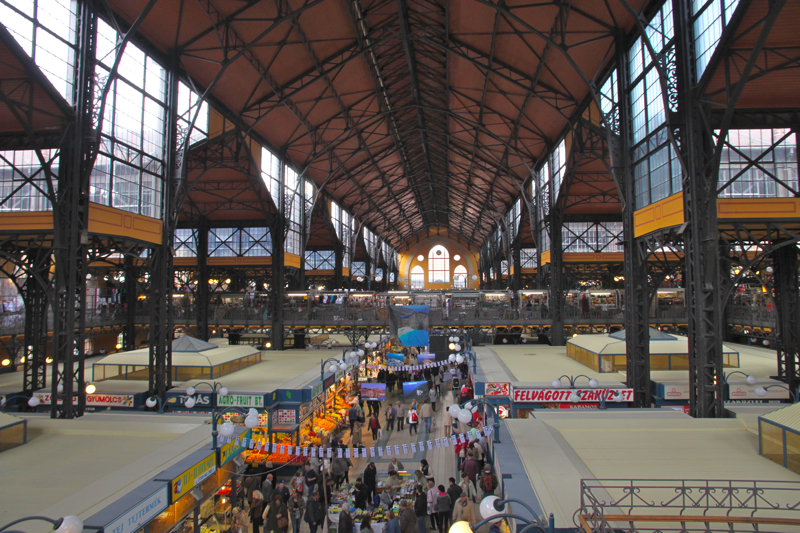 After a quick pick me up coffee I tried langos, a type of deep fried flat bread that tastes kind of like a savory donut. Langos are usually topped with sour cream and grated cheese, though there were a variety of sweet and savory options on offer at the market. I decided to go with sour cream, cheese, salami, and variety that cost 1,150 Ft (around $5.00). While the combination of sour cream and fried dough sounds like it couldn't go wrong, it was a little rich for my taste and I felt a serious dairy overload happening. I think I'd try it again, but without the cheese.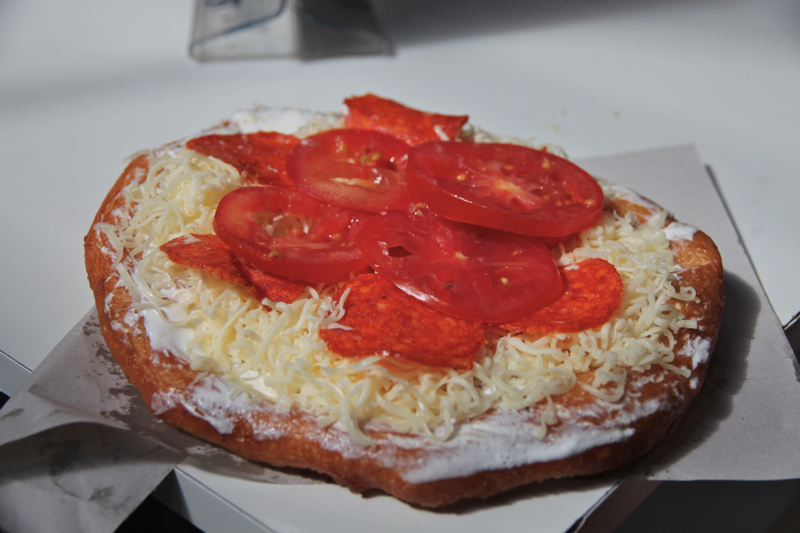 1093 Budapest, Vámház körút 1-3. Open Monday 6:00-17:00, Tuesday-Friday 6:00-18:00, and Saturday 6:00-15:00. For more information visit their website.
Kiskakukk Étterem
What I Tried Here: Game
I discovered Kikakukk because it was only a few blocks away from my hostel, always a nice surprise. This restaurant, open since 1913, specializes in game and has an old world feel. I arrived fairly early for dinner, around 6 or 7, without a reservation. Even though the restaurant was still nearly empty, they hesitated to seat me and the service throughout my meal felt rushed and almost rude. I suggest making a reservation, especially for dinner.
I started my meal with the goose soup with matzoh balls, a combination of the restaurant's speciality and of the heritage of Budapest's Jewish large population. The goose had nice flavor, but the matzoh ball tasted like it had just come out of the microwave. My main, though, was outstanding. I chose the venison stewed in red wine with flat noodles. Venison has recently become one of my favorite proteins and this was cooked perfectly.The sauce was rich and became nicely creamy with a little bit of the sour cream mixed in.
This place is worth a try if you're in the area, but make sure you book ahead. And maybe stay away from the soups.
1137 Budapest, Pozsonyi út 12. Open everyday 12:00-24:00. Reservations recommended. For more information visit their website.
Fülemüle
What I Tried Here: Chicken Paprikas
Chicken paprikas was a dish I knew I had to try. Made by stewing chicken in a creamy paprika sauce and usually served with small egg noodle dumplings, it is a combination of a lot of my favorite things (cream and carbs being the two big ones). While searching for where I could find the best chicken paprikas in Budapest I found Heather's post which mentioned Fülemüle and I immediately added it to my itinerary for the next day.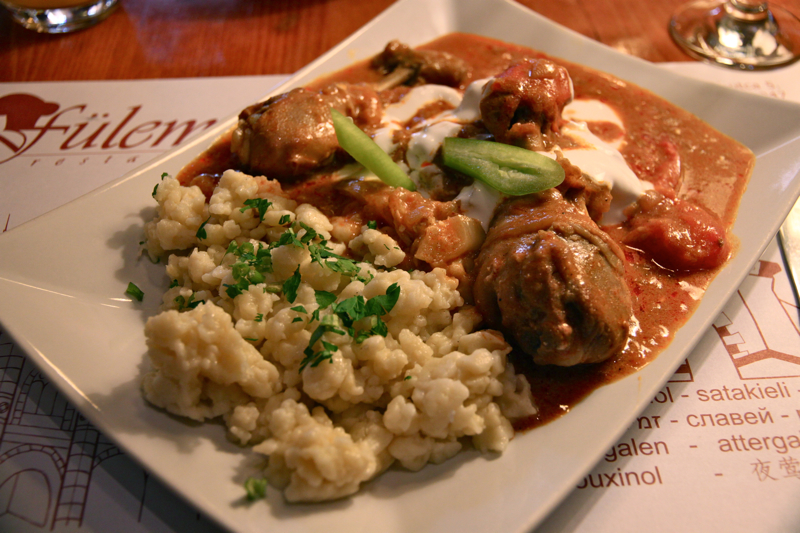 I arrived around midday and the place was nearly empty, but it slowly filled up as I ate. The service here was extremely friendly and my chicken paprikas was every bit as delicious as I'd imagined. The sauce was creamy and a bit spicy, full of the distrinctive flavor of paprika, and the chicken, cooked on the bone for optimum flavor, was very tender. This ended up being my favorite dish of the trip and I'd go back to Budapest just to eat it again!
1085 Budapest, Kőfaragó utca 5. Open Monday-Thursday 12:00-22:00 and Friday-Saturday 12:00-23:00. For more information visit their website.
Hungarikum Bistro
What I Tried Here: Goulash (And More!)
This place was on my list months before my trip to Budapest thanks to a post from my trusted foodie friend Jessica. Though I almost missed out on getting to eat here because I waited until the last minute to make a reservation. Lesson learned. Call a day or two ahead to book a table, especially for dinner. I was able to snag a table right at the beginning of the dinner service on the condition that I only stay for an hour. Being alone I knew that wouldn't be a problem.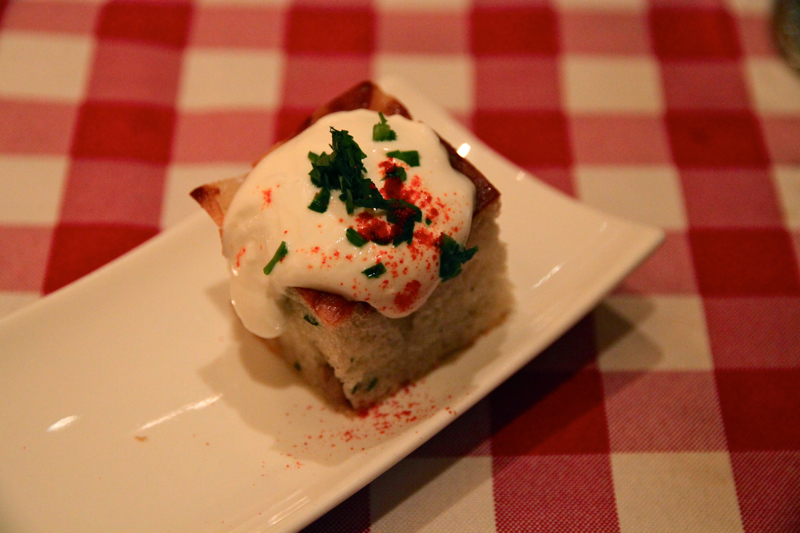 Though this place was filled with mostly foreigners, the food was top notch. They offer a 3 course set menu for a very reasonable 3,900 Ft ($17), but because there was one dish I really wanted to try which was not on the set menu I decided to order a la carte. Which only ended up costing me 600 Ft ($2.60) more anyway.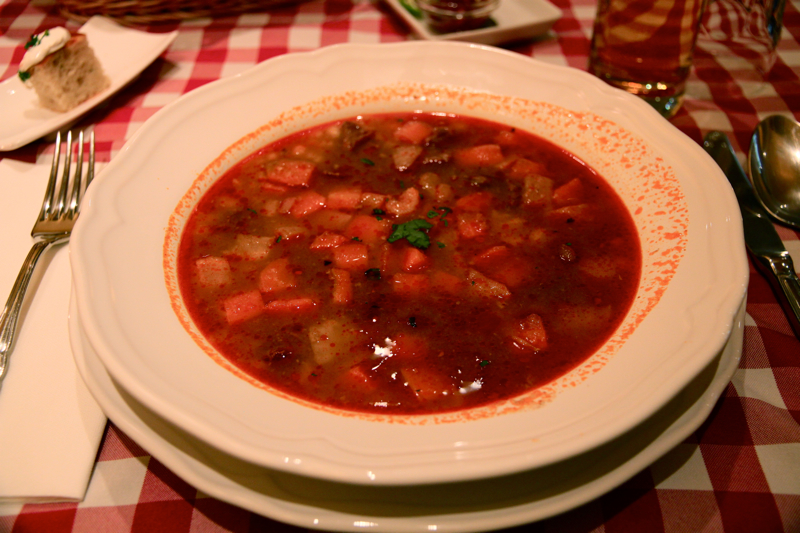 I started with the most famous of Hungarian dishes, goulash. While we've turned goulash into more of a stew abroad, in Hungary it is actually served as a soup. Cooked with pieces of beef and served with small egg noodles called csipetke, the goulash was flavorful and surprisingly filling for a thin soup.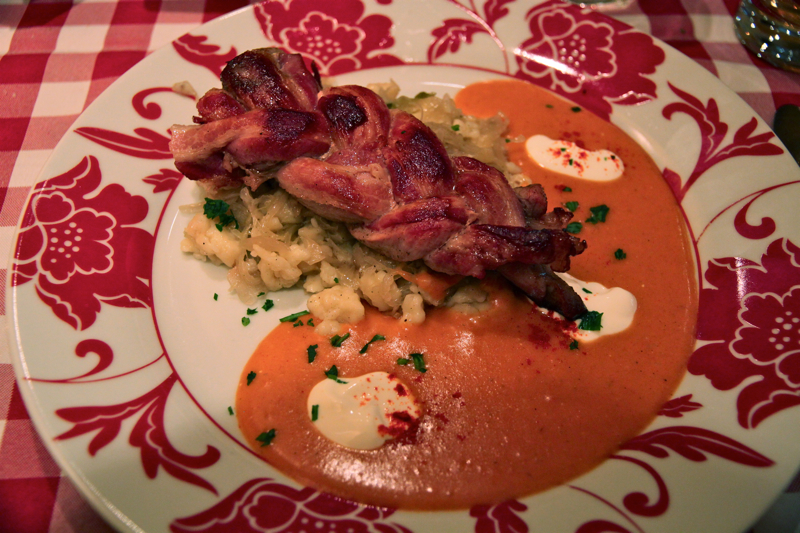 For my main I had the dish I had been dreaming about since reading about it on Jessica's blog- braided loin of pork served with paprika sauce and bacon-sour cabbage dumplings. And once again, it lived up to all expectations. The pork wasn't dry and the sauce reminded me of chicken paprikas. There really isn't much to say about the dumplings cooked with bacon and cabbage because dumplings cooked with bacon speak loudly and clearly for themselves.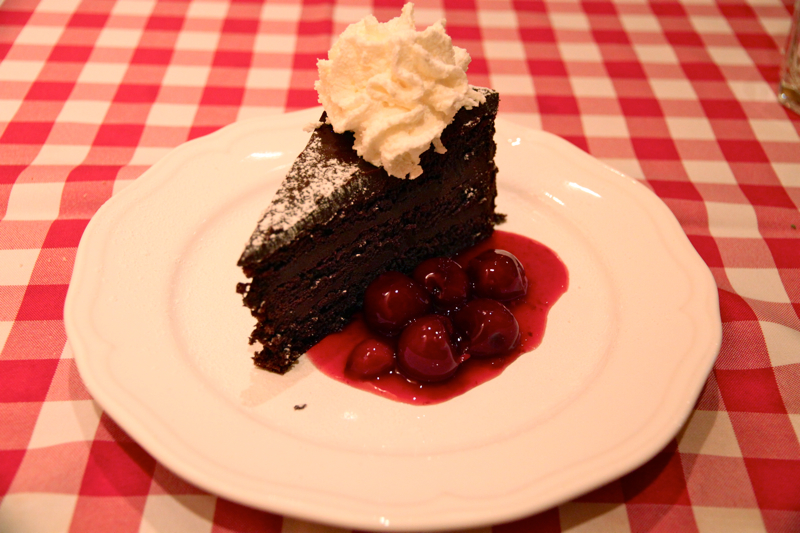 The chocolate cake I had for dessert was extremely rich and I could only take about two bites before pushing it far away. I begrudgingly threw back my free palinka shot and made it out shortly before my hour was up, happy and full.
1051, Steindl Imre utca 13. Open everyday 11:30-15:00 and 18:00-23:00. Reservations necessary. For more information visit their website. 
Macesz Huszar
What I Tried Here: Jewish Cuisine
Jews have long called Hungary home. The largest synagogue in Europe (second largest in the world) is located in Budapest and before World War II Jews accounted for nearly a quarter of the city's population. Because of this there is a rich tradition of Jewish cooking in Budapest and I knew I needed to sample some. While Fülemüle is often considered to be one of the best Jewish restaurants in Budapest, I decided to try somewhere new and ended up at Macesz Huszar, a few blocks away from the Great Synagogue.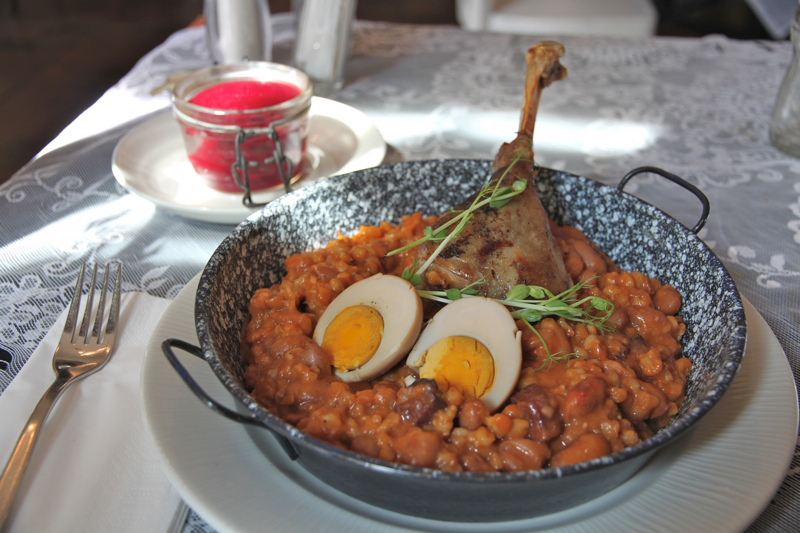 Almost everything on the menu looked tempting, but I decided to try something new and ordered the cholent. Cholent is a stew containing meat, beans, potatoes, and barley that is usually simmered overnight so that Jews are able to observe the Sabbath by not actually cooking on Saturday. The cholent here is cooked with smoked brisket and served with a goose leg and egg. There was a nice depth of flavor and the brisket gave the whole dish a smokey taste. This hearty dish was the second best food discovery of the trip.
1072 Budapest, Dob utca 26. Open everyday 11:30-24:00. For more information visit their website. 
Do you like Hungarian food? What Hungarian dish looks the best to you?