Exploring Southern Jeju Island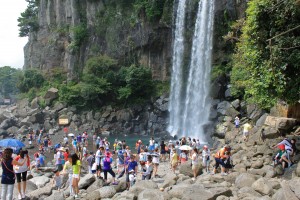 Jeju Island is not small. I wasn't really aware of this fact until Tara told me when we booked our tickets. I naively figured that since it was an island, one that is traveled often, all the sights would be near to each other. Not the case. Because of this Tara and I focused on a different area of the island each day. We spent our first day on the western side sunning ourselves at a beautiful beach almost worth of the 'Hawaii of Korea' moniker, and then headed to the east for a day on Udo and a hike a up Seongsan Ilchubong. With one day left, we decided to tackle the southern part of the island near the popular Jungmun Tourist Complex and town of Seogwipo.
This area, full of hotels, condos, museums, and other holiday amenities, is very popular with Korean families and couples. The area is also known for its waterfalls and for being due south of Korea's tallest mountain, Hallasan. Tara and I left Jeju City early that morning to explore what southern Jeju has to offer.
Getting to Seogwipo from Jeju City is very simple; take the Jungmun Express Bus from the intercity terminal, which takes around an hour and costs 2,500 won. The woman at the tourist information office at the bus station (who was very friendly and spoke perfect English) told us to get off at the Jungmun Resort Complex and that, from there, we would be able to walk to the beach and the waterfalls, our two destinations of the day. Following her directions, we hopped off the bus at Jungmun and the first thing we saw was a sign indicating that Jeongbang Waterfall was still 12 kilometers away. Tara and I, along with another misdirected foreigner, hailed a cab, deciding that walking nearly nine miles was out of the question.
Jeongbang Waterfall is known as being the only waterfall in Asia to fall directly into the sea. We paid our 2,000 won admission fee and trudged down a few stairs before being greeted by the sound of water plunging tens of meters. Being Asia, there were no sort of barricades, and visitors can wade right into the cascade pool.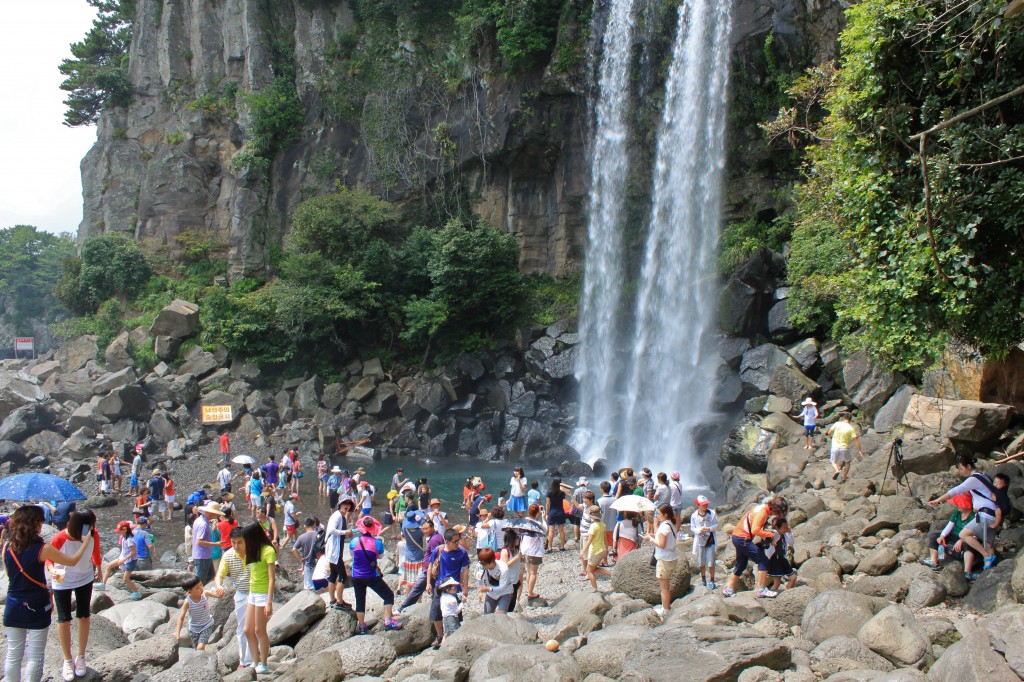 The water was cool, and the rocks beneath were slippery and sharp, making walking difficult, but very refreshing. After making my way toward the fall I walked over toward the sea where I sat for awhile, watching the children running around kicking water onto each other and looking out over the boulders.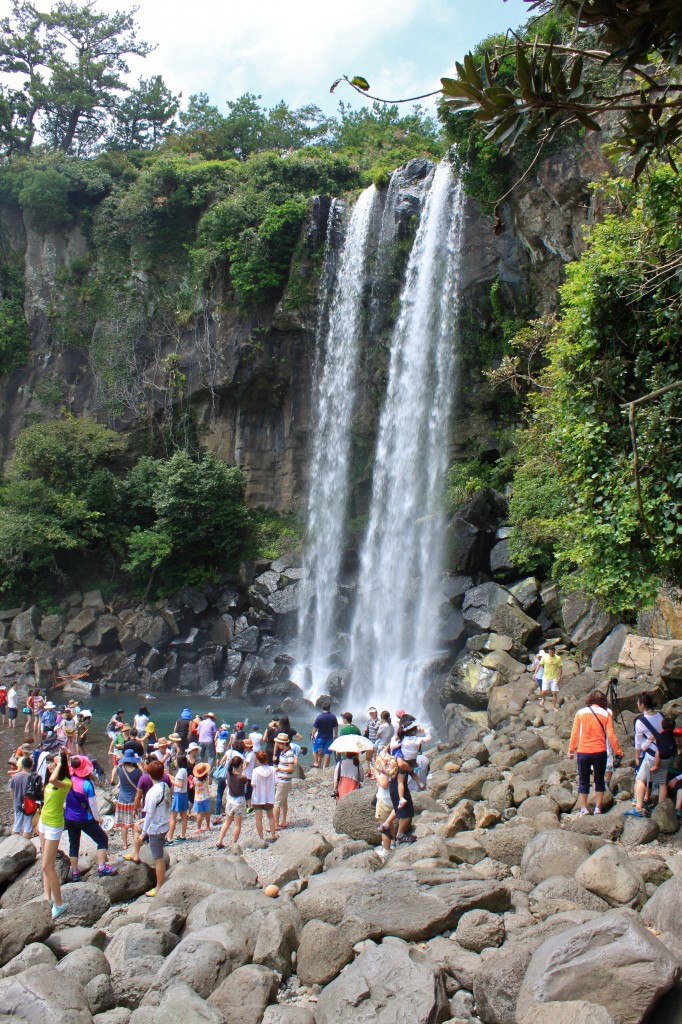 Next, we went to Cheonjiyeon Waterfall, another of southern Jeju's three famous waterfalls. While you can't actually get into the water here, the path to the fall ends in the perfect spot to get your photo taken with Cheonjiyeon in the background.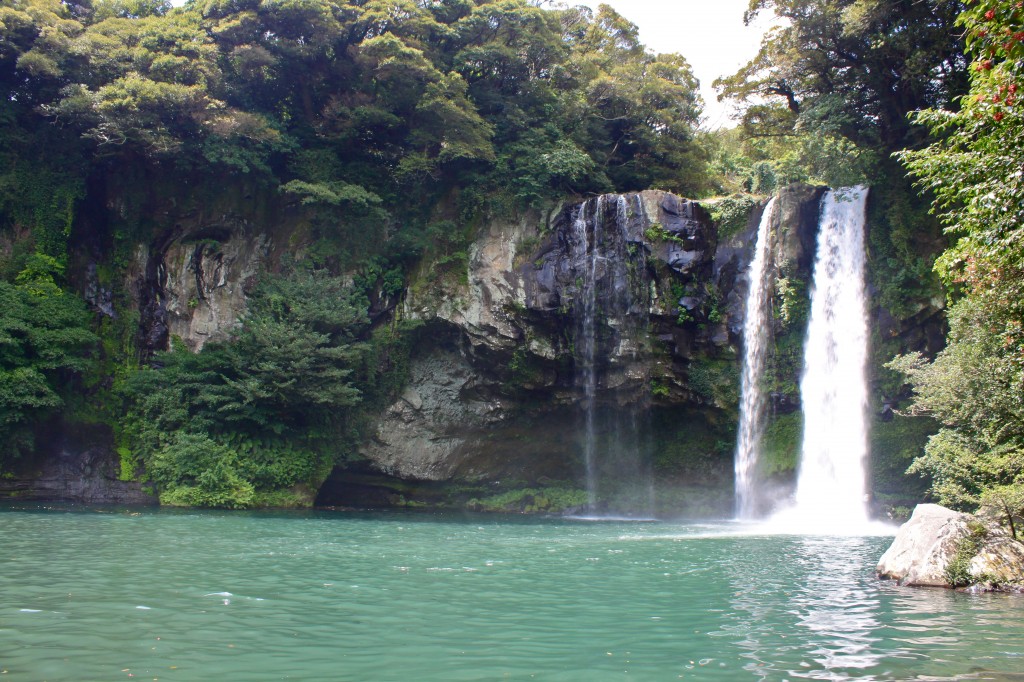 After a morning of sightseeing we decided a trip to the beach was in order. The beach in southern Jeju, at Jungmun Resort, is often considered to be one of the most beautiful in Jeju. While I didn't find it that lovely to look at, it was definitely the most fun. The waves were huge and the current was powerful (Jungmun Beach is a great place to surf) and I spent the afternoon getting thrashed, pulling my top back down, and grinning from ear to ear.
We hung around in the sand as the sun got lower in the sky on our last day of vacation. In four days Jeju Island has far exceeded my expectations. I'd figured it was something overblown by Koreans, a sort of place of national pride that wasn't actually the beautiful or interesting. But like when I estimated the size of this lovely island, how very wrong I was.
If you haven't already, please 'Like' Farsickness on Facebook and stay up to date on all my travels and posts! Your support is greatly appreciated.