A Day on Udo Island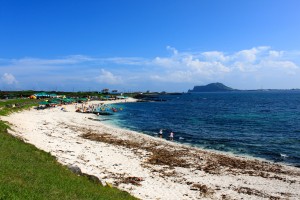 After Tara and I scrapped all of our initial Jeju plans, we had to go back the proverbial drawing board (or in this case, back to the guidebook) and figure out what we really wanted to see and do on our vacation. Which turned out to be find more beautiful beaches. When we got to the section in the book describing Udo Island's patchwork like agricultural fields, coral beaches, and bikes trails, we were sold. A day on Udo Island was in order.
To get to Udo, Tara and I first took a bus from the terminal in Jeju City to Seongsan Port (3,000 won, about an hour travel time) where the ferry to Udo departs from. Purchasing tickets for the ferry was straightforward, easy, and cost 2,000 won per person. The boat leaves once an hour and the journey takes about 15 minutes.
Once we arrived on the island, there was a choice to rent bikes, ATVs, or motorbikes in order to navigate around the 6 square kilometer, cow shaped island. Initially we wanted to rent ATVs but were turned down at all the rental shops due to the fact that neither of us has an international driver's license. So, we settled on our only available option, bikes and started off on the 17km road that lines the circumference of Udo.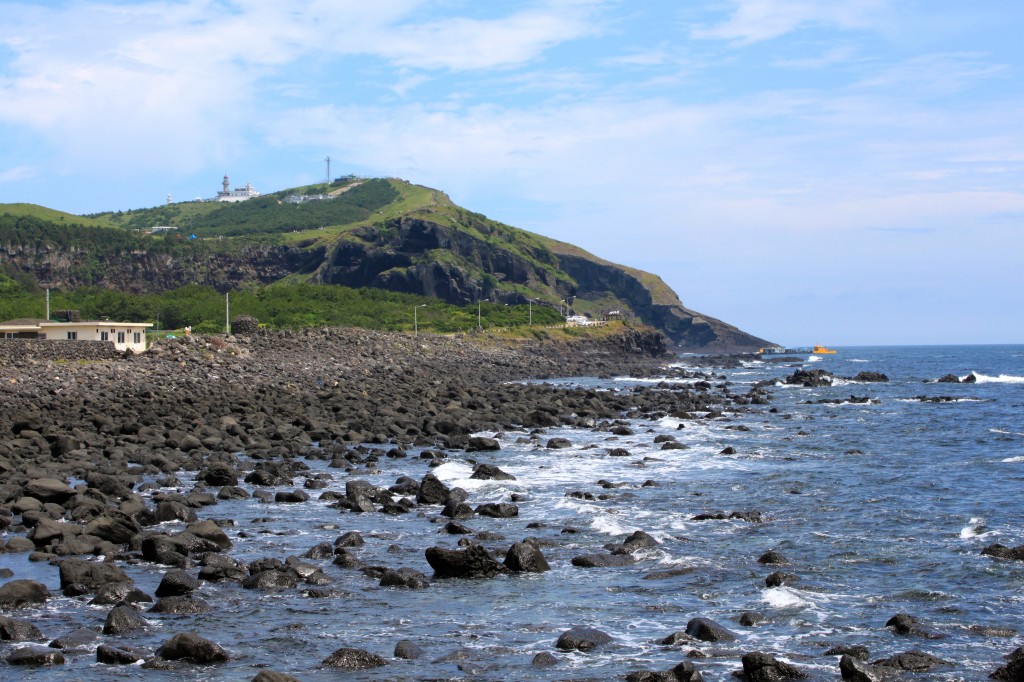 We biked for about 3 km (if my map reading skills are correct, which, they probably aren't) to Hongjodangoe Haebin Beach, the only coral sand beach in Korea. Not actually sand at all, the beach is made up of tiny, crushed shells, which are slightly painful under bare feet. The water at Hongjodangoe is a beautiful turquoise color, and a perfect temperature for a swim. The only negative is that the beach is quite small, and in the summer, crowded.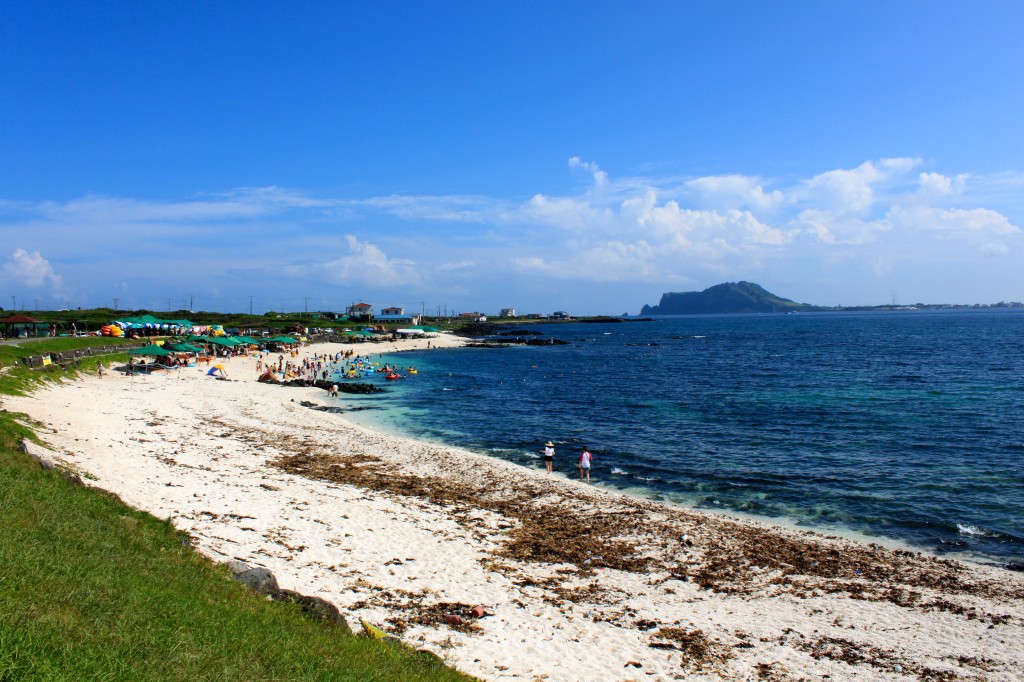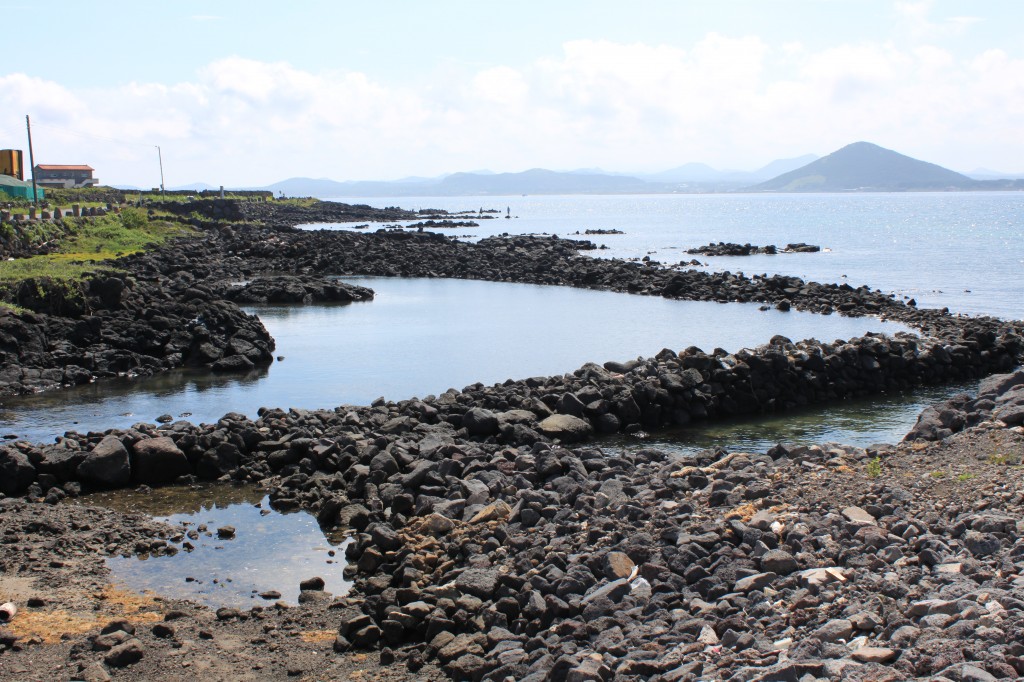 After some swimming and sunbathing, we hit the small strip of shops and restaurants along the beach in search of some of Udo's famous peanut ice cream. Peanuts are one of this agricultural island's main crops and are sold by the bagful. Even better, though, is having the peanuts blended through some vanilla softserve ice cream. Cold, creamy, and with a slight peanut taste- it was the perfect treat on a hot summer day.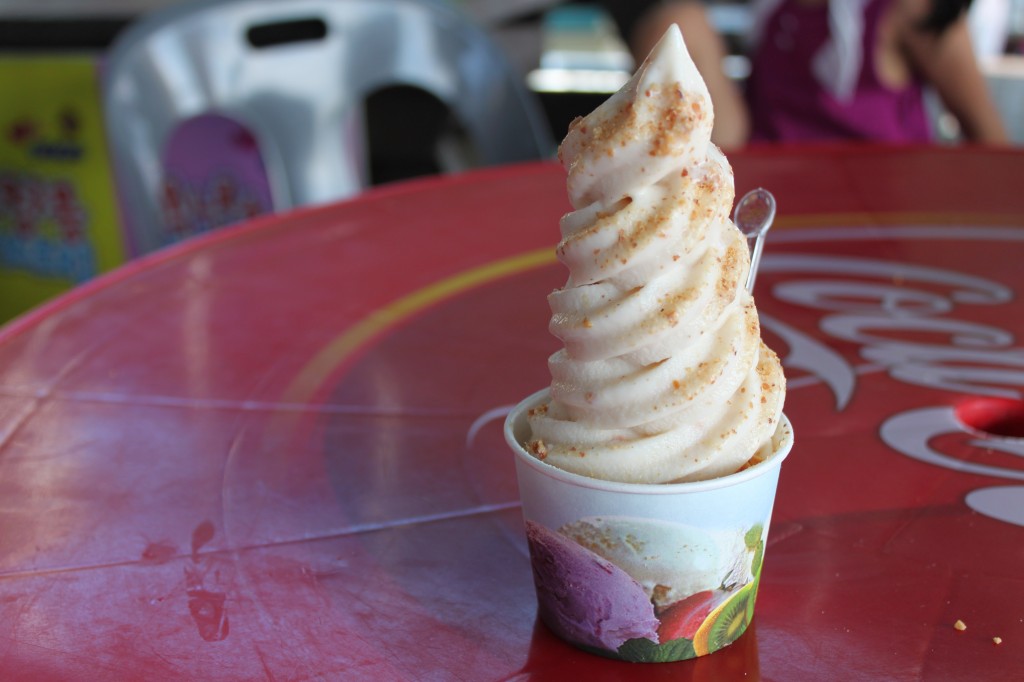 We continued our ride along the coast, passing horse farms and fields, and really starting to experience how peaceful this small, remote island can be. As we continued around the island Jeju disappeared from our view, and we were eventually looking out at nothing but glimmering, blue sea. One of my favorite sights.
With the time on our two hour bike rental winding down, we began pedaling as fast as we could, uphill and into the wind, back toward the port. We sweatily handed our bikes back and ran to catch the next ferry so we could make it back to the mainland with time to hike Seongsang Ilchubong before the sun set.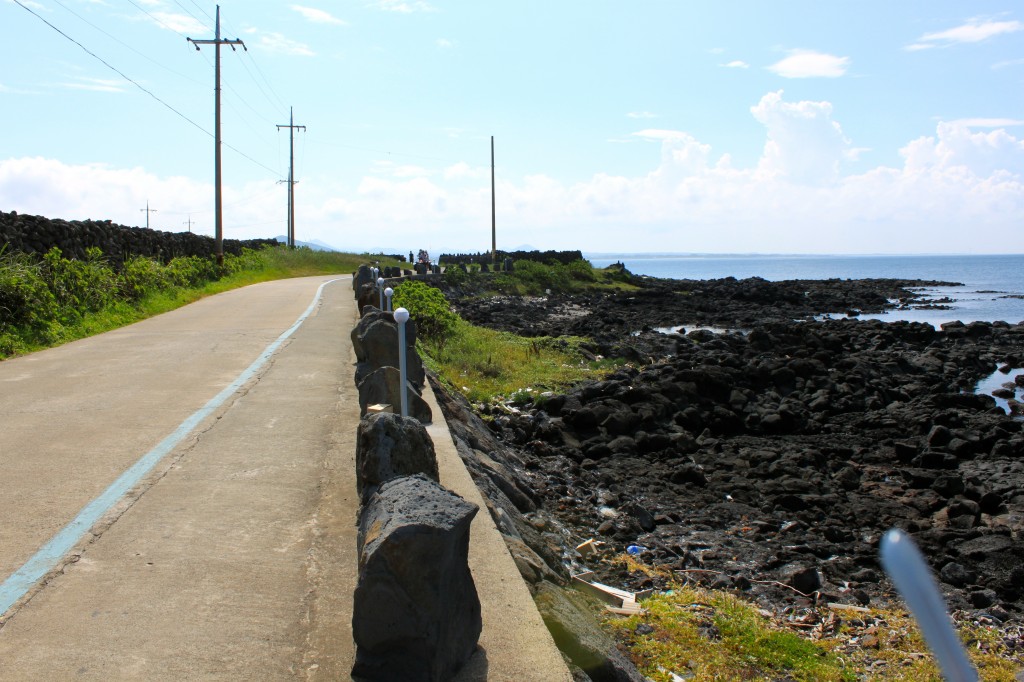 Udo Island is a superb place to spend a day away from the hordes of tourists on Jeju Island. This is small town Korea with a lot of character. And a beach.
If you haven't already, please 'Like' Farsickness on Facebook and stay up to date on all my travels and posts! Your support is greatly appreciated.