Seoraksan National Park, a nature reserve 163.6 sqaure kilometers in size and located in Korea's Gangwon Province, is known for its spectacular fall colors. Hikers from all over the country swarm to the park's many mountains with hopes of finding the place awash with red, orange, and yellow foliage.
This year I decided to be one of the thousands in search of fall colors at Seoraksan National Park. Actually, I decided this last year after my laziness got the best of me and I missed my chance. Because I'd waited nearly a year to see Seoraksan's fall colors in person, and I'm kind of obsessed with the changing seasons, I was extremely adamant about making sure I made it on the perfect weekend.
Of course, I didn't.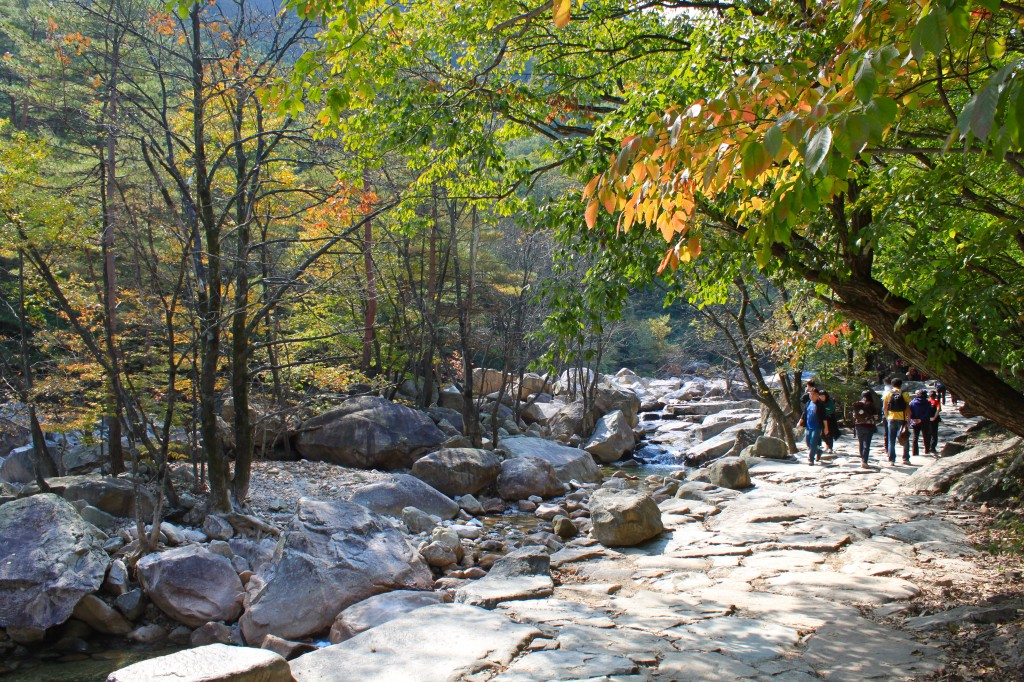 The people over at the Korean Meteorological Association were forecasting that the leaves would be at their peak over the weekend of October 19, meaning about 80% of the leaves would have changed by this time. I already had plans for that weekend, and wasn't too keen on battling the hugest of crowds, so I made plans to go the weekend before. The weekend they predicted would have 30-40% of the fall foliage ready.
Of course, they were wrong.
As soon as I woke up in Sokcho on Saturday morning, my dreams of a fiery autumnal paradise were crushed.
"The leaves haven't changed!" I called out to Tara as I peeked out the window.
"Calm down," she said. "It will still be pretty."
We made the short walk from the Seorak Morning Inn to the entrance to the park and paid the 2,000 won ($2) admission fee. I was still kind of peeved about the whole leaf issue, but the entrance to the park was enough to start impressing.
Seoraksan has a variety of hiking course options, ranging from a 16 hour hike to the tallest peak to a more reasonable cable car ride and 20 minute climb. Not wanting to over exert ourselves (I'm still scarred), Tara and I chose a couple hour hike, described by the Korean Tourism website as an "invigorating walk", to Biseondae Cliff. As we started to get higher, the colors started to change. It wasn't the completely red and orange forest I'd imagined, but Tara had been right, it was pretty.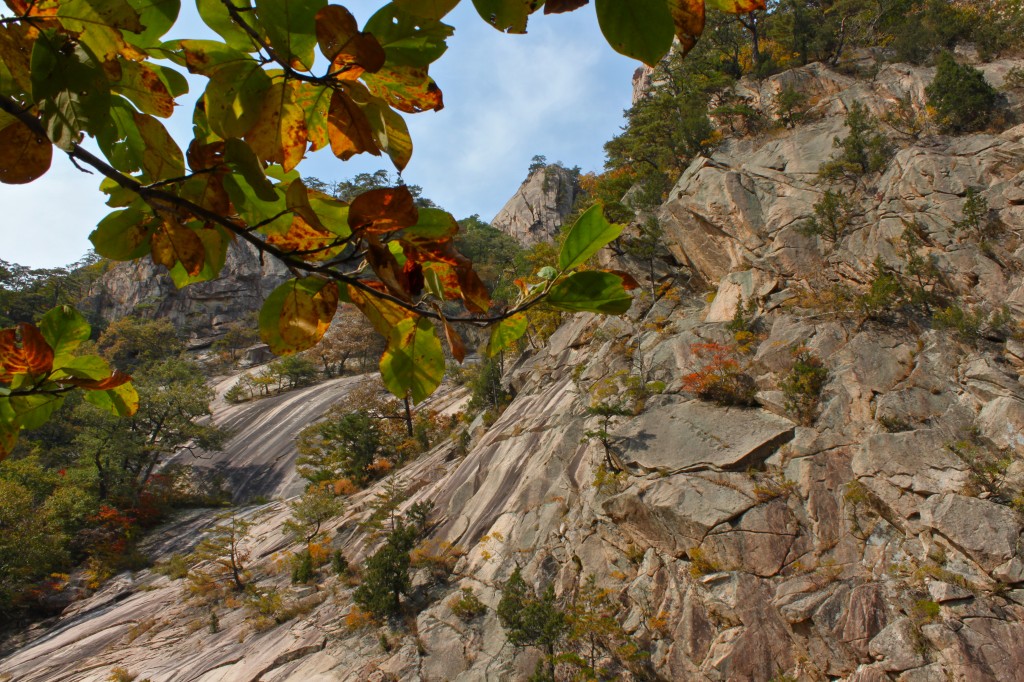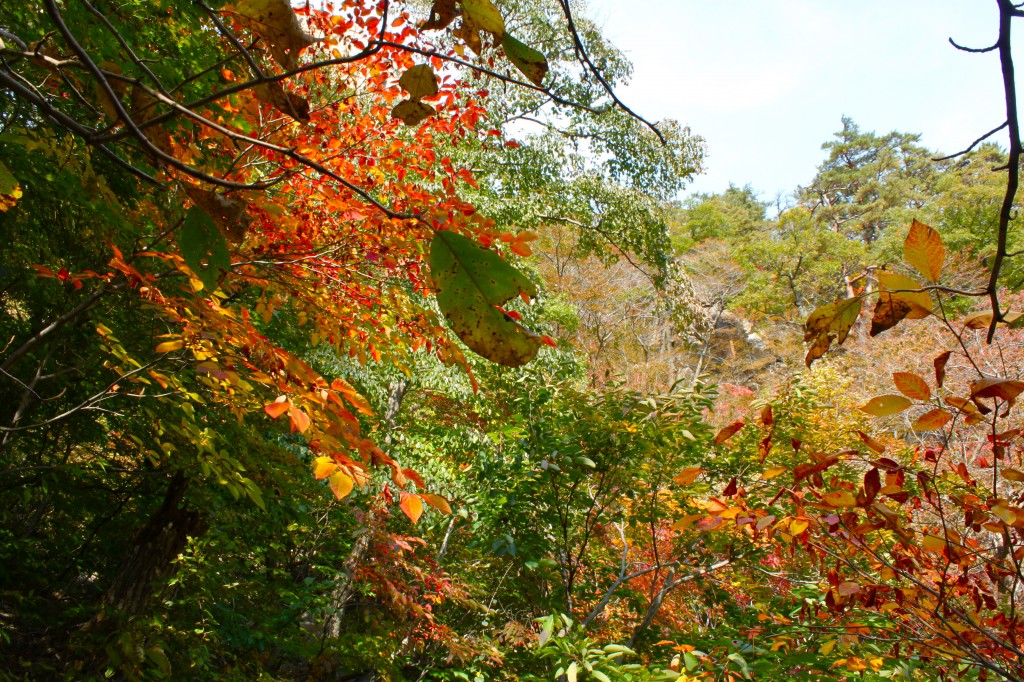 We made our way slowly toward the cliff, stopping occasionally to take photos. As an added benefit, the fact that we there on the peak weekend meant there weren't too many people. The hike was somewhat relaxing without having to to battle all the ajumma and ajeosshi!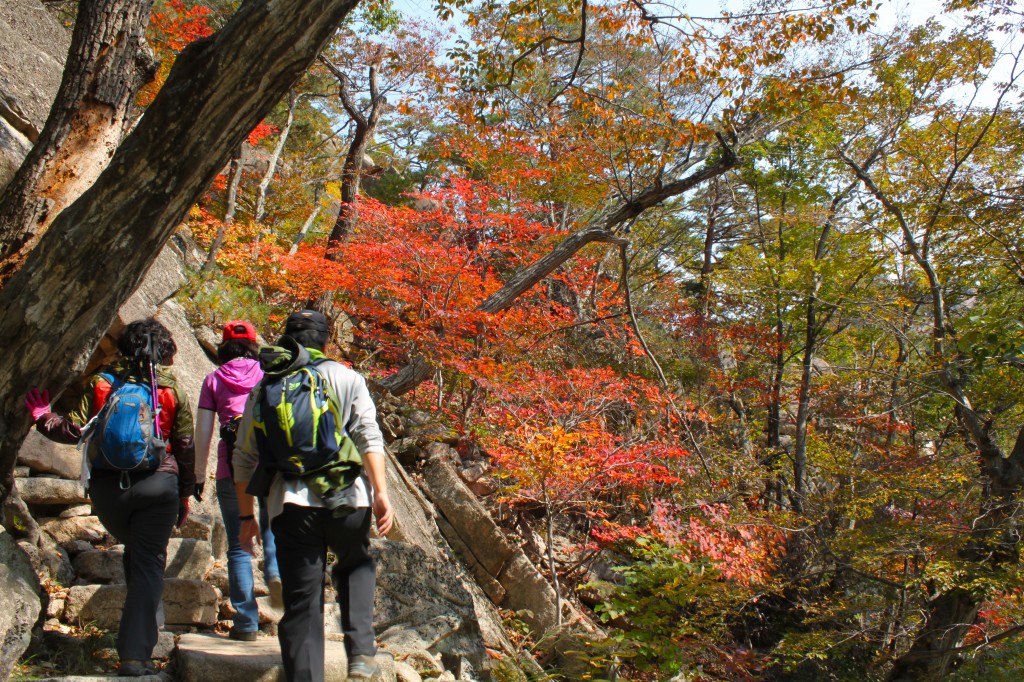 The view from the top of Biseondae Cliff was beautiful. It looked like we had hiked much higher than we actually had and much of the Taebaek Mountains were spread out before us.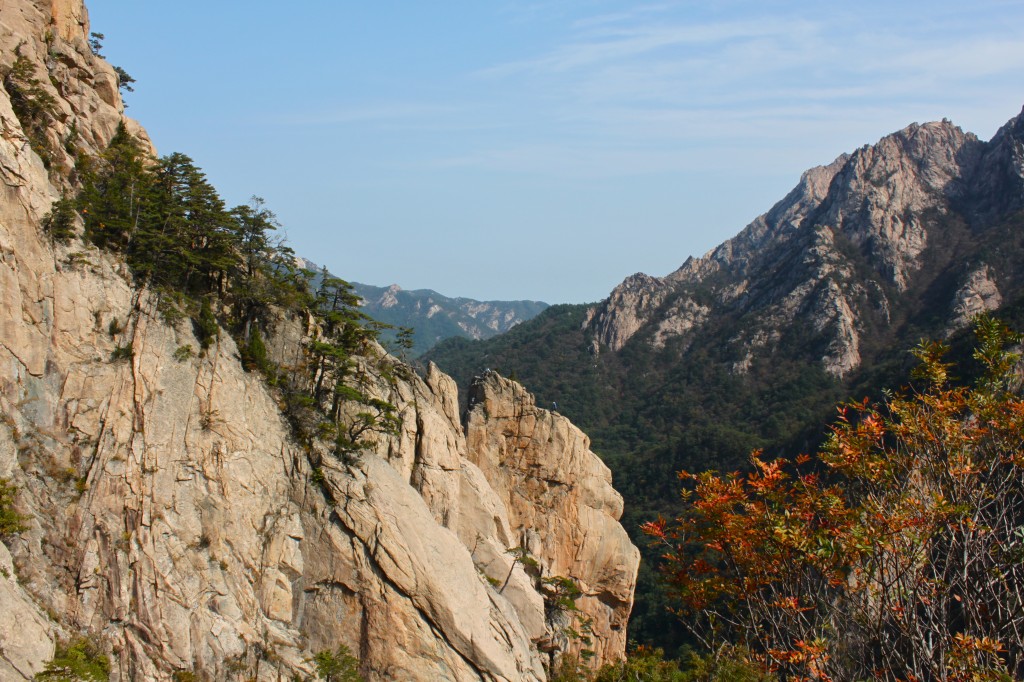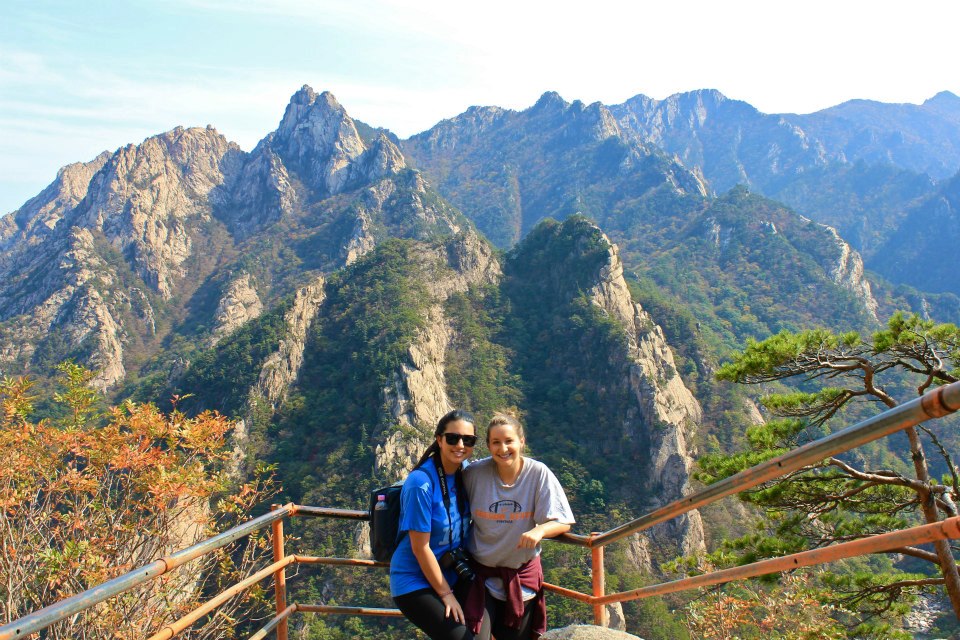 On our way down, we stopped for a traditional post-hike meal of makgeolli, a fermented rice alcohol, and pajeon, savory pancakes with seafood and green onion. The makeshift restaurant on the side of the mountain was full of hikers sitting in plastic chairs, some much more drunk than others.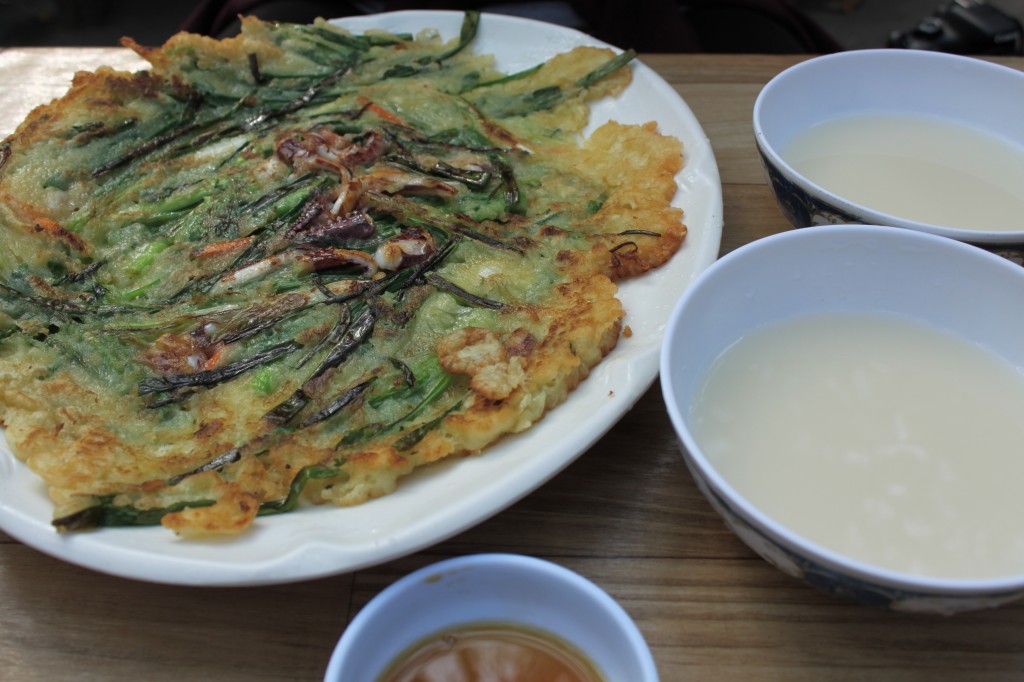 As it was only early afternoon we decided to stick around the park for a while. We bought a few beers and scoped out the perfect place to sit.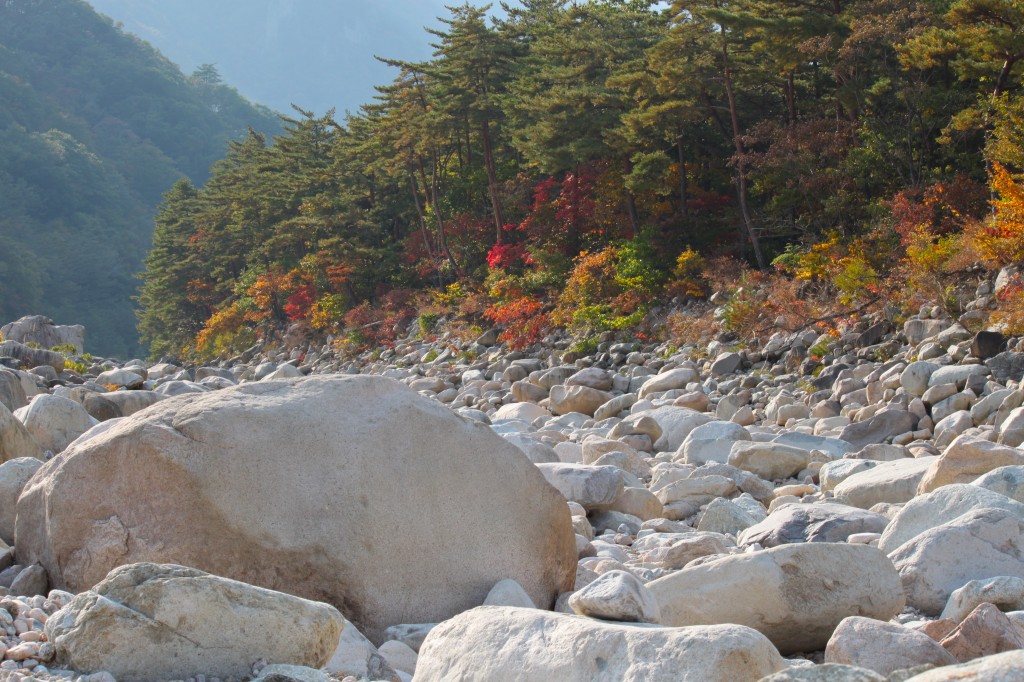 Walking alone the path toward the entrance, we found it- some large, flat rocks sitting in a river at the bottom of a valley. There weren't many people around, save for a family with a couple of nude children running around, and it felt magical. Tall mountains rose up around us and a few of the trees around the banks were the color of fire.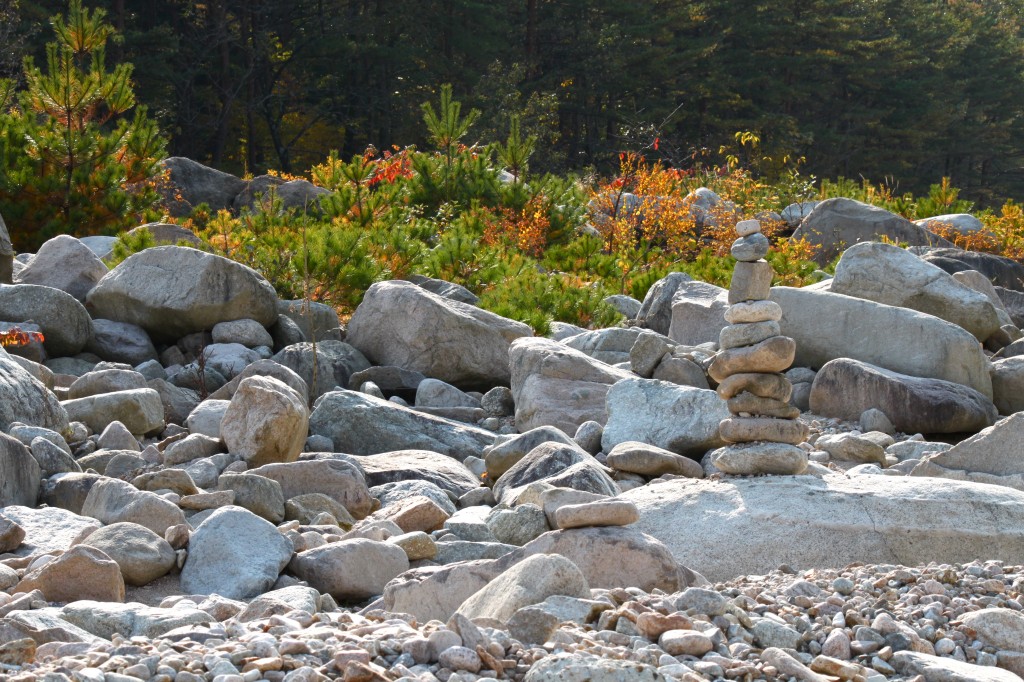 We pulled off our shoes and kicked back for a few hours, until it got too cold to sit outside, and admired the natural beauty around us. It was a moment where the natural beauty had me mesmerized, in a way that words aren't sufficient.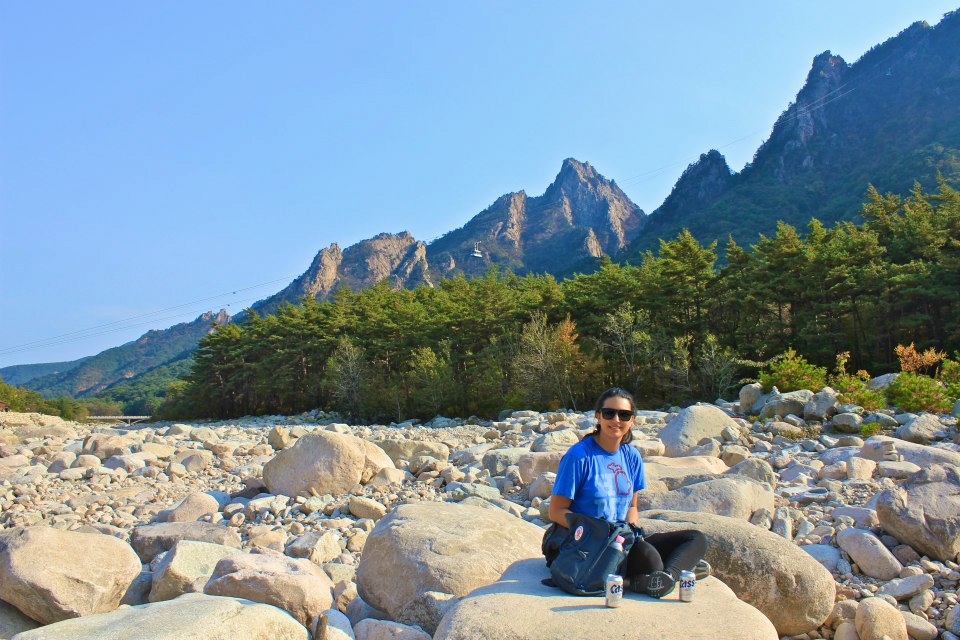 How to get there: From Seoul, you can take an express bus from either Express Bus Terminal in Gangnam or Dong Seoul Bus Terminal to Sokcho. The cost is between 16,000-18,000 one way, and will take about 2-2.5 hours provided you don't hit traffic. From Sokcho Bus Terminal, it is about a 20 minute city bus ride (bus 7 or 7-1) to the park. Get off at the final stop.
Where to stay: We stayed at the Seorak Morning Inn, one of few places with online booking in English. Rooms were basic, but clean. A double, ensuite room ran 40,000 won ($40) during the peak season, but are significantly cheaper other times. There are a few restaurants and convenience stores immediately outside the the hotel, and there were a few other young travelers staying there as well. The entrance to Seoraksan National Park is about a 20 minute walk, and there is also a bus.
Where's your favorite place to see the colors change? What photo of the fall foliage is your favorite?