Eating, Drinking, and Sleeping in Jeju City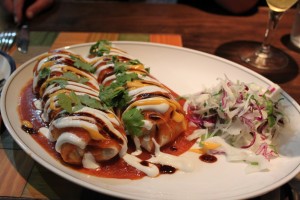 Jeju City is the perfect base for exploring the larger than expected Jeju Island. Its proximity to both the airport and ferry dock (about a 10-20 minutes drive to either) make coming and going easy. In addition, because it is the largest city is possible to find a bus route to just about anywhere on the island. This makes checking out different parts of the island, and not getting lost in the process, no problem at all. Jeju City has a wide variety of restaurants, both Korean and Western, along with a happening nightlife that make it the perfect playground once your done with your daytime adventures.
If you're deciding on where to stay in Jeju Island, I wholeheartedly recommend Jeju City. Take a look at some of my recommendations for Jeju City restaurants, bars, and hostels.
Eating
On our first afternoon on the island, Tara and I were flipping through the Lonely Planet trying to find some ways to spend a few hours in Jeju City. When I landed on the entry about Bagdad Cafe, an Indian restaurant near City Hall named after a movie, I was intrigued. Too much Masterchef Australia had me craving the cuisine, and after reading some spectacular reviews online, I was sold.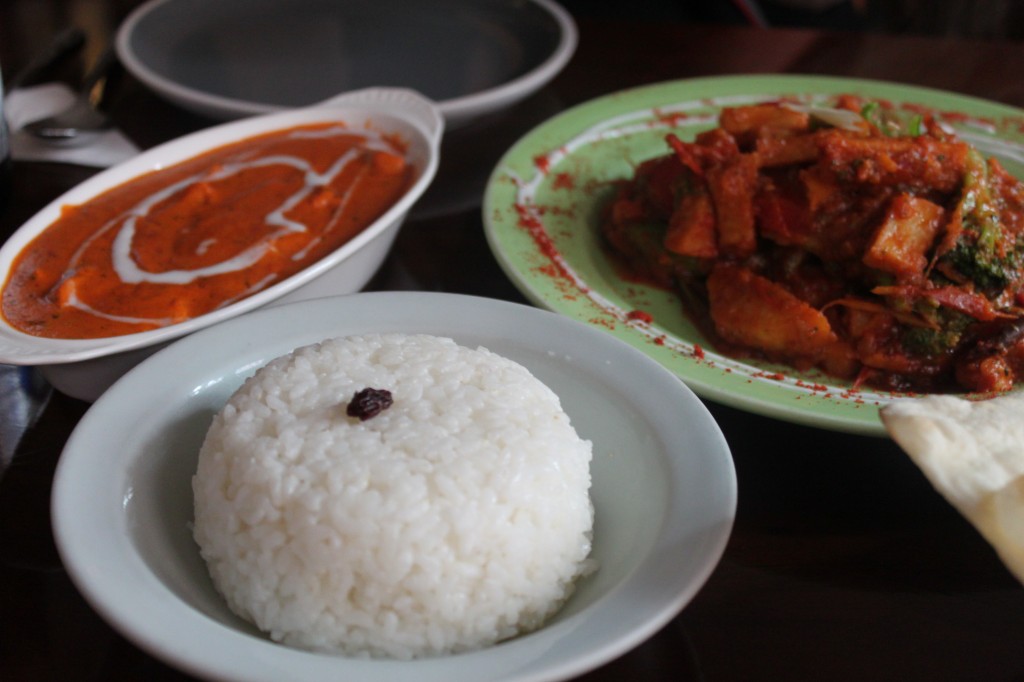 Bagdad Cafe lived up to the hype. The chicken in the curry was perfectly tender and the sauce perfectly spiced. The vegetarian dish we got (I wish I remembered the name) had potatoes and broccoli in a sort of spicy tomato sauce, and it was one of the best things I've ever eaten. I think I would go back to Jeju just to eat here again.
The next night we checked out Zapatas, a Mexican restaurant that had been billed one of the best in Korea. I was slightly disappointed when I opened the menu and saw that it looked extremely similar to the menu of Dos Tacos, a popular Mexican chain in Seoul. The food, though, was slightly better. The chicken enchiladas, which were actually more similar to burritos covered in sauce, were tasty. And they use fresh cilantro, which was enough to sell me.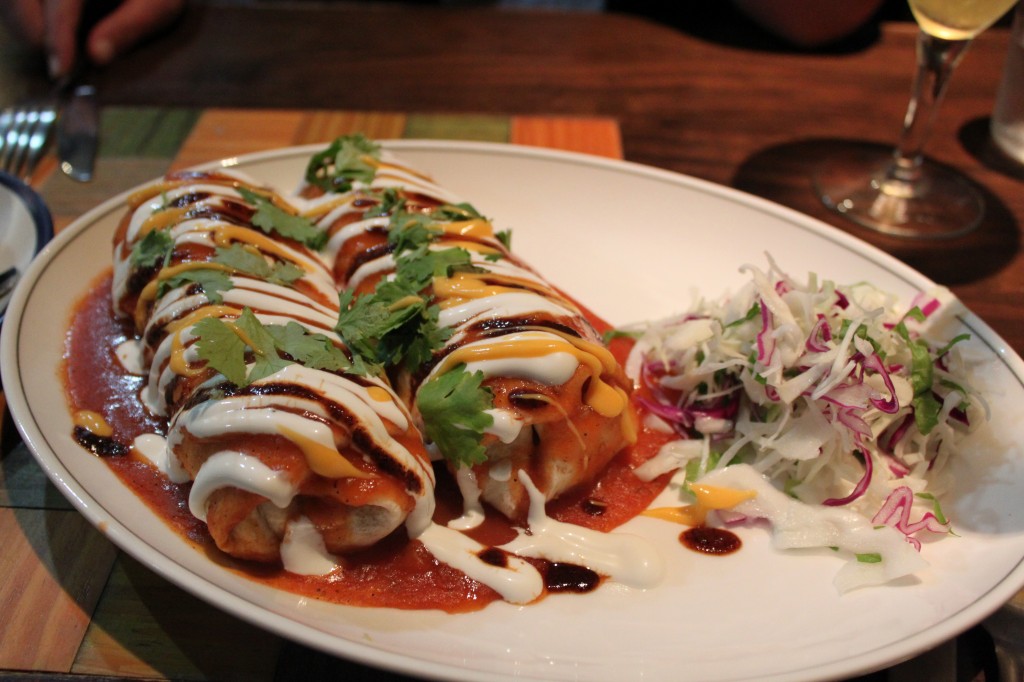 Drinking
The area around City Hall is the happening nightlife area in Jeju City. A couple blocks are filled with bars, hofs, and noraebangs of every style. It seemed like a mini Hongdae or Gangnam. We spent a few hours drinking pitchers of Cass and playing darts at something that was billed as an "Irish Darts Bar", whatever that may be and then also hit up what happened to be a popular expat hangout for 5,000 won Long Islands. Take a walk around, and stop in just about any place for a good time on a weekend night.
For a really good time, try a luxury noraebang. We were unable to find a regular noraebang (노래방) so instead headed into a place whose name translated into something along the lines of 'song practicing room'. We were pleasantly surprised to find out that this meant they served draft beer! And delicious chicken. And the room only cost 10,000 won for 2 hours. Perfect for groups. Or two people who like to drink and sing. Like us.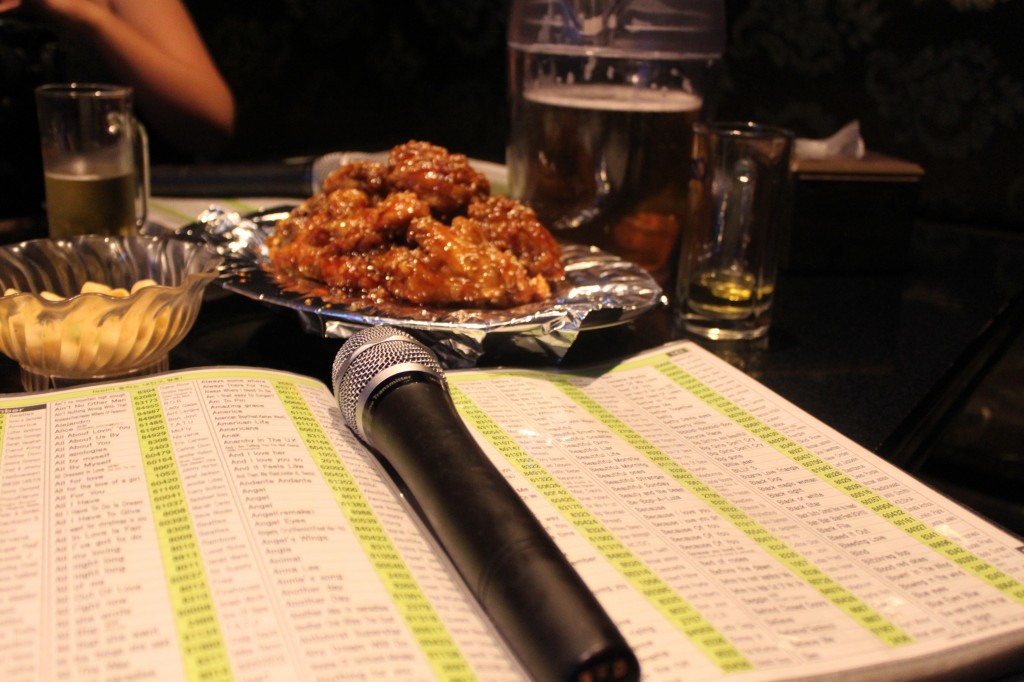 Jeju City also happened to be a place where another one of my Korea dreams came true. I've always wanted to visit a sticker shop, a store where you take photos in a photo booth dressed in costumes and then decorate them, and after a few drinks I forced Tara in with me. These are popular around Korea (and Japan) and taking these silly photos and decorating them turned out to be one of the most fun things I've done in a while.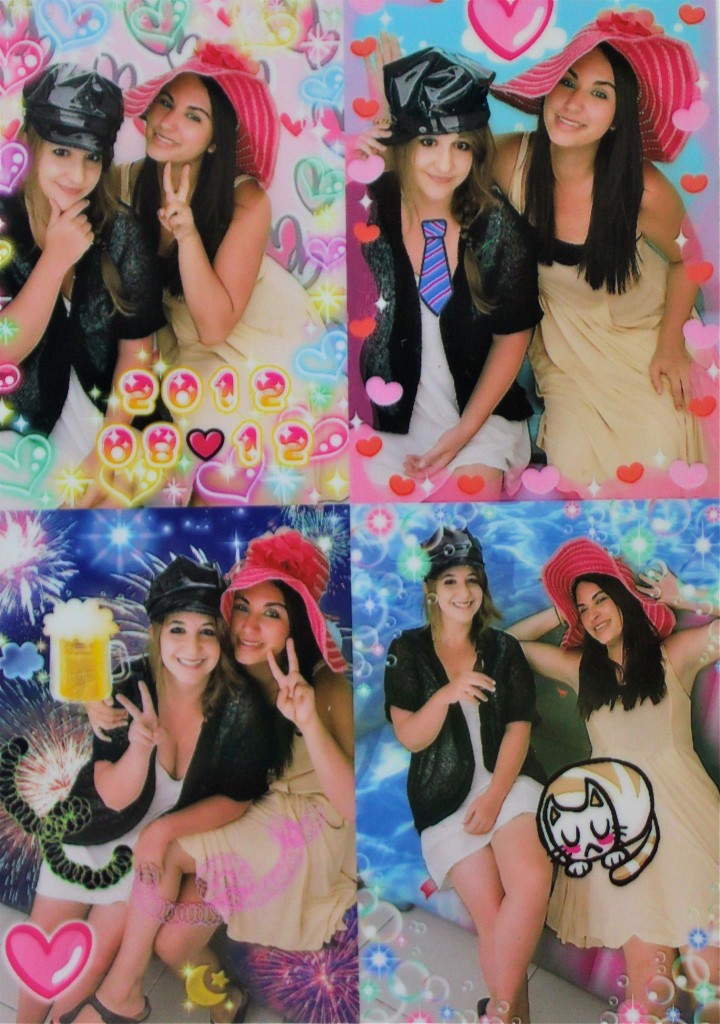 Sleeping
We stayed a total of four nights in Jeju City, but because our original hostel reservation got messed up, we had to stay in two different places. The first place we stayed, Backpackers in Jeju, was located right in the middle of the City Hall action, nearby bars, restaurants, and the main bus terminal. We stayed in a private double room which was clean and had a comfortable bed. The hostel isn't the most social, and sometimes it was hard to find a staff member to answer questions, but the location more than made up for that.
Halfway through the trip we moved to the HKJeju hostel and things started to go downhill. The location, closer to the airport and shore, wasn't as great and was almost desolate at night. This place was also the first hostel I've ever stayed in that required guests to supply their own toilet paper! I will say, though, that the employees were very helpful and the place was clean. For about $15 a night in Korea, it wasn't the worst.
Overall, Jeju City is a great base for a trip to Jeju Island, with fabulous restaurants, a lot of variety, and easy access to everything Jeju has to offer.
Have you been to Jeju City? What did you think? What recommendations do you have?
If you haven't already, please 'Like' Farsickness on Facebook and stay up to date on all my travels and posts! Your support is greatly appreciated.