A Day of Rest in Pohang
During my summer vacation around Korea I realized why so many people are proponents of slow travel. In my earlier (or as much as it pains me to say this, younger) days I had no problem bouncing around. A new city every few days, no time for rest, a flight every weekend. Throw in some drinking and very little sleep, and I was still fine. Not even just fine, I thrived. Now, things have changed. After a bus ride, ferry ride, 2 days filled with sightseeing and unintentional missteps in Ulleungdo, and another ferry ride, Tara and I were absolutely exhausted. When we arrived back on the mainland we had one thing in mind: a day of rest. Tara and I decided to leave Ulleungdo a day earlier than planned. Although we really enjoyed our time there and found the island gorgeous, we'd finished everything we'd wanted to do. Changing our tickets was fairly simple (thanks to a man in line who spoke English) and we were soon crossing the East Sea again, this time to Pohang. The ferry to and from Pohang was a lot, um, less nice than the one to and from Mukho. The first ferry had a Dunkin Donuts on board, was clean with a huge window at the front, and showed the Olympics on screens around the ship. This ferry had…bugs. There weren't any windows and the TVs looked like they were from an era before satellite reception. Instead of being disappointed we cracked open a few beers (drinking on board is not prohibited, they just prefer if you don't get too loud or out of control, according to the pre-departure security demonstration), watched Departures on my laptop, and were pleasantly surprised when the ship docked over an hour early.
We walked to the nearby Manstar Motel and booked ourselves a room for two nights. The motel is in a great location, steps from Bukbu Beach, and the rooms are cheap, but, on the downside, the bed was rock hard and the pillow felt like someone had shoved a bunch of pebbles into a sack and sealed it tightly, leaving them no room to move. For the price and location,though, it was a perfect place to stay in Pohang for a couple of nights.
When we woke up the next morning we had plans to check out a beach outside of town. Those plans were soon abandoned in favor of McDonalds breakfast and a Masterchef Australia marathon. A lazy day inside was just what I needed. In addition to lounging, it also allowed me to catch up on some blogging and social media sites.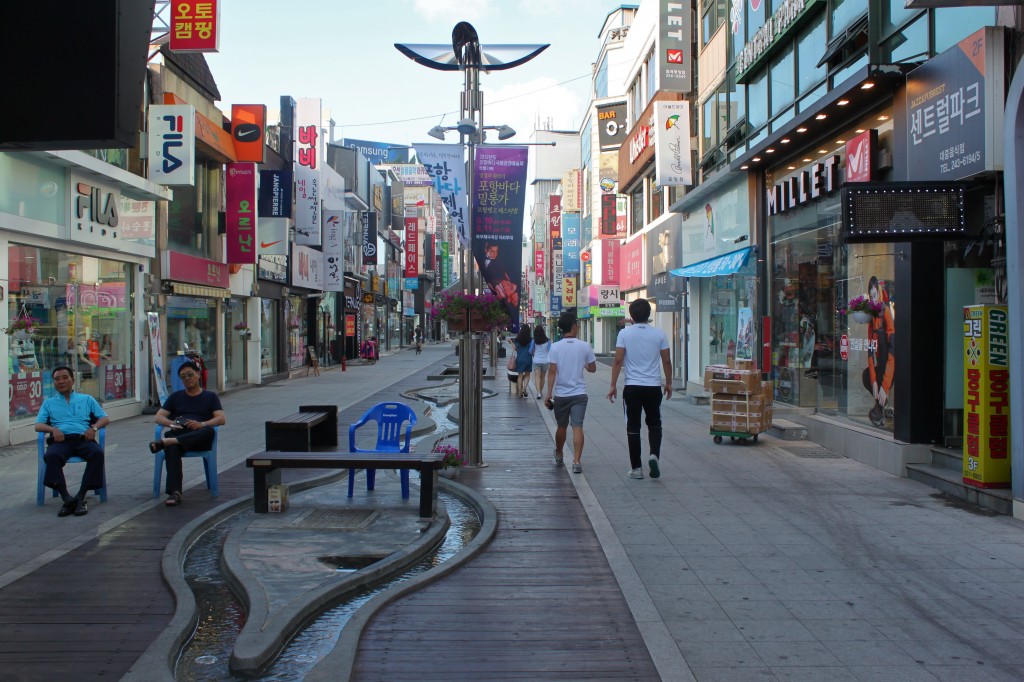 Tara and I finally got it together in the afternoon and went to check out Pohang's downtown. The main downtown area, a lovely pedestrian street, lies between yukgeori (6 way intersection) and ogeori (5 way intersection) with the post office in the middle. I was immediately impressed with the cute street which was lined with shops, bars, and restaurants and had a stream and wooden walkway running up the middle.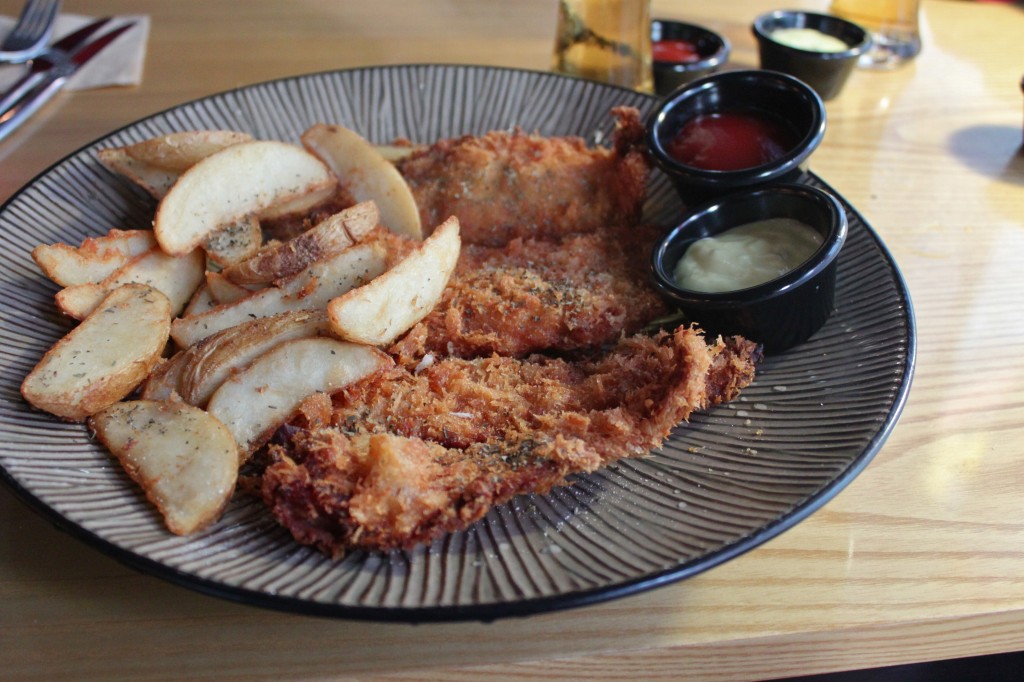 We went over to Portobello's for their happy hour where we enjoyed buy one, get one free beers. The owner of Portobello's lived in England for a while and they have a small menu of pub grub mostly inspired by that country. We each ordered a platter of fish and chips. When the waitress came out carrying two gigantic plates piled high with a mountain of fries and four large fish fillets we knew we'd underestimated the size. Though it wasn't the typical, or traditional, fish and chip batter, the food was tasty and the atmosphere was nice.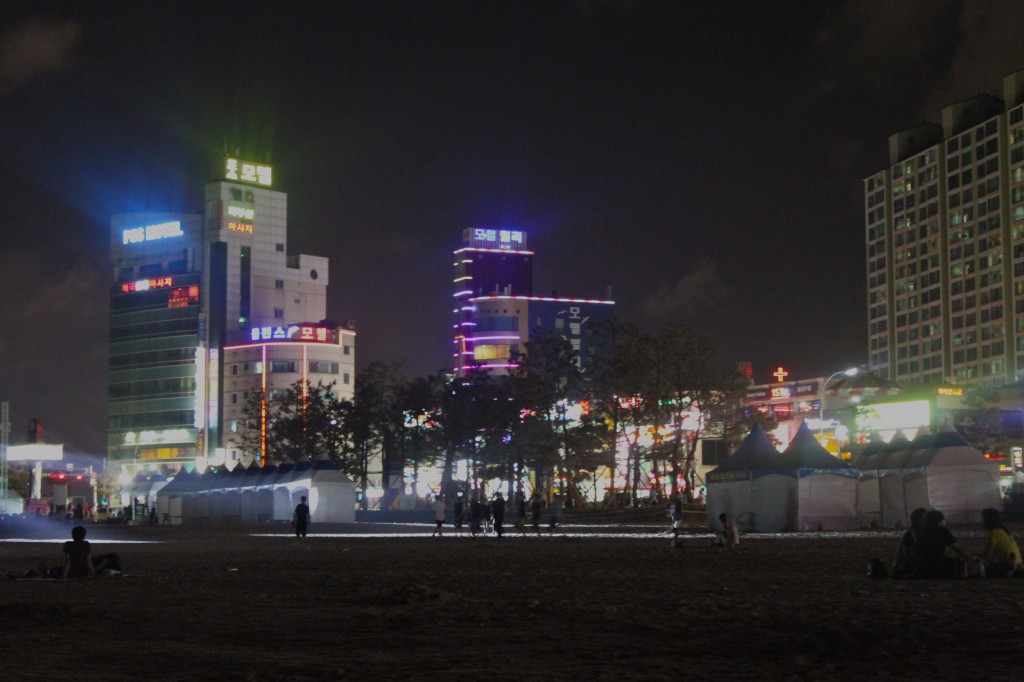 After dinner and a few beers we went back to Bukbu Beach to hang out and check out POSCO's lights. POSCO is Korea's largest steel producer, one of the largest in the world, and has a large plant right on the water. The multicolored lights on the plant reflect off the water and make it seem like you are at a carnival, not staring off into the polluted waters of a factory.
We snapped a few photos and went back to our room feeling well rested and ready for our two day journey to Jeju.
Do you like slow travel? What do you enjoy doing on rest days while you're on the road?
If you haven't already, please 'Like' Farsickness on Facebook and stay up to date on all my travels and posts! Your support is greatly appreciated.