Thailand: The Greatest Hits
Remember that time I spent four months in Southeast Asia and never really blogged about it?
Yeah, me too.
I'd meant to start writing about it when I got home. And then I got distracted. And then so much time had passed and I started doing other things, that all the posts I wanted to write about this little adventure seemed like too big of a pile to tackle. So I ignored it.
Then I read Edna's recent post about how she was inspired by another blogger to just get it out there to remember it. I felt inspired. I don't need to write 30 posts about those 3 months recalling every minute detail. Instead I am going to focus on each country I visited after I stopped blogging and write about the best things that happened there- the greatest hits, if you will.
After the Philippines, Singapore, and Malaysia, I spent about a month total in Thailand, traveling from Krabi in the south to Pai in the north, with a two week break for a trip to Burma in between. Thailand was a country that I had a lot of expectations for, and while it didn't always hit its mark, I still enjoyed my time in The Land of Smiles.
What were my favorite parts of Thailand?
The food
I love curry. Any type of curry really, but especially Thai curry. This is mostly because I think coconut milk is one of two nectars of the gods (the other being sweetened condensed milk, if you're curious) and it plays a starring roll in the curries of this country. Needless to say when we got to Thailand I was pretty excited to eat.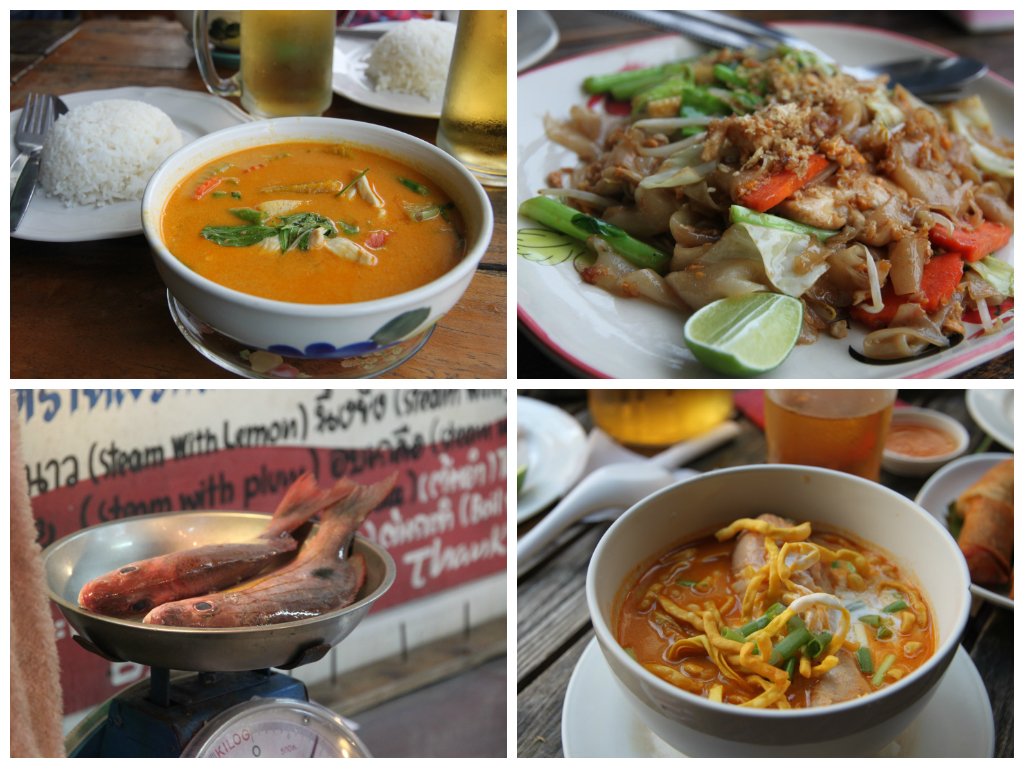 My first meal was a massaman curry and over the next month I ate a fairly consistant rotation of that, pad see ew, pad thai, green curry, and penang curry. In Chiang Mai I put down my fair share of khao soi, a type of chicken curry served with noodles that is popular in the north. And just about everywhere there were spring rolls. Lots and lots of spring rolls.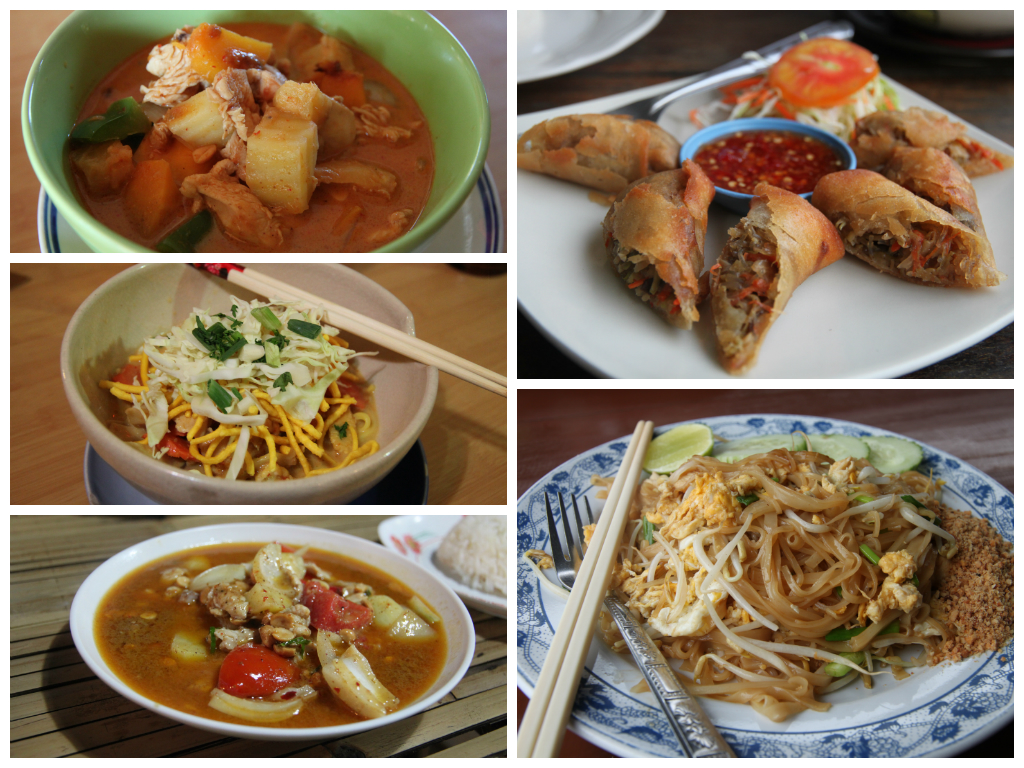 It wasn't just traditional Thai food that stole my food loving heart. Every night on Koh Lanta Tara and I would go to the same seafood place, a rather large building on stilts located on the estuary. We'd pick out our fresh seafood (red snapper, prawns, lobster, clams- we weren't too picky) and let the chef choose what sort of sauce to cook it in and then we'd marvel at the freshness and how cheap it was.
When I ate my last meal in Pai before taking a minibus to the Laos border, I think I shed a small tear.
Celebrating Songkran on Koh Phangan
Sometimes when you travel you end up in places at exactly the right time. This was the case with Koh Phangan. Our visit to this island would not coincide with its famous Full Moon Party, but it did happen to overlap with the celebration of Songkran, the Thai New Year. The festival, which lasts from April 13-15, is basically a huge water fight in the streets. The most famous celebration happens in Chiang Mai, but Koh Phangan was a pretty fun place to celebrate.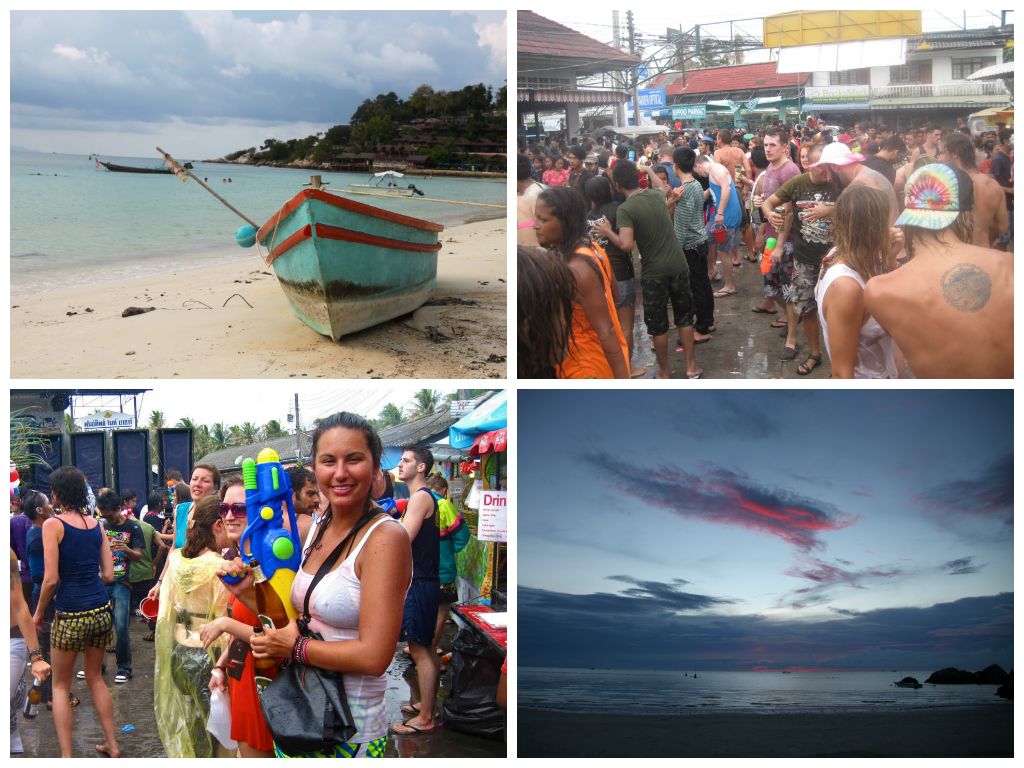 Our hostel was located outside of town, on a small beach, and they organized a day of partying for us. We started off with beers, water balloons, and super soaker fights at the hostel pool and then they drove us to town in the back of pickup trucks to join in on the fun with everyone else. We stopped along the way to get buckets of water dumped over us and menthol powder thrown in our faces by locals. It was my third new year celebration of 2013 and by far the most fun.
Late nights on Khao San Road
A lot of people on the Internet have a lot of bad things to say about this Bangkok backpacker's mecca. I was expecting the dregs of society. I was expecting to hate it. I was expecting to go there once, see what it was about, and never go back again.This wasn't the case.
I actually ended up liking Khao San Road. A lot. Maybe this speaks to my dodgy character, but while there was a handful of douchebaggery, I didn't find it unavoidable. Or worse than any other place on the banana pancake trail. There was cheap beer, a plethora of cute and funny tank tops to buy, tasty street food, and first class people watching opportunities- what more could you want for a night out?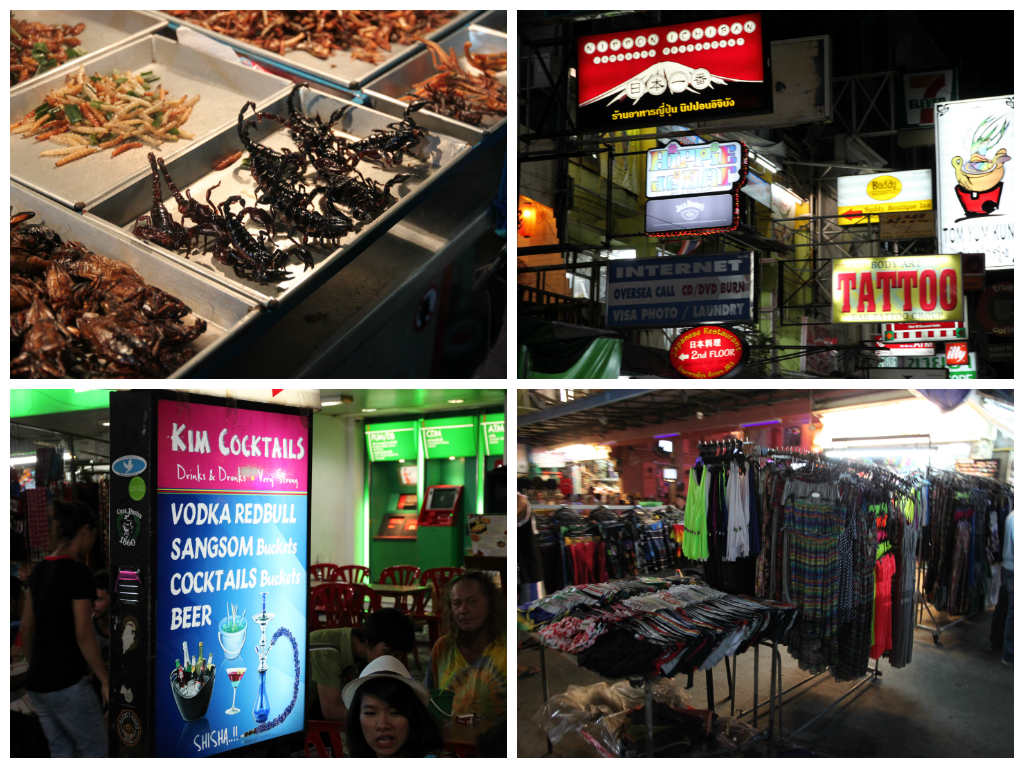 And where else but Khao San Road could you drink a bunch of cheap Changs, eat some medium sized crickets, and have to pay a woman $10 so she doesn't call the cops after accidentally knocking an ashtray off a table with my camera all in one night?
Exploring Kanchanaburi 
Because the Burmese embassy was closed for a week due to Songkran, Tara and I had a few extra days to spend in Bangkok before we could leave the country. Instead of sticking around a city that we both weren't too keen on, we decided to spent a couple days in Kanchanaburi, a small town about 2 hours north of Bangkok that is home to the famous bridge over the River Kwai.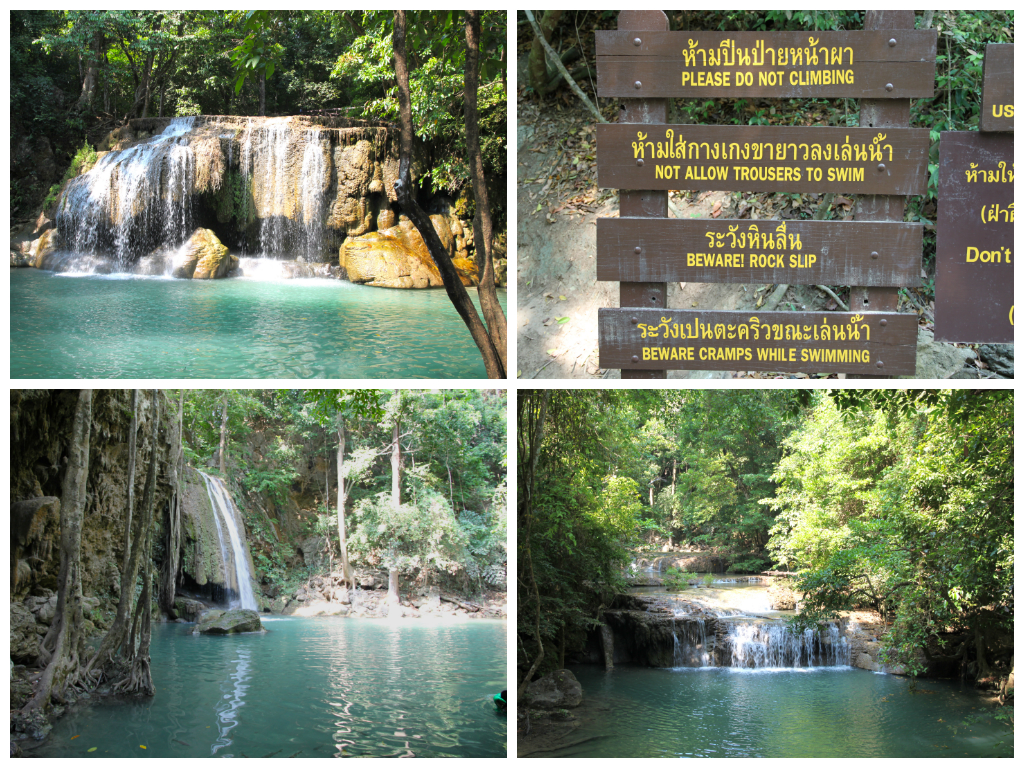 We took a trip out to Erawan Falls, a seven layer waterfall inside a national park outside of town. We went early, before the weekend rush started, and most of the turquoise poos were nearly empty. Tara and I hiked up all seven layers and enjoyed the serenity and beauty of it all. I unfortunately couldn't swim because of the unhealed motorbike crash wounds on my foot, but plenty of people partook and it looked fun.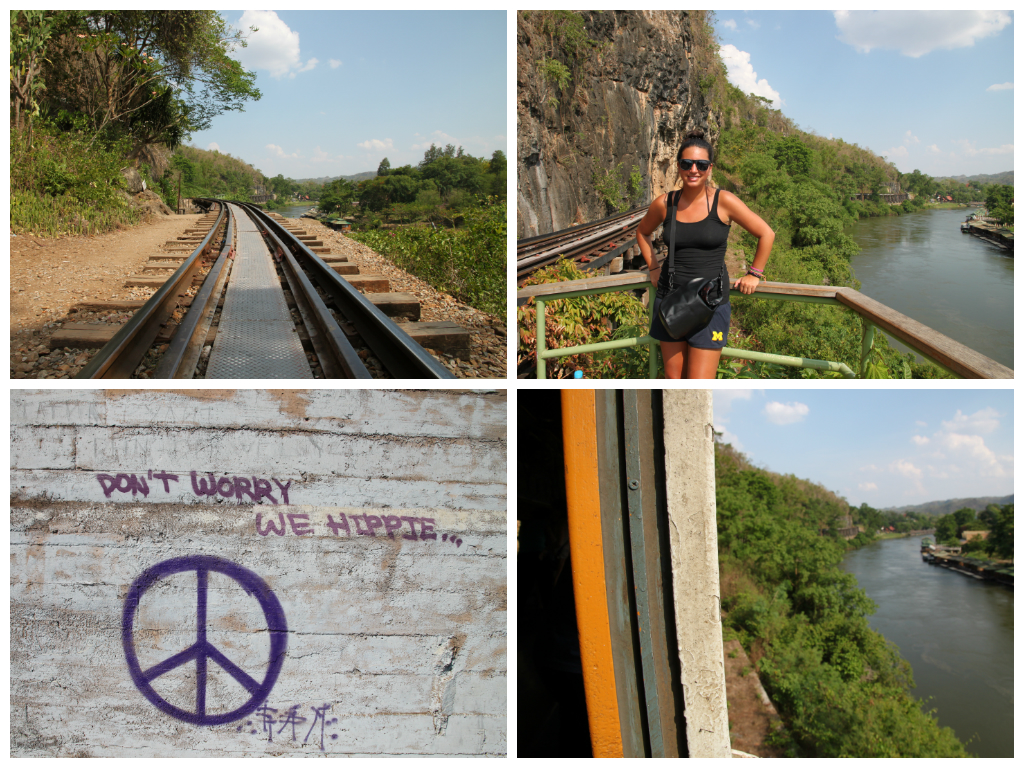 After the falls, we explored some of the history of the area with a ride on the Death Railway. Built during WWII for Japanese forces, this 415 km railway stretched from Bangkok to Yangon in Burma and earned its moniker because of the 90,000 forced Asian laborers and 12,000 Allied POWs who died during its construction. Part of the line is still in use today and we rode a few kilometers through the beautiful countryside, a stark contrast to what must have been harrowing place.
Taking a cooking class at Smart Cook Thai Cookery School
With my love of Thai cuisine, there was no question if I would be taking a cooking class in this country. Almost immediately after our night train pulled into Chiang Mai, the cooking class capital of Thailand, I was researching the best options. As Smart Cook Thai Cookery School offered the option of cooking on a farm outside of the city and allowed each student to choose the five dishes they wanted to cook, we quickly made a booking for a class there the next day.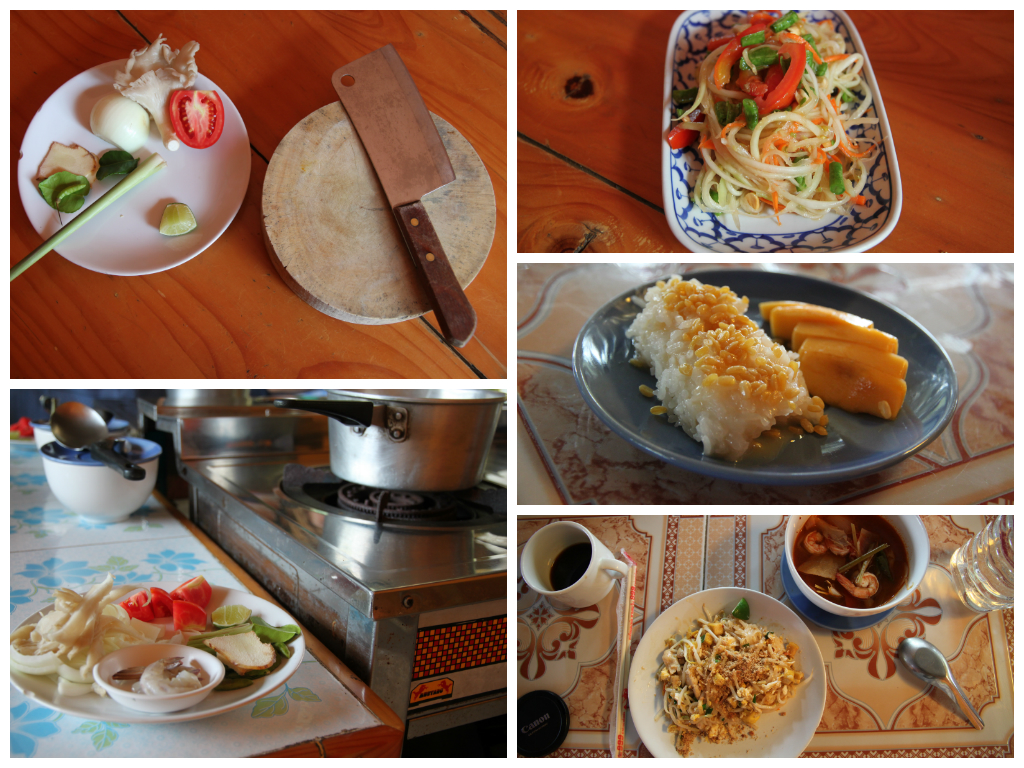 The class began with a tour of a market in Chiang Mai where we learned about the ingredients that are integral to Thai cooking. We then took a train to the countryside and a short bike ride to the organic farm where we began our cooking lesson.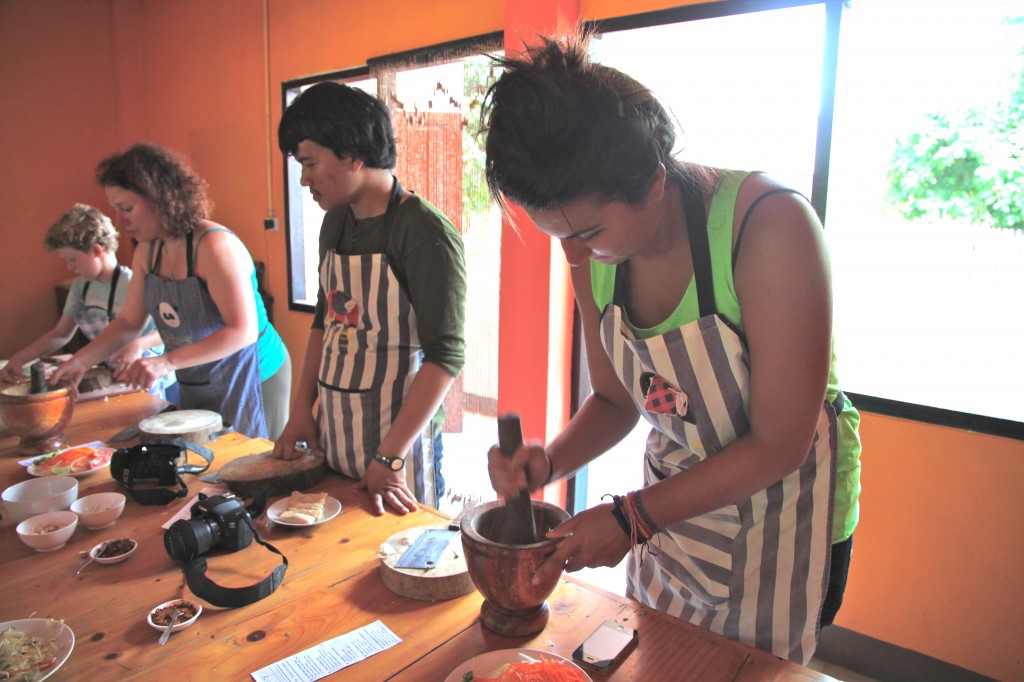 Our instructor was really funny and great at explaining the steps to making the different dishes. The whole course was very hands on, we each had our own individual works stations, and I felt like I got a good grasp on Thai cooking. I even made one of the curries for my family when I got home and they loved it!
After eating my tom yam soup, pad thai, penang curry, papaya salad and mango sticky rice I practically had to be rolled back to Chiang Mai.
Visiting Elephant Nature Park
I am obsessed with elephants and had been looking forward to my visit to Elephant Nature Park since I began planning my Southeast Asian adventure in 2011. Elephant Nature Park, located in Chiang Mai province, is different than a lot of other elephant tourism places in that it is first and foremost a safe place for these gentle giants. Visitors are not allowed to ride the elephants, and ENP takes great care in being a sanctuary for these rescued elephants.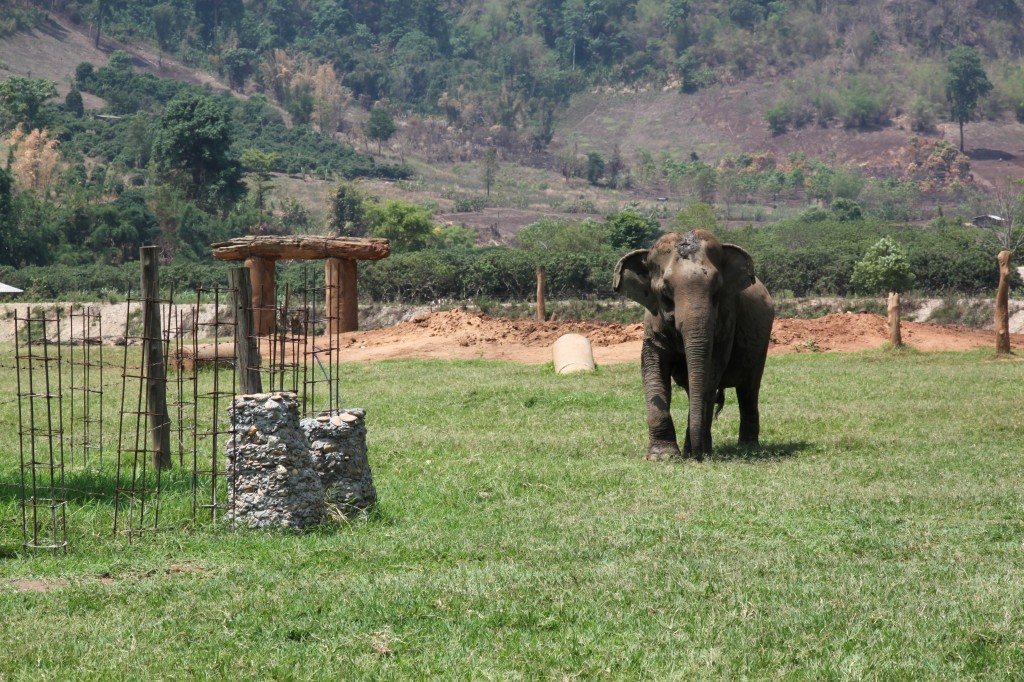 ENP is very popular with tourists. This is a good thing as it means the park has more money to spend caring for abused and abandones elephants around Southeast Asia, but it also means that your visit can sometimes feel as though you are at Elephant Disney World. That's not to say I didn't enjoy my time there. I loved it, but it be aware that you will be on of 100s of people visiting on any given day.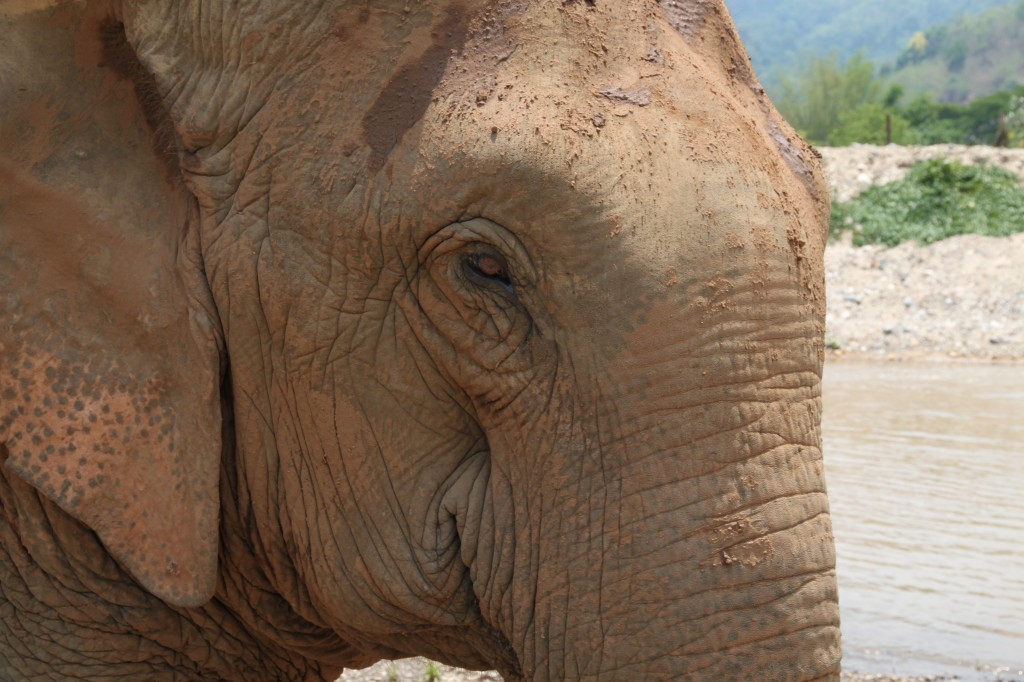 Throughout the day we got to spend a lot of time up close and personal with the elephants. ENP lets the animals roam throughout their land and elephants would slowly creep up on us wanting to be fed the watermelons and bananas that we were carrying around in buckets. After a delicious vegetarian lunch buffet, we jumped into the river to help bathe the animals, and watched with delight as they rolled their huge bodies around in the river bed and sprayed each other with their trunks.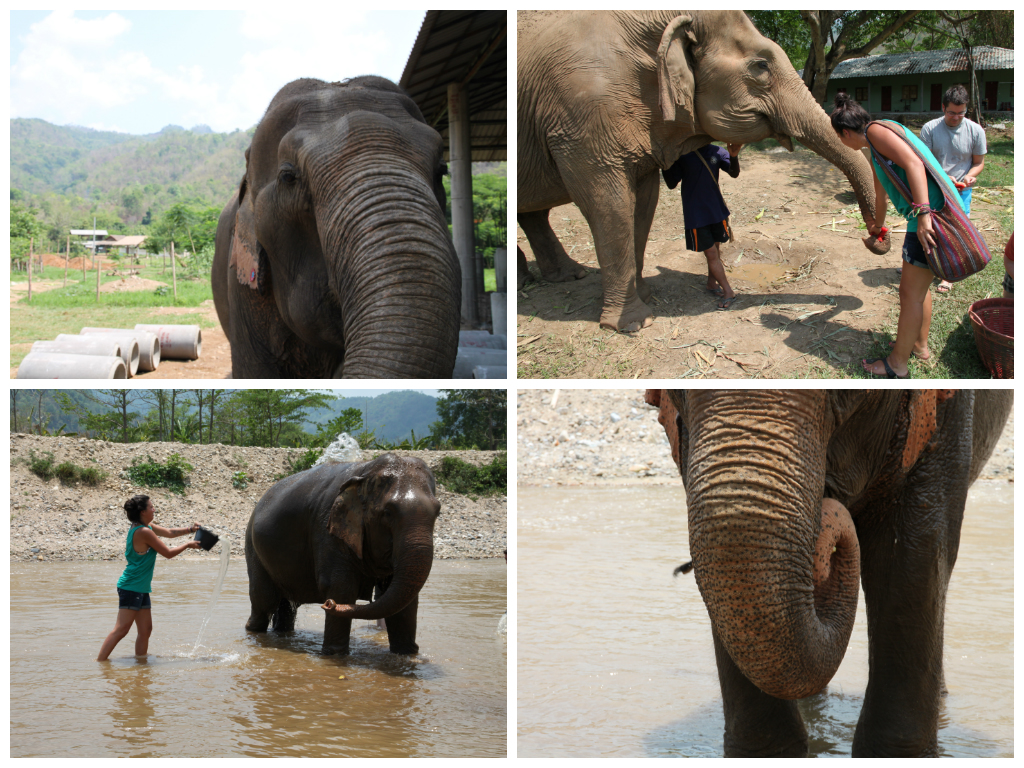 I had a permanent grin the entire day but the highlight for me was getting to see the 1 month old baby, Dok Mai. His furry little head and mischievous grin (yes, elephants can have mischievous grins) had me contemplating ways to get a job as a mahout so I could become his best friend.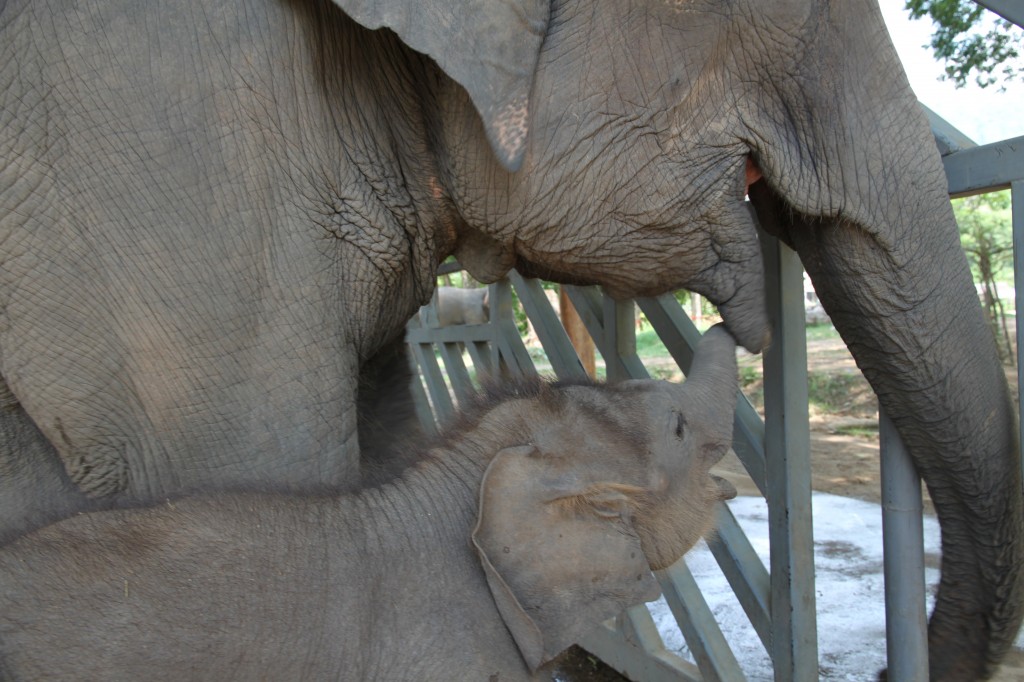 Pai
The entirety of this small town in Mae Hong Son province was a highlight, not only of Thailand, but of the entire trip. I've made it no secret that long term travel was somewhat difficult for me, but Pai was one of those places where I felt like I could do this forever. Which probably had a lot to do with the fact that I didn't do much of anything there.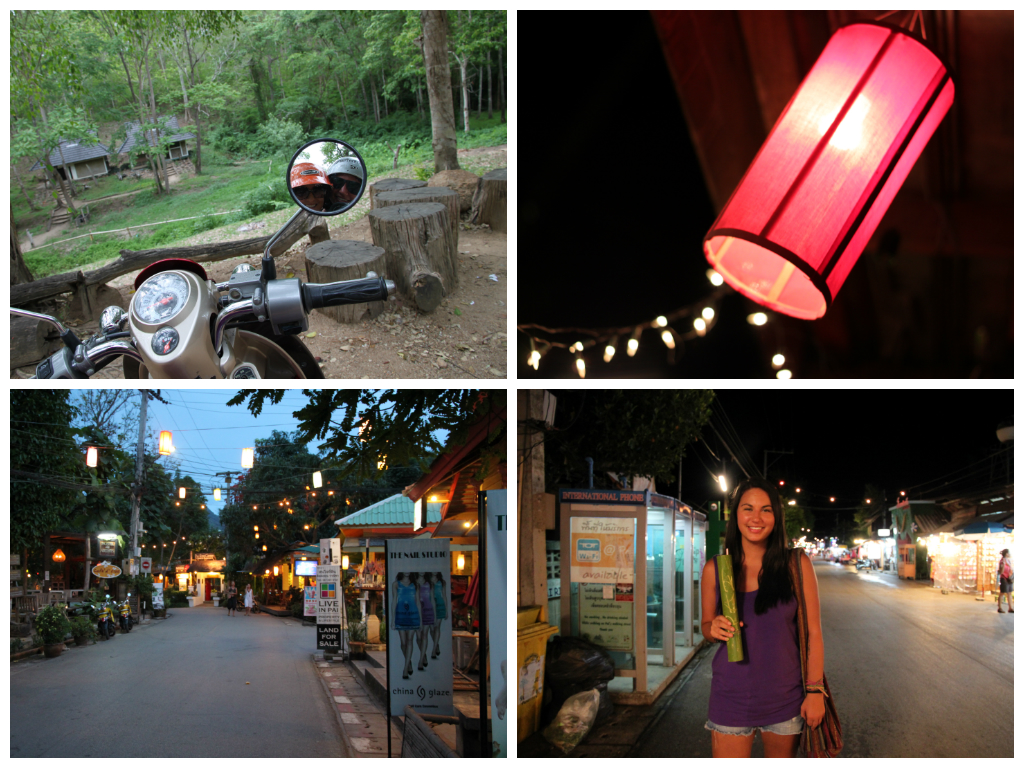 Tara and I took a motorbike out to Pai Canyon and the hot springs. We laid around and caught up on TV shows in the cute, clean, modern bungalow we snagged for really cheap. I applied for student loans. We ate a lot- Thai, some of the best pizza and (homemade!) pasta that I've had outside of Italy, American style breakfasts, organic sandwiches, banoffee pie, and a variety of treats from the night market. I got some freelance work done. We drank buckets of caipirinha and sat around listening to live music.
We came for 2 days and stayed for 4. It was easy to see why Pai has such a good reputation among backpackers. Sure, it's not authentic Thailand and there isn't really much to see, but it's the perfect place to just be.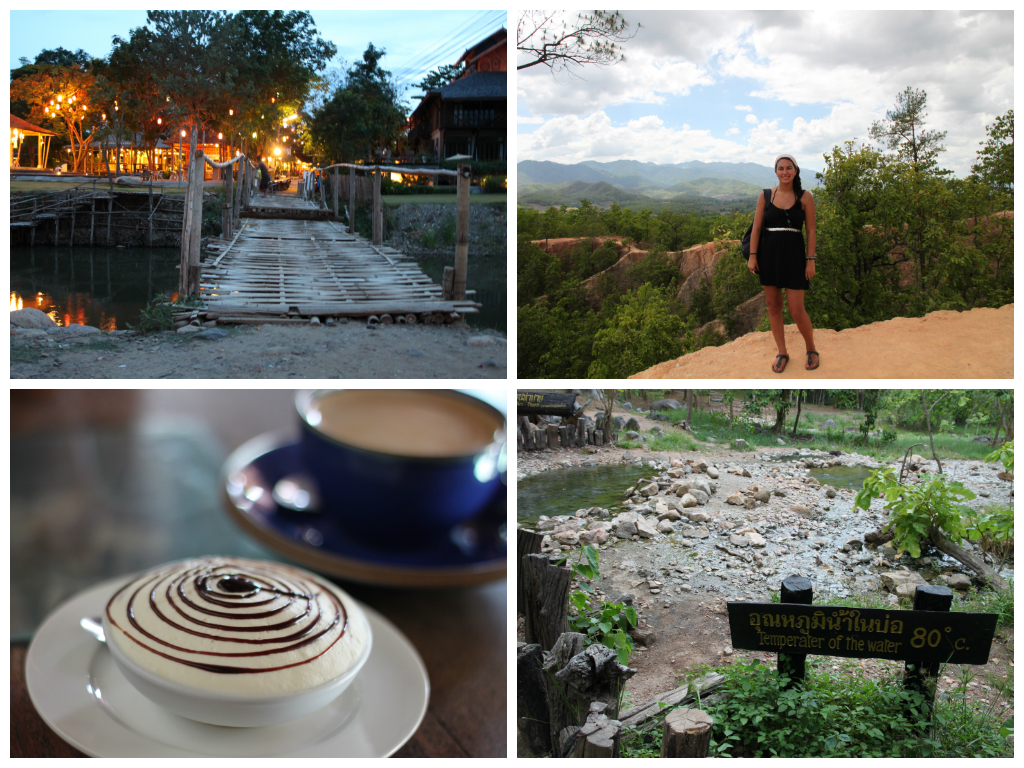 Have you been to Thailand? What was your favorite part? If you haven't been, what would you like to do if you could go?