My Three Favorite Travel Moments- The Blogger Relay!
Thanks to Sheryll over at The Wanderlust Project I am now taking part in a relay race for the first time since elementary school. Luckily, this one involves no running. The folks at LowCostHolidays have created a travel blogger relay race where a blogger writes about their three favorite travel moments and then passes the baton to another blogger. The team with the longest chain at the end wins! I am part of Team Green, headed by Over Yonderlust. GO TEAM GREEN!
As I looked through photos and old journal entries trying to narrow down my three favorite moments, I realized that a lot of them are from my time in Europe. This is when I first really started traveling and the wonderful moments I had there left a lasting impression.
Drinking with locals at Munich's spring beer fest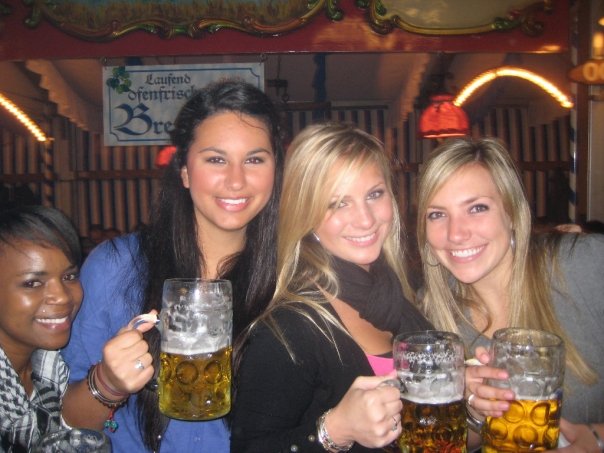 I studied in Rome during spring semester (January-May) so I knew when I went I wasn't going to be able to drink in the Oktoberfest tents, but while browsing an event company's website I saw that Munich holds another beer festival, called Fruhlingsfest, in the spring. On a weekend in mid-April my friends and I took an 11 hour bus ride north for a weekend I'll never forget. The festival is held on the same grounds as Oktoberfest, and while much smaller, it is much more German. We arrived at the tents on Friday afternoon and were intimated at first. The long benches and tables were full and it seemed there was no place to sit, which meant no beer would be served to us. We were headed to the wall to wait for someone to leave when a young German man offered to let us squeeze in at his table. Liters of beer were delivered and before we knew it we were on the benches, yelling "Prost!" to people in drindls and leiderhosen, and screaming the words to German beer drinking songs we didn't even know. Over the next two nights we moved from table to table, conversing with Germans of every age, and teaching each other phrases (mostly inappropriate) in our respective languages. More than just a great party, which it was, Fruhlingsfest was an introduction to Bavaria.
frühlingsfest 09 from Amanda Slavinsky on Vimeo.
Couchsurfing in Luzern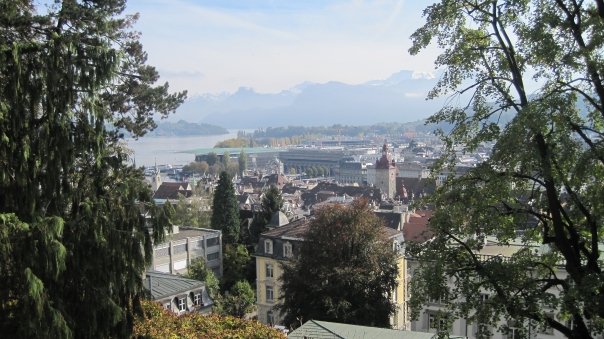 During the time between my two au pair jobs in Rome I traveled to Switzerland to visit my friend Danielle who was an au pair in Zurich at the time. We spent my last weekend of freedom Couchsurfing in Luzern. Danielle had found a nice host a few days before we left and he met us at the train station on Friday night. After we dropped off our bags, he took us straight to a friend's birthday party. The next day he showed us around Luzern, hitting all the famous sights, and then some of the friends we'd met the night before took Danielle and I out to dinner. After dinner we went to a hotel party that happens once a month in a historic hotel in the city center, something that as tourists we would've never known about. This was my first experience with Couchsurfing it allowed me to understand the friendliness and openness of this community, the main point of Couchsurfing. My weekend in Luzern was special because of the people I met and experiences I had because of them.
Visiting a friend in Barcelona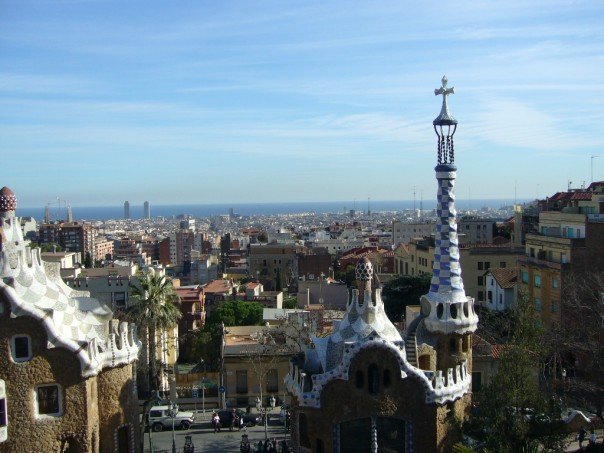 During my junior year of college I went to visit my friend Kasey who was studying abroad in Barcelona. It was my first time out of North America as an adult and it was this trip that I discovered I wanted to not only travel, but also live abroad. The combination of walking up and down Las Ramblas and Passeig de Gracia, exploring Gaudi's creations, marveling at the Gothic Quarter, ordering coffee and pastries at the bakery where no one spoke English in her neighborhood far from the tourist center, sitting at a bar watching an FC Barcelona game surrounded by Catalans, and watching Kasey comfortably navigate this city she'd called home for two months showed me how expat life was everything I wanted. I came home from Barcelona incredibly sad, but wanting more. The next year I applied to study abroad in Rome. The rest is, as they say, history.
I am now passing the baton to the awesome Andrea of World Walk About. Keep it strong for Teem Green