Getting Indulged at a Maid Cafe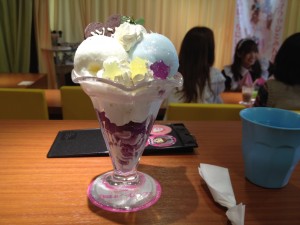 "Welcome home, mistress!" a young woman in a French maid costume shouts cheerfully as I step off the elevator into the entrance of the fourth floor cafe. This greeting is typically used to welcome customers to maid cafes, a type of cosplay restaurant popular in Japan, where the waitresses act as servants who will do anything for their master.
Maid cafes started popping up in the early 2000s in Tokyo's Akihabara neighborhood as a way to cater to male fans of manga and anime, and have become increasingly popular in the years since. Typical cafe fare like coffee, tea, ice cream, and light meals are served, with cute twists. Ice creams and coffees are decorated with chocolate syrup at your table, and ketchup designs are squirted onto omelets. For an additional cost, customers can play games or take photos with the maids, which means other photos are verboten.
I'm not a fan of manga or anime and I don't have a maid fetish, but when I first read about these cafes I knew I had to check out this quirkier side of Tokyo. After combing through reviews of various maid cafes, I decided on @home cafe. With an English menu and a promise of being perfect for maid cafe newbies, I figured this was a safe place to start.
After being greeted I am led to a seat at the counter. Sugary sweet Japanese pop music plays loudly through the cafe, while a nice maid named Aimi shows me the menu. Aimi, like all the maids, is young and cute, with bangs and a high pitched voice. I choose an ice cream sundae that is described as being both sugary and sour, like two sides to a personality.
The walls of the cafe are painted bright pink and green, with pink, orange, blue, and green polka dots scattered around. Everything is bright. Everything is cute. Most of the other customers are men. Some are in groups. A few look like salarymen on their lunch break. One guy is in the middle of a serious game of Connect Four against one of the maids, while a few more are on stage taking photos in animal ears and big sunglasses.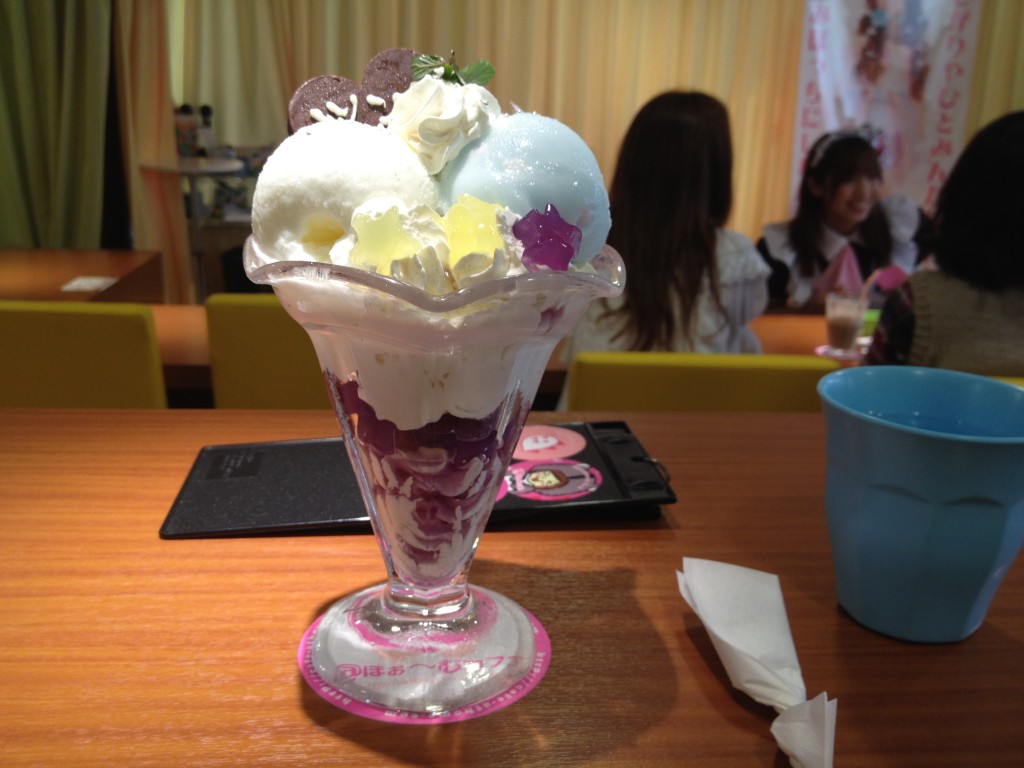 My ice cream arrives. It is large and colorful. Three colors of ice cream are topped with whipped cream, jellies, cotton candy, pop rocks, and a chocolate heart. The maid who serves it to me explains that we now need to add the magic. I should make my hands into the shape of heart and move them, first to the left, then to the right, and finally, straight out in front of me while I say the words, "Muy! Muy! Noi!" Somewhat reluctantly I agree, and end up with a smile just as large as every chipper maid in the cafe.
Like everything else at a maid cafe, the ice cream is saccharine. Soon it is time for my photo. I pick out some bunny ears and stand awkwardly next to Aimi with, once again, my hands in the shape of a heart. Aimi decorates the photo and hands it to me as I paid the bill. I laugh when I look at it. I am the polar opposite of small and cute.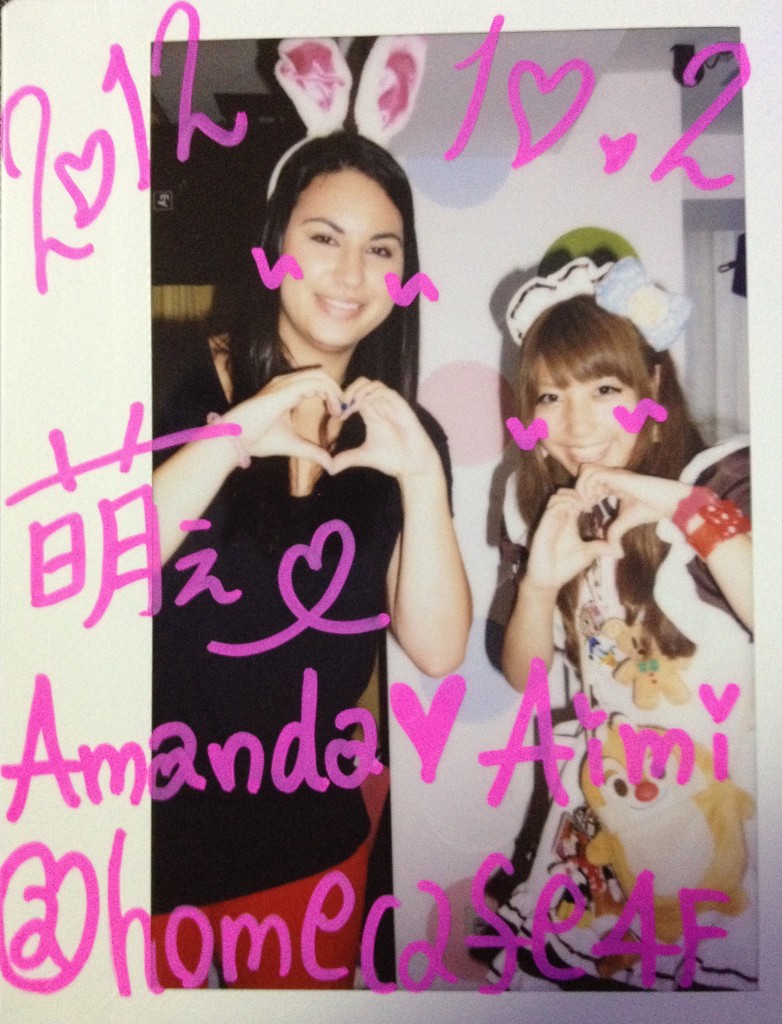 I leave the cafe and am still unsure of what I just witnessed. Before my visit, part of me had expected to see groups of teenage fangirls (the demographic for this type of thing in Korea), and an even bigger part had thought that I would find pervy men and creepy, submissive maids. It turns out, though, that there were neither. Maybe some of the men were there to indulge their maid fantasies, but mostly it was just a cute place to hang out and a different experience. With really great service.
Information for visitors: @home cafe is found at Mitsuwa Building 4F-7F, Soto-Kanda 1-11-4, Chiyoda-ku. Take the JR Sobu Line to Akihabara Station and go out the Electronics Street entrance. Walk straight and it is just off the main street. For more information visit their website. @home cafe is open everyday. The seating charge is 600 yen.
Have you ever been to maid cafe? What did you think? If you've never been, would like to visit one?