My K-Pop Concert Experience: 2NE1′s New Evolution Tour
On Sunday night one of my Korean dreams came true.
I saw 2NE1 in concert.
Admittedly, I'm not a huge K-Pop fan. I knew nothing of the genre before I came to Korea, but shortly after I hit the peninsula I became enamored with girl group 2NE1. Unlike other Korean girl groups, the members of 2NE1 don't try to be "cute" in a seemingly innocent way, or stereotypically sexy. They are independent, funky, fashionable, and have more of a hip hop and R&B sound. 2NE1 stands out from the crowd and seem much less mass produced than a lot of the other idol groups. After their second mini album was released last year, I made a vow that if 2NE1 toured while I was in Korea, I would be there. 
Last month 2NE1 released the first single, "I Love You", from their new album and announced the dates for their New Evolution tour. I was nervous. Tickets to big name concerts are notorious for selling out extremely quickly and the website used for this tour, GMarket, is completely in Korean. Determined, I went to a PC room the night tickets went on sale and managed to grab three. They were in the nosebleeds, but I was going to see 2NE1!
By the time the concert arrived on Sunday, I was pumped. I'd spent the previous two weeks constantly listening to 2NE1 and was excited to see what the group would present on their first world tour. K-Pop is known for its elaborate shows and 2NE1′s parent company, YG, is probably the best. Expectations were high.
(I apologize for the few, poor quality photos in this post. They are very strict about photography during the show and I didn't want to risk getting kicked out!)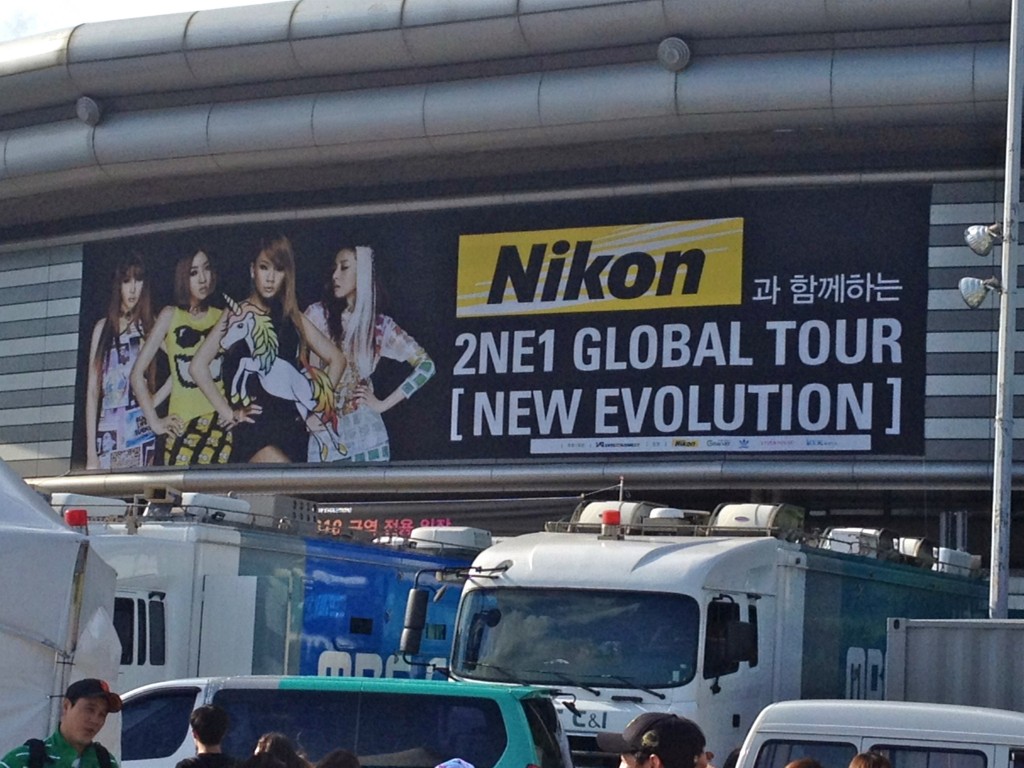 The energy around the 1988 Olympic Gymnastic Stadium was pulsating. I'd expected a crowed of mostly tween Korean girls, but was surprised to see a much bigger demographic. Foreign and Korean, young and old, male and female. They were all there. And everyone was excited.
The concert started right at 6 pm with one of the group's biggest hits, "I Am The Best". I knew right then we were in for a great show. All four members were wearing hip hop inspired outfits and donned enormous chains with either a 2, N, E, or 1. World famous fashion designer Jeremy Scott helped design the costumes and they were all unique, colorful, fun, and fashionable.
The concert lasted for over two hours and the most impressive part was that they sang live the entire time. I'm used to the American teenybopper trend of lip synching. Not here.  The whole group sounded wonderful the entire night, and I was really, really impressed with Minzy, the youngest member of the group. Her voice and stage presence were phenomenal.
My favorite part of the concert was CL's solo. CL is my favorite member of 2NE1. I love her confidence and style.  I love her powerful voice and the fact that she can rap Nicki Minaj. During her solo she DJed for the entire crowd, mixing songs like "Girls Just Want to Have Fun" and, a favorite of mine, "We Found Love". This got the crowd roaring. I spent the rest of the night dancing and singing my heart out.
2NE1 sang all of their hits. They danced. They had so much enthusiasm on stage. With the costumes, talent, and production, 2NE1 has what it takes to be a global success. If Hallyu wants to make it outside of Asia, the focus should be on promoting CL, Bom, Dara, and Minzy. This was more than a concert, it was a incredibly show by four women with immense talent.
I left voiceless and exhausted, always the sign of  a wonderful concert. I was also a little bit sad that it was over. If I have the chance to see 2NE1 again, I'll be there in a second.
What was the best concert you've ever been to? Who would you kill to see live? 
If you haven't already, please 'Like' Farsickness on Facebook and stay up to date on all my travels and posts! Your support is greatly appreciated.