I'm back. After a few unscheduled breaks from blogging due to going home, the holidays, family time, jet lag, and a small dose of homesickness, I'm ready to write again. About food. Delicious, glorious American food that I had missed so much.
And now miss again.
My parents moved to Louisville, Kentucky from Michigan a few months before I moved to Korea. This move, while shocking at first, has turned out to be a blessing in disguise. It has given me an opportunity to explore a city that is really cool and really underrated. Lonely Planet ranked Louisville the number 1 city to visit in the United States this year, partially due to its food scene.
Readers from Chicago, New Year, San Francisco and other foodie cities in the United States might be laughing in their desk chairs right now. But they shouldn't. Louisville's been mentioned as a great foodie destination by Zagat, Chicago Magazine, and Southern Living.
While two weeks isn't nearly enough time to taste test the best restaurants in the city, I was able to get in some good eating. Later this week I'll focus on one of the front runners in Louisville's popular farm to table movement, but today I'm going to write about something a little simpler- where you can find the best lunch in Louisville.
1. The Cafe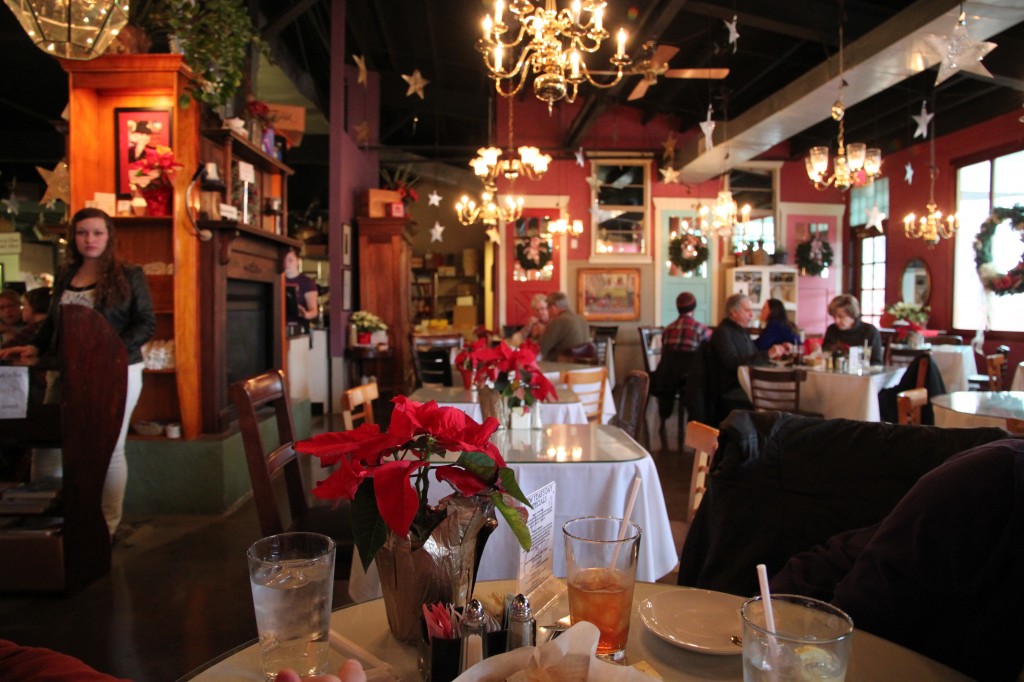 There's really no other way to say it. The Cafe is freaking awesome. Serving breakfast and lunch in a restored warehouse, The Cafe has the hip factor with no pretentiousness. And a lot of really great food. I went with my family the day after Christmas for some pre-shopping lunch and we were able to miss the normal crowds. I decided to go with Combination #3- half a sandwich, a cup of soup, a side, and a cookie. All for $8.95. The chicken pot pie soup was thick, creamy, and better than any actual chicken pot pie I've ever had. For my sandwich I had what they call The Edwardian which was full of things I love but can't really find in Korea- turkey, two kinds of cheese, smoky bacon, and artisan bread, this of the walnut wheat variety. My family had warned me that the portions were huge, but I wasn't ready for the actual enormity of this supposed half a sandwich. I had to take half of the half home! I wish I'd had room for dessert and I'll be making a beeline back for breakfast next time I'm in town. If there's one place you should eat lunch in Louisville, it is The Cafe.
Practical Information: The Cafe is open Monday to Saturday from 7 am – 4 pm. They are located at 712 Brent Street. More information can be found on their website.
2. Vietnam Kitchen
Vietnam Kitchen has become a must visit for me when I'm in town. This small hole in the wall located in a strip mall in South Louisville is well known around town. The owner and staff are friendly and will help you navigate the rather long menu. I always start with an iced Vietnamese coffee (Is there anything better than sweetened condensed milk? No.) and where  I go next is different every time. There are 6 types of pho, a variety of other noodle soups, and a big selection of noodle and rice dishes. My favorites are the bún thịt nướng chả giò, vermicelli noodles with pork or chicken, sliced egg roll, lemon grass, cucumber, lettuce, bean sprouts, mint, and peanuts, and the hủ tiếu cay triều châu, stir fried noodles with beef, chicken, or pork, bean sprouts, lemon grass, and a hot and spicy peanut sauce. From what I've noticed, your favorite dish might not always look the same (different sized noodles or a different plate), but it is always delicious. Vietnam Kitchen is the perfect place for lunch in Louisville if you're looking for something a little less American.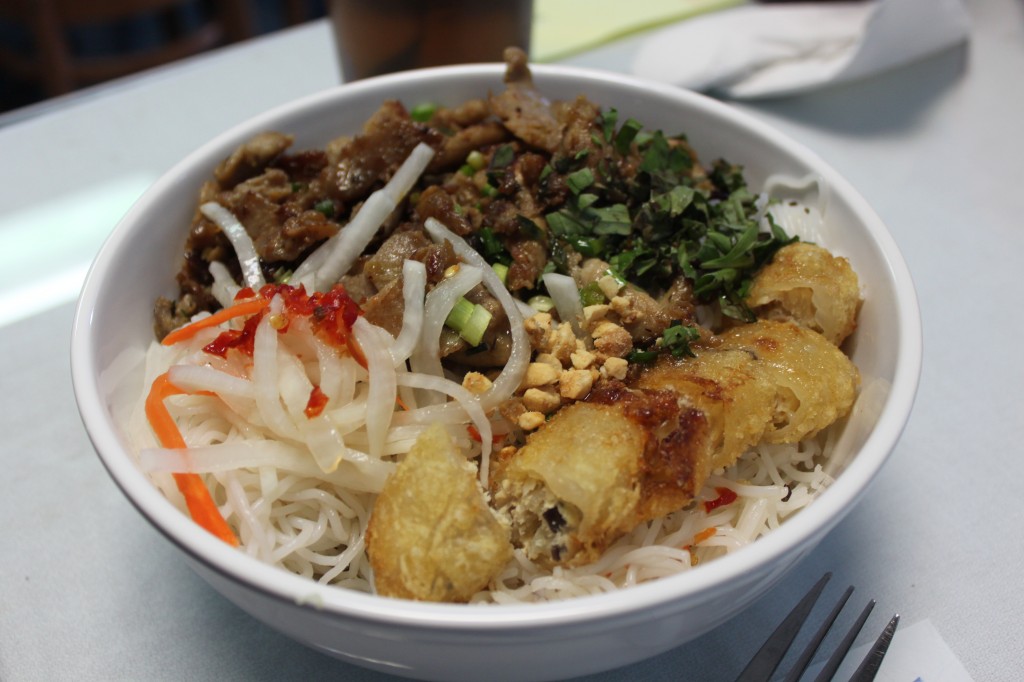 Practical Information: Vietnam Kitchen is open Sunday to Thursday from 11 am – 10 pm and Friday to Saturday from 11 am- 11 pm. They are located at 5339 Mitscher Avenue. More information can be found on their website. 
3. The Cheddar Box Cafe
Opened in 1995 by Michelle Bartholomew, The Cheddar Box Cafe has since grown into one of the most popular spots to eat lunch in Louisville. This locally owned cafe in Middletown offers quality food and great service in a no frills environment. Because the of the popularity, The Cheddar Box Cafe fills up quickly. I arrived with my mom and sister just before noon on a Friday and we snagged the last empty table before a line formed. The menu features a long list of salads, soups, and sandwiches at a great price. I decided on a combination- a cup of the tomato artichoke soup my family had been raving about for days and a half a chicken salad sandwich- for $8.75. The light but creamy soup was filled chunks of tomato and artichokes and had a rich flavor. The sandwich was simple, kind of like something my mom made for me back in the day, but satisfying. The real highlight of the meal, though, was the dessert. Pies, cakes, bars- they all sounded like sweet deliciousness unavailable in Korea. We decided on a slice of the peanut butter pie to share which was phenomenal- large, cold, and smothered in whipped cream. It was a good thing we were sharing one piece, as I would've been able to eat the entire pie if it sat in front of me.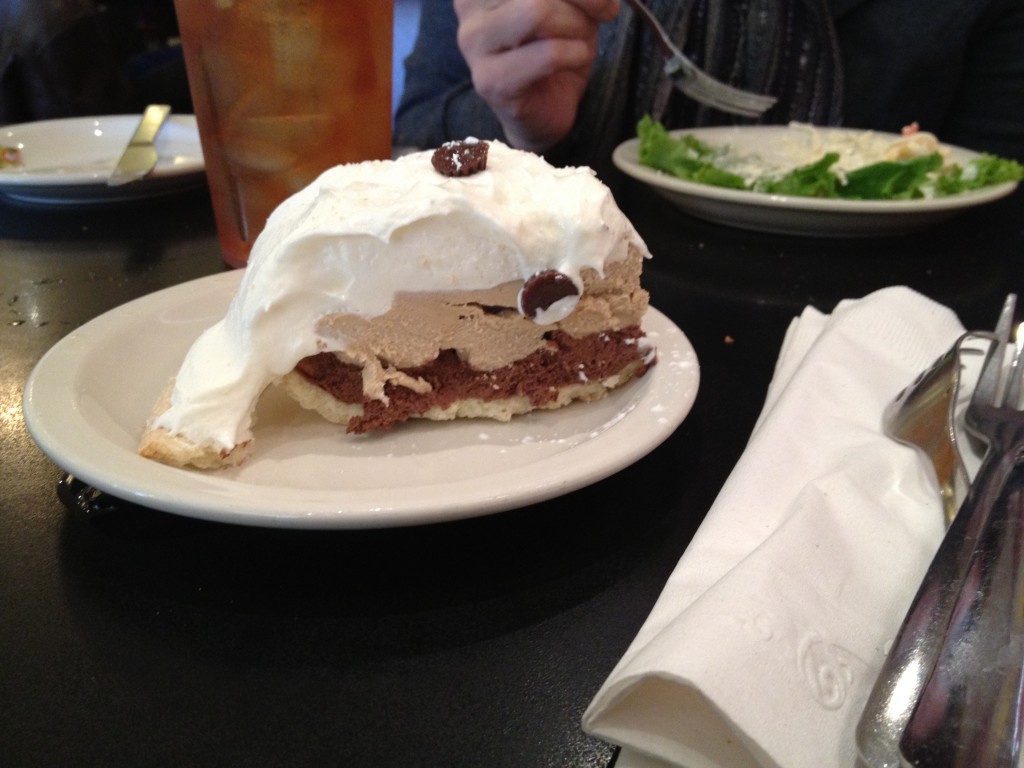 Practical Information: The Cheddar Box Cafe is open Monday-Saturday from 11 am – 3 pm. They are located at 12121 Shelbyville Road in Middletown. More information can be found on their website.  
Have you eaten at any of these places? What makes a restaurant a good lunch place for you?