Flashback Friday: How France Turned Me Into a Food Snob
Flashback Friday returns today with a fantastic French food journey by one of my favorite bloggers, Ashley Abroad.
When my French employers, Stéphanie and Robert, invited me to spend the summer at their home in France I needed no coaxing; I was ready at the word, "Paris."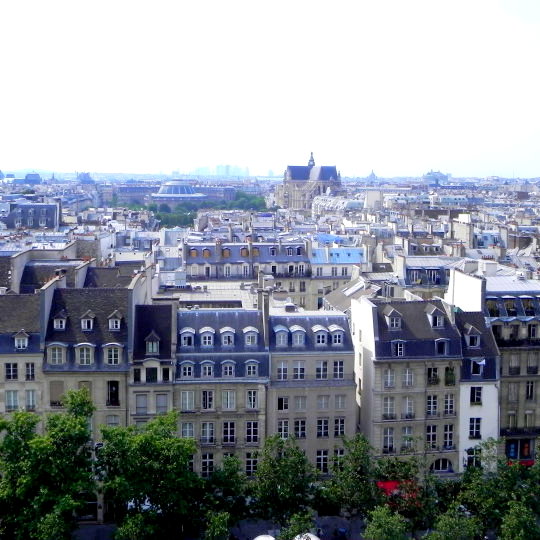 I had met Stéphanie, a French interior designer, and her handsome Dutch husband, Robert, in my hometown of Bloomfield Hills, Michigan, via mutual friends. Through babysitting their three children in high school I had gotten a glimpse of their world: the sparse, European design of their house, Stéphanie's soul-warming and simple quiche Lorraine, the children's squabbling in French, a language I found more beautiful than roses.
By that point I had already spent some time abroad, studying for a semester in Buenos Aires and taking several trips to Chile to visit my then-boyfriend. But I was 19-years old and France was new, exotic- a country in which I didn't speak the language and assumed the food consisted of crêpes and duck bathed in heavy cream sauces.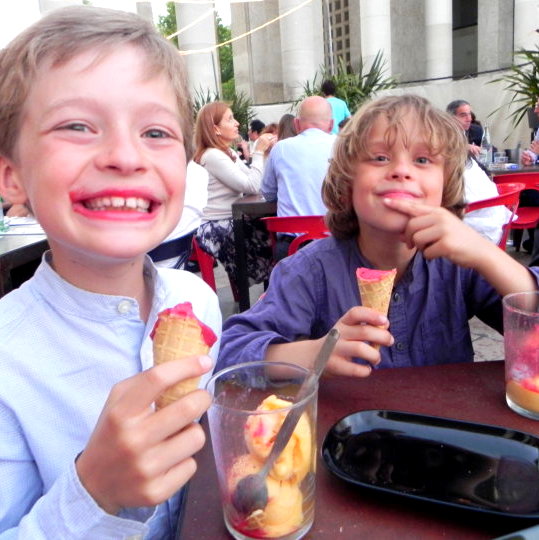 Stéphanie and Robert's home was a light pink townhouse in Saint-Maur-des-Fossés, a small city on the outskirts of Paris. The house was tall and thin, with a winding, rickety staircase painted a deep shade of "French red", as Stephanie joked. The stone-walled garden behind the house swelled with tangy plums and tiny, perfectly round red currants.
Upon arriving, I quickly settled into a routine: I was the babysitter, English tutor and baguette-fetcher. I enjoyed my new jobs, but relished my title of "good eater" the most. One night when Stéphanie warned me that dinner's pâté was made with rabbit liver, I replied, "I love rabbit!" Her friend then chimed in, "Well, she is not the typical American!" I do believe I blushed with pride.
Congruent to my title of "good eater", I would not only try everything, but consume a hearty portion of whatever given to me. One of the first nights we dined in the garden on duck breast, a food I have always loved. As I audibly moaned after taking a bite of the crispy skin and pink-red meat, Stéphanie laughed and said, "Did I tell you this comes from a can?"
"A can?" I nearly dropped my duck. Nothing good comes from cans. It couldn't be true.
Other meals in the garden troubled me, but for different reasons. At our Saturday morning breakfasts I painfully resisted the urge to wolf down the feast in front of me: still-warm baguettes laid directly on the table, soft-boiled eggs with gooey orange yolks, a wicker bread basket filled with flaky, buttery croissants and pain au chocolate with its creamy dark chocolate center. I tried to eat daintily but couldn't help myself from indulging; this spread certainly beat my family's Saturday morning breakfast of box pancakes drowning in Mrs. Butterworth's.
I newly experienced another American classic, the road-trip, while driving down to Canet Sud, a beach town on the border of Spain where we were to spend the rest of summer holidays. The beautiful, mournful voice of Jacques Brel poured from the stereo as we drove past endless wheat fields and vineyards. We stopped for the night at an inn in L'Aubrac, a stunning region with tall cliffs, pine forests and deep gorges. We dined at the inn's restaurant and were served a dish typical of the region, aligot, which looks like mashed potatoes but possesses a texture reminiscent of pizza dough. Surrounded by tables of French families and Dutch tourists, I felt I was the only American to ever have wandered so deep into the wilds of France and tasted this fantastic, buttery creation.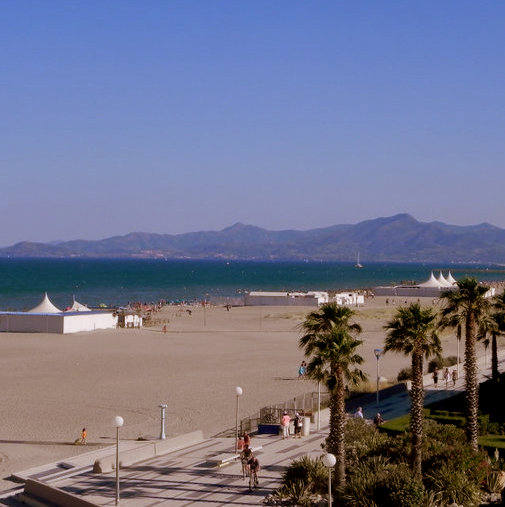 During the next three weeks in the south of France we happily browned ourselves on the beach and bathed in the warm Mediterranean, occasionally venturing out in the motorboat to go fishing. Each night we dined on the terrace, enjoying the warm, salty breeze and a striking view of the Pyrenees jutting out from the water, the furthest mountain marking the border with Spain. Spanish food had also found its way onto our menu as we savored delicacies such as white anchovies in vinegar, queso manchego and dark, nutty Iberian ham streaked with white fat. Accompanied with celery remoulade and mousse de canard, our proximity to Spain had resulted in a delightful French-Spanish fusion.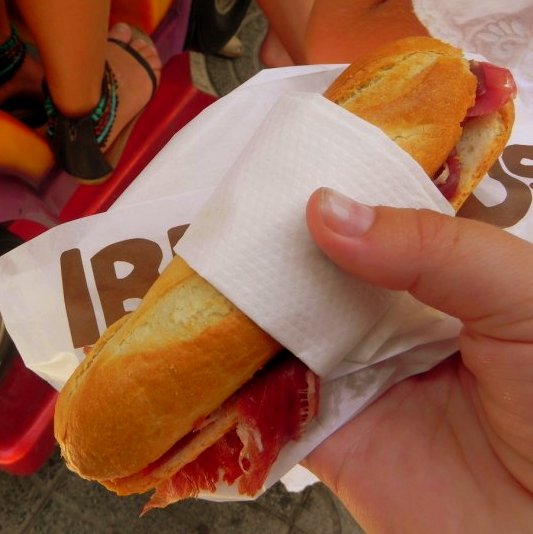 The first summer I was a kitchen novice and didn't know how to steam broccoli or flip an omelet. The simple combination of sunflower oil, mustard, sliced shallots and vinegar to create succulent vinaigrette blew my mind- why would anyone buy dressing? Spending three weeks in the south of France taught me why people in the Mediterranean eat so well- good food is all around you. Just walking down a gravel road you can immediately smell the heady scent of sun-warmed fennel or pick strands of wild rosemary.
Upon returning to America my family's food choices stood in stark contrast to the fresh, seasonal cuisine to which I had become accustomed. Frozen black bean burgers? Low-fat cool whip? I attempted to recreate a few dishes I had learned in France for my family, and while they seemed to enjoy them, it was as if they didn't notice what they were putting in their mouths.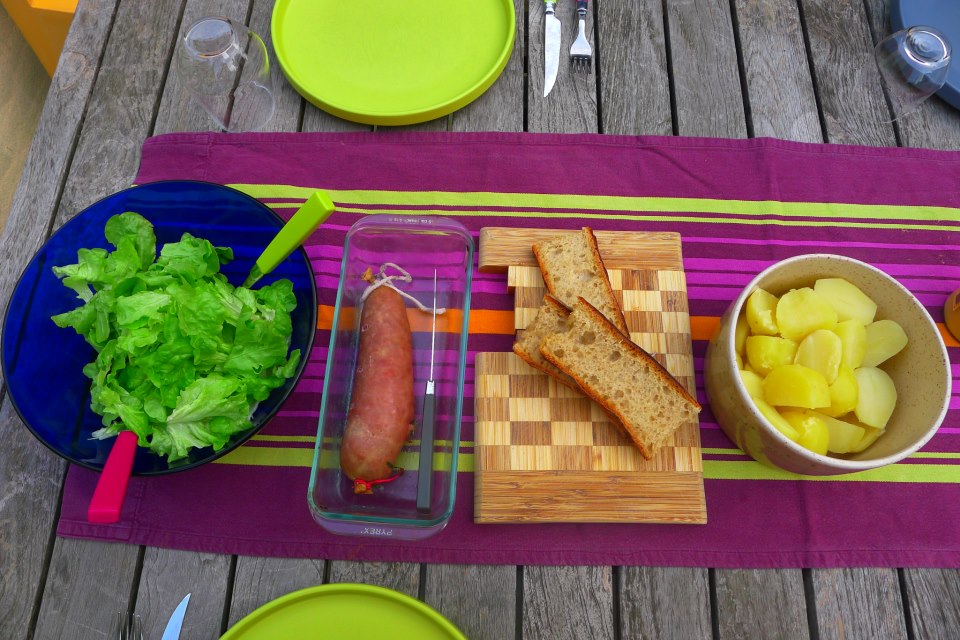 The summer in France had left me with a strong desire to teach myself how to cook. I decided in order to do so I would have to make everything from scratch; I had seen Stéphanie make her own vinaigrette, right? I began by learning all of the basics; how to steam rice, roast chicken, poach an egg. I then jumped to, and perhaps over-zealously, a series of more ambitious creations, repeating them until they were just right; various French staples such as bread boules, mayonnaise, chicken stock and chicken liver pâté. Whether it was coaxing my 11-year old sister to roll out quiche dough or making the third trip to the butcher's to ask him if he had any left-over veal bones, I felt justified in all that I did in the name of la cuisine française; as I had learned in France, food ought to be pleasurable, non?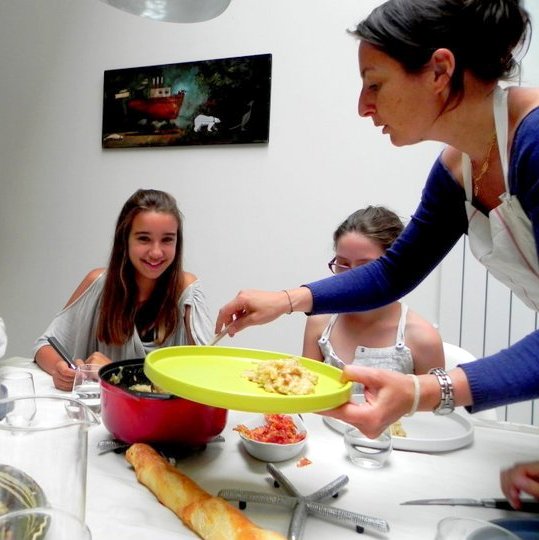 When I returned to France the next summer for a shorter, two-week long visit, I arrived at a sad realization; In France you don't have to make everything yourself. It's all right there for you- in specialized shops no less! Why make why bake bread when you have a bakery around the corner? Why churn butter when it's just as delicious at the fromagerie?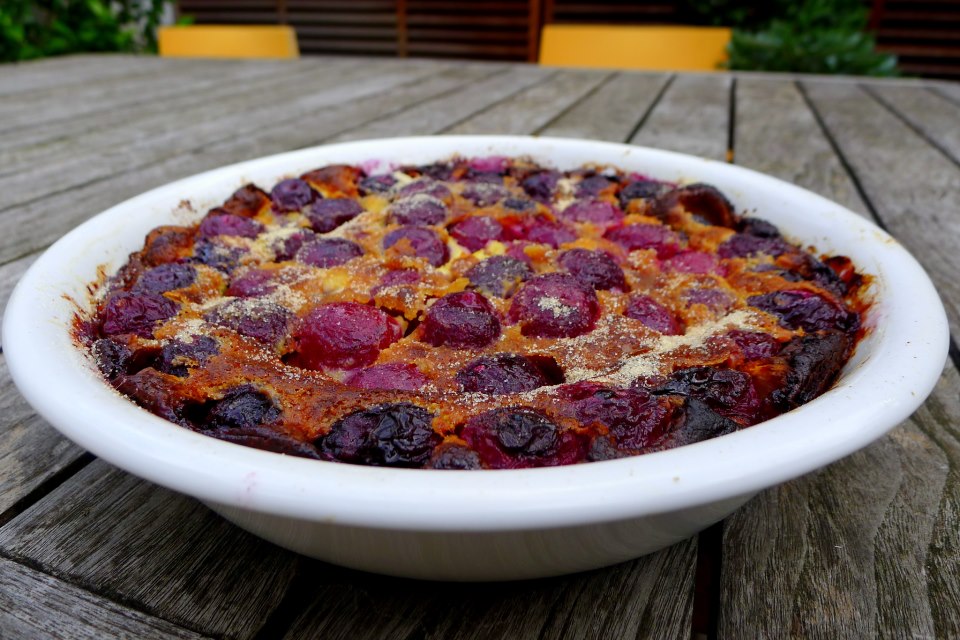 My homecoming to America the second time around was less anticlimactic- I decided I would take all I had learned in France and carve out a French-style life in Chicago. No matter that I was a poor college student living in a big, expensive city – I would do the best with what I have. By this idea I began to invest daily effort into the quality of my food, and indirectly my health and happiness. As an often unemployed undergrad, doing my best meant carrying home heavy bags of apples in the fall, or taking the subway to Chinatown to get better prices for groceries.
But honestly, why invest your time, energy and money into traveling the world if it doesn't change you in some way? Now that's food for thought.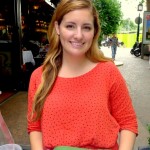 Author Bio: Ashley is a baguette-partial travel blogger currently living in Paris. She's a self-proclaimed language nerd, ski bum and lover of long, Pinot-fueled dinners. To read more about her (mis)adventures in Paris and beyond, check out her blog, Ashley Abroad, or follow her on Twitter and Instagram.
Has travel changed the way you eat?