Flashback Friday: Finding That Travel Match
Today's Flashback Friday comes from Lane, one half of the couple that runs Southwest Compass. Southwest Compass is far from just a blog, it is a well written, well researched complete guide to traveling the southwestern United States. Lane and Juliet's online venture is very young, but already does a lot to bring credibility and professionalism to the travel blogosphere. Because of this, I am very excited to have Lane sharing the story about the trip that made her realize could could be part of a traveling couple for this week's edition of Flashback Friday.
It was an early autumn morning. I was sipping my coffee as I scanned the news on CNN.
"We should go somewhere together," she said. "Take a vacation." Yes, she had
uttered those dreaded words. Not that I dislike taking trips – I'm a travel junkie. But, to go somewhere for the first time as a couple can destroy a newer relationship.
Hemingway said it best, "Never go on trips with anyone you do not love."
Relationship #1 went down in flames in Gatlinburg. We had rented a tiny cabin for a weekend. An unexpected blizzard struck and we were trapped with only a bag of M&M's and a twelve-pack of beer for two days. End result: It was MY fault.
Next up, London and relationship #2. We were visiting for a limited time and had to see everything the city had to offer – in just six days. Jet-lagged and whiny – her, not me – day three ended in a massive revolt.
Onto Vegas. It was 3AM, I had knocked back a few – or many — drinks, and the dice hadn't rolled my way, when there was a pounding at the door. Blurry-eyed and zombie-like, I opened it to a lady of "questionable reputation." Still not processing everything she said coherently, I turned to my partner. "Honey, do we need a hooker?" After that fight subsided, I swore to never, never travel with a partner again. Ever.
I eyed Juliet. She was serious about taking a trip. What would be easy? Relaxed? Something that wouldn't add a strain of any kind? "Let's go on a Caribbean cruise." I suggested hopefully. What could possibly go wrong? Titanic instantly came to mind.
Within minutes she was on the internet, booking us on a Royal Caribbean ship. I had visited the Caribbean twice before and wasn't very thrilled to be returning to previously explored destinations, but at least I would come home as a couple – I hoped.
The flight was actually on time. Shuttle to the dock went smoothly. Our luggage was loaded onboard with ease. We settled into the room without problems. She
unpacked our bags and we strolled to the deck to have cocktails, as the ship pulled out into the harbor. I started to relax.
The one thing that Juliet was truly excited about was swimming in the clear waters. She had never visited the Caribbean and she is a water baby. We can't pass by a puddle without her dipping her toes into it. So, our first day was devoted to a beach on Aruba. We spread out and I laid back on a towel as she ran, giddily, into the waves. Life was good.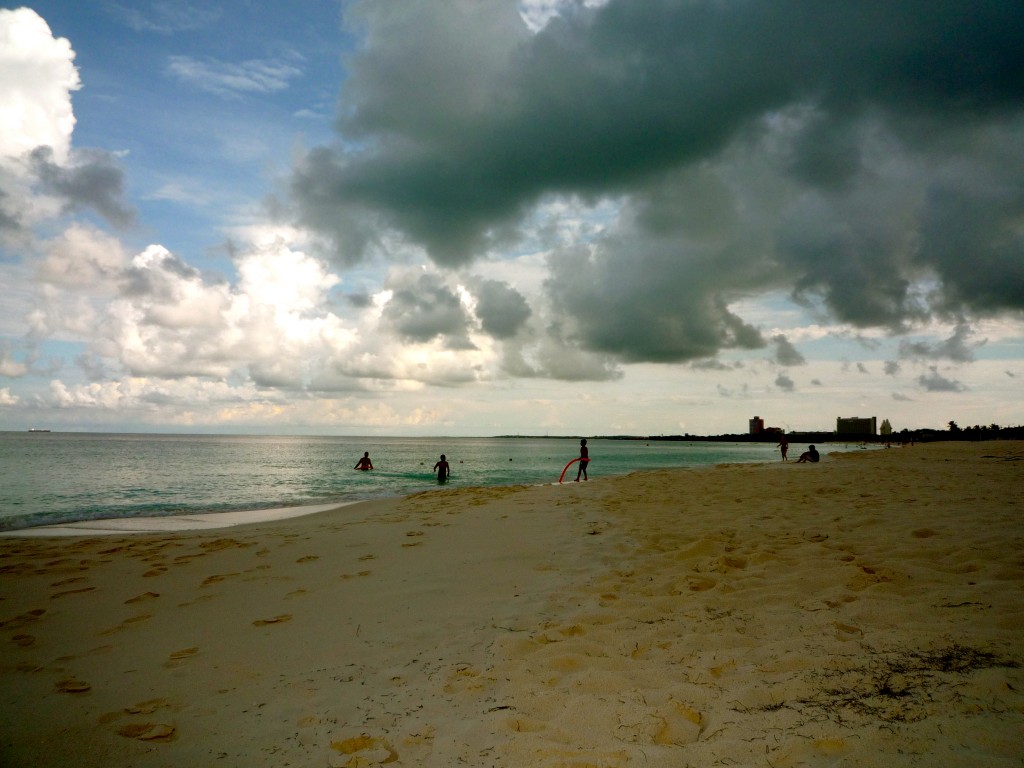 You just know that a storm was brewing, don't you? A big one. The sky turned indigo then charcoal, and opened up, a monsoon poured down. I watched Juliet's face. This was it. She was gonna blow. Come up with a back up plan!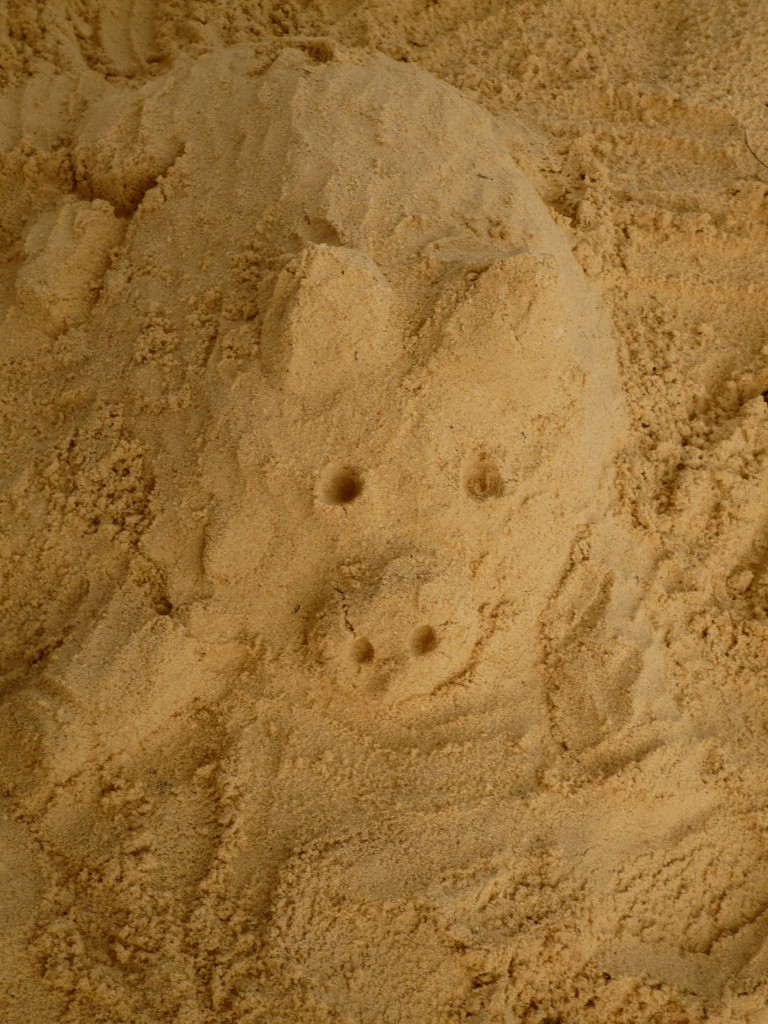 Instead, she led us to a beach umbrella and we made sand sculptures underneath it. "Sandy" the pig was our favorite. I watched for signs of distress or sadness. Nothing. She was content waiting out the storm – which never happened. So we made a dash to a taxi, changed into dry clothes on the ship, and found lunch – hot soup at a tiny restaurant. There was never negativity, and she just rolled with it.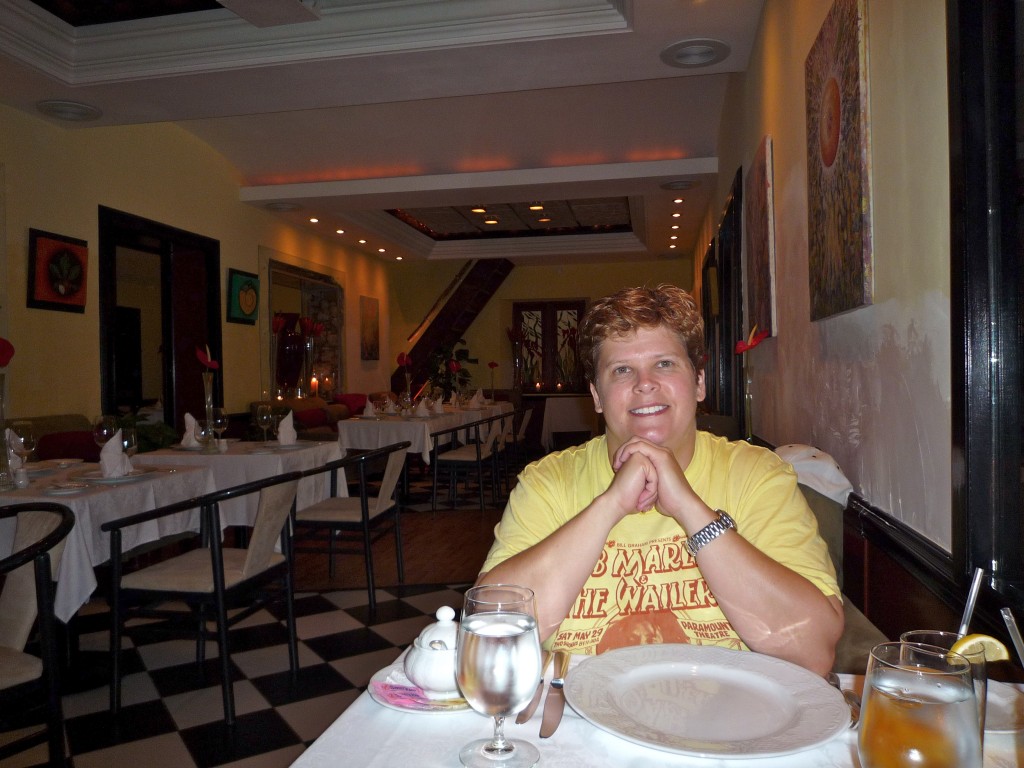 The cruise continued under beautiful skies. We snorkeled with a sea turtle, tried conch fritters for the first time, fell in love with San Juan, and never looked back at the storm of Aruba. I had finally found my perfect travel match.
We are happy to say that we not only came back as a couple, but have since got married. To date we've visited four continents together, and moved to a new state. Upon arriving in New Mexico, we found little helpful information online. Everything is word of mouth. We hope to become that Mouth of the Southwest at Southwest Compass.
Author Bio: Lane Billings is retired from the film and television industry, currently residing with her partner and two dogs in New Mexico. You can also find them on Facebook, Twitter, Google+, YouTube and Flickr.
If you would like to contribute your own story to Flashback Friday, please contact me!