It was late January, two weeks into my semester studying in Rome, and my two roommate's and I decided that we wanted to spend just about every weekend in a different European country. We had a really random trip to Liverpool planned for the coming weekend, but nothing planned for the following. We jumped on the Ryan Air website and within half an hour had tickets to Dublin booked. They were cheap and we all liked P.S. I Love You, so why not?
But after looking at all the hostel websites, we thought we might have made a mistake. Just about every hostel was booked (due to a Six Nations rugby match, we  would later learn) or in a bad location with sky high prices. Even though we had somewhat of a budget, we decided to search Expedia for a place to stay. We found a listing for a reasonably priced Holiday Inn in the center of the city and decided to book it.
The day of our trip arrived and we were scrambling to make it to the airport on time; our flight's departure time was scarily close to my Thursday afternoon dismissal from class. I spent the entire taxi ride to Ciampino sure we were going to miss the flight. We pulled into the airport just about 40 minutes before our flight's departure- the cut off point for check in. I shoved some crumpled Euro bills into the driver's hand, yanked my bag out of the trunk, and ran into the terminal where I was met with disappointment.
No, we hadn't missed our flight. It had been cancelled. Sometime during our taxi ride, the airport in Dublin had suspended inbound flights due to a snowstorm. We rebooked for the first flight the next morning and wearily headed back to Rome.
Friday morning we rose bright and early, ready to make the journey BACK to Ciampino after a night of gorging ourselves on ribs and beer at the Hard Rock Cafe in an attempt to numb our pain. We got to the airport, checked in, made our way through security, and bought some breakfast at one of the small stands in the dingier of the two Roman airports.
Almost as soon as we sat down an announcement was made.
Our flight was delayed.
We waited.
An hour after we were supposed to depart, and over 12 hours after we should've been there, we were told to line up. Low cost carrier Ryan Air does not assign seats, and this always creates a little bit of a fury to get a good spot in line. Combine this with the fact that Italians are incapable of forming an organized line, and you have absolute bedlam.
Pushing, shoving, and loud voices ensued.
We waited some more.
Nearly an hour after being told to line up, we were ushered onto the busses to take us to the plane. We boarded, buckled up, and waited for take off. Which, at this point, you can probably guess, did not happen.
Again, we waited.
This did not go over well. If there was ever a time I was happy that Romans can get a little confrontational, it was then. A couple engaged in an argument with a flight attendant, and I'm not sure if it had anything to do with it, but a little over thirty minutes later we were in the sky.
We arrived in Dublin, so late at this point it hurt to think about, and expected a winter wonderland- snow blanketing green fields and such. The reality was what Michiganders would consider a thick frost.
My friends and I felt a little dejected. Our time in Dublin had been almost cut in half, and while there wasn't a lot of snow, it was bitterly cold. We wandered around a little the first night, but quickly ended up in the first warm pub we could find. Not feeling like going out after our two days of travel disappointments, we went back to hotel after a few beers and some pub grub.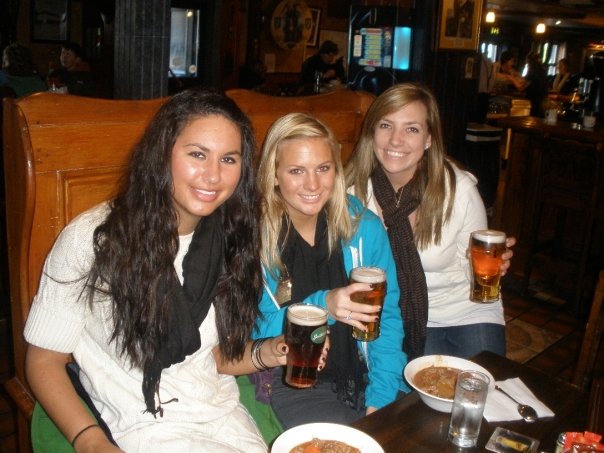 This turned out to be the best thing to happen to us- the most comfortable mattress I'd ever slept on, English television programming, and a shower head that you didn't have to hold up, unlike the one in our Italian apartment. The Holiday Inn we booked on a fluke ended up being the best part of an otherwise unimpressive trip to Dublin.
Disclaimer: Though written by me, this post was made possible by Expedia.