A few days after getting back from Scotland I was sitting in the living room with my flatmate Claire when we realized there was a bank holiday weekend coming up and decided that we had to go somewhere. We wrangled our friend Alicia into the mix and started planning.
Because we had waited until the last possible second to book anything our options were seriously limited. We tossed around a couple ideas and decided on Amsterdam. Claire had only been when she was much younger, I'd spent about 36 hours there in 2009 and wanted to return, and Alicia had never been. We then made a decision I will forever regret.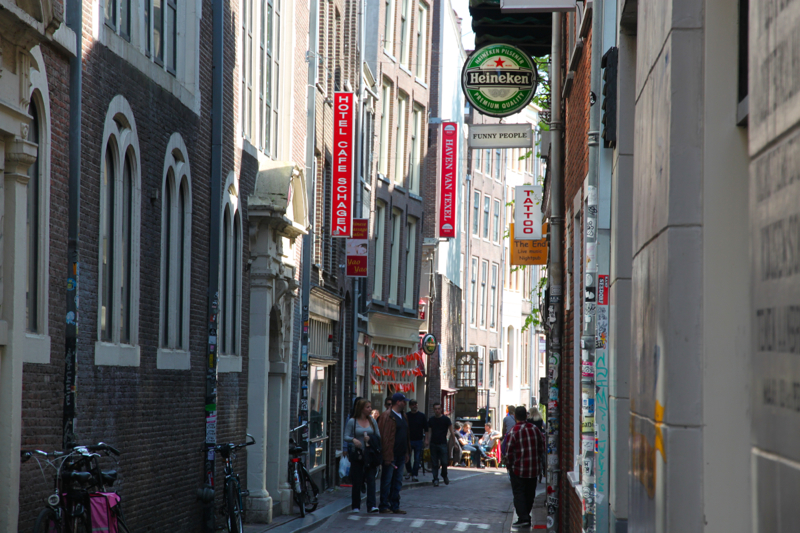 We decided to book night buses. Not Asian style, lie down in a kind of bed night buses. Cramped, sitting up Eurolines buses that involved getting off in the middle of the night to get on a ferry. Admittedly, the way there wasn't too bad (though I did spent the first day we were in Amsterdam in an exhaustion induced daze that felt like a hangover), but coming back to London was probably one of the worst travel experiences I've ever had.
Getting there and back might not have been the most fun, but Amsterdam once again proved how great of a city it is. The people are friendly and gorgeous, there's good food and a lively nightlife scene, and, oh yeah, it is absolutely gorgeous.
So, even though our weekend was rushed (and one day was spent mostly in bed…because it was raining of course), I had a great time. My favorite parts of my 48 hours in Amsterdam?
The canals
Okay, they might be a huge cliche, but the canals, and the houses that line them, are what make Amsterdam so damn beautiful. After a quick nap to recover from the night bus, we hit the town. The weather was springtime perfection- blue skies, fluffy white clouds, sunshine- so after a visit to the Van Gogh museum we spent most of our time just wandering, my favorite way to explore a city.
We walked up and down streets and over canals, stopping into shops we thought were cute and sitting down for coffees when we felt tired. I, of course, also stopped about every ten feet to take another photo of a bicycle or canal house.
When our legs could take us no further we bought tickets for a canal cruise. Yes, this is super touristy and is narrated in about a half dozen languages, but it is also a nice way to see Amsterdam while learning a little about the city's history.
Food
Dutch food isn't really a cuisine that has a whole lot of international recognition, but we are really well in Amsterdam. We started one morning with traditional Dutch pancakes. Much thinner than their American counterparts, they can be filled with a variety of different things, both sweet and savory. I had half of a pancake with banana and Nutella, and half with bacon and cheese. Both were tasty, but very filling.
Because the Dutch ruled Indonesia for hundreds of years, there are numerous Indonesian restaurants in the Netherlands going for a Rijsttafel is a popular dining option. We had dinner at Sampurna, located near the flower market in the center. While the food wasn't nearly as good as what I had in Bali, it was still an interesting Dutch experience.
I've talked about my reluctance to walk into random restaurants before, but deciding to grab a quick lunch at Soup en Zo was the perfect time to break that rule. All of the soups here are homemade and there are a lot of interesting flavor combinations, including vegetarian and vegan options. I had a cup of the cauliflower with walnut and after carefully scraping every last drop off the sides of the contained I wished I'd gone for a bigger size.
For our last dinner we decided to go Dutch at Moeders, a restaurant that came highly recommended just about everywhere on the Internet. Meaning mothers, the walls of the restaurant are decorated with photos of mothers and all the plates, wineglasses, and cutlery were donated by patrons. I had hotchpotch, a traditional Dutch meal consisting of mashed potatoes and different kinds of meat. Let's just say, anything with a huge helping of mashed potatoes is a win in my book.
My favorite food experience in Amsterdam, though, was one that was completely unplanned. We had some time to kill before dinner one night so we decided to grab some beers. We were a bit outside the center and just walked into the closest pub, one that happened to be filled primarily with middle aged Dutch men watching a football match while smoking cigarettes indoors, something I thought was illegal. We got a few strange looks, but ordered our beers, sat down, and began chatting. During halftime a man came around offering bitterballen, a fried snack commonly eaten while drinking, to everyone at the bar. Including us! The bitterballen, made from chopped beef or veal, beef broth, flour, and seasonings, were delicious and it was a fun local experience.
Tulips
Our spring visit coincided with the best time of year, in my opinion, to be in the Netherlands. TULIP TIME. Now, not everyone may share my excitement as when I told my dad we were going to be there during the 2 months a year the famous Keukenhof gardens were going to be open his responses was "oh", but I was thrilled with the prospect of running in between rows of brightly colored flowers.
Unfortunately, because spring arrived in northern Europe so early this year we missed peak bloom season by about a week. A lot of the manicured gardens were still full of flowers, but the fields were brown. Still, though, Keukenhof was a highlight for me because I got to partake in one of my favorite pastimes- taking a million photos of flowers.
What would you consider a highlight of a trip to Amsterdam?