Seoul Subway Guide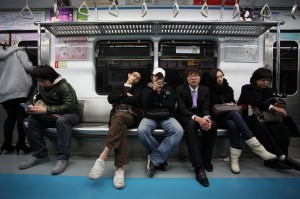 If you are living or traveling in Seoul, the subway is the easiest and fastest way to get around. Nine numbered lines, and a few other non-numbered lines, criss cross the city and surrounding areas. All signs are translated into English and a ride only costs about a dollar on average. There's no reason to fear the Seoul subway but if you want to make your ride easier and more enjoyable, follow these tips.
1. Get a T-Money card
Similar to London's Oyster card, T-Money is used to scan on and off the subway. You can buy individual fare cards, but to save time and money pick up a T-Money card at any convenience store. They usually run around 3,000 won ($3) and you can load them using a machine at the subway station (which has an English option). When you scan into the subway you will be charged the base fare of 1,050 won ($1) and depending on how far you travel you will be charged another 100-400 won (10-40 cents) when you get off. Remember, if you scan when you get off a bus you get a free transfer onto the subway!
2. Download the Jihachul iPhone app
Jihachul is, in my opinion, the best Korean subway app out there. It is free and provides route maps in Korean, English, and Chinese for Seoul, Busan, Daegu, Daejeon, and Gwangju. In addition to the route map you can tap your starting and ending stations and the app will tell you the best route, where to transfer, how long it will take, and how much the fare will be. You can also access timetables and exit information. Best of all, you don't need data to do any of this, so if you are traveling and don't have a Korean plan you can still get to your destination with ease.
 3. Use the transfer guide
Don't be surprised if you have to transfer lines to get places in Seoul. Because of the size of the city this is very common. Seoul makes it very easy with English signage and a handy guide. When you get to your starting station look for the transfer map which is posted on the guard doors. When you find this map look for the station where you need to transfer. In a yellow triangle there will be two numbers separated by  dash. This is where you need to stand to be in the prime location to transfer. On the floor in front of each door there is a triangle with this number. For example, if you the transfer map says 2-2 you need to be in car 2, door 2. Look for the triangle on the floor that says 2-2. If you stand here you won't have to walk far and can transfer quickly. It can be a life saver if you need to meet someone and be on time.
4. Don't sit at the very end of the car
The group of seats located at the far ends of each car are reserved for the elderly, pregnant, injured, and disabled. Do not sit here. I was unaware of this for the first few weeks I was here. Once I realized my mistake I finally understood all the of evil glares I'd been given. And felt very embarrassed.
5. If you want to sit, be aggressive
Seats very competitive. If you want to get one at peak times or on busy lines, you need to have a game plane sorted. Generally, the cars at the end are less crowded and you have a better chance there. If you get on and there are no empty seats, stand in front of people sitting, not near the door. This gives you easier snagging access when people get off.
6. Be quiet
Older Koreans may have free reign to scream endlessly into their cellphones but you don't. I've been shushed before for having a conversation at a normal volume, so your best bet is to keep it to a whisper or not talk at all.
7. Play on your phone
If you want to feel like a real Seoulite (and be quiet) you should get out your smartphone and NEVER look up. Seoul's entire subway system is equipped with 3G and riders take full advantage. Watch TV, read your email, and keep up on your favorite travel blogs. But never, ever look up.
 8. Push
I've mentioned this before, when it is your stop approaches, get up and do not, DO NOT say "excuse me". Push your way toward the exit. I promise, no one will even look up from their phone.
How do you feel about public transportation, in Korea or in general? What are your Seoul subway riding tips? 
If you haven't already, please 'Like' Farsickness on Facebook and stay up to date on all my travels and posts! Your support is greatly appreciated.