Seoul Sights: Hongdae Free Market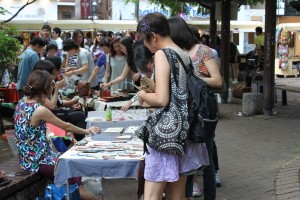 One of my favorite areas of Seoul is Hongdae, the neighborhood around Korea's number one art school, Hongik University. The streets surrounding the college are brimming with cute clothing shops, funky cafes, always open bars, and restaurants of all varieties. Dart down any of the alleys and you'll be sure to find a new piece of street art. The students of Hongik University have taken the area and turned it into a hip artists enclave in the middle of a traditional, conservative city.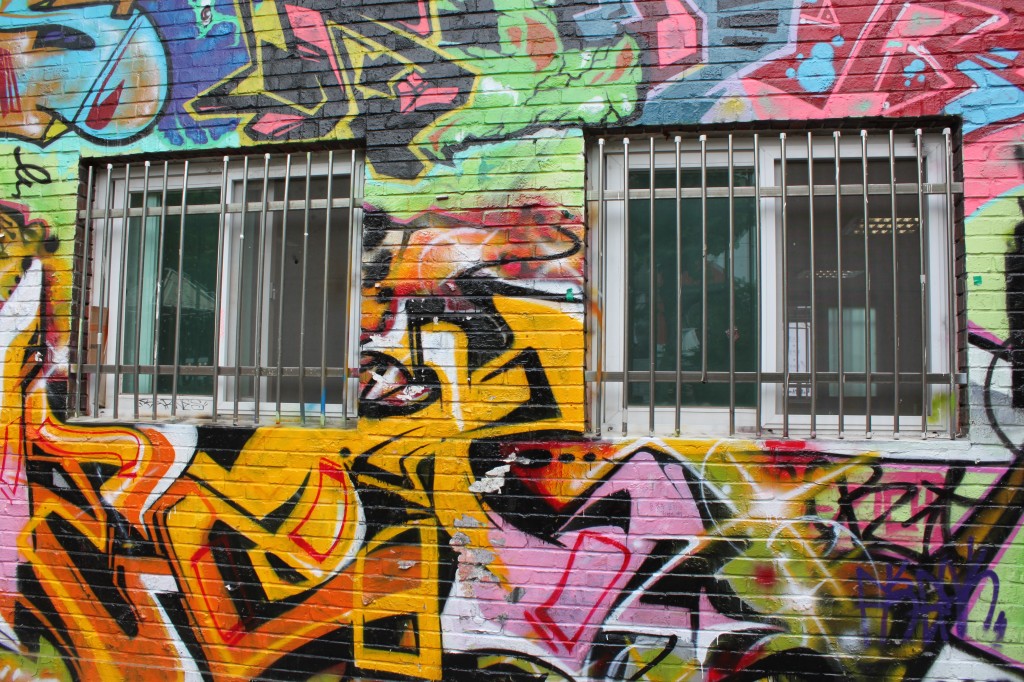 Every Saturday from March to November the neighborhood plays host to an eclectic flea market in Hongdae Playground. Local artists, many of them Hongik University students, set up tables in the park or mats on the ground and sell their wares.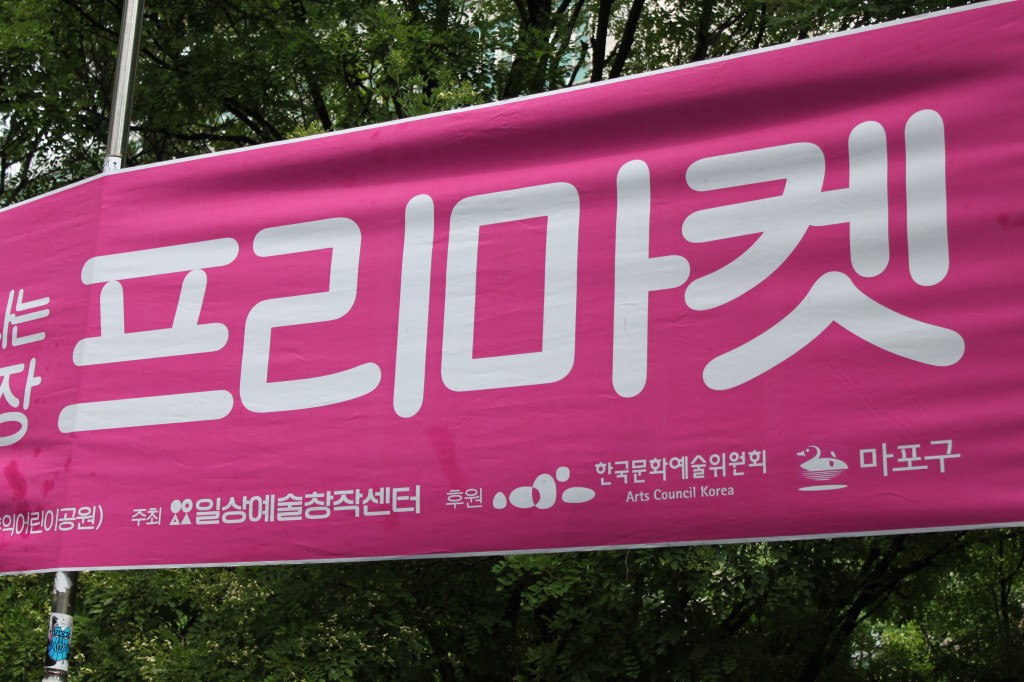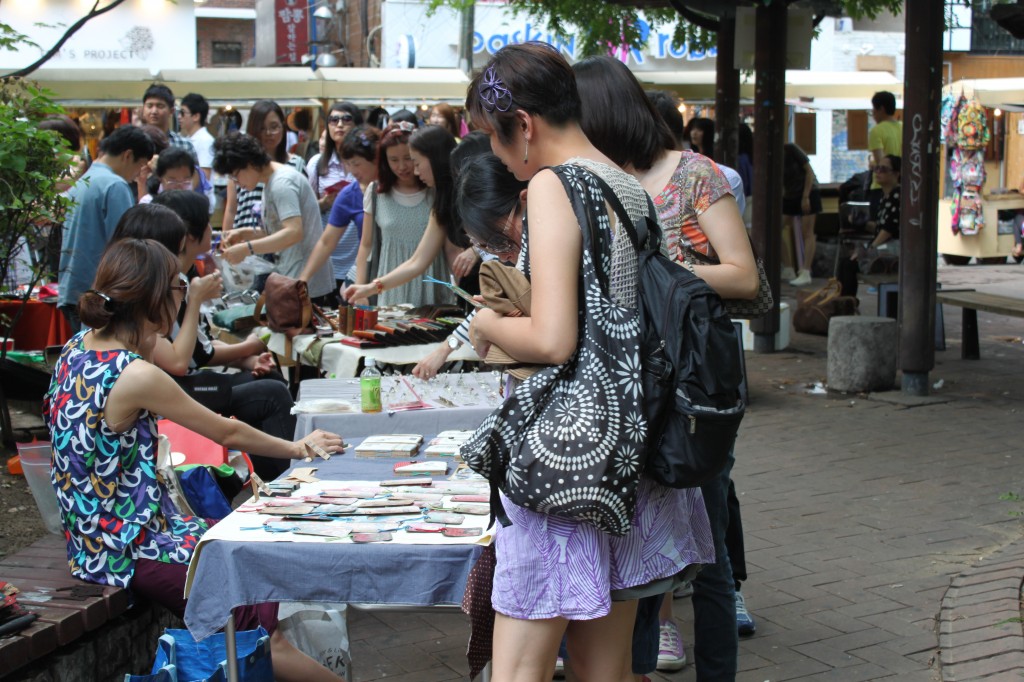 Walking through the market, hot and crowded, on an early Saturday afternoon is always a bit of an adventure. The area is small and tables are crammed along narrow pathways. Shoppers are crowded next to the sellers checking out everything from jewelry, clothes, and wallets, to hand drawn postcards, customized portraits, and canvas prints. The smell of fishcakes and deep fried hot dogs blows in from the street. The gentle sound of a strumming guitar fills your ears. The mood is happy and calm. Perfect for shopping. Or just some browsing.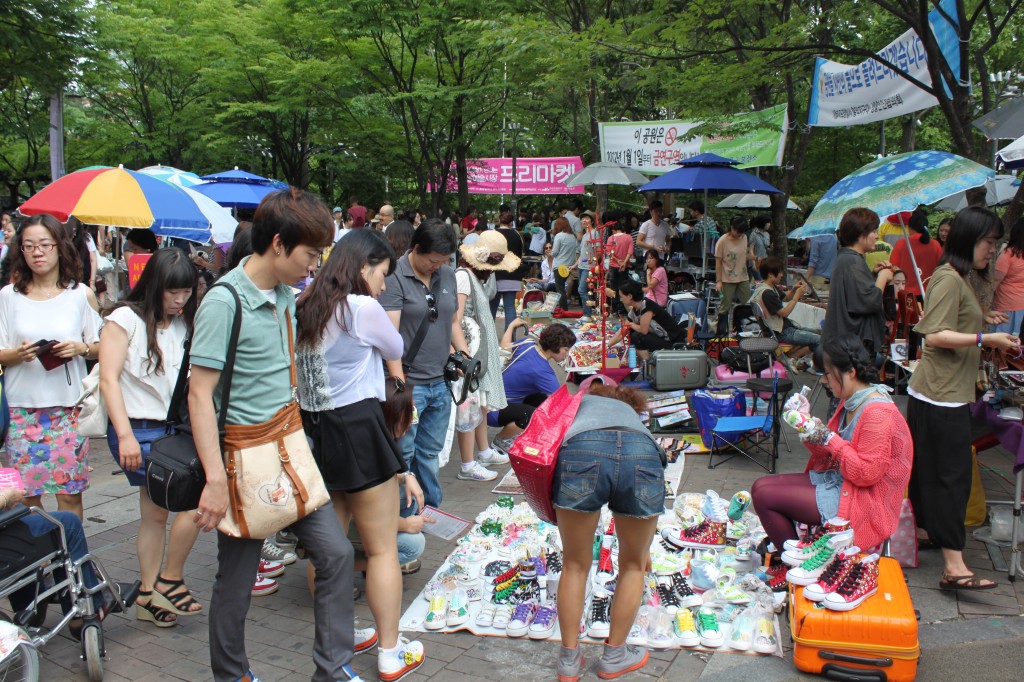 This weekend I picked up some postcards that were hand drawn for the reasonable price of 3 for 2,000 won (about $2US). The artist was sitting at the table working on other prints and the intricate detailing of her work was impressive.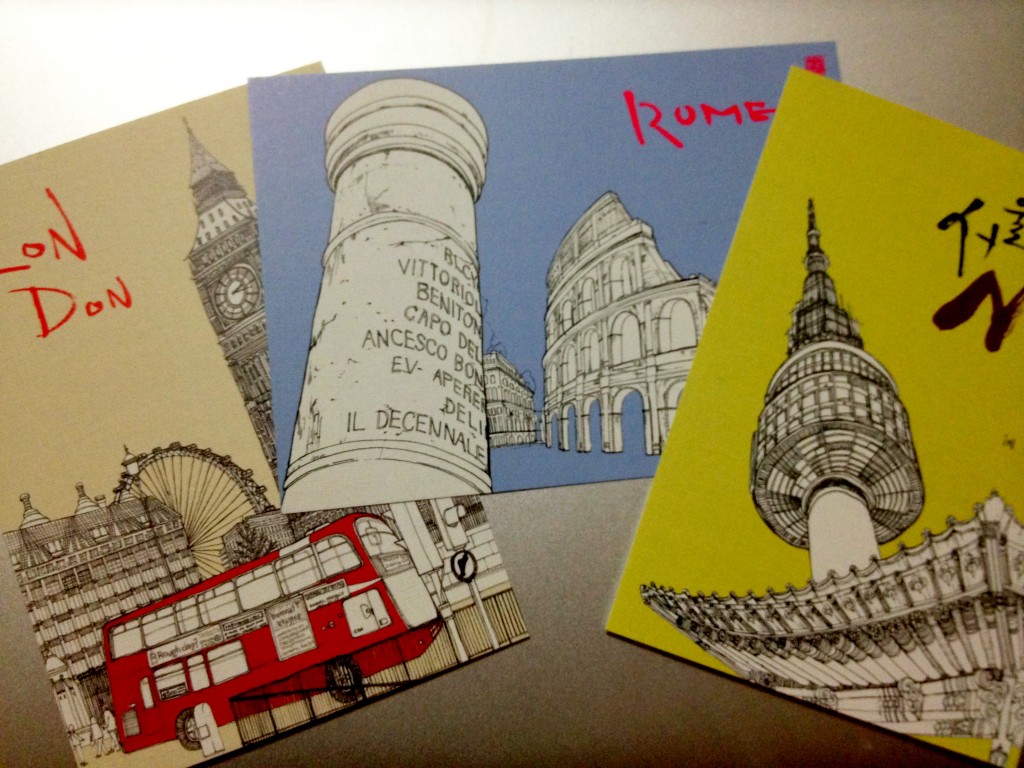 But my favorite Free Market purchase is on I made last summer. I was at the market with some friends when we stumbled across Cho Sun Young's booth. She is an artist and "poetry painter" who draws what she calls impromptu inner portraits. First, you give her one word to describe yourself. I was a little stuck on a word when my friend offered up the word resilient. After she thinks about your word for a bit, Sun Young asks a few more questions to the person being drawn and then beings working. First, she draws a picture representing your inner self and the word. Then she uses the picture as inspiration to write a poem. Not only is she incredibly talented, she also speaks amazing English and is very friendly.
Sun Young wrote this remarkably accurate poem about me:
one I'm here,
once I'm there.
running like a steam,
I'm everywhere,
wetting the world with my color.
And drew this picture to accompany it, the black squares representing cities I've visited, the green triangles for nature, and the river is the water that takes me everywhere: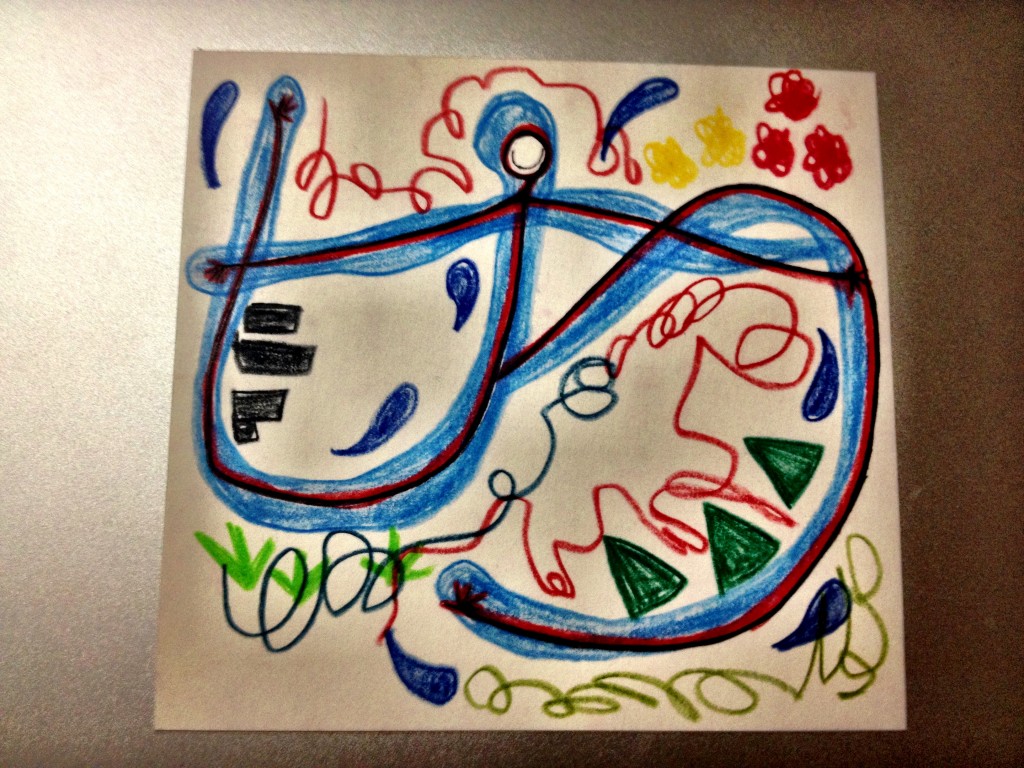 To say I was impressed was an understatement. I was dumbfounded that she understood me so well.
Hongdae Free Market is a fantastic way to spend a Saturday afternoon. Different vendors are there each week so you never know what you will find. If you go, try to find Sun Young's booth for something fun and different. The prices at the market are incredibly reasonable and the vibe is laid back and chill. It opens around 1 pm and lasts until about 6 pm.
How to get there: Take Line 2 to Hongik University Station. Walk straight until the first main intersection. Cross the street and turn right. After you pass Taco Bell, take the right down the first main alley/street where all the clothing shops are. When you get to Lush turn left and the market will be straight ahead a few hundred meters. If you get lost from this shoddy directions, feel free to leave an angry comment.
If you haven't already, please 'Like' Farsickness on Facebook and stay up to date on all my travels and posts! Your support is greatly appreciated.