Introducing…Tara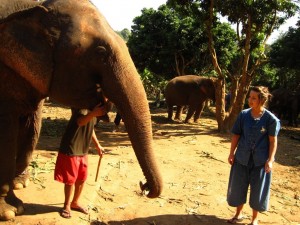 I rarely travel alone. Since coming to Korea I haven't been on a solo trip, save the flight to Bali where I was meeting friends. You may have noticed me awkwardly referring to "my friend" or "my travel companion" in recent posts. As we start to plan more trips together, including a rather long post-Korea trip, it seems even more necessary to introduce the person who is navigating next to me. And taking better photos.
To avoid any further use of strange plural pronouns and vague descriptors, my girlfriend Tara is going to post her own ABCs of Travel here today. She's blogless, but a talented photographer and writer. Originally from Washington, Tara has traveled all around the world and has a lot of great stories to share.
I'll let her take it away from here…
Age you went on your first international trip?
Excluding Mexico and Canada, 19. I went to Rome for the summer on a creative writing study abroad program.
Best (foreign) beer you've had and where?
I didn't develop a taste for beer until I was of-age to buy it legally. Many of my travels took place before this, so I can't say with confidence that I knew the difference between a delicious beer and a Keystone. That being said, I was particularly fond of some of the brews I tried in Belgium. My travel companion and I were treated to a sampling of several different local beers (on the house!) after seeking refuge in a small bar in Brussels during a rainstorm.
Cuisine – favorite?
I didn't expect this to be my answer, but currently I'm loving Korean food. Not always, and certainly not everything (i.e. pickled radish, fully intact sea creatures covered in neon orange sauce, most things from my school's cafeteria, etc.). Maybe it's for lack of better options as my second year in Seoul comes to a close, but I'd go for a little BBQ or bibimbap almost any day.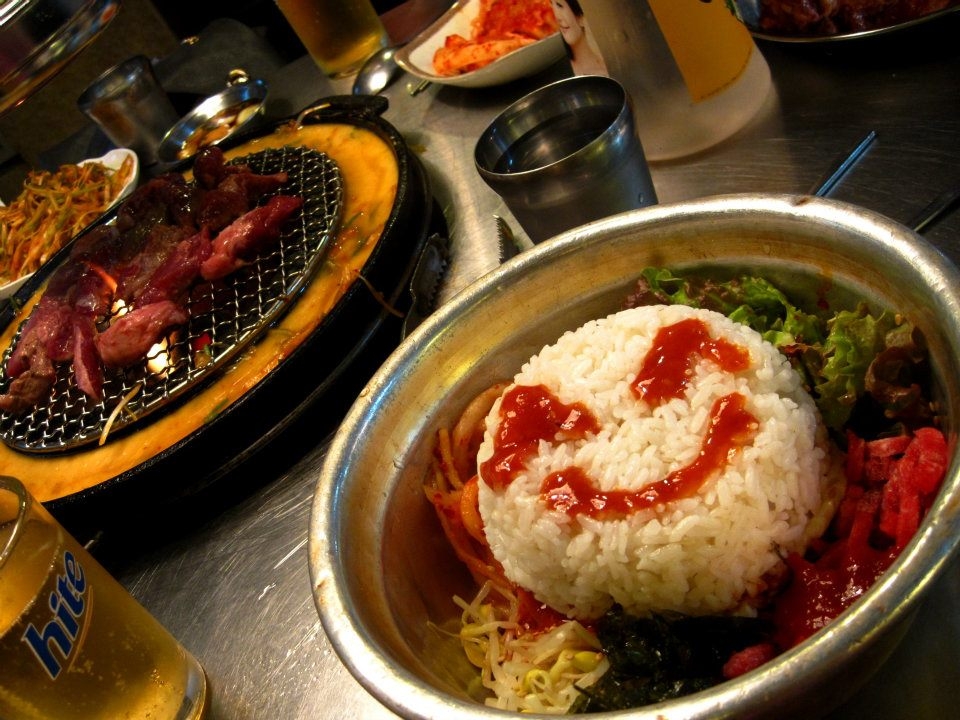 Destinations – favorite, least favorite and why?
It's hard to get specific about favorites and least favorites, as there are many places I love for many different reasons, as well as plenty of not-so-fantastic experiences I've had while traveling.
Italy is my favorite country, though I don't necessarily love every city I've visited there. I enjoy the food, the people, the architecture, the coastal scenery, and the culture in general. I also thought Prague was an amazing city. Even though I was only there for about 5 days, I found it to be the perfect combination of both lively and laid-back, and a place I could see myself possibly living in for a bit in the future.
I think Vietnam has probably been my least favorite country so far. I had been looking forward to visiting Vietnam since I came to Korea, but compared to other destinations in Southeast Asia, it didn't impress me. Everything seemed more difficult and overwhelming than it needed to be, which, paired with the constant harassment and scamming, made it almost impossible to relax.
Event you experienced abroad that made you say "wow?"
When I saw the Eiffel Tower light up at night in Paris.
Favorite mode of transportation?
I love train travel. I don't mind busses either if the road isn't too rough and/or there's a decent view.
Greatest feeling while traveling?
Successfully arriving at my destination.
Hottest place you've traveled to?
Aside from Seoul's jungle-like summer weather, the hottest I can remember feeling was when I was wandering around Taipei, Taiwan last August. The temperature was probably *only* in the 90s, but combined with the humidity and lack of air flow, it felt like I was suffocating.
Incredible service you've experienced and where?
The service everywhere in Thailand was pretty excellent, and Koreans are usually friendly and more than willing to help as well.
Journey that took the longest?
Coming home from my first summer abroad in Rome was definitely my longest journey. An extra 8 hours was added to our first layover, we were told to disembark from a plane that we had just boarded because apparently there was no pilot, we spent the night at the airport because there were no flights out until morning, and then we had to fly through Canada, even though we had already arrived back in the United States. In total, this was probably a 50 hour journey.
Keepsake from your travels?
I'm not a big shopper, but sometimes I like to buy some canvas or cardboard paintings from the local markets.
Let-down sight – why and where?
I don't want to seem like I'm bashing Vietnam because, really, it wasn't all bad and I wouldn't mind going back in the future to give it one more chance, but I have to name Ha Long Bay my let-down sight. Maybe it was because of the weather, or maybe I had been expecting more, but I wasn't as impressed as I thought I would be. I had seen nicer, similar views in Thailand and Malaysia on beautiful, sunny days, and in comparison, Ha Long Bay fell short.
Moment where you fell in love with travel?
I didn't truly love travel until my second overseas trip, the summer after I first went abroad. This time, I had a better understanding of what international travel was like, as well as some lessons learned on what NOT to do, so I was able to appreciate and enjoy everything much more.
Nicest hotel you've stayed in?
The ME Hotel in Cancun, Mexico. I went there with a few friends after graduating high school, and we had booked our transportation and accommodation through a travel agency that my friend's parents frequently used. However, when we arrived at our hotel, there was a huge mix-up. The travel agency took responsibility for this and allowed us to choose any hotel in Cancun, compensating us by paying the difference in cost. Obviously we took full advantage and selected a hotel with rates averaging about $700 per night.
Obsession – what are you obsessed with taking pictures of while traveling?
Sunsets, food, boats on water, animals, local beers, things that are brightly colored, bridges that light up at night, self-portraits taken in reflective surfaces, etc.
Passport stamps – how many and from where?
About 40? Some are repeats and not all are still legible.
Quirkiest attraction you've visited and where?
Probably Love Land, a sex-themed sculpture park, on Jeju Island in South Korea.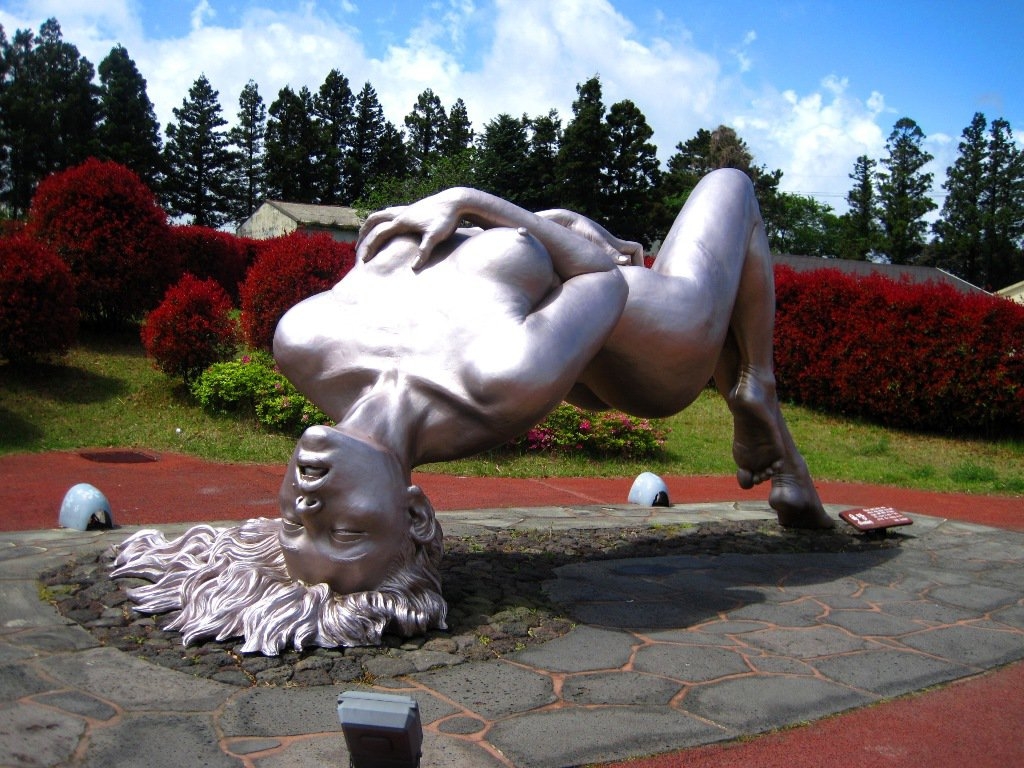 Recommended sight, event or experience?
I'd recommend the Flight of the Gibbon Zip-line Tour (even though I was tortured by the guides, who thought my fear of heights was hilarious) or visiting Baan Chang Elephant Park, both in Chiang Mai, Thailand.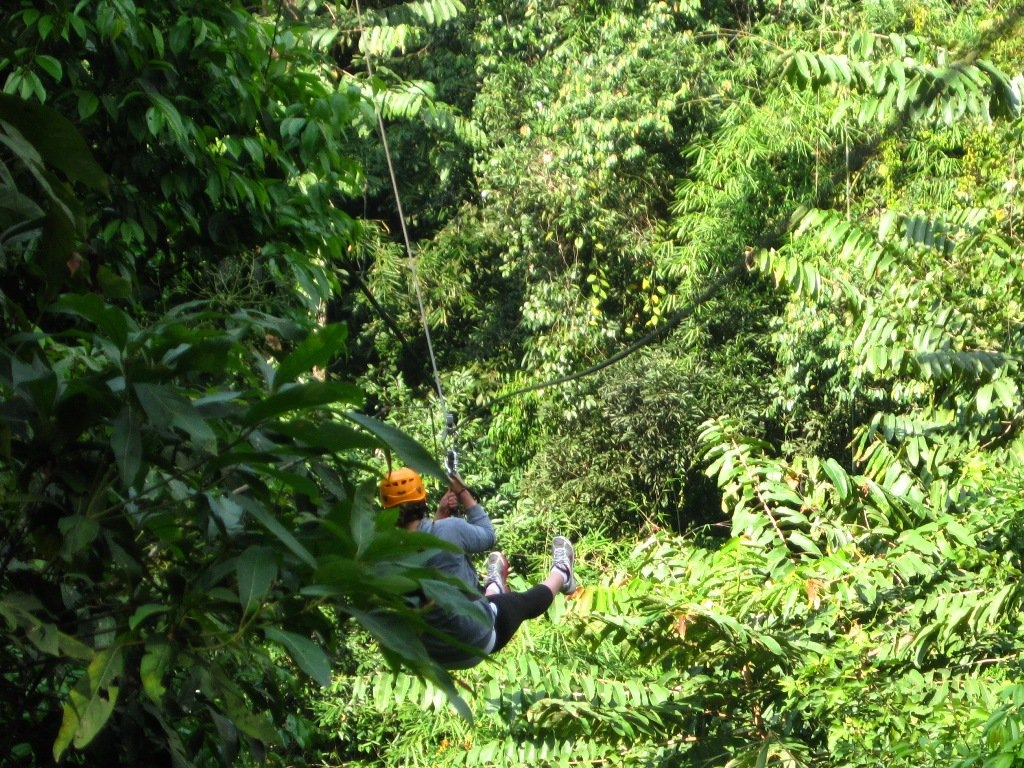 Splurge – something you have no problem forking over money for while traveling?
This may not be ideal, but I rarely budget myself when it comes to food and drinks.
Touristy thing you've done?
I bought a sweatshirt in Paris that said 'Paris' on it and then wore it around Paris (in my defense, I had just come from Italy and had no warm clothes with me).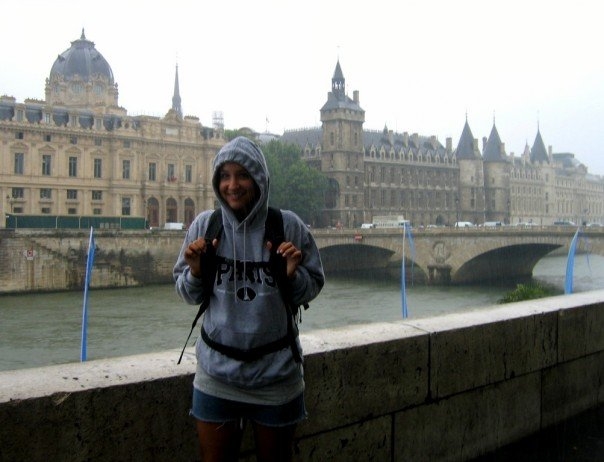 Unforgettable travel memory?
There are too many to mention just one memory specifically. To give a broader answer, I met the most amazing people during my summer in Brazil and will always regard that as one of my favorite, most unforgettable trips.
Visas – how many and for where?
Four. A student visa for Italy, a work visa for Korea, and 2 tourist visas: one for Brazil and one for Vietnam.
Wine – best glass of wine while traveling and where?
I love wine but I'm not overly particular about the type. I did get to go wine tasting in Tuscany which was amazing, but for the most part as long as the wine is red, not too sweet, and cheap, I'm satisfied.
Xcellent view and from where?
There is nothing I love more than a nice view, so naturally I can only narrow this question down to my top 3 favorites:
1. The view from the cable car and Sky Bridge in Langkawi (which would've been even better if it was a clear day).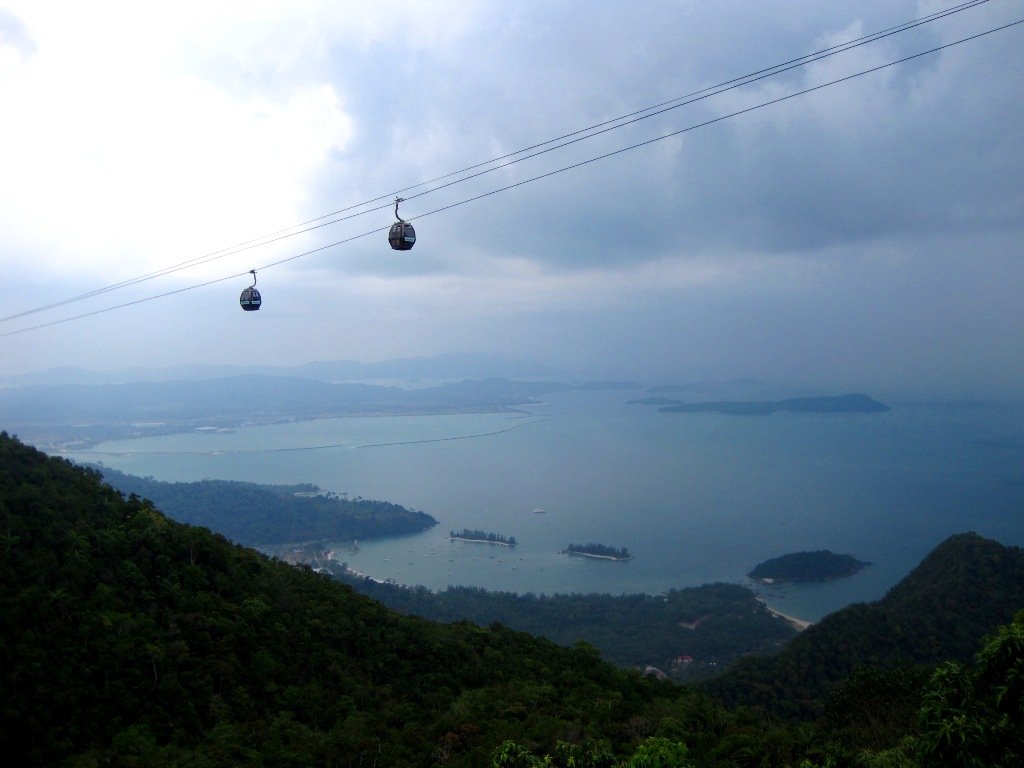 2. Victoria Peak in Hong Kong had an excellent night view, despite the horror that was the tram ride up.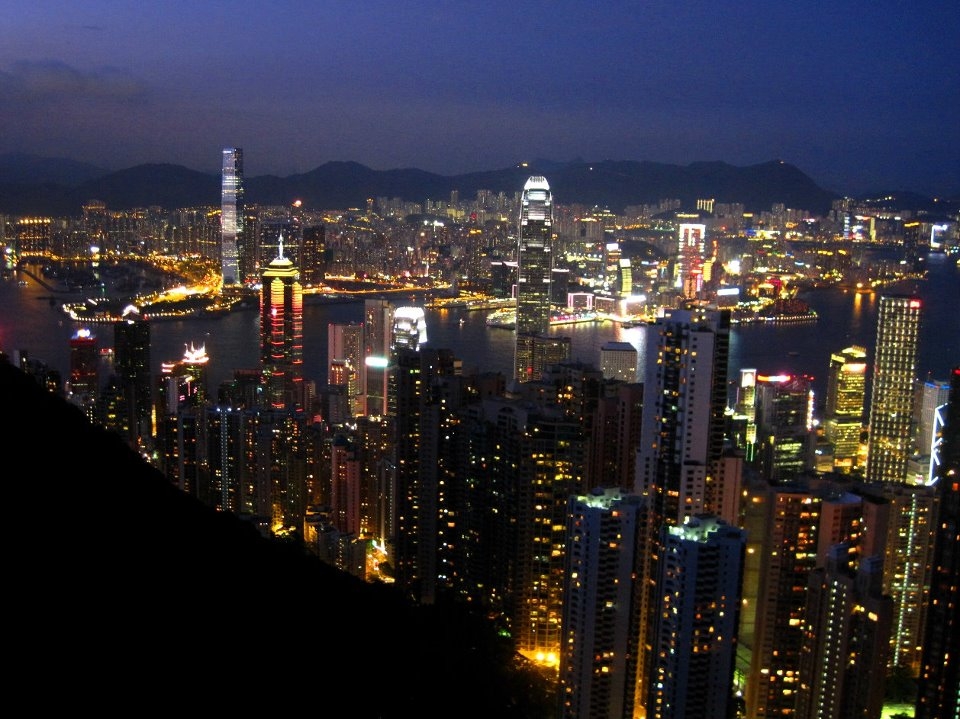 3. Seorak Mountain (Seoraksan) near Sokcho, South Korea. Though my crew and I didn't manage to conquer more than the first peak, I was still able to catch a beautiful view.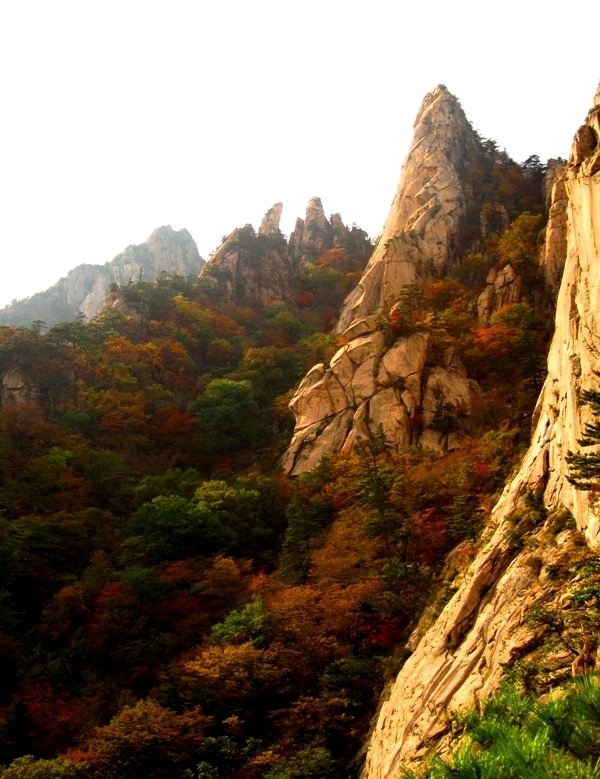 Years spent traveling?
As far as overseas travel, I guess about 5 years.
Zealous sports fans and where?
I'm not exactly a sports enthusiast, so I don't go to games regularly unless it's organized around some sort of social gathering. Things got a bit loud among the Koreans during a soccer game at World Cup stadium in Seoul, but other than that I haven't seen anything too crazy.
Now, the next time I mention Tara you all will have a better idea of the person I'm talking about and traveling with!
Who do you like to travel with? Family? Friends? Solo? Leave your thoughts in the comments.
If you haven't already, please 'Like' Farsickness on Facebook and stay up to date on all my travels and posts! Your support is greatly appreciated.