Eating and Drinking in Ulleungdo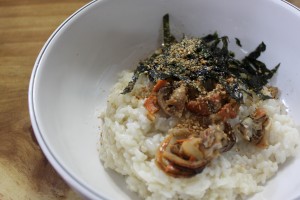 As a food lover and a fan of overindulgence in general, seeking out local specialities in the area of food and drink is always a number one priority of mine when traveling. Though Ulleungdo is part of Korea it offers up more than just samgyeopsal, kimchi jjigae, and pajeon. Seafood, a special locally raised beef, and pumpkin flavored delights are just some of things you'll find on this island in the East Sea.
The local speciality is honghapbap, or mussels with steamed rice. This dish is easy to find, just look for any restaurant with 홍합밥 written on it. The first night we were in town, Tara and I were hungry and began wandering the streets for a place to eat. None were open at the time, it seemed like places opened a bit later than they do in Seoul, but eventually an older woman ushered us into her restaurant. After ordering, a vast array of delicious side dishes were placed before us and then the glorious main dish came. It doesn't look very complex. It could be seen as boring, but the combination of flavors and textures was delicious. The mussels were perfectly cooked and tender and when mixed with the rice, spiced soy sauce, and kim (seaweed) it created a slightly salty flavor with a smooth texture, almost like a porridge.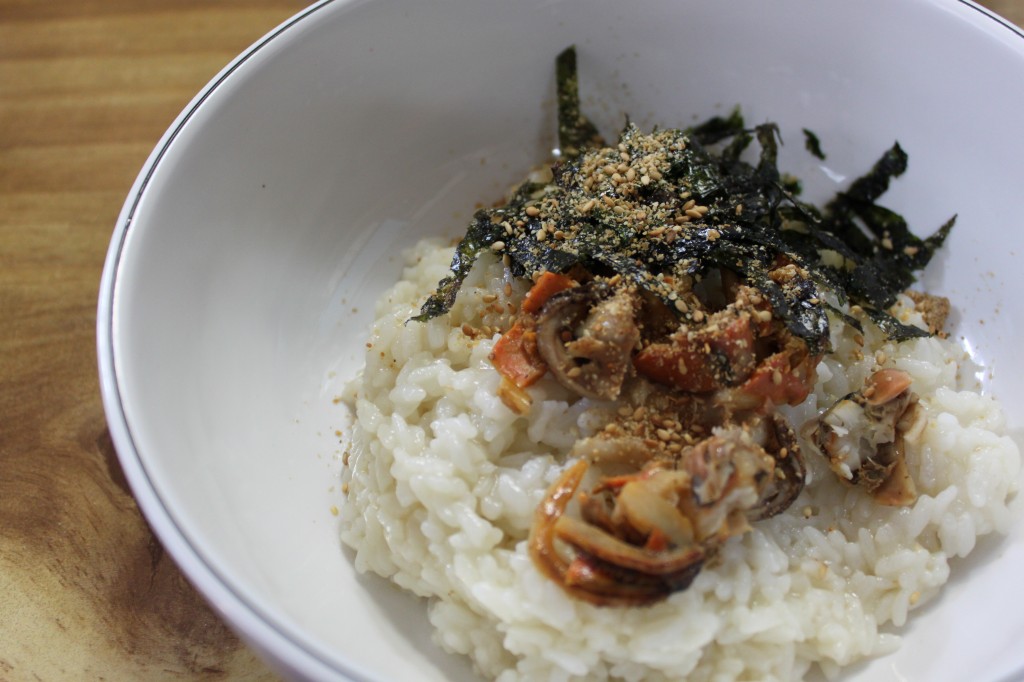 At the same restaurant we tried pumpkin makgeolli (호박막걸리), something Ulleungdo is famous for. Makgeolli is an alcoholic drink made from fermented rice. In Ulleungdo it is blended with their famous pumpkin. Completely homemade, it arrived in a liter sized old orange juice container. Once poured into the traditional bowl, it had a slightly orange color compared to the usual white creaminess and the taste was phenomenal. I'm not a huge makgeolli fan, but this was phenomenal. The pumpkin curbed a bit of the carbonated feeling that I don't really like and added a little sweetness.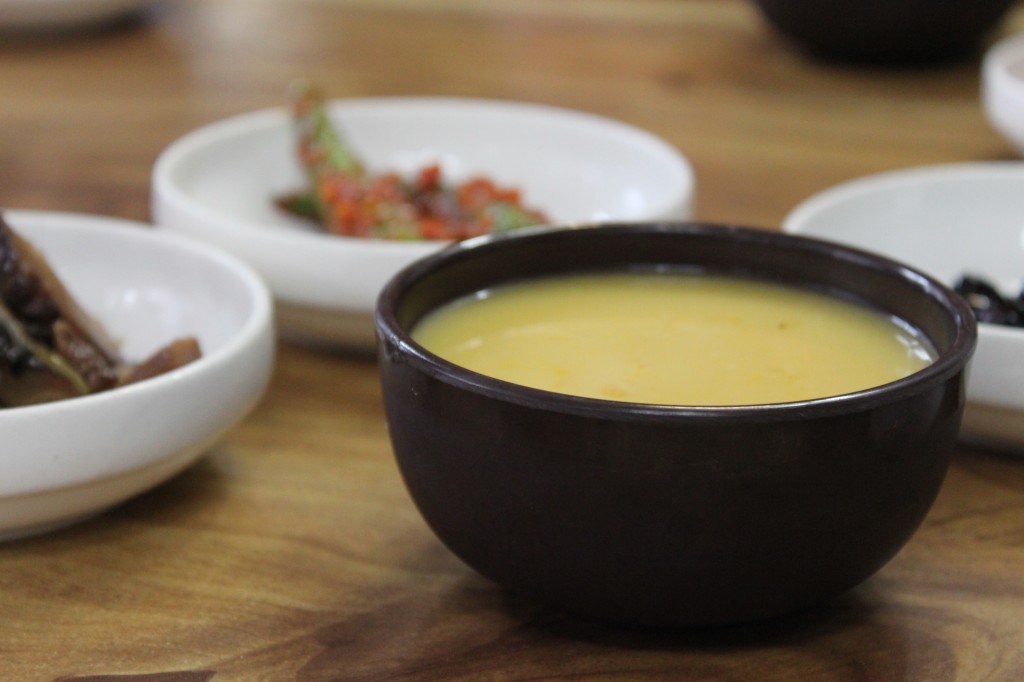 The second night we decided on samgyeopsal for dinner. It had been a rough day and all we wanted was something familiar. Tara and I both love deonjang jjigae, a soup made from soy bean paste, and ordered up a steaming hot bowl here. This variation, though, contained yakso beef, an Ulleungdo speciality. The beef comes from cows that are fed medicinal herbs. The meat is supposedly less tender if you eat it as barbecue, but in a soup it was perfect and helped make this deonjang jjigae one of the best I've ever had.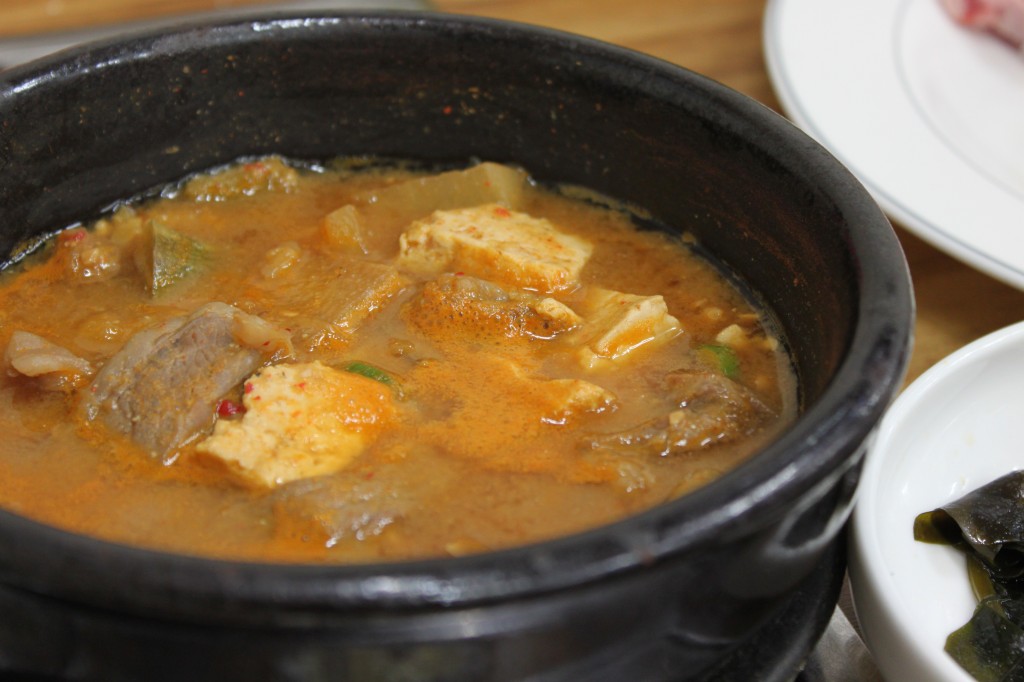 Before arriving, Tara and I figured the only coffee on the island would be in a can from a convenience store or a stick of instant powder. But we wrong. Completely wrong. At the beginning of the main road lies a coffee shop called Namu. The interior is wooden and cozy, the women who work there are extremely friendly, and the coffee was some of the best I've had in Korea. My iced cappuccino was slightly more expensive than you find in Seoul, but the creaminess and cinnamon sprinkle made it worth every won.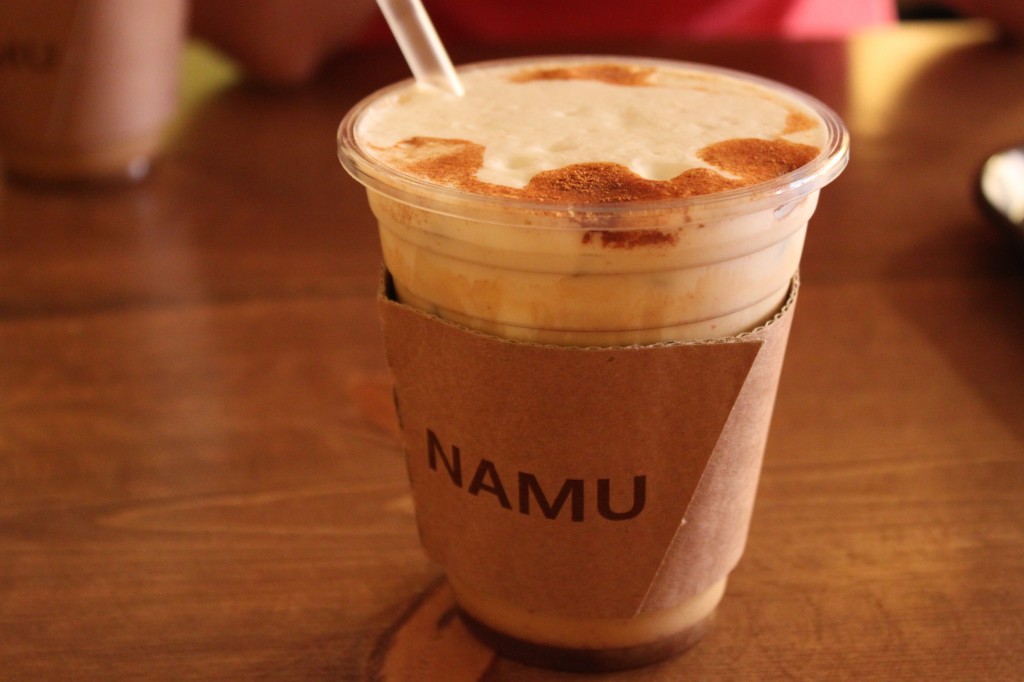 The last local special we tried was a kind of traditional Korean candy called yeot. But in Ulleungdo it's not any old yeot, it's pumpkin flavored yeot (호박엿)! Yeot is most often compared to taffy but I find it a little harder and lot stickier. Seriously, if you have any loose teeth or dental work that you'd like to remain in your mouth either stay far, far away or be extremely careful. I don't care for yeot in general, I find it pretty bland, and while the pumpkin added a bit more flavor, I still wouldn't reach for it first.
Ulleungdo impressed me with its culinary options. I had expected weird fish with small bones and fish soup for breakfast but was pleasantly surprised at the quality and variety offered.
And I'm still dreaming about having another bowl of the honghapbap.
If you haven't already, please 'Like' Farsickness on Facebook and stay up to date on all my travels and posts! Your support is greatly appreciated.