Boryeong Mud Festival
Mud pits. Beer. The beach. Inflatable obstacle courses. If you think this sounds like the makings of a great party, then you're right. Boryeong Mud Festival is annual event that was started in 1998. Since then it has attracted over two million visitors and continues to grow every year. Last year I'd booked a ticket and then canceled at the last minute, unsure of whether a weekend on the beach in monsoon season sounded like the best idea. After reading more and more about the festival, though, I was convinced I made the wrong decision. So, when I had another chance to see it in action, I was in. And after being called one of the world's weirdest and wackiest festivals by various news organizations, I knew I was in for quite the weekend.  
Touting special benefits for the skin and hair, mud from the nearby Boryeong mud flats is carted to Daecheon Beach for two weeks every July. This small, quiet beachfront town, located about 2.5 hours south of Seoul by train, becomes a hubbub of revelers during this time. By the time we arrived on Friday night, people were spilling out of pensions, grilling up thick slabs of samgyeopsal on outdoor grills, and cheers-ing shot after shot of soju.
The real fun started on Saturday, though, when the festival officially began and revelers started in on the mud. Before hitting the mud we put our most valuable things inside a locker and bought a plastic bag for our money. Though the bags they sell at the convenience stores are supposedly waterproof, the cash was quickly wet so I'd be wary of putting anything like a camera or phone inside. Once we'd secured the valuables, it was time to get dirty.
The tubs of mud set up are free and we began covering ourselves with watery, grey slime. If you want to paint on mud without getting groped, the early afternoon is the time to go. After about three the place was swamped and you were more likely able to find a hand on your ass than a free brush with which to paint yourself.
The convenience stores around town were ready for the dirty action and had outdoor stands set up selling the necessities. After a few more beers we decided to head into the festival area. Filled with inflatables, there is a 5,000 won charge for a wristband to enter the area. This year the afternoon tickets sold out quickly and the lines were incredibly long, so like with the free mud area, go early to have a better chance of hitting all the activities. We snuck into the mud pit area first. Literally giant inflatable pool filled with mud, this was not for the faint of heart. I stepped a foot into the pool and immediately slammed to the ground. Mud splashed into my left eye and I was sure I would be blinded. Feeling like I'd surely break something if I was in there any longer, I stumbled to the exit and rolled out.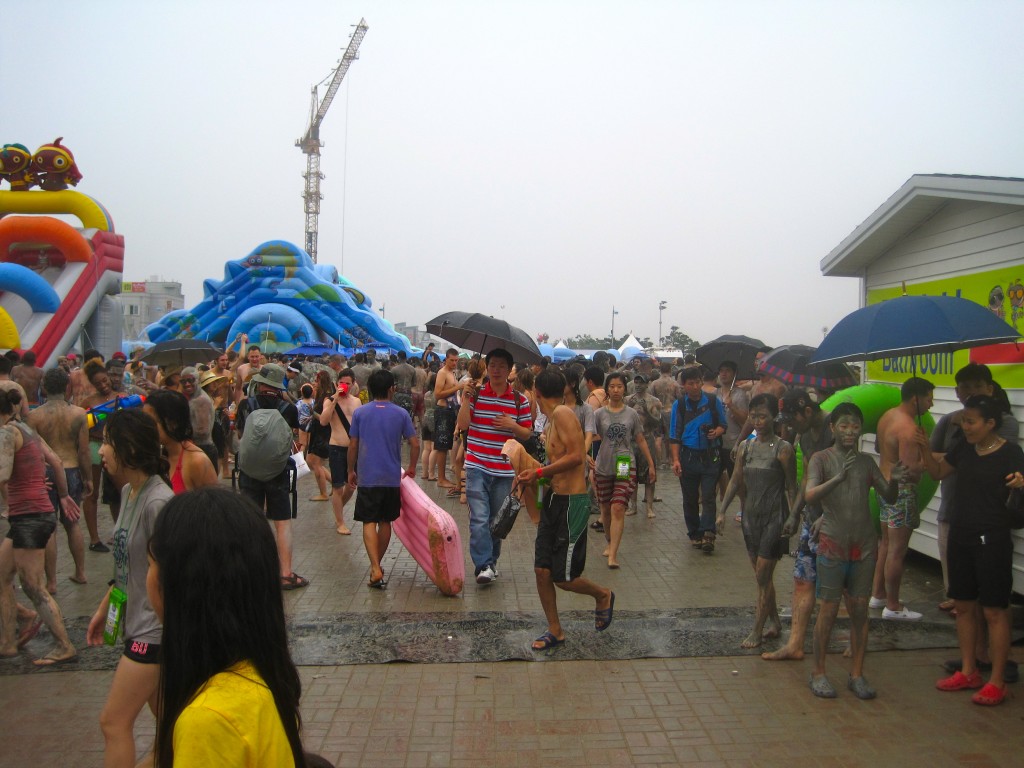 As the afternoon wore on the lines became longer and longer. A slight mist began to fall and my muddy, wet self started to get cold. I decided it wasn't worth it to wait for a bunch of slides so I went over to the beach where I floated in the warm waves with a nice, cold beer.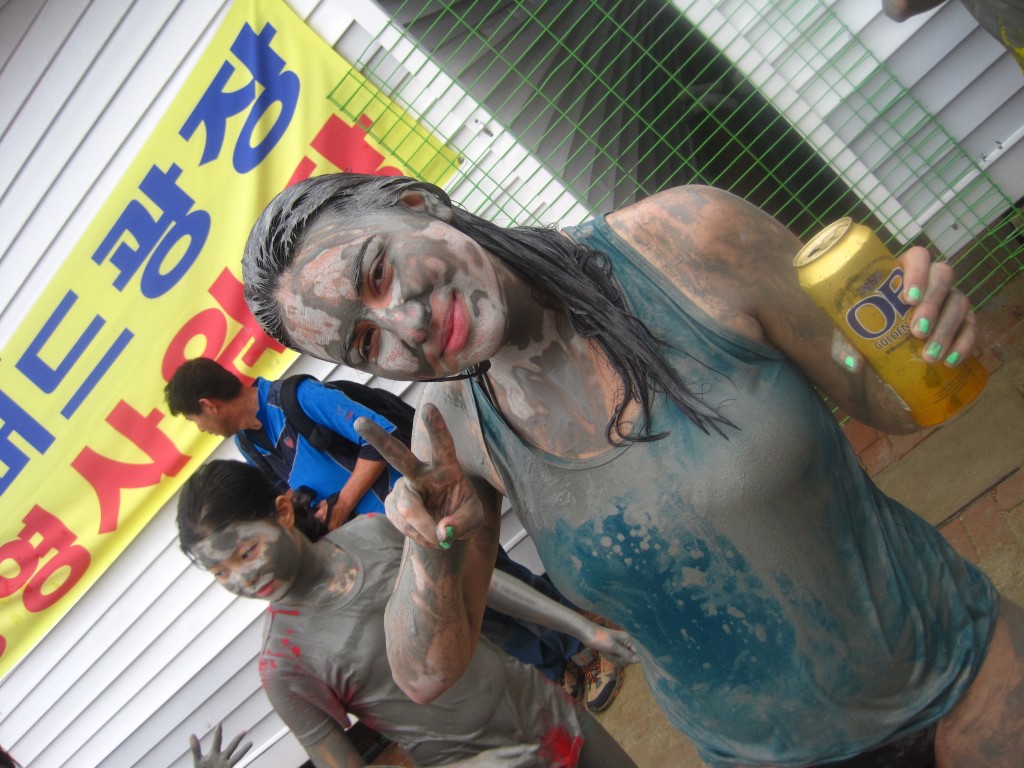 When the festival officially closed and darkness fell, the party moved to the beach. The rain held out long enough for a beautiful fireworks show. And then the drunken masses came out. Now, I like to have a good time, but I also like to show a little bit of decorum, especially when I'm in a foreign country. I've learned during my time abroad, a lot of people don't hold this same feeling.
This night was no different. About thirty people, all foreign, decided to run around the beach completely naked. The police showed up. A crowd gathered. While it was pretty hilarious I couldn't help but think, this is why foreigners have such a bad name in Korea. Eventually the skinny dippers were forced to put their clothes back on, the rain picked up, and I put an end to my Mud Fest experience.
Despite some of the bad behavior, Mud Fest was a lot of fun. Much more than I'd anticipated. Want to have a good Mud Fest weekend? Get there early. Don't bring electronics you like a lot. Enjoy painting on mud and taking silly photos. Take advantage of the nice beach. Don't act like a complete ass. And realize that this is like nothing else in the world.
Have you been to Mud Fest? What did you think? What other weird festivals have you encountered on your travels?
If you haven't already, please 'Like' Farsickness on Facebook and stay up to date on all my travels and posts! Your support is greatly appreciated.